DoNotPay Shows You How To Find a Lost Phone the Easy Way
Looking for something that you've lost is not a pleasant task, especially if the item in question is your phone. Whether you lost it in an Uber, Metro Transit, Lyft, or any other place, the chances are that you'll have to invest some time and energy in finding your device.
In our article, you'll find out all the ways you can find your lost phone and learn how to do it hassle-free!
DoNotPay can also help you find various other lost items, including your wallet or your car keys, by contacting various locations, such as MTA, DC Metro, Disneyland, etc. With our Find My Lost Items tool, you'll be able to find your lost items in minutes!
How Do You Find a Lost Phone?
If you've lost your phone, you have several ways to go about it. You can:
Track your phone
Look for the phone in person
Contact the carrier
Contact the police
How To Track a Lost Phone
How you'll track your lost phone depends on whether you've lost an Android or an iPhone. For more details, check out the table below:
Android Phone
iPhone
To find a lost Android phone, you will have to access the Find My Device feature, which is built into all Android devices. It can also be accessed from any browser.

To use this feature to your advantage, you need to:

Go to Settings
Locate Google services
Go to Security
Activate Remotely Locate This Device feature
Sign in

The app will list all your devices and show you where your lost phone has been seen last.

You can also:

Go to the Google homepage
Type 'Where's my phone?' into the search box

Finding a lost iPhone will require you to use the Find My app that can help you track any Apple device. To use it, you will need to:

Make sure your Location Services are enabled
Open your preferred browser
Go to icloud.com/find
Log in with your Apple ID or use another Apple device, such as an iPod or a Mac
Open the built-in Find My app

A map will appear on your screen, showing a dot that tells you where your iPhone is, along with your other registered devices. In case your device is floating around on the map, click Mark as Lost. This option will lock your phone remotely and display a customizable message for the person that might have picked it up.

You can also wipe everything on the phone by clicking on Erase This Device if you think your phone was stolen
How To Look for a Lost Phone in Person
If you want to try your luck and search for your lost phone in person, you can:
Visit the location where you might have left it and dial your phone number from another phone
Retrace your steps to where you last think you had your phone and contact those locations to check whether someone has found it
How To Look for a Lost Phone by Contacting the Carrier
Don't want to use another device to track your phone or go out to look for it? Contact your carrier (e.g., Sprint, Verizon, T-Mobile) as they might be able to:
Help you find it (if they're offering GPS location services)
Deactivate the service on your phone in case it's stolen
Replace your lost phone with a new device if your insurance allows it
How To Look for a Lost Phone by Contacting the Police
If none of the above-mentioned methods work, try visiting the police station. If they're not able to find it, you can at least get a police report that your carrier might ask for if you want to deactivate your account.
Find a Lost Phone in No Time With DoNotPay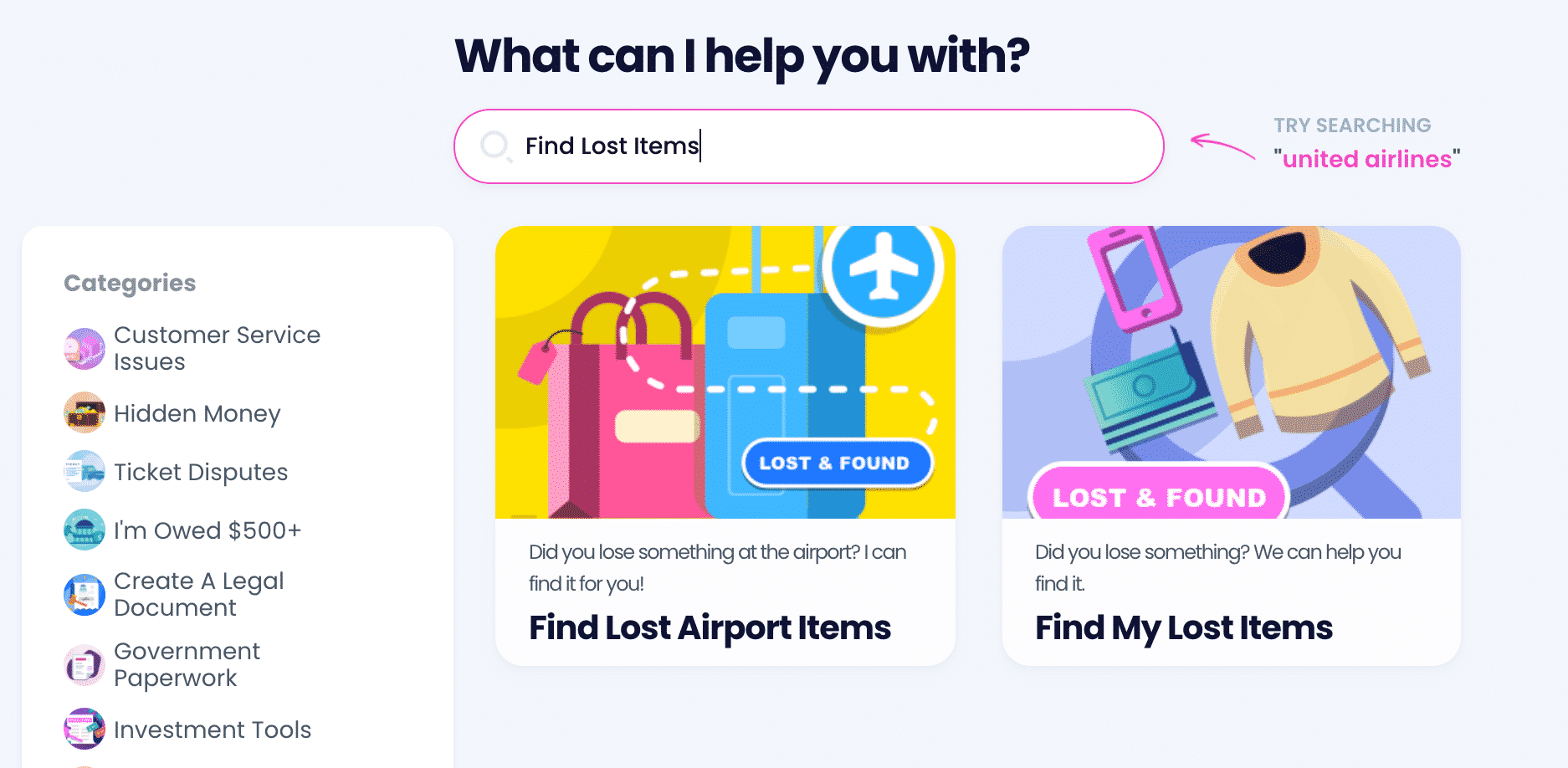 Looking for an easy way to find your lost phone? DoNotPay has developed a tool that'll get the job done quickly and easily. You don't have to waste time looking for your phone on your own or contacting the carrier. To perform a search stress-free, follow these simple steps:
Select our Find My Lost Items tool
Give us a detailed description of your device
Attach any photos and indicate the date and time you lost your phone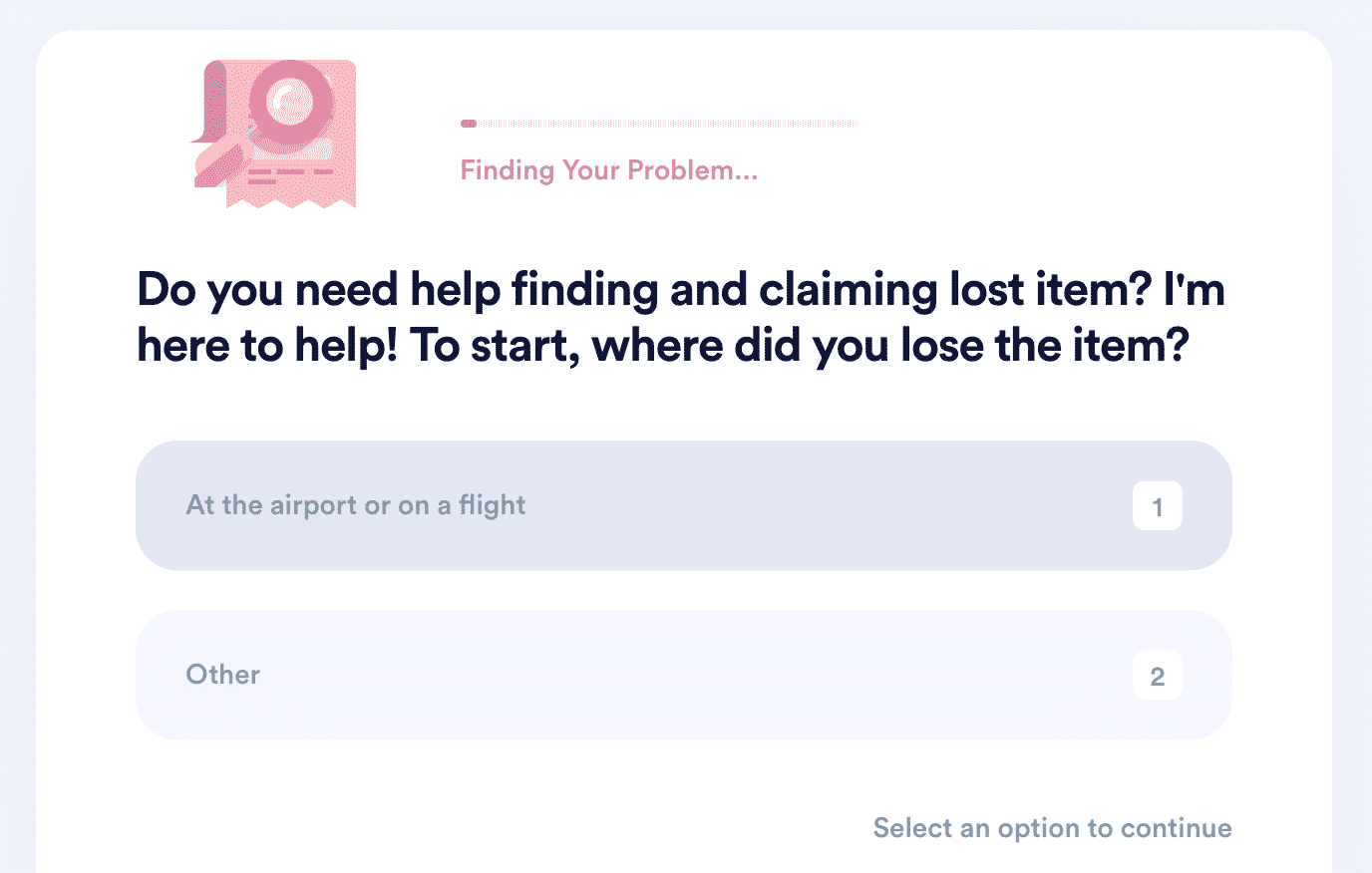 Once you submit your request, we'll contact the location in question and ask them about your phone. If your item is found, you can either claim it by pickup or delivery.
How To Prevent Losing Your Phone
To save yourself from losing a phone again, you can:
Get a case that will stick out and make your phone easily noticeable
Start putting your phone at a designated place so you know where it's at all times
Doble check your pockets whenever you leave a room to make sure your device is still with you
Struggling Financially? DoNotPay Can Help You Out!
If you're on a tight budget and have trouble covering your bills, there are a few things we can do for you. DoNotPay is a great tool to both earn and save money.
If you or a family member is a student, you can use our app to search and apply for scholarships and request a college fee waiver. In case your financial aid application is rejected or the university offers little, we can help you file an appeal. Education can be expensive on all levels, so you may consider homeschooling your child.
Is your property tax bill through the roof? Discover ways to lower your property taxes with DoNotPay.
When you're strapped for cash, you can enter sweepstakes, get gift card cash back, or sign up for clinical trials in your area.
What Else Can You Expect From DoNotPay?
DoNotPay is a versatile app, helping users handle tasks and issues while saving time and money.
With our help, you can prepare for various government tests, contact embassies and consulates, appeal banned accounts, and send online faxes within minutes.
Count on DoNotPay when you need to mail letters, apply for tourist visas, or file anonymous HR complaints.
Fighting workplace discrimination and dealing with annoying neighbors will also be much easier with the world's first robot lawyer by your side.