Lyft Lost Phone Policy—The Quickest Way To Retrieve Your Device
Looking for a solution for your Lyft lost phone issue? It only takes a second for your phone to slip out of your hand, but getting it back can last forever.
A will grant you access to an amazing service that'll help you find lost items before you know it!
How Can You Collect Lost Items From Lyft?
Dropping your phone during a ride is a common occurrence. There's no need to worry—you'll be able to get it back from Lyft without much hassle. The ridesharing service offers two ways of reclaiming misplaced belongings.
If you suspect the item was lost while you were riding through town, you can:
Contact the customer service department to report a missing item
Get in touch with your Lyft driver directly
Lost Phone in Lyft? Reach Out to Customer Support Using the Lyft Web App
The good news is—you don't need your phone to contact Lyft customer support. You can use the web-based app instead.
Follow these steps to file a lost item form online:
Open the Lyft app using your preferred browser
Select Contact Support to get in touch with the customer service team
Enter your full name in the corresponding field
Provide an active phone number where Lyft can contact you
Submit the following details about the drive:
The name of the driver who picked you up
Time and date of the ride (be as accurate as possible)
The starting point of the trip
Where your driver dropped you off
Describe the lost item in as much detail as you can. State the manufacturer (e.g., Samsung) and model (e.g., iPhone 12 Pro Max Gold). Describe the phone case and any other recognizable characteristics (e.g., scratches or bumps)
Allow the Lyft app to forward the information to the driver
Contact Your Lyft Driver Directly To Collect Lost Items
The feature is available 24 hours after the drop-off time and can only be activated by the person who ordered the vehicle. If the phone you used to arrange for the ride is gone, contact customer service instead.
In case you weren't alone in the Lyft vehicle, you can ask your carpool buddy to call the driver for you. To reach the Lyft driver and retrieve your lost phone, one must complete the following steps:
Launch the Lyft app
Access the Ride History option
Select the trip where you lost your phone
Choose Find Lost Item
Choose to:
Start a phone call with the driver
Send a text message explaining the situation
You don't have to worry about the cost of the service since the listed phone number is masked. If you prefer to report a missing item via a text message, don't forget to provide contact information.
The Lyft Lost and Found Policy—Additional Information
While you're free to pursue either option when looking for your phone, you should:
Expect a time limit for contacting the driver
Not expect any reimbursement for your lost items
File a police report after losing your phone since it contains personal data. If you alert the local authorities, Lyft will assist the police investigation
Know that the company can't guarantee your belongings will be found swiftly or at all
Use DoNotPay To Retrieve Your Lost Phone From Lyft With Ease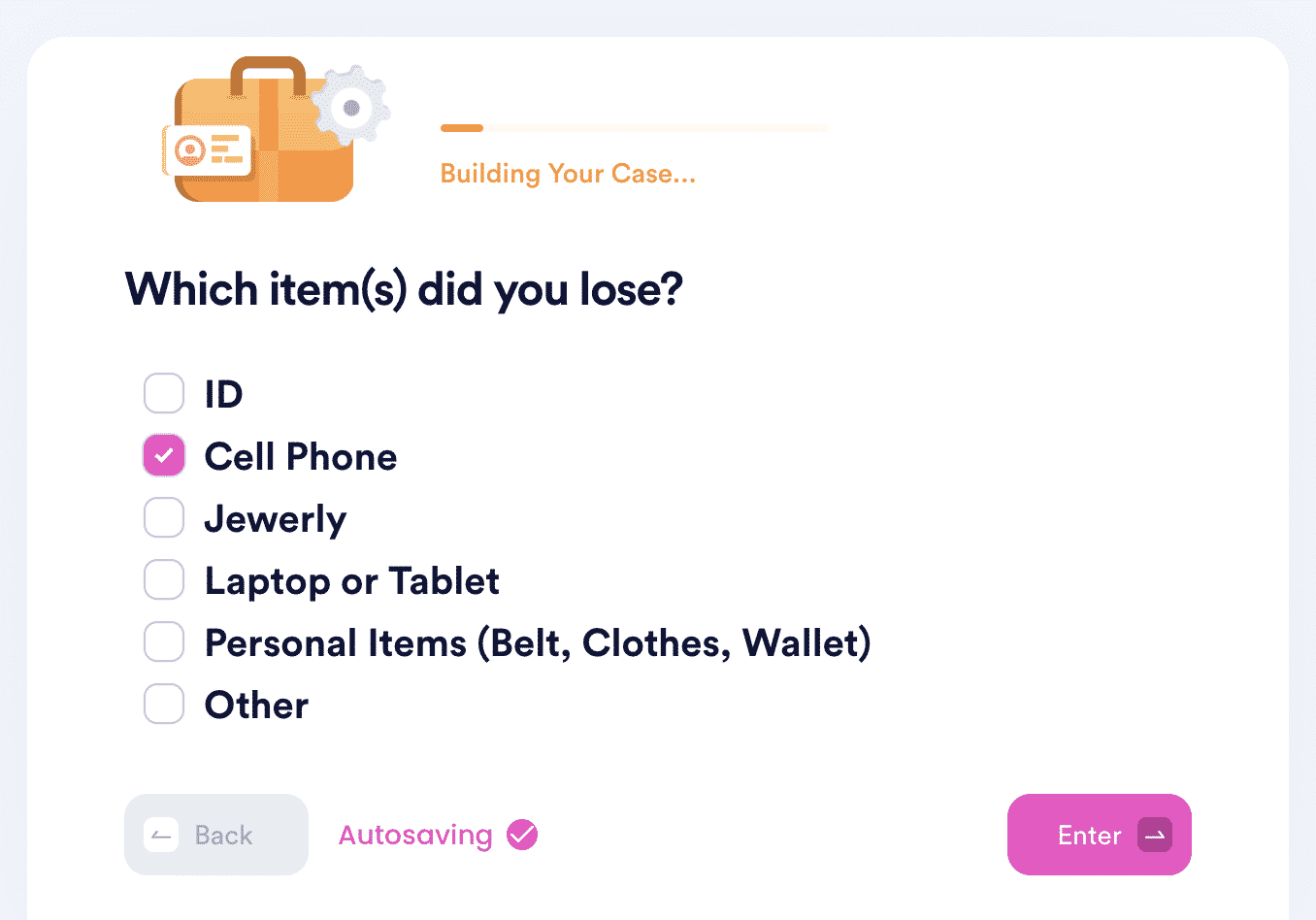 Losing your phone can render you completely helpless. While Lyft is willing to offer a helping hand, they won't go out of their way to find missing belongings.
If you're desperate to retrieve your phone, . Using our Find My Lost Items service, you'll increase the chances of locating the misplaced object.
Here's what you should do:
Go to DoNotPay and access the Find My Lost Items feature
Name the location where you last had the item (e.g., Lyft ride)
Provide a detailed description of the item with special emphasis on identifiable characteristics. If you want, you can include pictures as well
State the date and time (approximately) when you lost the item
DoNotPay will contact the said location and start the search for your lost belongings. If the item is eventually found, you'll receive a notification and further instructions.
Lyft isn't the only location we can contact on your behalf. Take a look at the full extent of the Find My Lost Items service in the table below:
| Locations We Can Contact in Your Name | Lost Items We Can Help You Find |
| --- | --- |
| | |
Does Lyft Charge a Return Fee for Lost and Found Items?
If the search for your lost phone is successful, you should know that Lyft charges a $15 return fee. It serves as compensation for the driver's efforts since reporting lost items takes time from their schedule.
You pay the return fee after collecting your phone from the driver. If you want to express your gratitude, you can tip them via the Lyft app.
Note that Lyft Pink users don't have to pay the full $15 fee.
Rely on DoNotPay and Get Rid of Administrative Issues
Are you tired of returning items, canceling subscriptions, fighting parking tickets, and mailing letters? We can help you fast-track all these tasks and more! Do you need help reaching customer service, fighting workplace discrimination, submitting defamation demand letters, or filing HR complaints? Use DoNotPay and solve any issue without a hitch.
Feel free to also use our app to study for government tests, apply for scholarships, appeal low financial aid offers, and request college fee waivers.
Do you need help paying bills? DoNotPay can assist you in lowering your property taxes, getting gift card cash back, entering sweepstakes and giveaways, and getting refunds.
With us, you'll be able to both earn and save money!
Say Goodbye to Spammers With DoNotPay's Assistance
Getting spammed on the daily? Our app can put an end to this annoying issue! Block spam emails, text messages, and robocalls in a few clicks. We can even help you deal with stalking and harassment.
Thanks to our Burner Phone product, you'll get a temporary phone number that you can submit when registering on different platforms and protect your privacy.
Another way to keep your privacy intact is using DoNotPay's virtual credit card. Signing up for free trials without hidden charges and revealing your contact details has never been easier!