File a Report With Yellow Cab NYC Lost and Found Department in a Flash
Losing an item can be a real hassle, especially if it's something you cannot get by without during the day, e.g., your phone, wallet, or home or car keys. You need to find the lost object as soon as possible to prevent further administrative and logistic problems.
Are you wondering what the best way is to get hold of the Yellow Cab NYC Lost and Found Department to report your missing item? This article offers different options, lists the necessary steps, and presents the most efficient solution—DoNotPay! for our service to retrieve any item you've lost efficiently and quickly.
New York Taxi Lost and Found Service
If you've lost an item in a New York yellow or green taxi, you need to contact that taxi's garage. That way, you'll be able to check:
If they've found your object
How and when you can collect it
To avoid wasting time dialing the wrong numbers, waiting on hold, and speaking to the wrong taxi garage, you should first identify your taxi.
What NYC Cab Lost and Found Service Should You Call?
You can report a lost item sooner if you're able to figure out what type of NYC taxi you were in. To determine whether you lost your item in a yellow, green, or standby yellow taxi, you need to inspect your receipt—here's how you can do that:
| NYC Taxis | What To Look For on a Receipt |
| --- | --- |
| Yellow taxis | Medallion number (MED#)—has four letters and numbers |
| Standby yellow taxis | Identification number (ID)—consists of six letters and numbers |
| Green taxis | License number—consists of five letters and numbers |
How To Get Yellow Cab NYC Lost and Found Contact Info
Once you've identified the NYC taxi you were in, you need to call the garage to check if they've found your item. Here's how you can get the right number:
Open the NYC Taxi Lookup page
Enter the taxi license number from your receipt
Hit Submit
If you cannot find the garage information through the above-presented tool, you should take the following steps:
Steps
Details
Call the Taxi and Limousine Commission (TLC)
You should:

Prepare the time and location of your trip
Call TLC at 311 during business hours, i.e., Monday–Friday, 8:30 AM–4 PM

TLC will:

Try to find out which taxi you took
Provide you with the taxi's garage contact information

File a service request
If you've lost an item after TLC business hours and on weekends or holidays, you need to file a report online
File a New York Taxis Lost and Found Service Request Online
You can report a lost item online by taking the following steps:
Access the NYC Lost Item in Taxi page
Tick the color of the taxi
Pick in the drop-down menu what group your lost object belongs to
Provide additional details about the item
Type in the driver name (optional)
Enter the license number
Provide the description of your lost item
Select the date when you last saw your object
Choose if you paid in cash or by card
Indicate where you placed the object in the taxi
Enter pick-up and drop-off times
Attach a photo of the lost item, if you have one
Click on the Next button
Follow the prompts to submit your request
Call Police Lost and Found Centers To Find a Lost Item in an NYC Taxi
When a taxi driver locates an object, they should:
Try to return it to the owner
Notify their taxi garage
Take it to one of NYC Lost Property Designated Police Precincts
To see if your lost object has ended up in one of these police centers, you need to:
Open the NYC Lost Property Police Precincts page
Get the contact information
Visit or call Lost and Found Police Precincts
Use DoNotPay To Retrieve a Lost Item Super Fast
Do you love dialing phone numbers over and over again? Do you feel thrilled to wait on hold until you finally reach the right department? Since we believe no one enjoys this experience, we have created a feature that can contact any company's Lost and Found department automatically.
Our AI-powered app can handle all the necessary waiting for you, and we will report your lost item in a matter of minutes!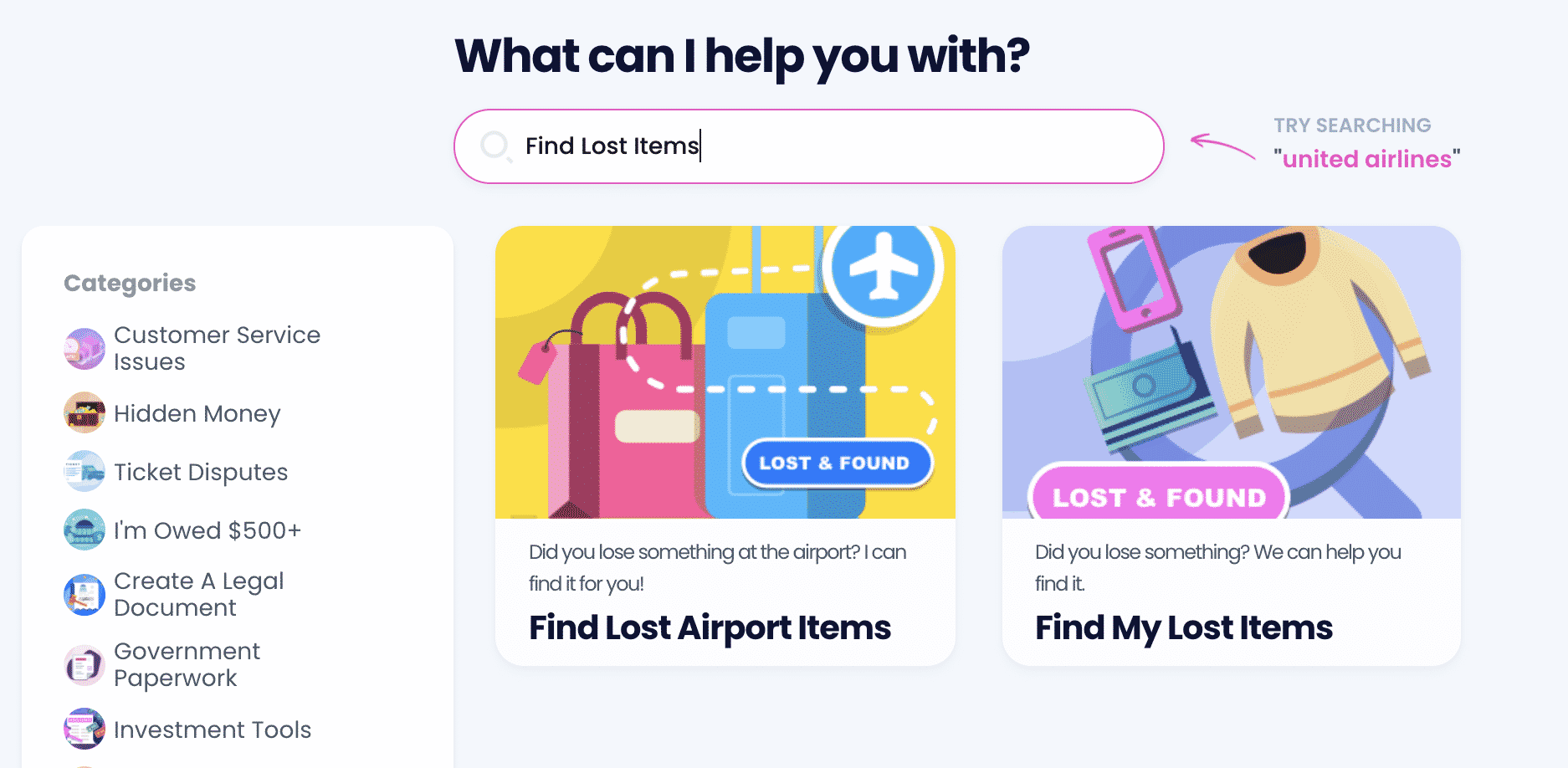 and take these steps:
Select the Find My Lost Items product
Enter where you last saw the missing object (for instance, in Metro, MTA, Uber, a cafe, restaurant, store, etc.)
Type in the description of the item and, if possible, upload its photo
Indicate the date and time when you last had the item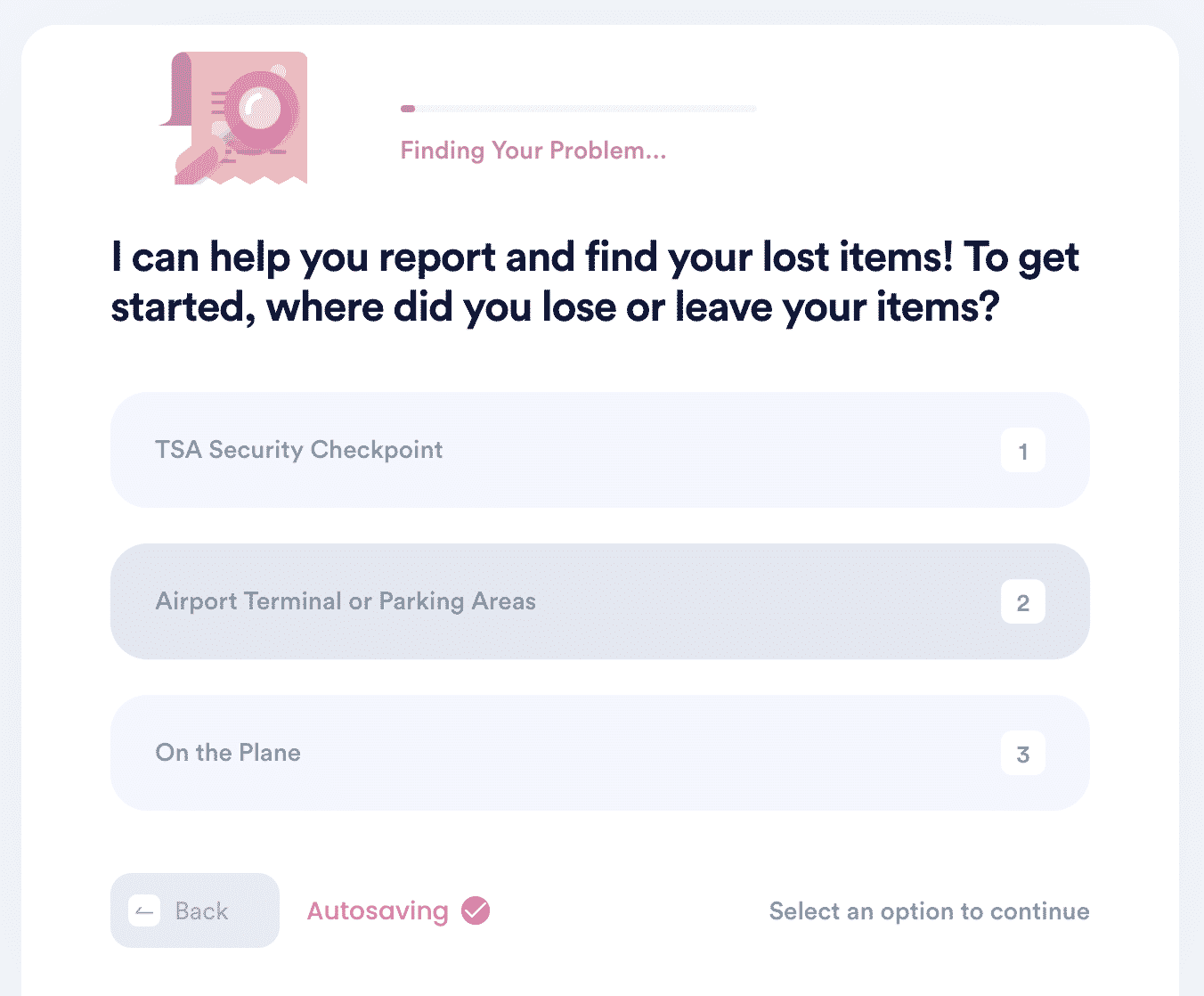 DoNotPay uses provided information to select the right contact data and quickly get in touch with the company in your stead. If your object is found, we'll also let you know how you can get it back.
Tips for Finding an Item Lost in an NYC Taxi
Take a look at the following useful tips that can help you get ahold of your lost property quickly:
If you left your phone in a taxi, you should dial your cell phone number the moment you realize it's missing
In case you started or ended your drive at a major transit area—an airport or rail station—you could call or visit the Lost and Found office at that location
If you were picked up or dropped off at a hotel, you should contact the reception to check if the taxi driver brought the lost item there
Keep in mind that while a TLC representative might ask for the last four digits of your credit card to help with the search, you shouldn't give your complete card number to anyone.
DoNotPay Has More Products in Store for You!
Our app is adept at solving numerous issues and completing various tasks in your stead.
You may want to use DoNotPay to protect your work from copyright infringement, reduce your property taxes, send defamation demand letters, or file FOIA requests.
Through the same app, you'll be able to skip many bureaucratic hurdles. Here are more tasks DoNotPay can help you with:
Use DoNotPay To Keep in Touch
If your friend or family member is in jail, we can help you locate them and send and receive letters with ease. Do you need to send other letters but hate going to the post office? You can use our Mailing Service product and save time.
We can also help you send online faxes, reach customer service, and contact embassies or government representatives.
In case you're drowning in email and text spam, our app can end it for good. Even if robocalls are bothering you, we have a solution!