How To Reach the Alamo Lost and Found Department in Your Area and Reclaim Your Lost Item
While forgetting your AirPods in your car is no big deal, the same cannot be said when it's a rental. If you've left an item in an Alamo vehicle, there's a quick and painless way to get it back. and retrieve your missing belongings from the Alamo Lost and Found Department.
What Is the Alamo Lost and Found Policy?
Alamo employees discover abandoned phones, wallets, and even car keys in their vehicles all the time. The rental car service has a streamlined procedure for reclaiming lost items as a result.
Here's an overview of the Alamo lost and found policy:
Items left behind by customers are taken directly to the Alamo Lost and Found Department
You have a 60-day window to claim your belongings
To successfully retrieve the item, you'll have to provide some sort of ID (e.g., your driver's license)
The staff disposes of unclaimed items after the designated period
All lost items are listed on the Alamo Lost Returns web page
The Alamo Lost and Found Department updates the list of recently found items regularly
How To Locate Items Lost in an Alamo Vehicle
You can start the search for your lost item in one of three ways:
Going to the Alamo Lost and Found Department headquarters
Filing an online lost item report
Contacting the customer support team
In-Person Inquiries
The Alamo Lost and Found Department is stationed in Birmingham, Alabama. If you happen to live in the surrounding area, you can inquire about your lost item in person. Go to the following address:
Alamo Rent A Car - Birmingham Airport- BHM
5900 Messer Airport Hwy
Birmingham, Alabama
Make sure to visit the office between 10 a.m. and 4 p.m. from Monday to Friday. You can also contact the Alamo Lost and Found staff at 855-400-0864.
While in-person inquiries are on the table, it's not the standard procedure for reporting missing items.
How To Submit a Lost Item Report
If you want to collect a lost item from Alamo, the preferred method is to submit an online report. All you have to do is:
Go to the official Alamo Lost Returns portal
Select the rental location
Click to report a missing item
Fill in the form
Alamo currently has several rental locations in Alaska, Hawaii, and the following states in the contiguous U.S:
| Alabama | Arizona | Arkansas | California | Colorado | Connecticut |
| --- | --- | --- | --- | --- | --- |
| Florida | Georgia | Idaho | Illinois | Indiana | Iowa |
| Kentucky | Louisiana | Maryland | Massachusetts | Michigan | Minnesota |
| Mississippi | Missouri | Nebraska | Nevada | New Jersey | New Mexico |
| New York | North Carolina | Ohio | Oklahoma | Oregon | Pennsylvania |
| South Carolina | Tennessee | Texas | Utah | Virginia | Washington |
To complete the report, you'll have to provide the following information:
Your first and last name
Country of residence
Your current address (state, city, and ZIP code)
Valid email address
Phone number where the Alamo Lost and Found staff can reach you
The date and time when you lost the item
The number of the rental vehicle where you left it—you can find it on your receipt
A detailed description of the missing belonging
What if You Can't Find Your Rental Location on the List?
If the place where you got your Alamo vehicle from isn't on the list, you'll have to reach out to the customer support team. The best way to do it is by filling out an online form:
Find the link to the form on the Alamo Lost Returns page
Select Lost Item under Topic
Enter the rental location in the corresponding field
Describe the item as closely as you can in the comment box—focus on any discerning features that might help the Alamo Lost and Found staff to identify it
State your first and last name
Provide contact information (email and phone number)
Put down the number on your Rental Agreement (optional)
Click Submit to forward the information once you fill in all required fields
Use DoNotPay To Contact the Alamo Lost and Found Department and Reunite With Your Belongings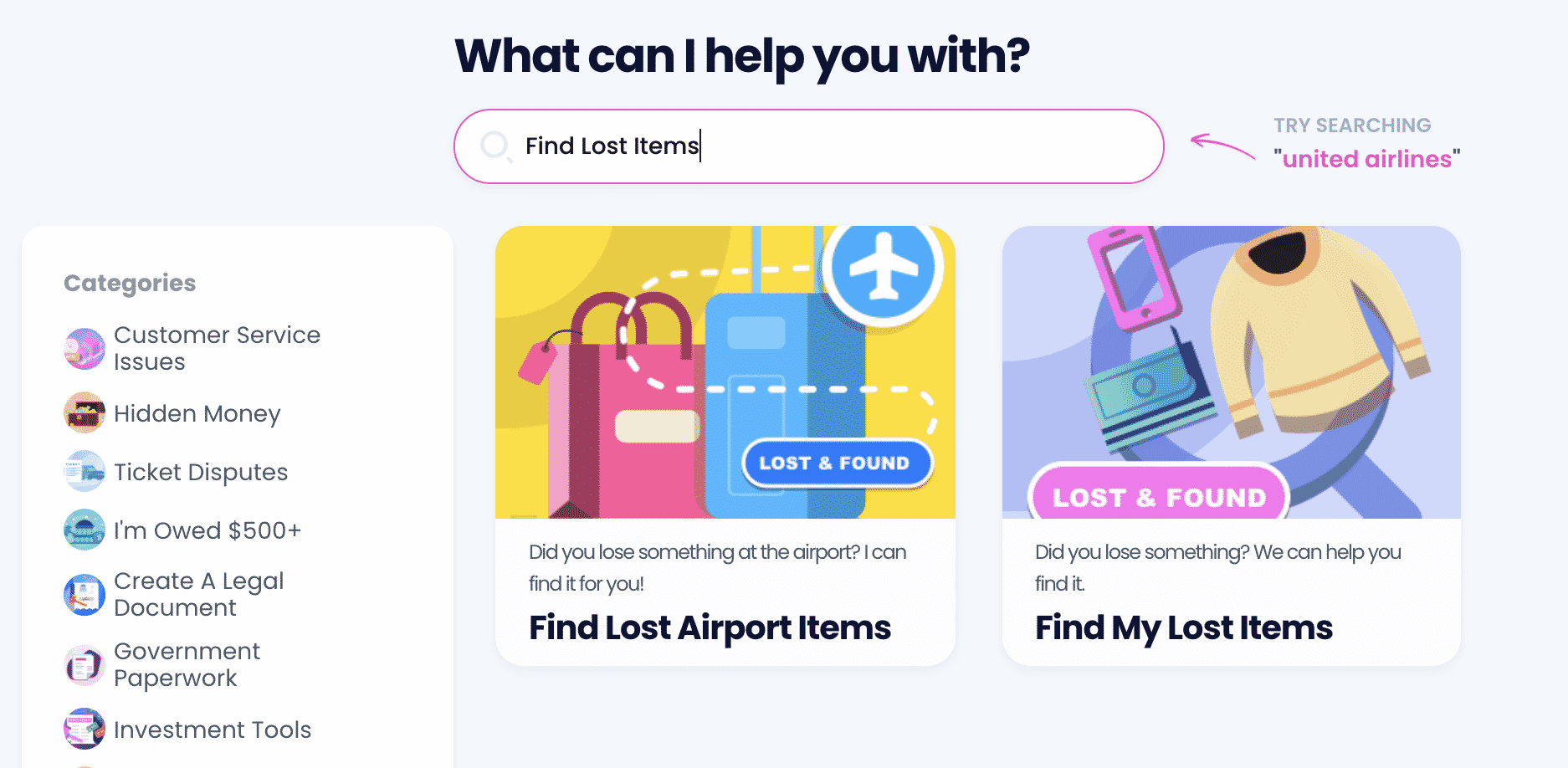 While the 60-day window may seem like plenty of time, it can go by faster than you think. If you don't want to risk losing your beloved AirPods for good, .
Our AI-based platform offers a tried method of retrieving your belongings with the Find Lost Items service. Apart from being efficient, the feature is also user-friendly, requiring the following simple steps:
Go to DoNotPay and select our Find Lost Items product
Tell us the exact location where you last saw the item
Write an in-depth description of the object and make sure to include any recognizable features—if possible, provide photos
Give us the date and time when you lost the item
Once you're done, DoNotPay will reach out to the Alamo Lost and Found Department to initiate the search.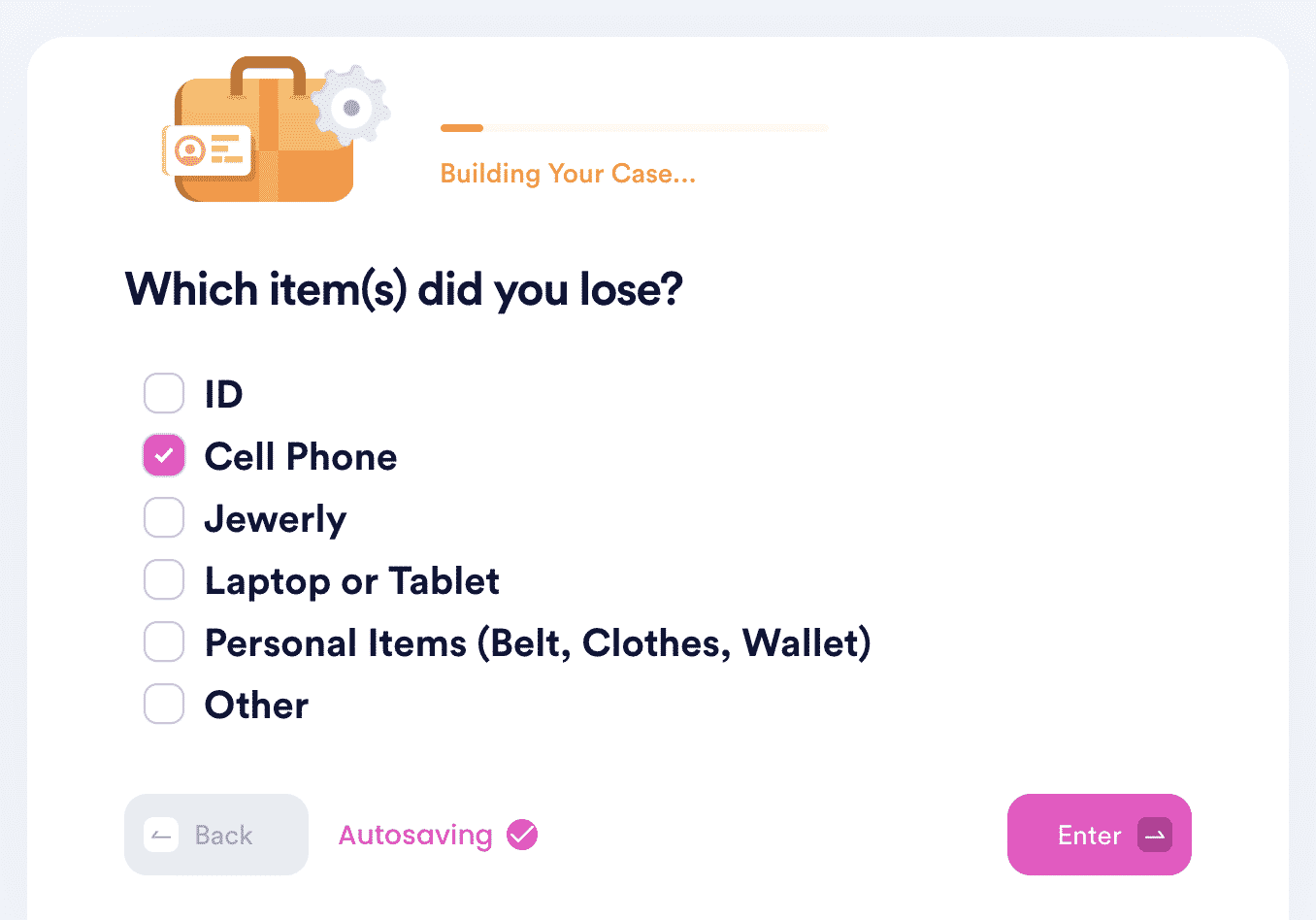 You can rely on DoNotPay to hunt down your missing items wherever you lose them. Check out some of our other guides for retrieving your lost belongings:
Rely on DoNotPay and Get Rid of Administrative Issues
Are you tired of returning items, canceling subscriptions, fighting parking tickets, and mailing letters? We can help you fast-track all these tasks and more! Do you need help reaching customer service, fighting workplace discrimination, submitting defamation demand letters, or filing HR complaints? Use DoNotPay and solve any issue without a hitch.
Feel free to also use our app to study for government tests, apply for scholarships, appeal low financial aid offers, and request college fee waivers.
Do you need help paying bills? DoNotPay can assist you in lowering your property taxes, getting gift card cash back, entering sweepstakes and giveaways, and getting refunds.
With us, you'll be able to both earn and save money!
Say Goodbye to Spammers With DoNotPay's Assistance
Getting spammed on the daily? Our app can put an end to this annoying issue! Block spam emails, text messages, and robocalls in a few clicks. We can even help you deal with stalking and harassment.
Thanks to our Burner Phone product, you'll get a temporary phone number that you can submit when registering on different platforms and protect your privacy.
Another way to keep your privacy intact is using DoNotPay's virtual credit card. Signing up for free trials without hidden charges and revealing your contact details has never been easier!