Can You Track a Verizon Lost Phone?
Are you wondering what the best way to look for your lost phone is? Want to know how to track down your Verizon lost phone fast and prevent any potential data misuse?
Verizon offers a few options—but why not avoid all the hassle?
and use our top-notch service to reunite with your belongings!
I Lost My Verizon Phone—What Should I Do?
Consider taking preventive measures to keep your data safe after losing your phone. Take a look at some suggestions in the table below:
| Ways To Secure Your Data | Description |
| --- | --- |
| Lock your phone remotely | Most device locator apps provide the option to lock your phone remotely. You can also add contact information to the lock screen in case someone finds it |
| Erase the data | If you're afraid of personal data abuse, you can use the locator app to clear out your lost Verizon phone. Keep in mind the action is permanent |
| Call your provider | You can ask Verizon to temporarily terminate your services to protect your data |
| File a police report | When everything else fails, notify the local authorities and report your lost Verizon phone |
How To Find a Lost Verizon Phone
If your Verizon phone is lost, you can:
Track your iPhone using the built-in locator app
Use Find My Device to locate your Android phone
Reach out to the Verizon customer support department for guidance
Locating a Lost iPhone From Verizon via Find My
Apple's Find My app enables iOS users to locate their devices on a map. The feature is compatible with all Apple products, from AirPods to Apple Watch.
If you want to use the app to track down your lost iPhone, follow these steps:
Launch Safari or your preferred browser app
Sign in to Find My iPhone with your iCloud
Enter your Apple ID when prompted
Find your device on the on-screen map (it'll be marked with a red dot)
Note that if the Location Services feature is turned off, your iPhone won't show up on the map.
If you think your phone is still nearby, the Find My app can play a sound from the device. Instead of fumbling around, you'll be able to by following the signal. Here's how to activate it:
Go to iCloud and sign in to Find My iPhone
Open All Devices and then click on your iPhone
Select Play Sound
The sound will play for approximately two minutes, with the volume gradually increasing. Keep in mind that if your phone is offline, you won't be able to use the feature.
How To Track an Android Phone
Whether it's Samsung or OnePlus, all Android phones have a built-in Find My Device feature. You can use it to locate your lost Verizon phone by completing the following steps:
Sign in to your Google account
Select your phone from the list of devices connected to your user profile
Look at the map to find your phone. Note that the location is merely an approximation
Play a sound from your phone at full volume for five minutes. In this case, it doesn't matter if the device is offline
You won't be able to use the Find My Device feature if:
The phone is turned off or disconnected
You're not signed in to your Google account
The Find My Device app isn't enabled
The location isn't on
Contact Verizon Customer Service
If you didn't manage to track down your phone, try reaching out to the Verizon customer support team and file a complaint. You can contact them via:
Phone at 1-800-VERIZON (1-800-837-4966)
Live chat
Facebook Messenger
The best time to contact Verizon customer service is during their regular business hours (from 8 a.m. to 9 p.m.). You also have the option to schedule the call by signing in to your Verizon account.
DoNotPay Can Help You Locate Your Verizon Lost Phone Within Seconds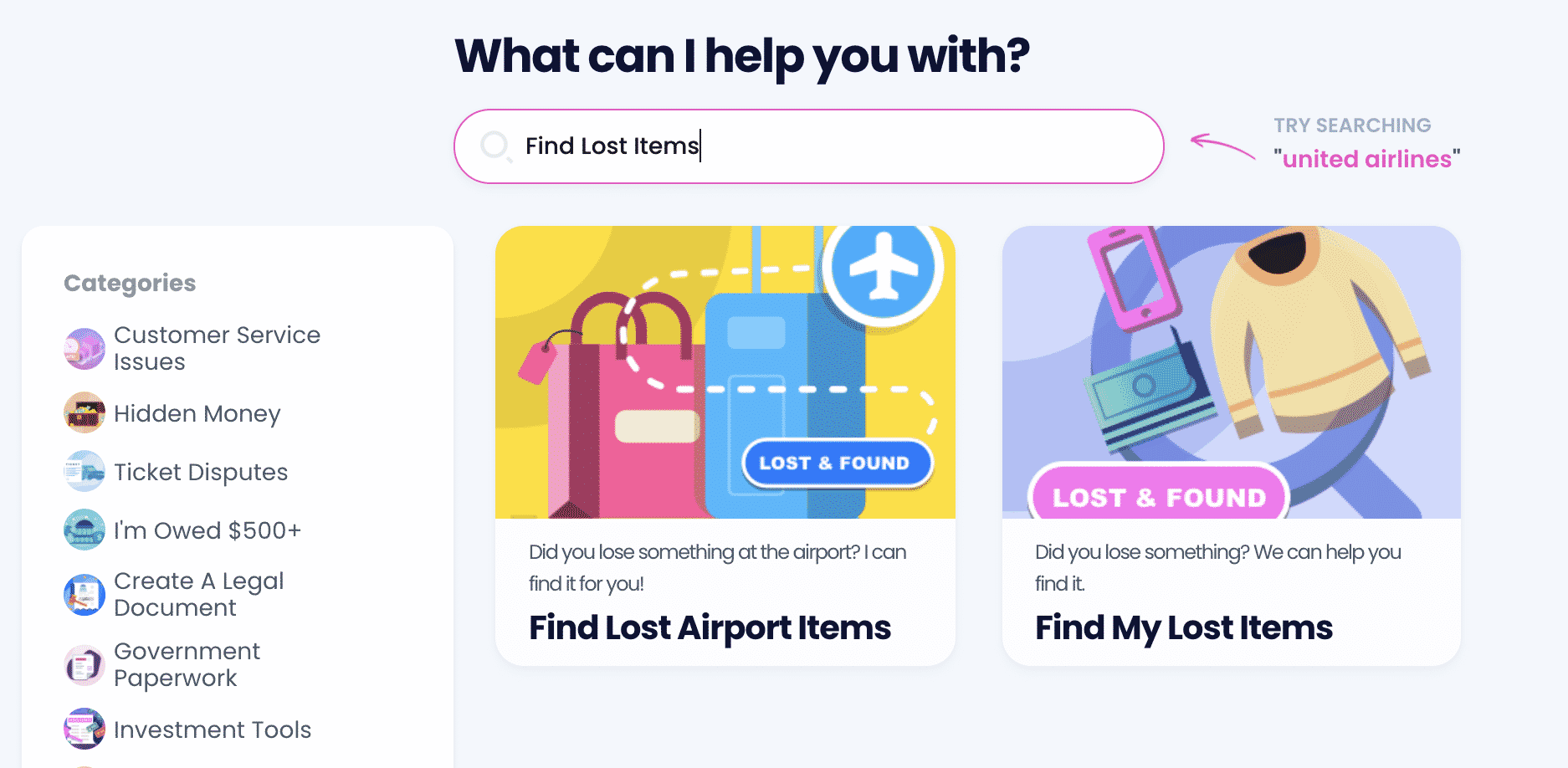 Whether you've lost your phone, wallet, or even car keys, you can count on DoNotPay to help. Our Find My Lost Items product is the most reliable way to retrieve missing belongings.
Here's how to enlist the service:
Select the Find My Lost Items product
Describe the lost item in full detail and upload photos if possible
Give us the date and time when you lost it
DoNotPay will reach out to Verizon with your lost item claim. If the phone is recovered, you'll receive a notification.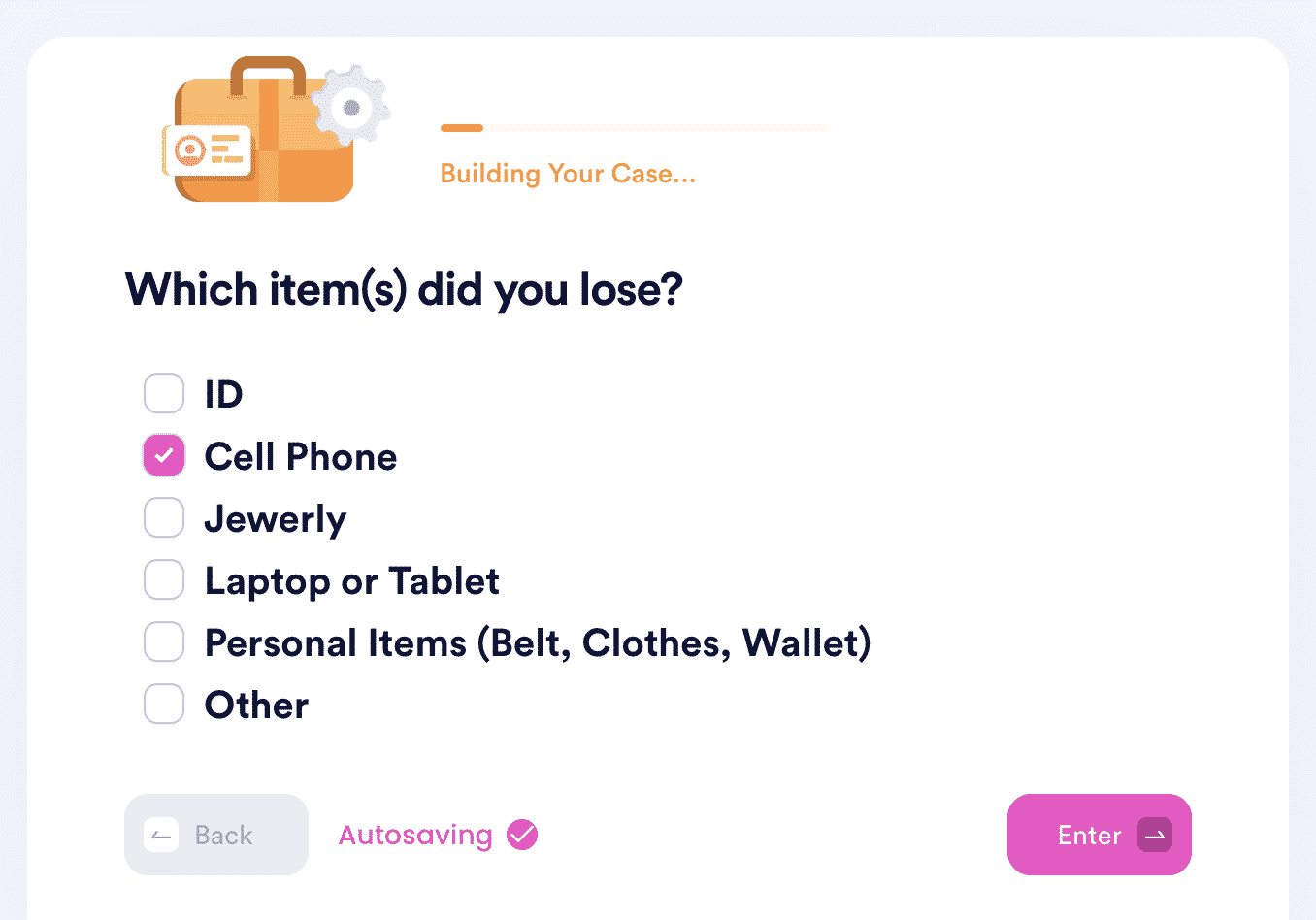 Our Find My Lost Items services can help you find phones from AT&T, Metro, and T-Mobile.
We also encompass various locations, such as:
Does Verizon Insurance Cover Lost Phones?
If your device is insured by either Verizon or their partner Asurion, you can file a Verizon lost phone claim. You can use the My Verizon app to submit the form.
Here's a step-by-step breakdown of the procedure:
Launch the Verizon app and click on Menu in the upper-left corner of the screen
Select Devices
Find your phone on the list and click Manage device
Choose the option to file the claim
Provide the information required for the Verizon lost phone insurance (e.g., the PIN for your Verizon account)
Rely on DoNotPay and Get Rid of Administrative Issues
Are you tired of returning items, canceling subscriptions, fighting parking tickets, and mailing letters? We can help you fast-track all these tasks and more! Do you need help reaching customer service, fighting workplace discrimination, submitting defamation demand letters, or filing HR complaints? Use DoNotPay and solve any issue without a hitch.
Feel free to also use our app to study for government tests, apply for scholarships, appeal low financial aid offers, and request college fee waivers.
Do you need help paying bills? DoNotPay can assist you in lowering your property taxes, getting gift card cash back, entering sweepstakes and giveaways, and getting refunds.
With us, you'll be able to both earn and save money!
Say Goodbye to Spammers With DoNotPay's Assistance
Getting spammed on the daily? Our app can put an end to this annoying issue! Block spam emails, text messages, and robocalls in a few clicks. We can even help you deal with stalking and harassment.
Thanks to our Burner Phone product, you'll get a temporary phone number that you can submit when registering on different platforms and protect your privacy.
Another way to keep your privacy intact is using DoNotPay's virtual credit card. Signing up for free trials without hidden charges and revealing your contact details has never been easier!