How To Find a Lost iPhone That Is Dead—Best Solutions
Out of all items that go missing, losing your wallet and your phone are the two most dreaded scenarios.
The iPhone devices possess almost every piece of information about their owners—credit card information, personal data, media, contacts, account credentials, and so on. When an iPhone goes missing, it's no wonder people start panicking and try anything to retrieve the device.
While there are apps that can help you locate your phone based on its location and internet connection, the question is—how to find a lost iPhone that is dead?
In this guide, we'll go over the steps you can take to get your iPhone back even after its battery dies.
We'll also introduce DoNotPay to you, which can help you find something you lost without any hassle on your part.
How To Find a Lost iPhone That Is Dead—What Options Do You Have?
Finding a missing iPhone is difficult as it is—you need to rely on the Find My Phone app to accurately track a lost iPhone or go around and talk to the staff of places you've been to. Finding a lost iPhone that is also turned off is an even worse task, but it's not impossible!
To retrieve your iPhone, you can do one—or all—of the following:
Use Find My Phone for offline tracking
Revisit and contact the locations you were at
Use DoNotPay to help you find the lost iPhone
What To Do With Find My Phone
The primary feature of the Find My Phone app is the GPS locator of your device—you start up the app, and it shows you the location of your phone. The app's GPS locator works only if your iPhone is on and has access to the internet.
If your battery is dead, Find My Phone will show you the last location your iPhone sent to Apple. If your phone is still on but has no internet access, it will communicate with other Apple devices in its vicinity and send its location through them.
Check out the following table to see what the steps you need to take are, depending on the source from which you're trying to find your iPhone:
iPad
Another iPhone
Mac

Open the Find My iPad app
Select your iPhone from the list of devices
Select Directions
Turn on Notified When Found to get a notification when your iPhone gets turned on again

Open the Find My Phone app
Go to the Me section
Choose Help A Friend
Select Use Different Apple ID
Enter your iCloud credentials
Choose Not Now for a new password
Try to locate your iPhone on the map

Visit iCloud through your browser
Sign in with your Apple ID
Select the Find iPhone app icon
Click on All Devices
Choose your missing iPhone from the list
Check out the map to see the last read location
Only Apple devices can use the Find My services. You can also use Google Maps' feature—Location History—but it needs to be enabled before you lose your phone.
Contacting the Places You Were At
If Find My Phone can't find your device, it's time to start looking for it on your own. Try to retrace your steps by remembering the last time you had your iPhone. Then, recall all locations you visited between now and the moment you had your phone.
Once you have a list of all potential locations, you can either visit them in person or get in touch with their customer support over the phone. If you visited a large place like Disneyland or were on some form of transportation, you can contact the company's lost and found office, such as:
Keep in mind that this can be a tedious task that requires making a huge number of phone calls and spending days going from one place to another, hoping you'll find your device.
How To Do It With DoNotPay
Luckily, you don't have to go through the process of reaching out to various locations alone—DoNotPay does it on your behalf!
What you need to do is and answer a few questions related to your iPhone:
Date of loss (estimate)
List of all possible locations your iPhone might be at
Detailed description by:

Uploading a photo of the device
Writing out details such as color, model, mask type, screensaver image, any unique characteristic, etc.
Once we get answers from all places you mentioned, we'll notify you about the result.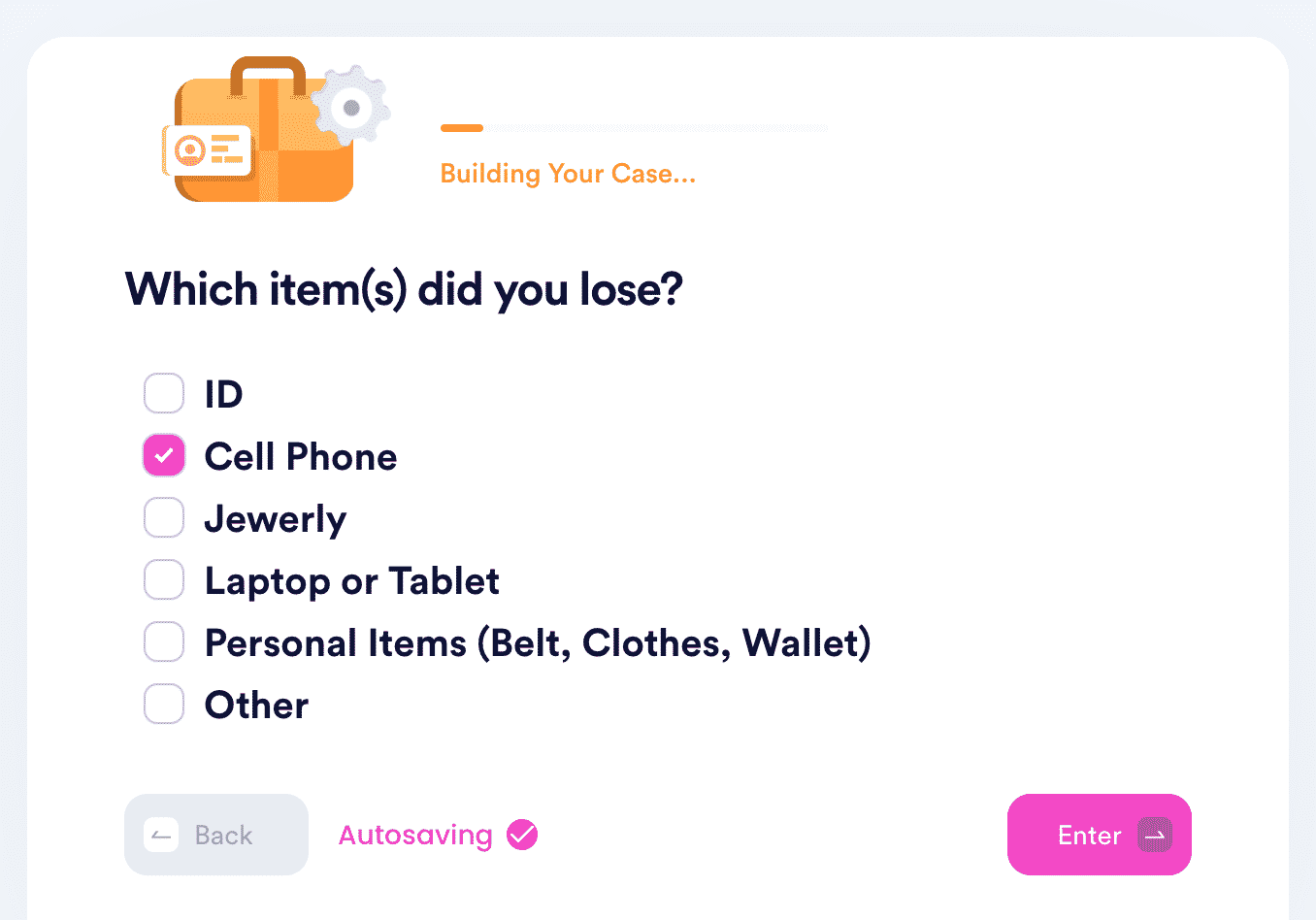 Aside from finding your dead iPhone, DoNotPay can help you with clothes, laptops, car keys, rings, and many other items.
How To Find a Lost iPhone That Is Dead With DoNotPay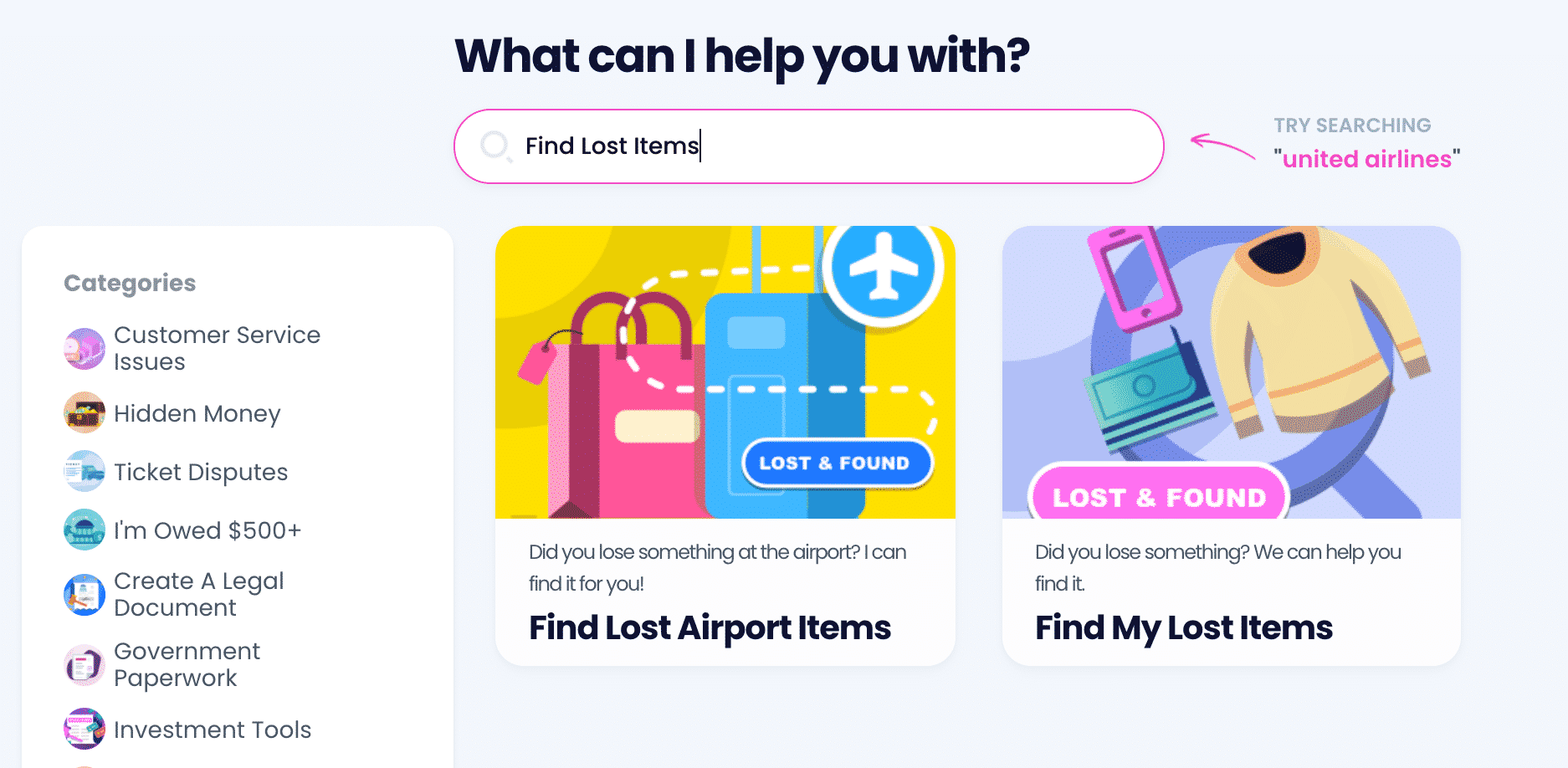 Losing your iPhone is a stressful situation as it is, but it becomes even more difficult if its battery dies out and you can't locate it with GPS. Going from one location to another and contacting various customer support teams only adds to that stress and makes the whole situation unbearable.
DoNotPay can help you make the process less painful by contacting the places your iPhone may be at on your behalf.
You only need to:
Use your web browser to
Navigate to the Find My Lost Items product
Answer a few questions from our chatbot
Say Goodbye to Boring Tasks
When a task takes up too much time, you may give up or procrastinate incessantly. We have a solution—use DoNotPay to manage numerous administrative or bureaucratic errands.
No more waiting in neverending DMV lines or staying hours on the phone waiting for a customer service rep to pick up. You can even skip going to the post office. We can help you send letters and even online faxes in a flash. If what you're sending needs to be notarized, use our app to schedule an appointment with an online notary.
Traveling soon? Get your passport photos ready, apply for a tourist visa, contact embassies, and draw up a child travel consent form—all within the same app.
What Else the World's First Robot Lawyer Can Do for You
When you need legal assistance but you can't afford to hire a lawyer, rely on DoNotPay. With our legal expertise, we can help you do the following: