Amtrak Lost and Found—A Simple Guide to Locating the Missing Item
Losing a valuable object is a stressful experience, but if you are lucky and resourceful enough, you might get it back. A missing phone or wallet could end up anywhere, but having a general idea when you last saw them, increases your chances of finding them.
If you believe that your item could've gone missing on the National Railroad Passenger Corporation territory, you should contact the Amtrak Lost and Found department. DoNotPay will provide you with all the relevant info on how to try and get your valuables back.
How the Amtrak Lost and Found Department Functions
If you believe you lost something on one of the Amtrak trains or train stations, you must contact the company's customer service. You can do so in the following ways:
Over the phone
Via an online form
By talking to an Amtrak representative at your arrival station
How To Contact the Amtrak Lost and Found Department Over the Phone
One of the ways to search for a lost item is to call Amtrak customer service and possibly wait on hold for ages. Should you still choose this option, here's the drill:
Call 1-800-USA-RAIL (1-800-872-7245)
Explain why you are calling
Provide the rep with the info they need, such as:

Item description
Your route
Date you lost it
Approximate time you lost it
The customer representative will explain further steps you'll need to take.
How To Inform Amtrak About Your Lost Item via an Online Form
You can also let Amtrak know you've lost an item by completing an online form. Here are the numerous steps you'll need to take:
Visit the Amtrak website
Open the Lost Item Report link
Select the type of item you lost from the drop-down menu
Enter the train number
Type in the date you lost the item
Select the station you last saw the item on
Write down all the details about the lost item in the provided field
Enter your contact information, including your:

Full name
Email address
Phone number
Street address

Click the Submit button
Once you complete the online form, you'll get an email with your Lost Item ID tracking number. Amtrak will update the search status, and if they don't find the item in the next 30 days, you should consider it lost.
Reporting the Missing Item in Person
This option is only available if you realize you've lost an item while still near the station. You should:
Approach the representative
Explain what the issue is
Provide them with the requested info, such as the item description and train number
How To Get Your Item Back if It Is Located
In case Amtrak informs you that the item you lost is located, you can claim it in two ways. Your choices include:
Getting the item shipped to you, in which case you cover the shipping costs
Picking up the item at the station where it was found
Prohibited Items That Will Not Be Returned to You
If the item you lost is not allowed to be carried on trains, Amtrak will not return it, even if they find it. The following table offers specific details:
Sharp Objects
Martial-Arts and Self-Defense Items
Household and Automotive Items
Dangerous Chemicals or Materials

Axes
Ice picks
Knives
Spears
Swords

Billy clubs
Nightsticks
Nunchucks

Antiques
Appliances
Artwork
Furniture machinery and car parts
Powered tools
Silverware
Tires and tow bars

Liquid bleach
Tear gas
Fuels
Fireworks and other explosive devices
Radioactive and harmful bacteriological materials
Use DoNotPay To Find Your Item With Ease
If you would rather not have to wait for hours in phone lines and talk to numerous representatives, you should turn to DoNotPay for help in finding the lost item. We can handle the entire tedious process on your behalf by checking all the places you've visited recently. You only need to:
Choose the Find My Lost Items product
Describe the item you lost in detail and upload a photo is possible
Enter the approximate time and date when you lost the item
If your belongings are located, DoNotPay will inform you how to claim them. The two available options usually include delivery or in-person pick up.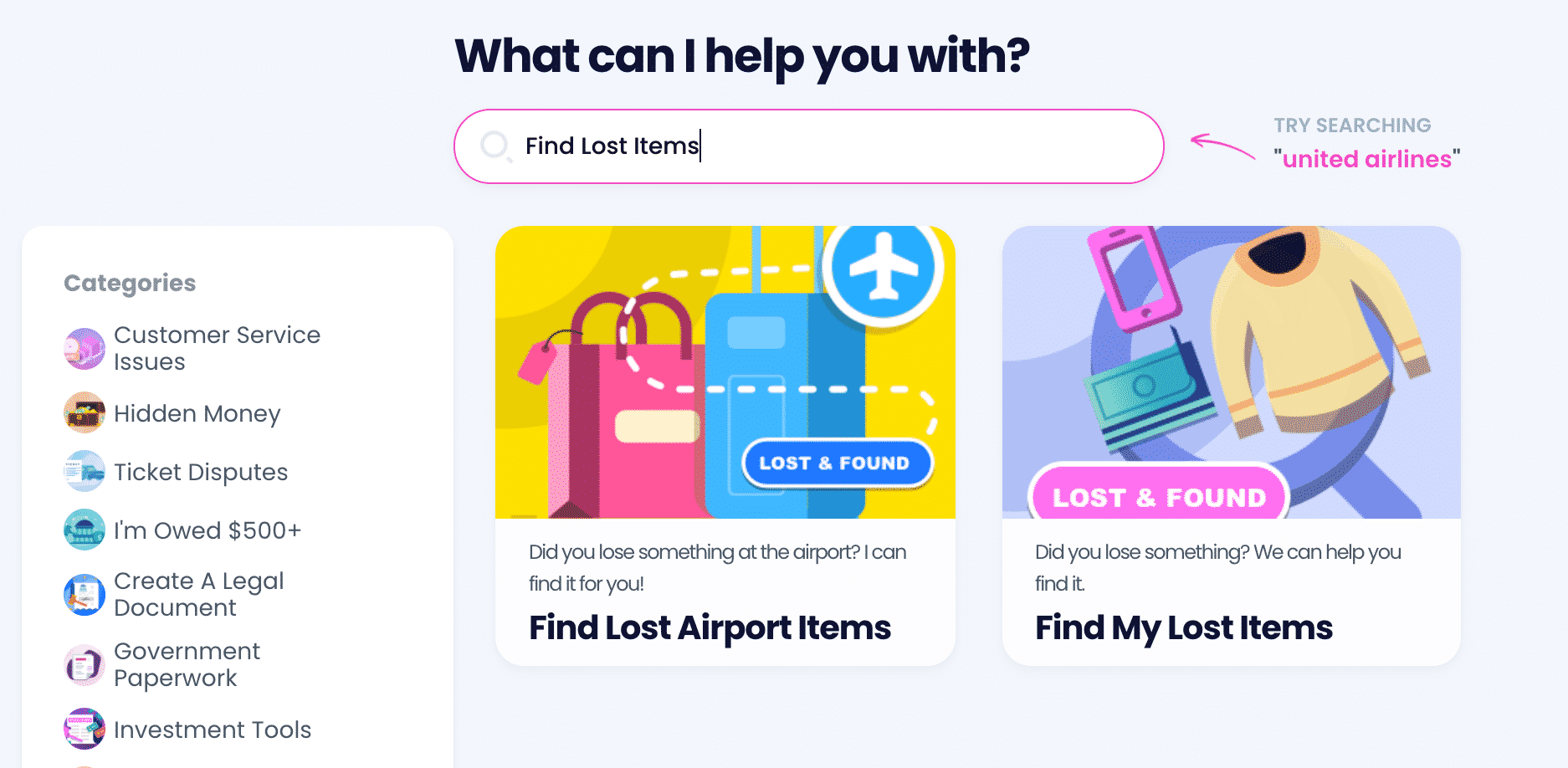 DoNotPay Is Your Best Bet To Find Lost Items
If you , you'll significantly increase your chances of finding whatever you might have lost. Check out the table below for more information on what we can help you with:
| Locations We Can Help You Search At | Items We Can Help You Find |
| --- | --- |
| | |
Let Our App Assist You With Paperwork
You don't have to deal with bureaucratic tasks on your own! DoNotPay is here to help you cancel your memberships, appeal parking tickets, discover unclaimed funds, and get any document notarized online.
If you need help covering your bills or you'd like to get extra cash by signing up for clinical trials, we are your go-to!
We can also assist you in drawing up and sending out the following documents:
Keep Your Online Safety Intact
Staying anonymous is almost impossible these days, but with DoNotPay's help, your contact and payment details will remain private.
Thanks to our Burner Phone product, you'll be able to keep your phone number to yourself and get a temporary one you can use when you register on various platforms.
If you want to avoid getting charged and revealing your personal info when signing up for free trials, we can help you kill two birds with one stone. Get our multifunctional virtual credit card and skip submitting your name, email address, and payment details.
With our app, you can also handle stalkers and harassers, fight workplace discrimination, and block spam.