NJ Transit Lost and Found—How To Retrieve an Item
Every day, the New Jersey Transit Corporation (NJ Transit) sees thousands of items being lost on rides and stations—phones, jewelry, wallets, and car keys are among the most common ones. People usually figure out they lost something long after they leave the NJ Transit premises, giving them no option to search the same train or bus for the item.
What can you do to find something you lost while on an NJ Transit ride? In this article, we'll show you how to retrieve your item from the NJ Transit Lost and Found office. We'll also demonstrate a more efficient way of dealing with its customer support.
New Jersey Transit Lost and Found—Getting Your Item Back
Whenever something gets left on a train or bus, the staff takes that item to the NJ Transit Lost and Found office, to which you can reach out and ask for your possession back. You can do that in three ways, as follows:
File an online claim
Contact customer support
Use DoNotPay
NJ Transit Lost and Found Online Claim
If you opt to ask for your item back online, you will have to fill out an online form that will go into the NJ Transit L&F database. Bear in mind that the Lost and Found office will contact you only if they find an item that matches your claim. Since you don't receive any claim ID number, you won't be able to check up on the status of your claim.
You will need to provide the following information:
Full name
Email and street address
Phone number
City of residence and ZIP code
Item description
Travel info:

Date of travel
Bus line, terminal, and route
The rail station and line
You can select both bus and rail if you used multiple transportation methods that day.
The most important segment is the item description. You will need to provide an accurate, in-detail one so that they can match your claim with an item and be sure that you're the owner of it. The description includes:
Item category
Type within the category (type of jewelry, type of ID card, piece of clothing, etc.)
Brand
Model
Color
Item gender (for instance, if it's a jacket for men, women, or children)
Comments where you should describe any distinct features
Dealing With Customer Service
If you don't want to fill out the form, you can reach out to customer service and file a claim directly. You will have to provide the same information, but you will be able to call the support team and get updated information about the claim status.
To get in touch with customer service, you can call 973-275-5555 or 800-772-2287 if you're hearing-impaired. You can also visit any customer support office in person and file a claim there. Check out this table to find info about the office locations and working hours:
Customer Service Office Location
Working Hours
Trenton Transit Center

Mon–Fri: 6 a.m.–8 p.m.
Closed on weekends

New York Penn Station

Mon–Fri: 6 a.m.–11 p.m.
Weekends: 7 a.m.–11 p.m.

Newark Penn Station

Mon–Fri: 6:30 a.m.–10 p.m.
Weekends: 8 a.m.–5 p.m.

Hoboken Terminal

Mon–Fri: 6:30 a.m.–8 p.m.
Closed on weekends

Secaucus Junction

Mon–Fri: 5:30 a.m.–10 p.m.
Weekends: 6:30 a.m.–10 p.m.

Walter Rand Transportation Center

Mon–Fri: 6 a.m.–3 p.m.
Closed on weekends

Port Authority Bus Terminal

Mon–Fri: 7 a.m.–8 p.m.
Closed on weekends
Using DoNotPay
With DoNotPay, you can skip the process of visiting various customer service offices and calling them in hopes that they will be helpful and efficient—unhappy customers will disagree with that being the case.
When you , you will be able to file a claim with the NJ Transit Lost and Found office in no time, and we will deal with them on your behalf.
You will need to give us information about the lost item, such as:
Date of loss
Location of loss—bus line, train station, etc.
Description of the item—we'll ask you questions about the item so that you don't leave out any important detail
We'll do the rest and notify you of the outcome.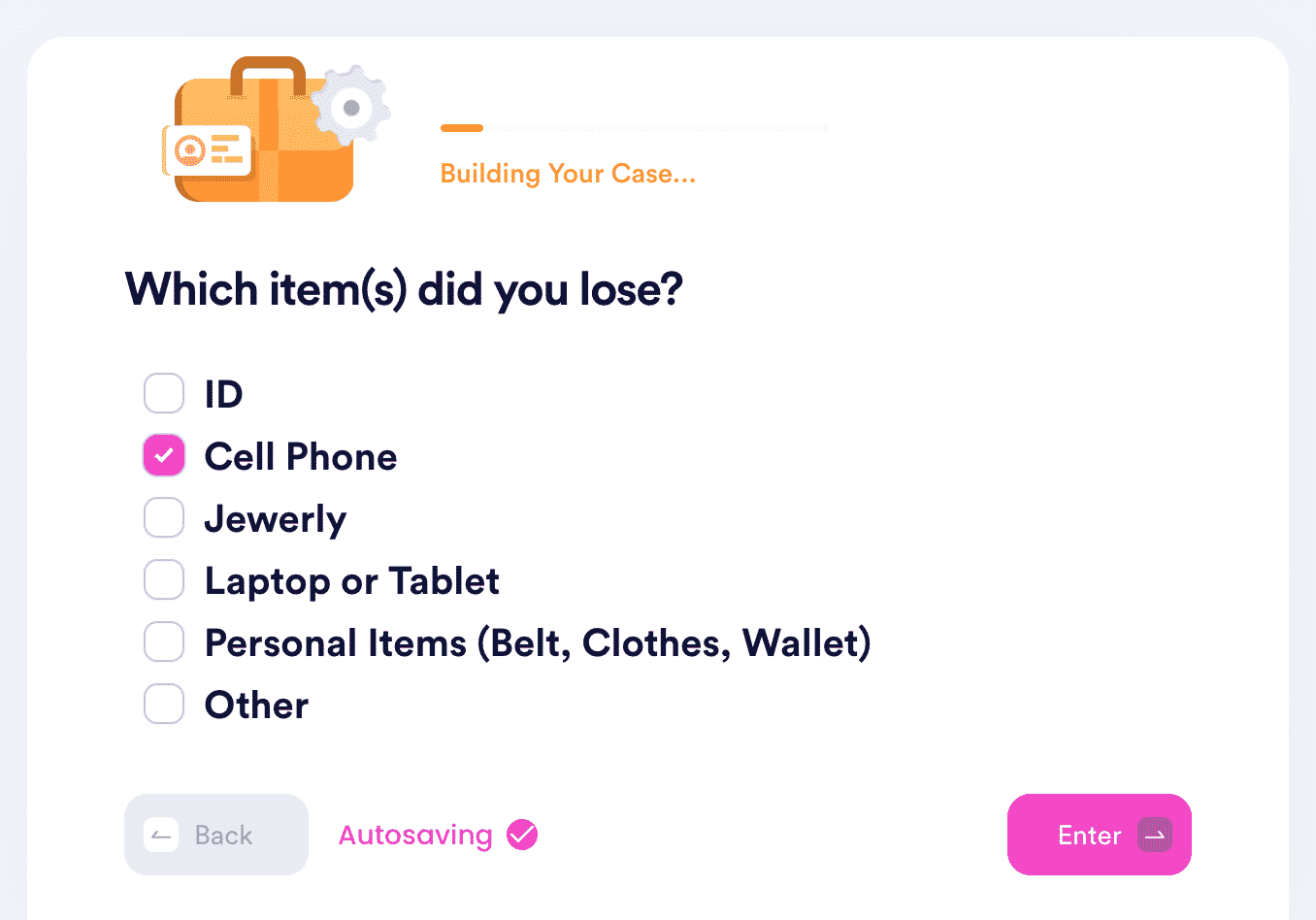 Find a Lost Item in No Time With DoNotPay—How It Works
When you lose an item, you go through a stressful period of trying to get it back. Customer service receives hundreds of calls about lost items each day, and they will not find your situation as alarming as you do. Spending time visiting NJ Transit offices and adding to the stress by making multiple calls to customer support is the last thing you need.
That's where DoNotPay comes in. Our app will take all the necessary steps on your behalf so that you can focus on other matters, such as what to do if you can't get your possession back.
All you need to do is the following:
via any browser
Search for the Find My Lost Items feature
Answer a few questions from our chatbot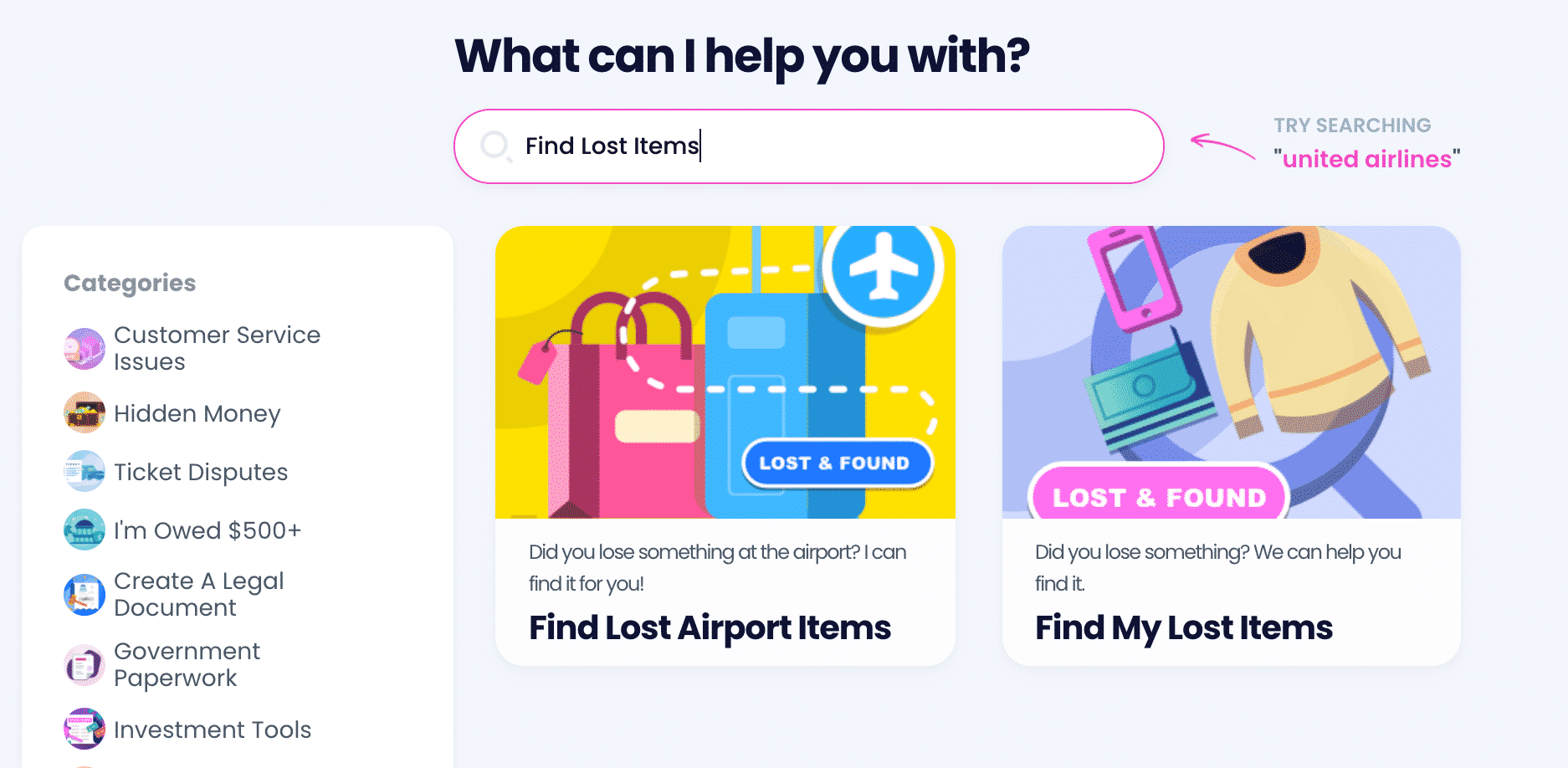 DoNotPay can also help you with other transportation services, such as Metro Transit, Uber, MTA, Lyft, NYC Yellow Cab, and others.
Protect Yourself With DoNotPay's Help!
In case you're looking for protection from harassers and stalkers, you can count on our help. Even if you're dealing with discrimination at work or noisy neighbors, our app can solve your issues. When spam is what's bothering you, our AI-powered app will put a stop to it. Email spammers, texters, and robocallers won't be able to reach you.
What if you need to take the issue to court? The world's first robot lawyer will be by your side. With our help, you can file a complaint or sue anyone in small claims court.
If you're wondering whether there might be a sex offender in your area, we can help you find out. Use our app to perform a sex offender search and get updates.
A Pocket-Sized Assistant Is All You Need
Is your to-do list getting longer and your paperwork piling up? DoNotPay swoops in! We'll cut through numerous bureaucratic tasks so that you can sit back and relax.
Here's what we can assist you in: