How To Find Lost Glasses With DoNotPay
If you're tired of people telling you to "retrace your steps" after losing your glasses, DoNotPay presents an alternative. Check out our list of pro tips and learn how to find lost glasses in the quickest way possible. and avoid blind spots in your search for lost belongings!
I Lost My Glasses—What Do I Do?
Misplacing your glasses is annoying enough when you're lounging on the couch, but forgetting them outside the house is a different level of inconvenience. Depending on where and how you lost your glasses, you can try:
Filing a lost item slip with the location in question
Inquiring about your glasses with the department responsible for lost and found items
Submit a Lost Item Report Online
Most retail stores, car rental services, food chains, and other similar locations have a procedure for finding lost items. If you have an idea of where you've lost your glasses, contact the company in question and submit a lost item report.
The lost item slip has a uniform layout, with a few variations depending on the location. If, for example, you've left your glasses in an Uber vehicle, you'll have to provide details about the trip (driver's name, vehicle number, etc.).
The same goes for other ridesharing and transportation services.
When filling out the form, you'll probably need to include the following information:
Your full name
Contact information (email and phone number)
Date and time when you lost your glasses
A thorough description of the item
Here's what you should keep in mind before submitting the form:
List a valid phone number and email address as your contact information. The location representatives won't be able to reach you otherwise
Put down an approximate time when you lost your glasses. It's okay if you don't know the exact time, but try to remember the correct date
Describe your missing eyewear with as much detail as you can. Mention any recognizable elements (e.g., scratches and dentures, the color of the frames, etc.)
Attach any photos of your glasses to the slip
Contact the Lost and Found Department
If you want to enlist the help of an employee, you can get in touch with the company's Lost and Found Department. Note that you should:
Avoid visiting the department headquarter in person without making an appointment
Get the customer service contact information from an official source (e.g., the company website)
Choose a preferred means of communication. Usually, there are multiple ways to reach the customer service team—via phone, email, live chat, Facebook, or in person
Make sure to call within their regular business hours
How To Find Lost Glasses Fast—Subscribe to DoNotPay's Amazing Services!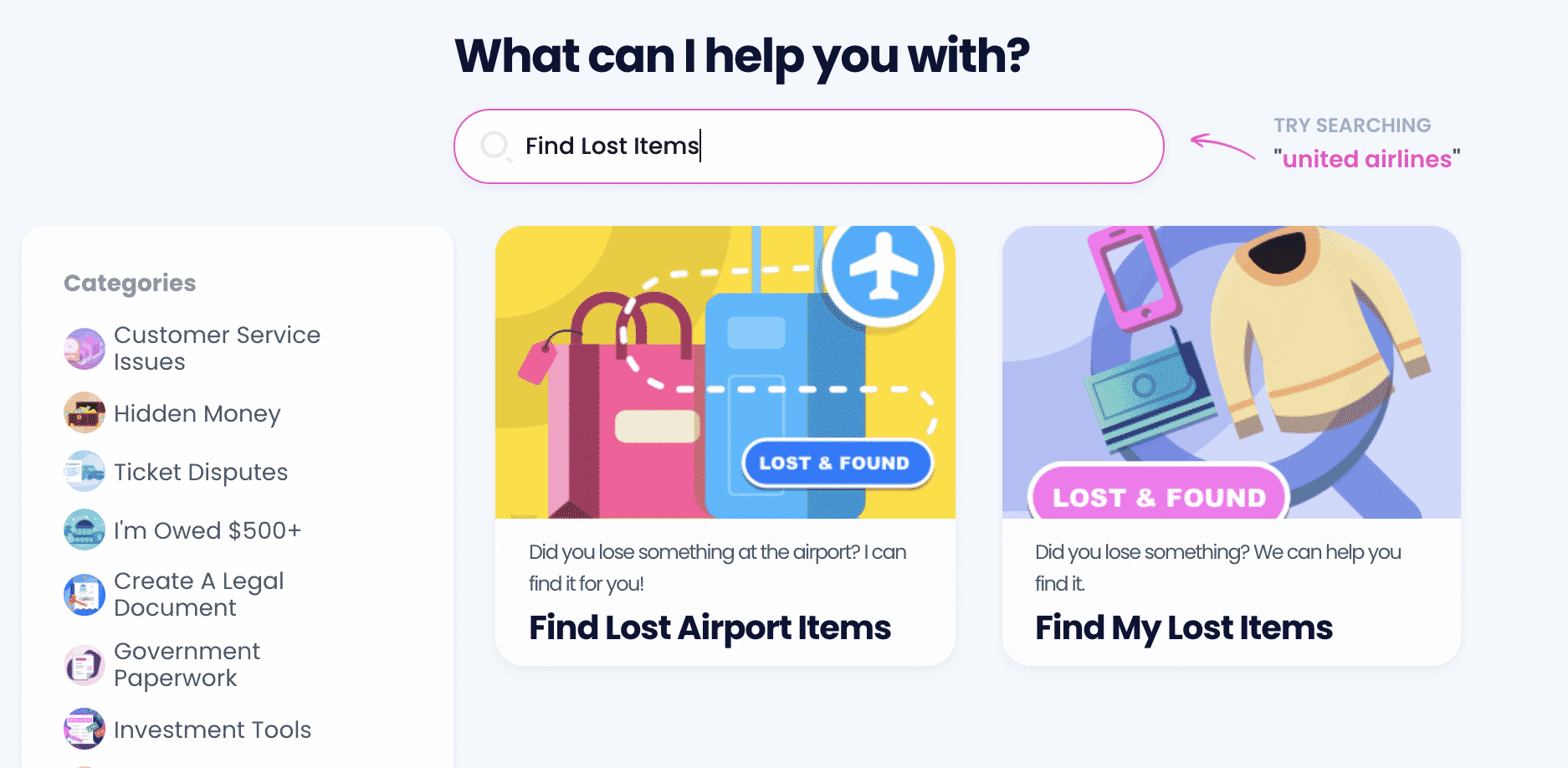 Tracking down lost glasses can seem like mission impossible if you haven't heard of DoNotPay's new product! The Find My Lost Items service is the most reliable way to retrieve misplaced objects. Instead of going back and forth with customer service, why not perform a streamlined search for your belongings using our AI-operated app?
Once you , complete the following steps to start the process:
Launch the Find My Lost Items tool
Tell us where you suspect the item was lost
Give us a date and time you noticed the item's missing
Describe the item in detail while focusing on identifiable characteristics. Upload photos if you have any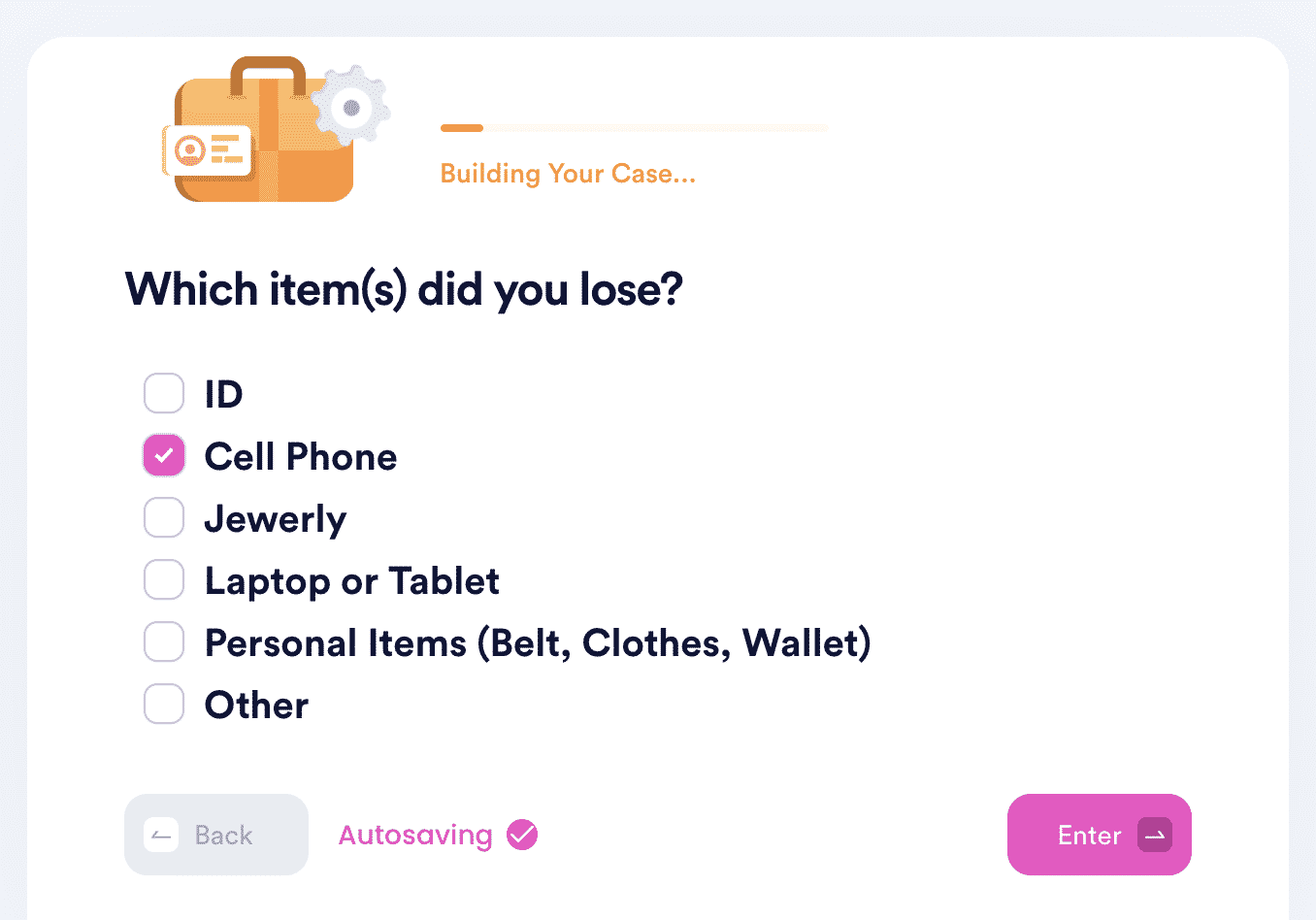 DoNotPay will use the information you provided to contact the location in your name and initiate the search. Wherever you've lost your glasses, the chances are it's covered by the Find My Lost Items service.
Here's a glimpse of what our AI-operated app can help you with:
| Locations We Cover | Items We Can Find |
| --- | --- |
| | |
Follow These Steps and Never Lose Your Glasses Again
If you have a habit of losing your glasses, it might be time for a change of pattern. You can take preemptive measures to avoid being stranded without your visual aid. Check out these tips for keeping track of your eyewear:
Preemptive Measure
Description
Carry a special glasses holder when you go outside
Have an eyeglass case on your person at all times, especially when you go outside, and consider getting one in a bright color so it's more eye-catching.

The same goes for lanyards—while not necessarily stylish, they are incredibly practical

Consider buying a tracker
You can attach a mini GPS device to your glasses and download a compatible locator app. Trackers are designed to fit the frame, so you don't have to worry about being uncomfortable
Always keep an extra pair for emergencies
The next time you go for a routine check-up, ask your eye doctor to give you an extra pair of glasses. If you can afford it, it's a great way to avoid these situations
Rely on DoNotPay and Get Rid of Administrative Issues
Are you tired of returning items, canceling subscriptions, fighting parking tickets, and mailing letters? We can help you fast-track all these tasks and more! Do you need help reaching customer service, fighting workplace discrimination, submitting defamation demand letters, or filing HR complaints? Use DoNotPay and solve any issue without a hitch.
Feel free to also use our app to study for government tests, apply for scholarships, appeal low financial aid offers, and request college fee waivers.
Do you need help paying bills? DoNotPay can assist you in lowering your property taxes, getting gift card cash back, entering sweepstakes and giveaways, and getting refunds.
With us, you'll be able to both earn and save money!
Say Goodbye to Spammers With DoNotPay's Assistance
Getting spammed on the daily? Our app can put an end to this annoying issue! Block spam emails, text messages, and robocalls in a few clicks. We can even help you deal with stalking and harassment.
Thanks to our Burner Phone product, you'll get a temporary phone number that you can submit when registering on different platforms and protect your privacy.
Another way to keep your privacy intact is using DoNotPay's virtual credit card. Signing up for free trials without hidden charges and revealing your contact details has never been easier!