How To Find Something You Lost—A Detailed Guide
Every day, numerous people around the world open their bags or pat their pockets only to find a valuable item missing and have a mini panic attack. After the initial emotional reaction, it's time to act and try to locate that wallet or car keys, and to do it, you must get practical.
DoNotPay explains how to find something you lost without trouble and even steps in to help you in the process.
Where Do Items Usually Go Missing?
People lose valuable items all the time, especially the small ones that are easy to misplace. Some places tend to be black holes for your belongings:
Your house
Taxies and other public transport vehicles
Planes
Train and bus stations
Subway
If you lost something at home, the chances are you're going to find it during the next thorough cleaning, but other listed spots may not be easy to scan. We are usually in a hurry from point A to point B, more worried about the route and time than what we carry with us. This is why it is easy to leave a bag behind in a taxi or not feel our wallets drop from our pockets at a train station.
How To Find Lost Items—Steps You Should Take
With all the chores we have to take care of every day, forgetting where you've put something is common practice. If you can't locate something, it does not necessarily mean that you've lost it. Since we're so easily distracted, it's easy to overlook a thing in plain sight.
Assuming that you've done the obvious, i.e., retraced your steps and checked in all the usual places, it's time to play the detective. Here is what you should do to track the lost item:
Ask your spouse or family members if they've seen it—Someone might have taken the item without asking you first or moved it from its usual place
Call friends to check their homes—If you've attended a house party or hung out with some friends at their place, they should take a quick look around the house
Call or visit public places you've been to recently—Someone might have found the lost item and left it at the reception desk or with the staff
Looking for something you lost may prove to be draining and time-consuming, causing additional stress. Wouldn't it be nice if someone else could go through this ordeal for you? The good news is that DoNotPay can!
Finding Lost Items Is Easy With DoNotPay's Help
Since losing a valuable item is stressful enough, and looking for one can turn into a total nightmare, you should let DoNotPay handle the task for you and avoid making endless phone calls and waiting on hold for hours!
We can check every store, train station, restaurant, or movie theater you stepped in. These are the only instructions you should follow:
Type Find Lost Items in the search box
Upload a photo of the item you lost or provide a detailed description of it
Let us know what the approximate date you lost the object is
If the item is located, DonotPay will let you know how you can claim it. The available options usually involve picking it up in person or having it sent to your address.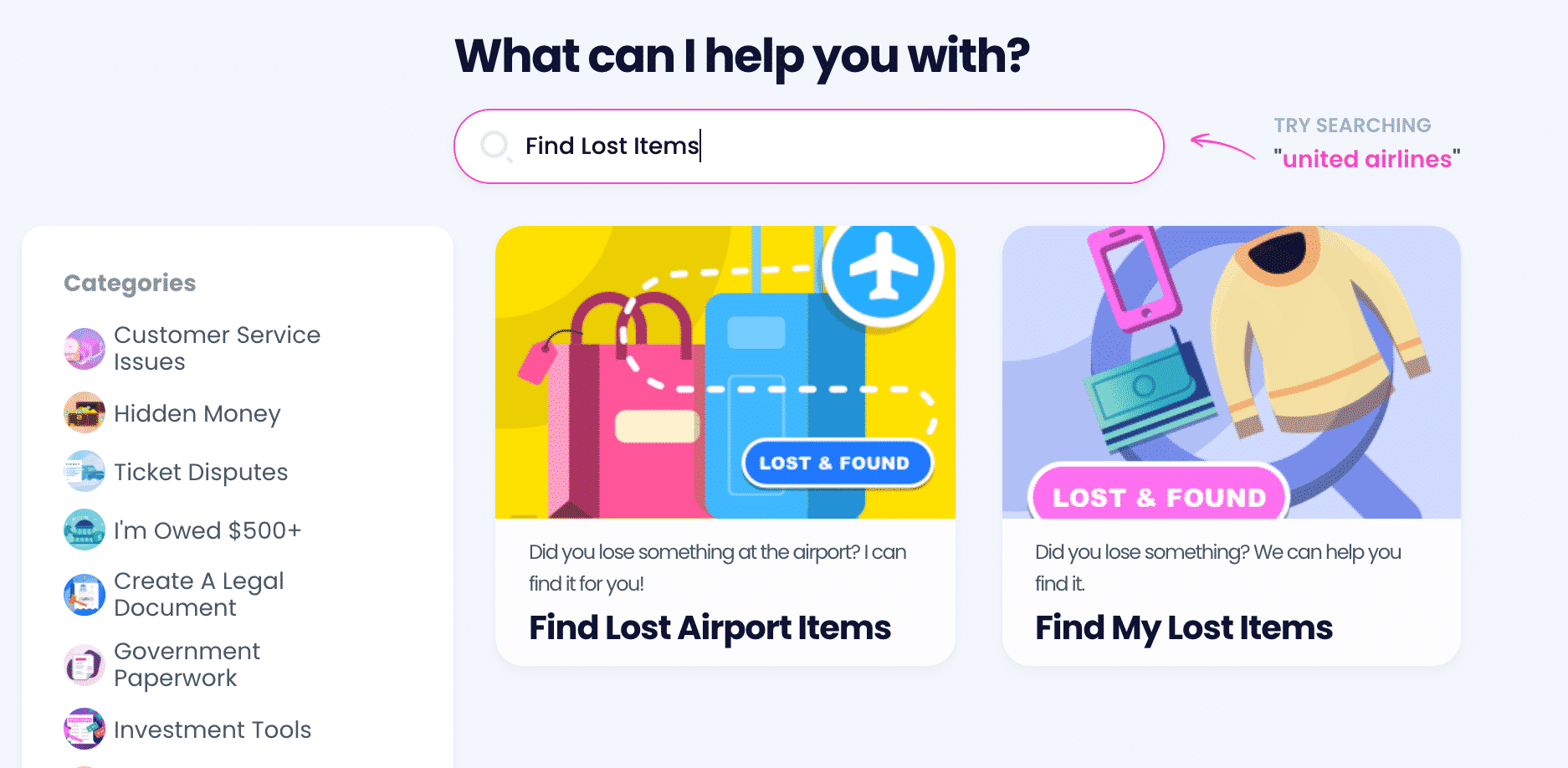 Find Lost Objects With DoNotPay—Everything We Can Help You With
You don't need to talk to half a dozen people to retrieve the item you lost—DoNotPay is here to handle the issue on your behalf. If you get panicky, you might miss obvious clues, and we are here to conduct the investigation professionally. Check out our practical guides in the list below:
| Lost Phones From Different Operators and Manufacturers | Location-Based Lost Items | Random Lost Objects |
| --- | --- | --- |
| | | |
How Not To Lose Things
There is no guarantee that you won't lose a valuable item in the future, but we can offer some helpful advice to minimize the chances. To avoid losing your stuff, you should:
Not keep your wallet or phone in your pockets since it is an easy target for pickpockets. It is better to put them in a purse or a bag that can be safely closed
Avoid bringing valuable items to places you might need to take off your clothes or accessories. Checkups at the doctor's office might require you to remove your glasses or jewelry
Make sure to check your pockets or bags regularly. This way, you might be able to look for the item right away
Keep your living space as clean as possible because it will be easier to locate an item if you lost it at home
Try to designate places for specific things. It will help you figure out if the item is at home pretty quickly
Clean the house thoroughly if you believe that's where you lost the object in question. You can avoid having to buy a new item and then find the old one
Let Our App Assist You With Paperwork
You don't have to deal with bureaucratic tasks on your own! DoNotPay is here to help you cancel your memberships, appeal parking tickets, discover unclaimed funds, and get any document notarized online.
If you need help covering your bills or you'd like to get extra cash by signing up for clinical trials, we are your go-to!
We can also assist you in drawing up and sending out the following documents:
Keep Your Online Safety Intact
Staying anonymous is almost impossible these days, but with DoNotPay's help, your contact and payment details will remain private.
Thanks to our Burner Phone product, you'll be able to keep your phone number to yourself and get a temporary one you can use when you register on various platforms.
If you want to avoid getting charged and revealing your personal info when signing up for free trials, we can help you kill two birds with one stone. Get our multifunctional virtual credit card and skip submitting your name, email address, and payment details.
With our app, you can also handle stalkers and harassers, fight workplace discrimination, and block spam.