DoNotPay Shows You How To Locate a Lost Cell Phone That Is Turned Off
Few matters cause as much stress as losing an item you use on an everyday basis. You put your hand inside your pocket, and your wallet, car keys, or phone are not there. After frantically going around the house searching for the item, you realize you will have to spend days on the phone—someone else's—and retrace your steps.
Losing a phone is not only a financial loss—with all the data and media, you also risk your privacy and security. Luckily, several apps can track your device using its GPS location. That works only if your phone is on and connected to the internet, though. What happens when its battery runs out?
In this article, we'll show you how to locate a lost cell phone that is turned off. We'll also introduce an easier and more effective way to find something you lose—be it a phone, class ring, or Fitbit.
How To Locate a Lost Cell Phone That Is Turned Off—Available Methods
You can track your phone to its current location with GPS using device-tracking apps. The best-known apps for that are Apple's Find My Phone for iPhones and Google's Find My Device for Android phones. They have many nifty features, such as playing a sound so that you can audibly pinpoint the exact spot.
All of that is not applicable if your phone is dead—it can't send its location to Apple or Google, and it sure can't emit any noise. If you're in that type of situation, you must be wondering, "I lost my phone, and it's dead—can I track it?"
The answer is yes! Here are your options:
Use Find My Phone or Find My Device
Contact the locations you were at
Find your phone with DoNotPay
What Apps Can Do
Apps are the most efficient if your phone is still alive, but they can help you locate the phone even after it dies. They keep a log of its last several locations, and you will be able to see where your phone was the last time it sent a location to either Google or Apple.
Check out the following table to see how you can see your phone's last active location on both apps:
Find My Phone
Find My Device

Go to iCloud through your browser and sign in with your Apple ID
Choose the Find My iPhone app icon
Select All Devices
Find your missing iPhone from the list
Check the map for the last read location

Visit the Find My Device webpage
Sign in to your Google account
Select the device that's missing
Check out the map to find the last read location
You need to have Find My Phone installed on your iPhone, while Find My Device works even if you have nothing but Google Maps on the device.
Searching for the Phone by Yourself
If the apps don't point you to the right location, you'll know where to begin your search and pick it up from there. What you need to do is remember all the places you've been to after losing your phone and make a list of all possible locations.
You then have to revisit all those places in person or get in touch with customer service if it's possible. Many transportation companies and private resorts have lost and found offices you can turn to, such as:
Locating the Device With DoNotPay
Going around from one place to another and reaching out to customer support is a time-consuming task that gets tedious even when you're not under stress because your phone is missing. That's where DoNotPay comes in!
If you sign up for our app, we will do it for you—all you need to do is provide some information, and we'll get in touch with all places where you might have lost your device. We'll ask you for:
List of all locations you want us to reach out to
Date of loss
Description of the phone or a photo of it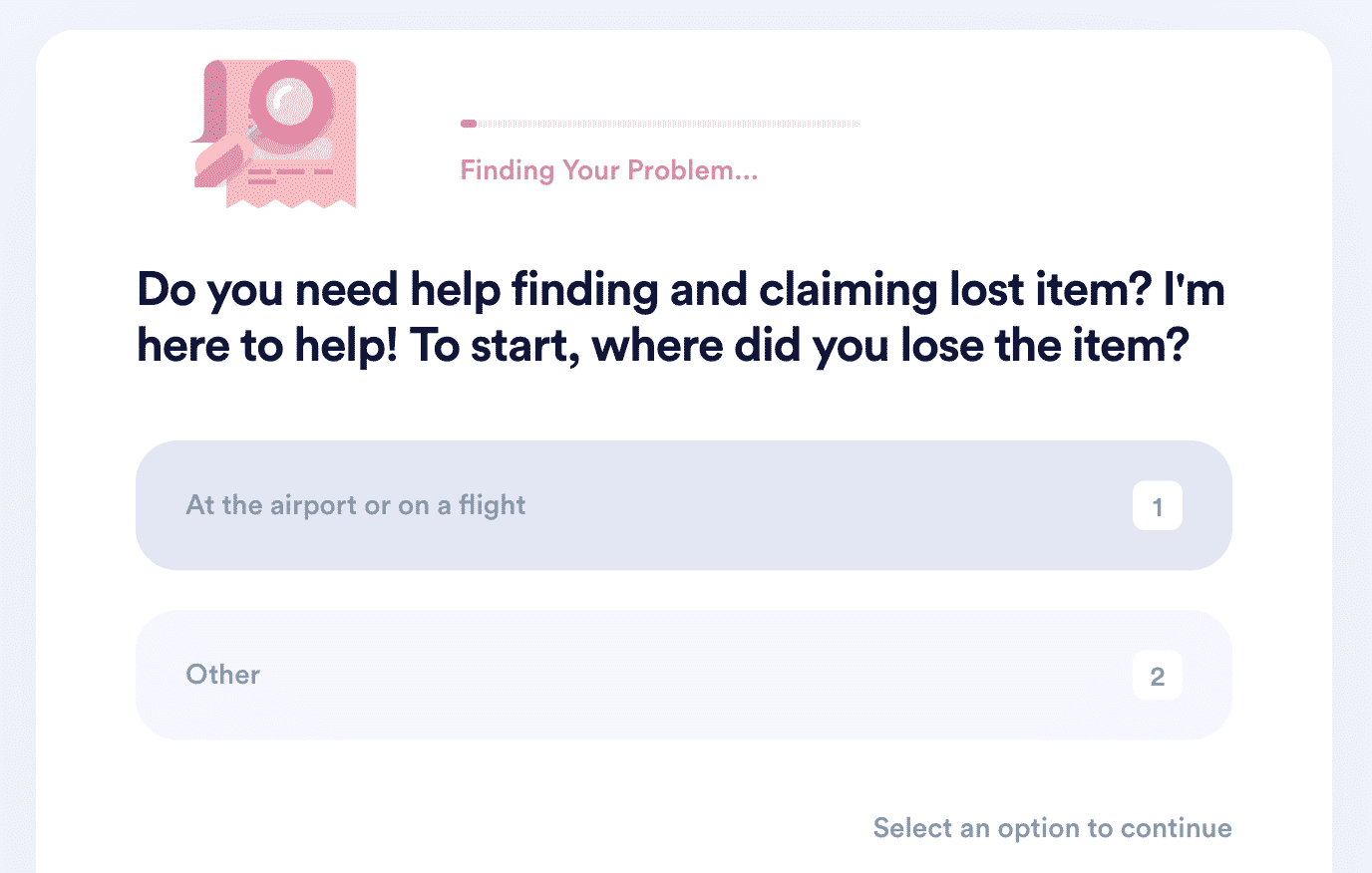 What To Do if the Phone Is Gone
You have to be prepared for the possibility that you won't find your phone no matter how much effort you put into the search.
Find My Phone has the option to lock the iPhone remotely if you mark it as lost. This way, only someone with a passcode can unlock it. You can also use the app to erase all data, including media, contacts, credit card information from Apple Pay, and account credentials.
Android users don't have that option, so their best bet is to get in touch with their carrier to block the number. A blocked number can't make calls, send texts, or use the internet. Look at this table to find the contact information of some of the most popular carriers in the U.S.:
| Carrier | Contact Information |
| --- | --- |
| AT&T | Suspend your number online or call 1-800-331-0500 |
| Cricket | 1-800-274-2538 |
| Verizon | 1-800-922-0204 or log in to your My Verizon account |
| T-Mobile | 1-800-937-8997 or +1-505-998-3793 for international calls |
How To Locate a Lost Cell Phone That Is Turned Off Using DoNotPay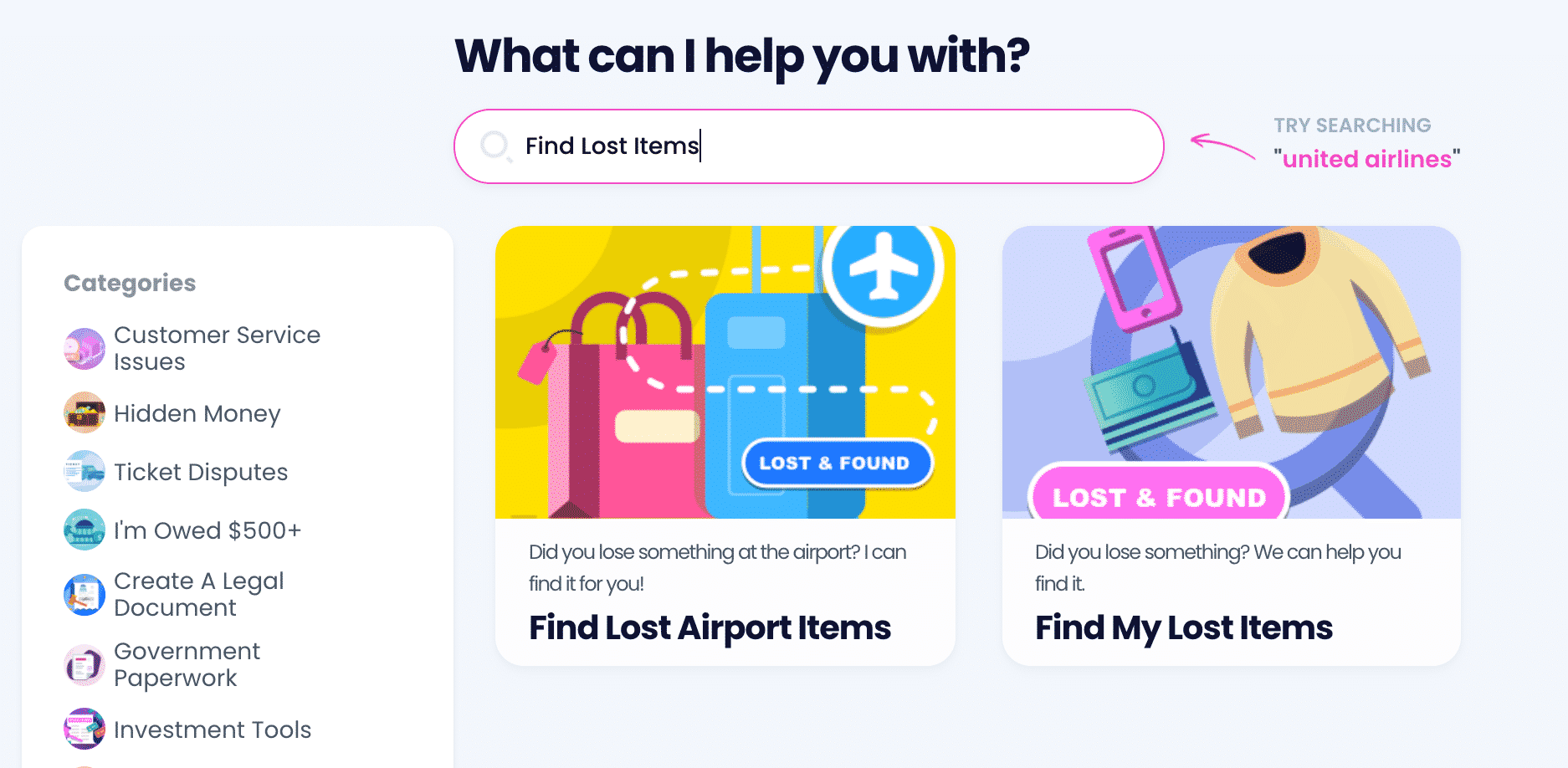 Finding your phone—especially when it's dead—requires you to seek out places where you might have left it and see if it's still there. DoNotPay is a quick, more convenient alternative to doing it all on your own—our app will reach out to all locations you've been to and check if your phone is there.
All you need to do is the following:
Select the Find My Lost Items feature
Answer a few questions from our chatbot
Fight Corporate Greed With DoNotPay
Greedy companies may take advantage of your time and money, but you shouldn't take it lying down. DoNotPay is here to help you get what you're owed and protect yourself!
Once you sign up for DoNotPay, you'll be able to get free trials and not worry about automatic renewals. When you don't want to disclose your personal info, use DoNotPay's virtual credit card and receive a randomly generated name, email address, and credit card details.
Tired of spending hours and even days requesting a refund or cancellation? Our AI-powered app completes the tasks within minutes.
In case you're not satisfied with an item or it was delivered late, we can help you return it for an exchange or refund. We can also fast-track claiming your warranty or insurance.
Strapped for Cash? Earn Some Money With the Help of Our App!
You may need help paying your bills, getting what you're owed, or earning some extra money. Whatever the case, DoNotPay is your go-to.
With our help, you can fight your parking tickets, request a college fee waiver, reduce your property taxes, and enter giveaways. You may even have some money lying around. Don't hesitate to search for unclaimed money under your name or redeem used gift cards.