Retrieving an Item From the MTA Lost and Found
Every day, thousands of items get lost on New York's transportation service—people usually end up tapping their pockets and finding that their phones, rings, or car keys are missing. Valuables and personal items always end up either in someone else's pocket or in a Metropolitan Transportation Authority (MTA) office.
In this guide, we'll explain the MTA Lost and Found office practices and show you the steps you need to take to find something you lost on NYCT subways, buses, or Staten Island and Metro-North Railways.
Losing an Item—Immediate Actions
You should first visit the station where you remember you last had your item before you file a claim with the MTA—lost property doesn't reach Lost and Found immediately. Depending on which type of transportation you were on, you should reach out to different locations, as shown in the following table:
| Location | Who To Talk To |
| --- | --- |
| NYC subway Lost and Found | Every station has a booth agent to whom commuters can leave found items. You can talk to the one nearest to the location where you think you lost your item and see if they have your belongings |
| MTA bus Lost and Found | Before items lost on buses get sent to the MTA Lost and Found, they stay at the bus depot, which you can contact by calling 511 |
| Staten Island Railway L&F | Check in at St. George Terminal as it's a gathering place for all lost property before Lost and Found gets involved |
| Metro-North Railway L&F | Metro-North has a separate L&F office and doesn't allow its customers to ask for their property before it reaches Lost and Found |
Filing a Claim With MTA Lost and Found
If your item hasn't reached a booth agent you talked to or it's already on its way to Lost and Found, there are three ways you can file a claim:
Online
By phone
With DoNotPay
If you figure out you lost the object on the MTA after a while, don't worry. The MTA Lost and Found office keeps every item in its storage for at least three months. Depending on the value, they can hold on to it for up to three years.
Online Claims
The course of action you need to take during an online claim is the following:
File an online claim (for Metro-North, use this form)
Wait for the MTA Lost and Found to contact you
Retrieve your item by

Making an appointment to pick it up
Submitting a shipping address (you cover the costs of shipping)

Fill out a lost property receipt
Show that you really are the owner by describing the item in detail
When filling out an online claim, you will need to provide information about the item and the time and place you last saw it. Questions on the claim include:
Bus route/train station/subway line where you lost the item
Stations or stops from which you departed and where you left
Info about any transfers
Details of the item—product type, color, brand, material, size, etc.
Any unique characteristics by which you can recognize the item more easily
Date of loss
Personal and contact information
Making a Phone Call
If you don't want to fill out a form, you can call the Lost and Found office and provide the same information on the phone. You can reach out to it at:
MTA Lost and Found number—511
Metro-North Lost and Found phone number—212-532-4900
Once you file a claim, the Lost and Found office will send you automatic notifications on the fifth, tenth, and 21st day of filing the claim. You will be notified again if the office doesn't manage to find your item by day 30.
DoNotPay
DoNotPay can help you automate the process and avoid having to deal with the MTA Lost and Found staff. All you need to do is and give us a description or upload a photo of your lost item. We'll contact the MTA on your behalf and inform you of the outcome.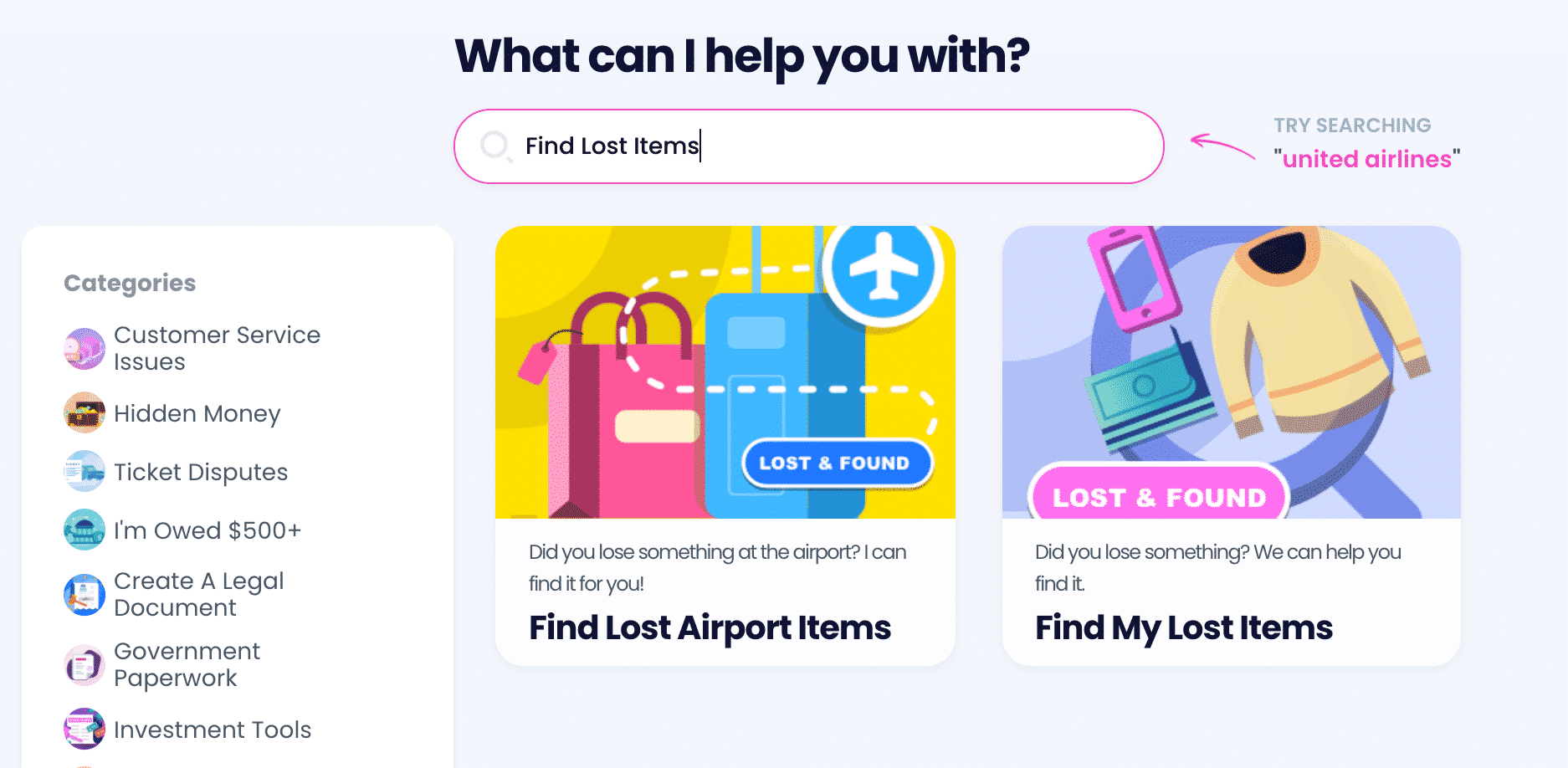 What To Do if MTA Lost and Found Can't Retrieve Your Item
You should be ready to face the fact that many items lost on the MTA don't find their owners. Bear in mind that it's possible someone has found your possession and decided not to turn it over to the Lost and Found booth.
To make sure you don't lose more than just that one item, you should do the following:
| Lost Item | What To Do |
| --- | --- |
| Keys | Change your lock |
| Phone | Call your carrier (Verizon, Sprint, AT&T, T-Mobile, etc.) to put your number out of service |
| Wallet | Call your bank to freeze your credit cards and get a new driver's license and ID |
Get Your Item Back in No Time With DoNotPay
Retrieving an item can be frustrating as nobody is as alarmed by this issue as you are. Customer support will gladly put you on hold, be late with its response, and make you take an unnecessary number of steps.
DoNotPay helps you bypass this entire process and provides you with a faster, more stress-free solution to your problem. All you need to do is the following:
Search for the Find My Lost Items feature
Answer a few questions about:

Date of loss
Location of loss
Description of item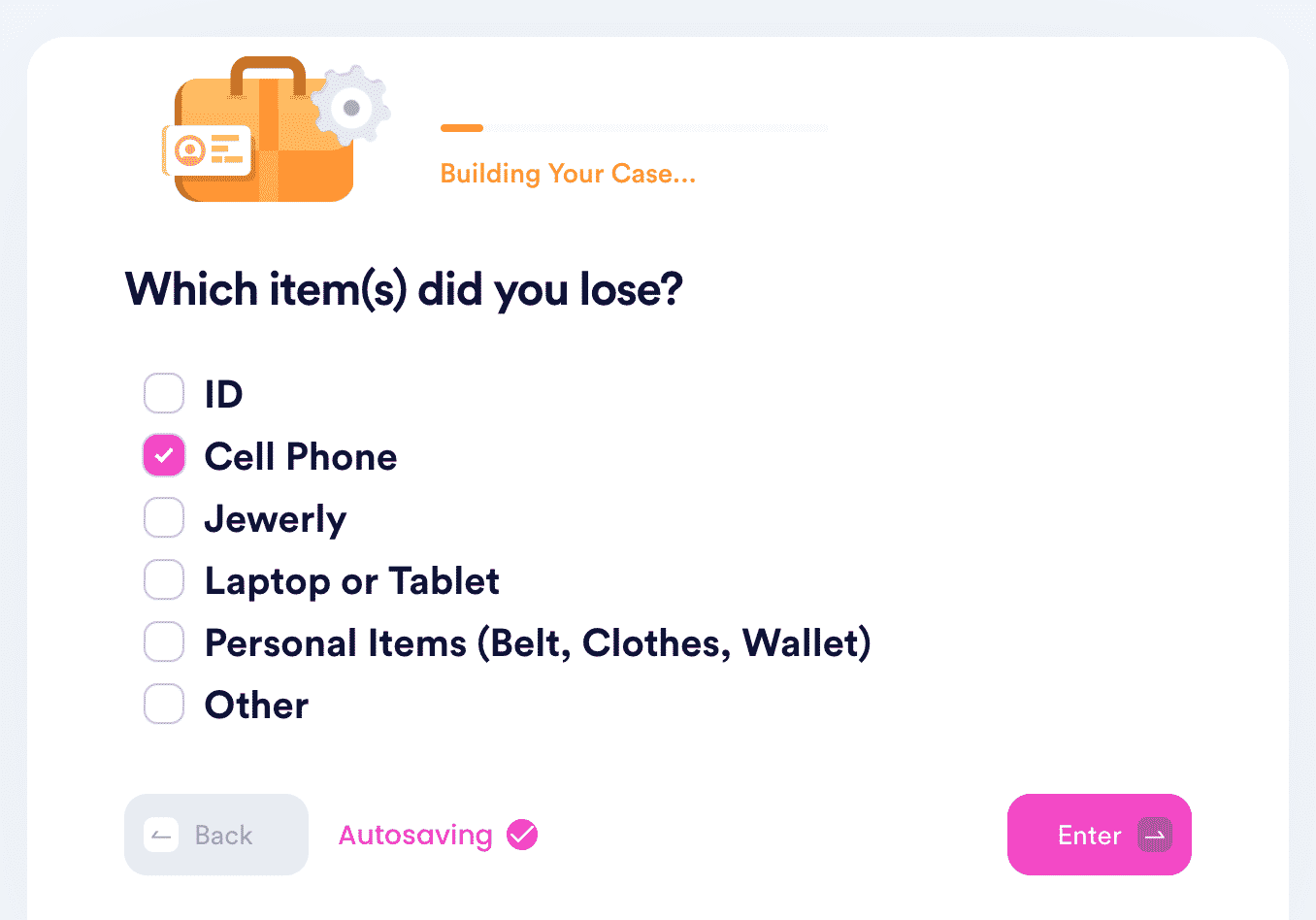 We'll contact MTA and handle the rest.
Our app can help you in many other ways! For instance, you can use DoNotPay to retrieve a phone you lost in an Uber, reach out to the Metro Lost and Found office, or locate your turned-off cell phone, regardless of whether it's an iPhone or Samsung.
Fight Corporate Greed With DoNotPay
Greedy companies may take advantage of your time and money, but you shouldn't take it lying down. DoNotPay is here to help you get what you're owed and protect yourself!
Once you sign up for DoNotPay, you'll be able to get free trials and not worry about automatic renewals. When you don't want to disclose your personal info, use DoNotPay's virtual credit card and receive a randomly generated name, email address, and credit card details.
Tired of spending hours and even days requesting a refund or cancellation? Our AI-powered app completes the tasks within minutes.
In case you're not satisfied with an item or it was delivered late, we can help you return it for an exchange or refund. We can also fast-track claiming your warranty or insurance.
Strapped for Cash? Earn Some Money With the Help of Our App!
You may need help paying your bills, getting what you're owed, or earning some extra money. Whatever the case, DoNotPay is your go-to.
With our help, you can fight your parking tickets, request a college fee waiver, reduce your property taxes, and enter giveaways. You may even have some money lying around. Don't hesitate to search for unclaimed money under your name or redeem used gift cards.