Lost Wallet—What Can Be Done?
Have you ever experienced that horrifying feeling of touching your pocket and finding out it's empty when it shouldn't be?
You're not losing a single item—you have to deal with the loss of credit cards, ID, money, driver's license, and so on. Replacing these items involves spending money and days making phone calls and visiting various places.
In this article, we'll show you what steps you can take to recover a lost wallet and what you need to do if it's gone for good. We'll also introduce an easier way to get your item back using DoNotPay.
Lost Wallet—Now What?
When you realize you've lost your wallet, you don't have to get into panic mode and make a police report instantly. You can still get your hands on it if you complete the following steps:
Retrace your steps
Contact the places you've been to
Use DoNotPay to find the wallet for you
Retracing Your Steps
You should try and remember the last time your lost wallet was in your possession. Then, think of all the places you'd been to from that point up to the moment you realized it was gone. Make a list of all possible locations where your wallet might be.
Your next step would be to revisit all those locations if possible—you won't be able to find the exact subway train you were on—and hope you find it. Bear in mind that this will take a large chunk of your time.
Reaching Out to Locations
Another way to go about it is to try and contact the locations you were at. This will require you to make dozens of phone calls and communicate with customer service, which is rarely an efficient affair.
Luckily, some organizations and companies have a lost and found office you can turn to if you believe your lost wallet is on their premises, including:
When you call them, you will have to describe in detail what your lost wallet looks like, where you think it might be, when you lost it, etc.
Using DoNotPay
DoNotPay automates both calling up and revisiting various locations your wallet may be at. When you create an account, all you need to do is answer a few questions about:
Possible location(s) of loss
Date of loss
Description of the wallet (if you have a photo, you can upload it instead)
We'll do all the legwork and reach out to the location(s) you list. When we get a response, we'll notify you of the outcome.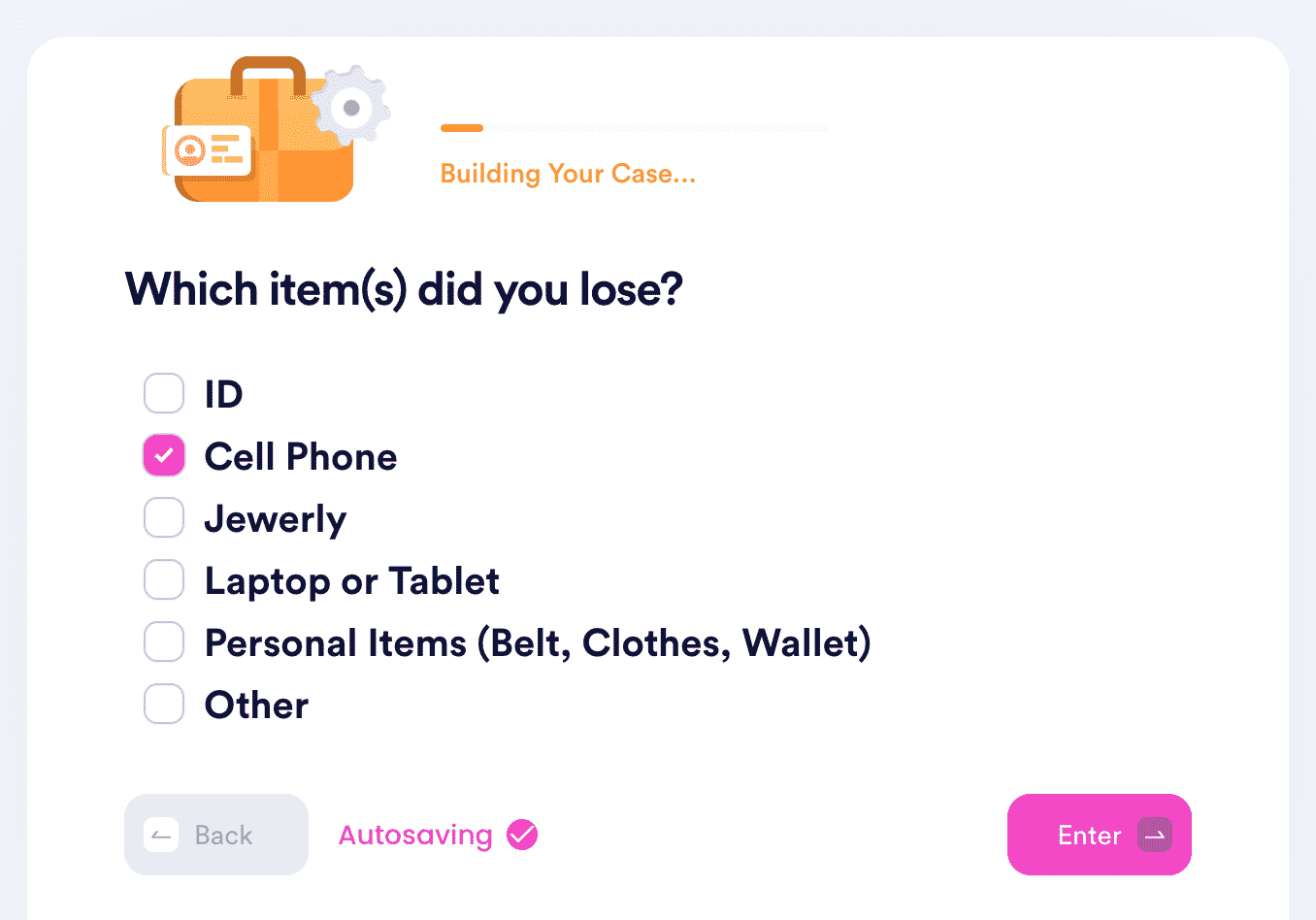 What To Do if You Lost the Wallet Forever
If you've exploited all options and can't get your wallet back, you should take action to ensure your safety in the case of your belongings falling into the wrong hands. To make sure you don't lose more than just your wallet, do the following:
Call your bank and credit card company
Set up fraud alerts
Replace your documents
There's nothing you can do about cash except to wave it goodbye.
Calling Your Bank and Credit Card Company
Once you accept the fact your wallet is lost or stolen, you need to call your credit card and bank immediately to cancel your cards. This way, you can stop any unwanted transactions from taking place. If you don't report a lost wallet within two business days, you'll be liable for up to $500 in illegal purchases.
Take a look at the following table to find the contact info of some of the most popular banks and companies:
Institution Type
Name of the Institution
Phone Number
Bank
Wells Fargo
1-800-869-3557
Bank of America
1-800-432-1000
PNC Bank
1-888-762-2265
US Bank
1-800-285-8585
Chase
1-800-935-9935
Citibank
1-800-950-5114
TD Bank
1-888-751-9000
Credit card company
Visa
1-800-847-2911
Discover
1-800-347-2683
American Express
1-800-992-3404
Mastercard
1-800-627-8372
Setting Up a Fraud Alert
Fraud alerts protect you from potential thieves using your identity to take out loans, open accounts, or create businesses. You need to contact only one national credit bureau, and they will create a universal fraud alert.
With it, all creditors and institutions are obliged to check your identity by calling you to make sure it's you who is making the request. Four bureaus deal with fraud alerts:
Social Security Administration fraud line—1-800-269-0271
Equifax—1-800-525-6285
TransUnion—1-800-680-7289
Experian—1-888-397-3742
Replacing Your Documents
Since you're required by law to have an ID card and drive with a license, you will need to replace those documents as soon as possible. You should report your missing driver's license and ID card to any DMV and start with the process of getting a new one.
Getting Your Lost Wallet Back With DoNotPay—How Does It Work?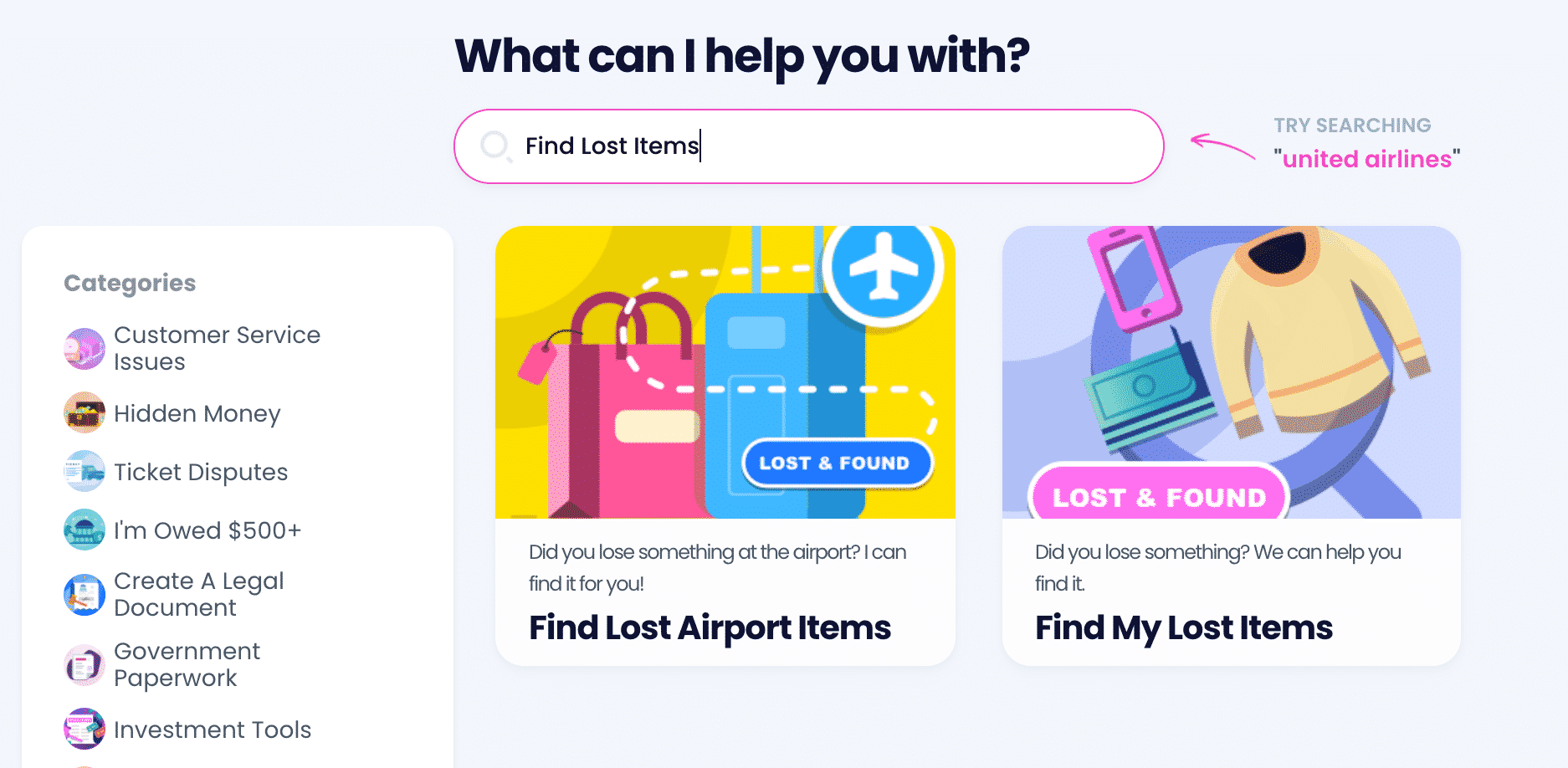 Losing your wallet is a real pain as you have to revisit or contact all places you've been to, not to mention the hassle and stress of canceling your credit cards and applying for new documents. Luckily, there's a quicker, more convenient way of finding the item you lost.
DoNotPay will do everything on your behalf—we'll reach out to locations you mention, provide all the necessary details, and notify you whether or not your wallet is there.
All you need to do is:
Sign up for DoNotPay via any browser
Search for the Find My Lost Items feature
Answer a few questions about your wallet
DoNotPay can also help you ease through other stressful situations, such as leaving your phone in an Uber or misplacing your car keys.
Say Goodbye to Boring Tasks
When a task takes up too much time, you may give up or procrastinate incessantly. We have a solution—use DoNotPay to manage numerous administrative or bureaucratic errands.
No more waiting in neverending DMV lines or staying hours on the phone waiting for a customer service rep to pick up. You can even skip going to the post office. We can help you send letters and even online faxes in a flash. If what you're sending needs to be notarized, use our app to schedule an appointment with an online notary.
Traveling soon? Get your passport photos ready, apply for a tourist visa, contact embassies, and draw up a child travel consent form—all within the same app.
What Else the World's First Robot Lawyer Can Do for You
When you need legal assistance but you can't afford to hire a lawyer, rely on DoNotPay. With our legal expertise, we can help you do the following: