Get To Know the Ins and Outs of Target Gift Card Cash Out
Although they can be a great present, Target gift cards may not be your cup of tea. The good news is, you don't have to throw away any unwanted gift cards.
If you received a Target gift card, you should check your remaining balance because we offer a super simple way to convert gift cards to cash. We'll show you how Target gift card cash out works and get your cash back for any remaining funds in no time!
Target Gift Cards—The Basics
Target gift cards are used for purchasing various products at Target stores or their webshop. They can be loaded with any amount between $5 and $500 and come in both physical and electronic forms. Gift cards from Target don't expire or lose value over time as the company treats them as cash.
How To Perform a Target Gift Card Balance Check
Before cashing out your Target gift card, you should know how much money you have left on it. Check out the table below for details:
Method of Checking Your Balance
How To Do It
Online
Go to the official Target website:

Find the Gift Cards section in the upper right corner of the screen
Click on Check your balance
Enter your gift card number and PIN
Hit Check balance

Via phone
Call 1-800-440-0680 and ask a customer service representative to check your remaining balance.
In person
Use the company's store locator to find a nearby Target and:

Visit the store
Give the cashier your gift card number and PIN
Ask them to tell you how much money you have left on your used gift card
What's an Even Easier Way To Check Your Gift Card Balance?
We offer a two-step method for checking your Target gift card balance. Forget about dealing with Target customer service or navigating their website.
Here is how it works:
Upload photos of your gift card from the front and back
We will contact Target on your behalf to check how much money there is left.
How To Get Money for Your Target Gift Card
Once you've checked your remaining gift card balance, you have several methods of cashing in your Target gift card. You can:
Sell your gift card online
Resell items from Target
Selling Your Gift Card Online
Selling your card online will require you to be patient and willing to accept only a percentage of your remaining balance. Here's how you can do it:
Find a reseller website—When searching for a reseller website, be wary of amateurish-looking ones. Don't forget to do proper research before selling your gift card
List your gift card on a marketplace—Many online platforms such as Reddit, eBay, and Facebook have marketplaces for gift cards. List your card for sale and wait for a potential buyer
Exchanging Your Gift Card
If you live in a state that has Coinstar kiosks, find one, insert your gift card into the machine, and get cash for it. You will only get about 80% of the funds that are left on your card.
Reselling Items From Target
Buying items from Target and selling them for cash can take a while, especially if you don't have enough balance for a proper purchase. In that case, you can wait for a sale and continue with the plan then.
Can You Redeem a Target Gift Card for Cash?
Target gift cards are not redeemable for cash unless required by state laws. If you live in Puerto Rico or one of the 11 cash back states, you can get money for your gift card. In case you don't, there's no need to worry—DoNotPay can turn the situation around!
With our Gift Card Cash Back product, you can redeem your Target gift card for cash in a flash. The amount you can claim depends on the cash back state in which Target has a store. Check out the table below for details:
| | |
| --- | --- |
| State | Amount You Can Claim |
| Vermont | $1 |
| Rhode Island | $1 |
| Connecticut | $3 |
| Maine | $5 |
| Oregon | $5 |
| Montana | $5 |
| Colorado | $5 |
| New Jersey | $5 |
| Washington | $5 |
| Massachusetts | $5 |
| Puerto Rico | $5 |
| California | $10 |
DoNotPay Can Help You Redeem Your Target Gift Card for Money in a Snap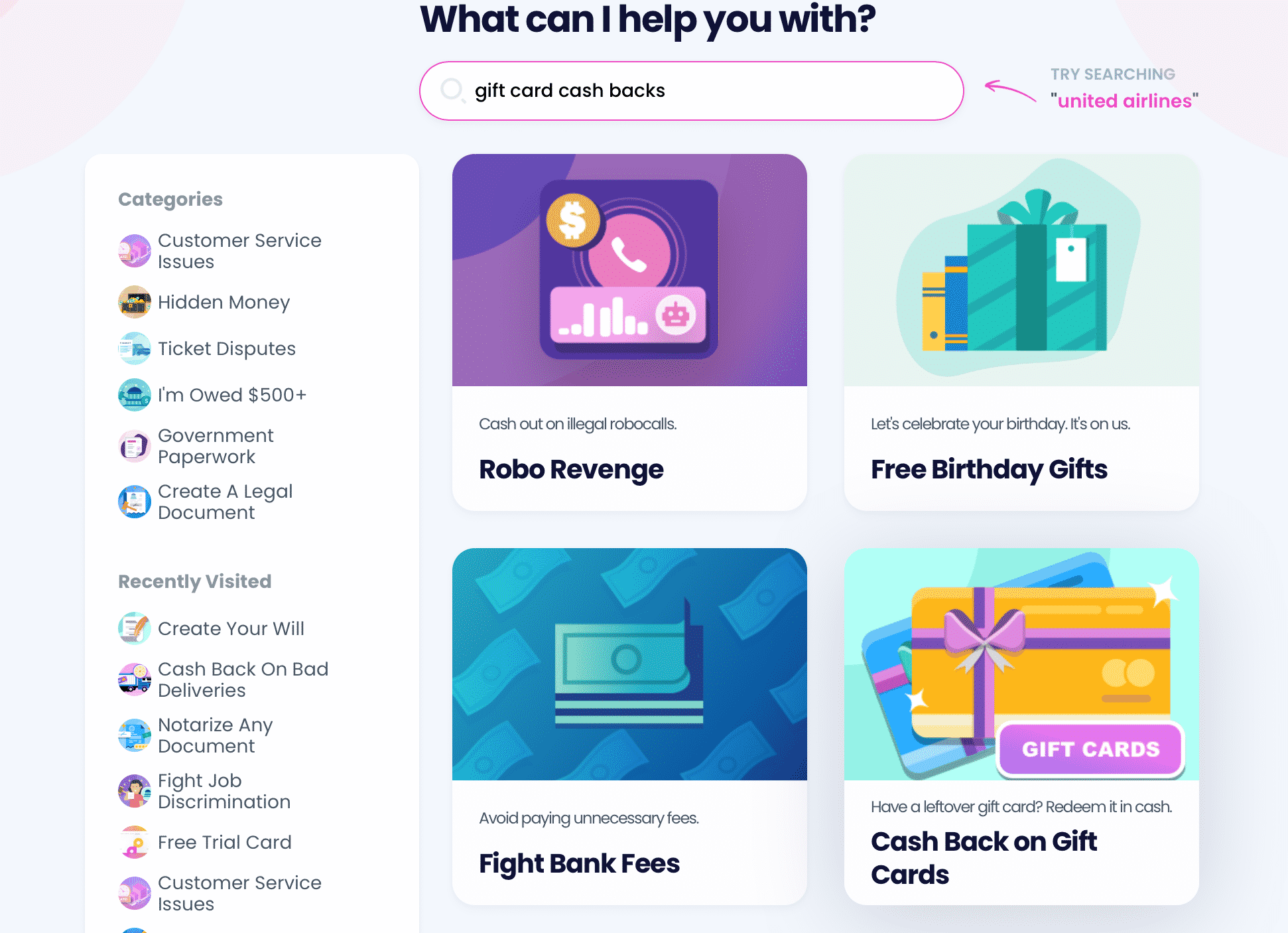 Want an easy way to cash in your Target gift card? Redeem it for money fast and easy with DoNotPay! We will send your request to a Target office in one of the cash back states in your stead. All you have to do is:
Select the Gift Card Cash Back product
Enter the necessary details about the gift card
Submit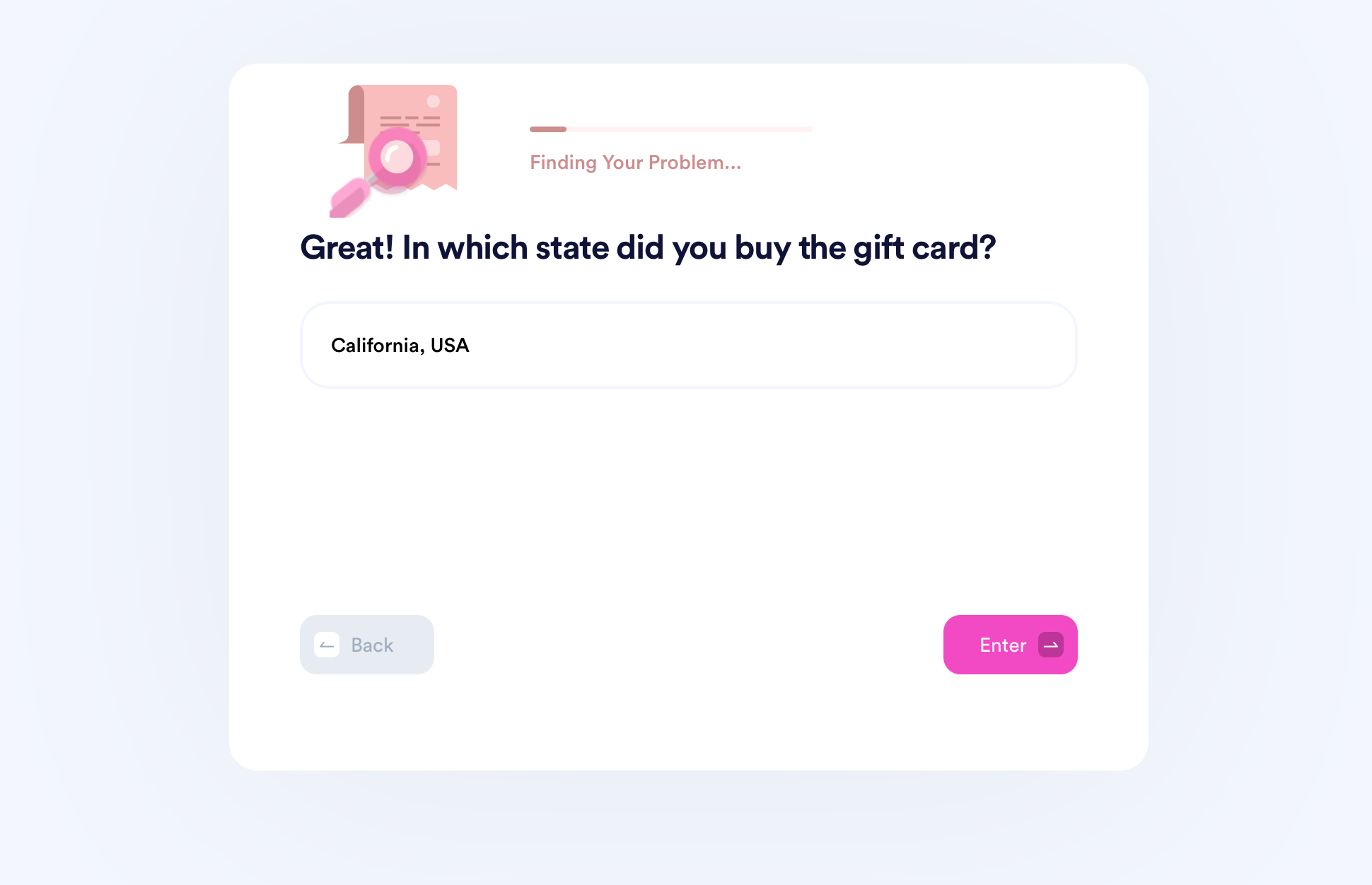 Once we process your request, you should receive your money within two weeks.
DoNotPay has various articles on gift cards that you might find helpful. Learn how to:
If you need help with cashing in gift cards from other companies, check out the table below:
Manage Your Tasks Easily With Our Help
DoNotPay is the perfect solution whenever you need to resolve legal or bureaucratic matters. Here's a fraction of what our AI-driven app can help you out with:
No Matter What You Need, DoNotPay Is by Your Side
Do you have a bunch of subscriptions that you waste money on but don't even use? We can help you cancel them effortlessly! After that, our app can initiate a refund request and make sure you get your money back.
Facing financial difficulties? DoNotPay can help you lower your bills, get free raffle tickets, get gift card cash back, find your missing assets, and so much more!
For a low monthly fee, you'll get access to our impressive range of products, so sign up now!