A Comprehensive Guide to the Brooklinen Return Policy
Has Brooklinen delivered you the wrong sheets or uncomfortable bedding? This guide will give you the lowdown on everything you need to know about the Brooklinen return policy.
, and you won't have to go through the tedious return process on your own!
Everything You Should Know About the Brooklinen Return Policy
The Brooklinen return policy allows you to get a full refund for a purchase you're dissatisfied with. You can even return used or washed products.
Depending on how you made a purchase, Brooklinen will reimburse you in the original payment method. If you've lost the receipt, or if your payment method is no longer valid, the company will give you store credit for the same amount. At present, the company does not offer a replacement for unwanted items.
You can submit a return request for most items bought from Brooklinen, except the following:
Gift cards
Used candles
Used home fragrance
Last call products
Items marked as Final Sale
Brooklinen Return Policy—How To Start the Return Process
The Brooklinen return policy sets a 365-day deadline for initiating the return process. If you meet this criterion, you can start your return in two ways:
In person
Online
Making a Return Request to Brooklinen Online
If you want to initiate your return online, do the following:
Visit the Brooklinen website
Log in to your account and find your purchase history in the menu
Choose the item you want to return
Use the Start a Return tool
Wait for your order to be processed
Print the prepaid shipping label the company sends you
Place the item(s) in the original packaging along with your receipt
Pack the box and ship it off at any post office
If you've made your purchase on Amazon or Zola, you must file the return request on their respective websites. Returns made this way will be liable to those companies' return deadlines:
| Company | Return Deadline |
| --- | --- |
| Amazon | 30 days |
| Zola | 90 days |
Requesting a Return at the Brooklinen Store
This method may not be viable for most customers since Brooklinen has only one permanent retail store in New York. If you still want to return the item to Brooklinen the old-fashioned way, follow these brief guidelines:
Find the company's retail store at this address:
127 Kent Ave, Brooklyn, NY 11249
Bring your original receipt and any additional purchase documents
Visit the store
Find a Brooklinen employee and return the product
For any purchase you've made online, the company requires that you first submit the return request via their website before returning your item to the Brooklinen store.
Return Your Item to Brooklinen the Fast Way With DoNotPay
If you don't feel like going back-and-forth with Brooklinen, DoNotPay is your go-to resource! Subscribe to DoNotPay, and we'll take away any trouble you may have with the Brooklinen return procedure!
Here's what our app can do for you:
Draw up a personalized return request letter
Send the letter to the company on your behalf
Set a deadline for the company to ensure they process your request timely
Provide you with a free shipping label so you can transport the item free of charge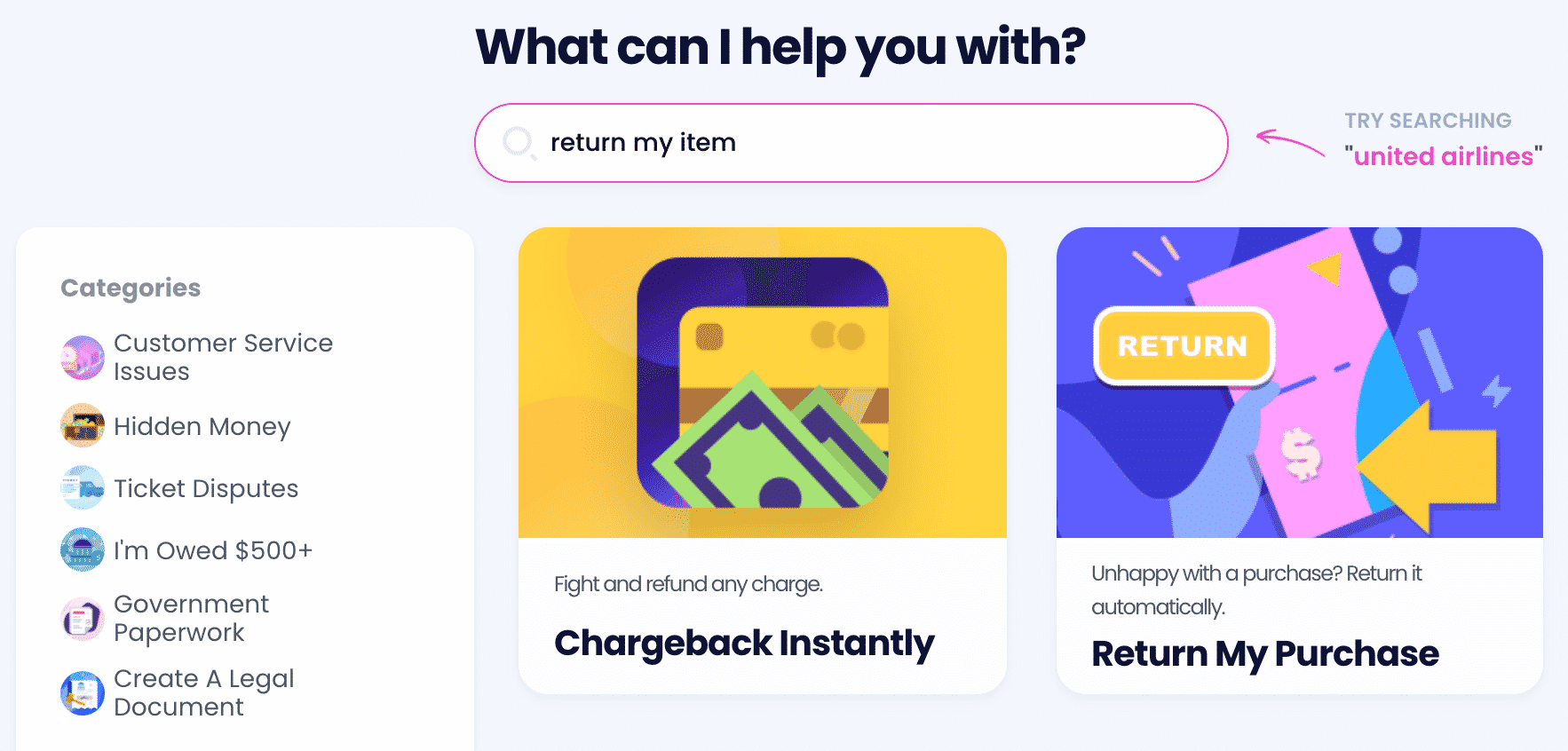 Initiate your return request the faster way in three easy steps:
Select the Return My Purchase product
Enter the specifics about your return request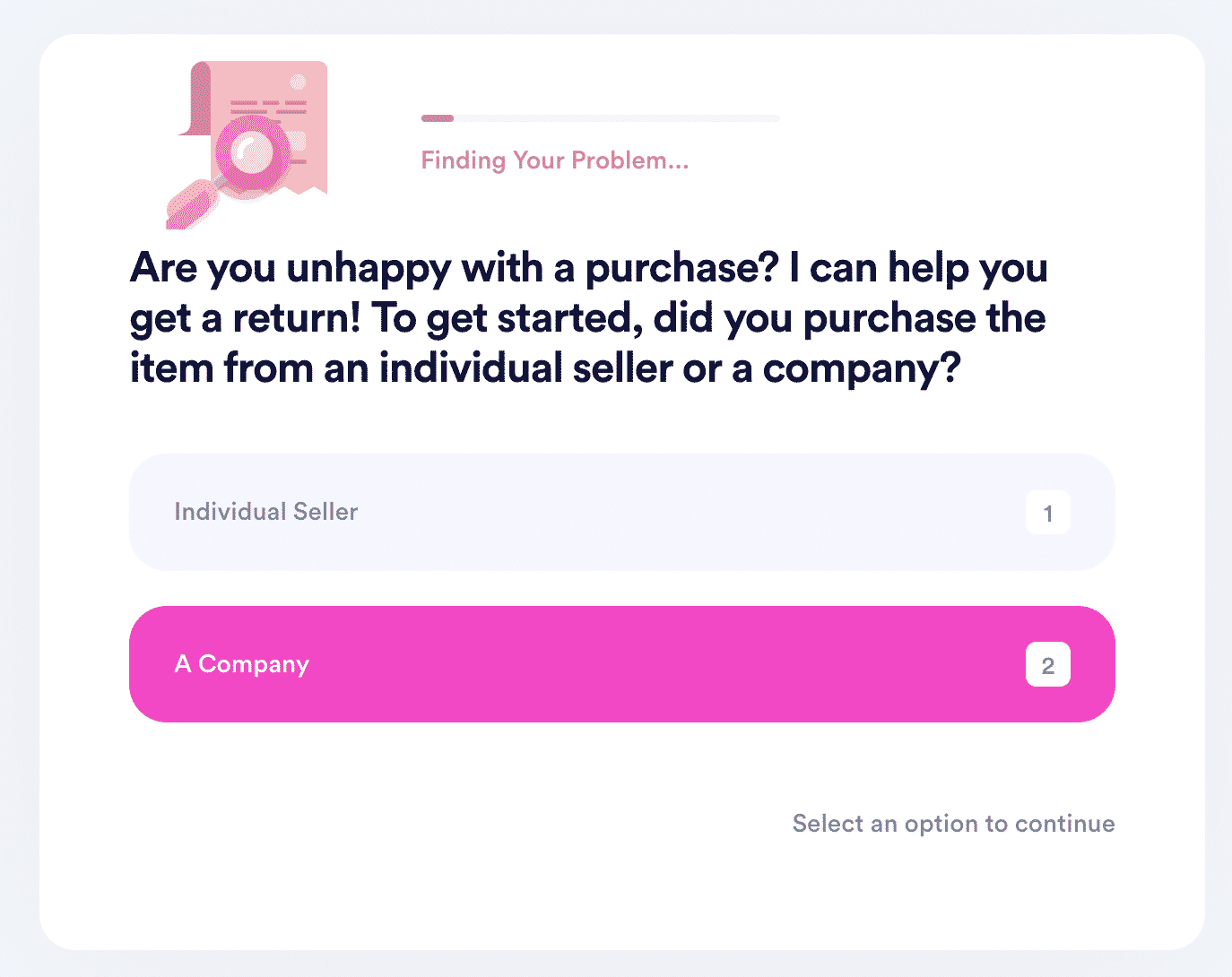 If you need help returning your item to another retailer, this table shows some other companies DoNotPay can also help with:
Has Your Return Request Been Declined? You Don't Have To Settle
With DoNotPay by your side, you can rest assured that you'll get what's rightfully yours. We'll draw up a refund request letter in your stead and send it to the company in question. If it refuses to cooperate, our app will help you take it to small claims court.
We'll fill out all the necessary court forms, generate any legal document you need, get it notarized remotely, and fax it to any recipient of your choice. You're not alone in your fight for justice!
If you're dealing with anyone else who's difficult—be it a creepy stalker, neighbor, coworker, or email or text spammer—you can count on us to safeguard you.
Looking for Any Other Type of Assistance?
The best part of subscribing to DoNotPay for a low monthly fee is that you get access to all of its products. You can use them to: