Request an Amazon Lost Package Refund in a Couple of Easy Steps
Amazon sells all sorts of items to customers around the world — more than 197 million people worldwide use it each month. Providing that service to so many people can leave many of them dissatisfied with their purchases. Many sent packages also tend to get lost and never end up reaching their desired destinations.
If you are one of those unsatisfied customers who never received their package from Amazon, DoNotPay can help you turn that lost package into a refund.
You don't need to contact Amazon and go over their long and complicated processes for filing a claim for a refund when you have DoNotPay that can do that in less than two minutes.
Get an Amazon Lost Package Refund With DoNotPay

The process for requesting an Amazon lost package refund cannot get any easier than this. Our top-of-the-line features turn the Amazon lost package refund application into a simple and quick process. No need to get your hands dirty — request an Amazon lost package refund by:
Opening DoNotPay in your

Finding the

File a Chargeback

tab and clicking on

Get Started

Putting in your full name and bank information

Providing the merchant's information as well as the payment details

Choosing whether you want DoNotPay to send an email for you
All that is left for you is to sit back and let us take care of the rest. Our team of experts will get in touch with Amazon customer service support and request a refund for your lost package.
Can I Request an Amazon Lost Package Refund on My Own?
You most certainly can, but going through Amazon's complicated refund policy and the process behind it can be confusing and time-consuming. Amazon also does not provide you with many options to choose from, so the only way you can request an Amazon lost package refund is on the website or using the Amazon mobile app.
How To Request an Amazon Lost Package Refund on the Website
Going through this process can be such a drag sometimes because their site can be overwhelming due to the sheer amount of information on it. To apply for a request, you need to:
Go to Amazon website

Log in to your account

Go to

Your Orders

Select the order you did not receive

Hit

Problem With Order

Click on

Request a Refund

Choose a reason for requesting a refund from the drop-down menu

Select

Submit
Going through your orders and finding the one you want to refund will likely take you ages, which is why DoNotPay is a better, faster option.
How to Request an Amazon Lost Package Refund With the Mobile App
Bear in mind that the Amazon mobile app is constantly updating, so many users are finding it hard to get used to. This can make your experience when requesting a refund much more stressful and nerve-racking.
Still, you can request an Amazon lost package refund by:
Signing in to your Amazon account

Selecting

Your Orders

Specifying which order you are having issues with

Clicking on

Problem With Order

Selecting

Request a Refund

Providing a reason for a refund in the drop-down menu

Clicking on

Submit

to complete the process
The process is similar to the one you can do on the Amazon website, but since the app is hard to navigate, it can take even more time to submit that request. With the DoNotPay , everything is super quick because you can take care of your refund request in a few easy steps.
| | |
| --- | --- |
| Can I Request an Amazon Lost Package Refund Via | Yes/No |
| DoNotPay | Yes |
| Online | Yes |
| Phone | No |
| In Person | No |
| Mobile app | Yes |
Does Amazon Refund Lost Packages?
If you encounter a problem with your package not being delivered, Amazon has an A-to-z Guarantee, which you can use to apply for a refund if you are eligible. In order to see if you qualify for an A-to-z Guarantee refund, the following terms have to apply:
Your package has not arrived, and three days have passed from the estimated delivery date

You received an item that you did not purchase

The seller has not issued you a refund even though you returned your item with a trackable shipping method
This guarantee only applies to products bought on the Amazon website or from a third party seller.
How Long Does an Amazon Lost Package Refund Take?
A refund request can take up to seven days to investigate. Amazon will send an email if your application has been approved. Once your request is accepted, you will receive a refund within seven business days. The time it takes to get your money back depends on what refund method you choose.
Payment Method

Refund Method
Estimated Time for Refund

Credit card

Credit card

Up to five business days

Gift card

From two to three hours

Debit card

Debit card

Up to 10 business days

Checking account

Checking account

Minimum of 10 days
When Can I Apply for an Amazon Lost Package Refund?
If you did not receive your package when it was supposed to arrive, you need to wait an additional three days after the due date and then request a refund. To check the status of your item, you can call Amazon customer service at 1-888-280-4331.
If you are tired of waiting in the phone queue, we got a solution to that as well. Check out our Amazon customer service hacks, and be the first in line to get in touch with them.
Will Amazon Refund a Stolen Package?
In case your package is marked as delivered but is nowhere to be found, you need to contact Amazon and the police department. If you have enough evidence to prove that your package was stolen, Amazon will issue a refund. If Amazon does not provide you with a refund even though you presented strong evidence that your item has been stolen, we can help you sue them in small claims court. We will help you build up your case and make up a script that you can use in court.
Does Amazon Prime Make a Difference?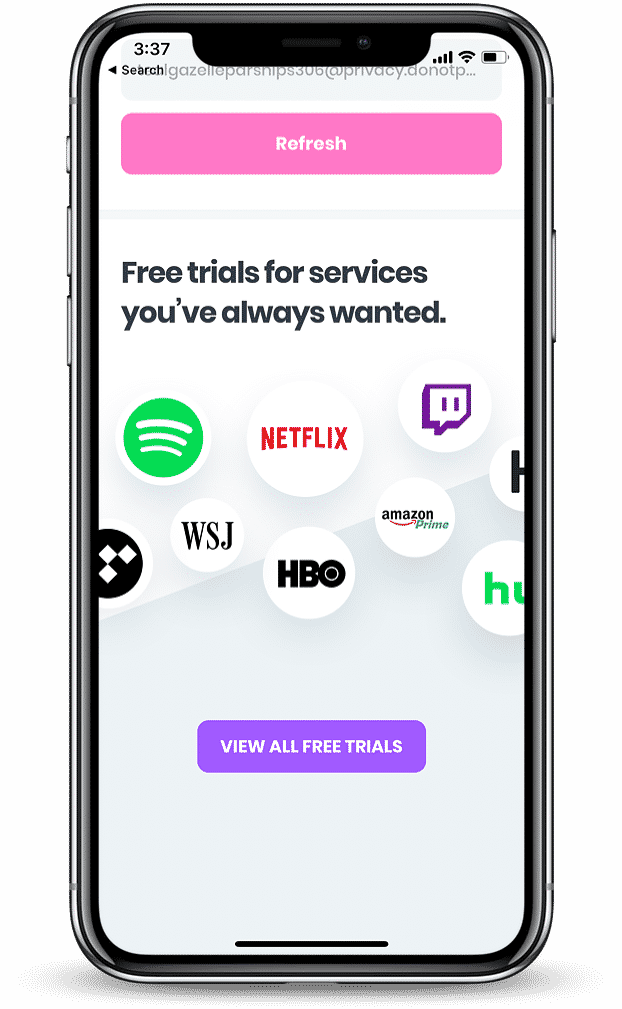 Amazon Prime ensures faster shipping and discounts on some items, but the refund policy is the same regardless of the type of your Amazon account. If this makes you want to cancel your Amazon Prime subscription, we can take care of that right here.
Have you fallen for an Amazon free trial that later turned out to be a paid subscription? Did you pay for a service you did not want to? A virtual credit card, created by our founder and CEO, Joshua Browder, can help you sign up for an indefinite amount of free trials without them being continued into paid memberships upon expiration. You can use DoNotPay's virtual credit card generator to quickly create a new credit card you can use once and forget about those pesky unwanted charges.
How Does the Virtual Credit Card Work?
The free virtual credit card acts as a real credit card. But when you sign up for a free trial, all of your private information is kept secret so that the merchant cannot misuse it. The card generates random numbers every time you sign up for a free trial, so you never have to worry about paying for an unwanted subscription ever again.
DoNotPay Can Help you Get a Refund for Various Services
Don't you just hate it when you buy a product or service and realize it's not to your liking? Your money doesn't need to be wasted like that. With the help of DoNotPay, you can request a refund from any company, even the ones that officially offer no refunds, in just a couple of minutes. All you need to do is provide our chatbot with the necessary information, and we will fax a refund request to your bank. We can also contact the service provider for you and ask them to refund your payment. We can help you request a refund from:
Solve Your Problems With DoNotPay

Let DoNotPay be the solution to any problem you encounter. With a ton of new features being added every day, you can rely on DoNotPay to do almost anything for you. Visit our website in your and begin taking care of your problems such as:
Fighting speeding tickets

Handling traffic tickets