Wegmans Return Policy—All Your Questions Answered
Have you bought a bottle of wine from Wegmans only to find that it had already been opened by the time you got home?
Initiating a return is a long, frustrating process that can make you want to give up on getting your money back entirely.
Don't let your hard-earned cash go to waste— and file a return request in no time.
Our detailed guide simplifies the Wegmans return policy, so you can have that bottle of wine and drink it too!
What Is the Wegmans Return Policy?
If you are unsatisfied with a product you recently bought from Wegmans, you can get a refund or an exchange. Still, the Wegmans return policy outlines that store management is at liberty to deny any refund based on their own discretion.
If you are trying to receive a refund for an unwanted alcoholic beverage, Wegman does have a few specific rules that you should familiarize yourself with before attempting a return. These rules are location-specific. New Yorkers can get a refund for unopened alcoholic beverages. If they did open the bottle, they can fill out and submit a product complaint form describing the product's quality issues.
If you bought your alcoholic beverage in Pennsylvania, for example, your return will only be processed if:
You provide a receipt in store
There is a quality issue with the product or package
The time of return is during legal selling hours at designated registers
If you have any questions or concerns about Wegmans' return policy terms for your location, you can contact the company by phone—(800) 934-626—or through the Wegmans Contact form.
Wegmans Return Policy—How To Return Unwanted Products
No matter where you purchased your item—online or in store—all Wegmans returns have to be made in person.
The Wegmans return policy does not allow refunds for online orders—you can opt to receive store credit if you are unsatisfied with your online order.
When returning your unwanted products, make sure to bring:
The original receipt with you
Your shopper's club account information ready to go
A valid driver's license or government-issued identification in case your refund total exceeds $25.00
How you will receive your refund depends on your original payment method—whether you made the purchase with a:
Credit card—you can expect your money sent back to the same payment method
Debit card—you will be refunded in cash
Can You Return an Item Without a Receipt?
If you misplaced your receipt, Wegmans will not issue a refund for your unwanted item. You will be offered store credit in the form of a Wegmans Gift Card at the item's lowest sale price.
For example, if you purchase a bottle of wine and decide to return it when it's on sale, you can only expect store credit in the amount of the sale price.
Deal With the Wegmans Return Policy Like a Pro With DoNotPay
The Wegmans return policy may appear to be straightforward at first glance, but there's more than enough room for things to go wrong.
If you don't have time to visit the store in person and wait in long lines, you can still return your unwanted items. Our user-friendly Return My Purchase tool allows you to skip any inconveniences of the return process.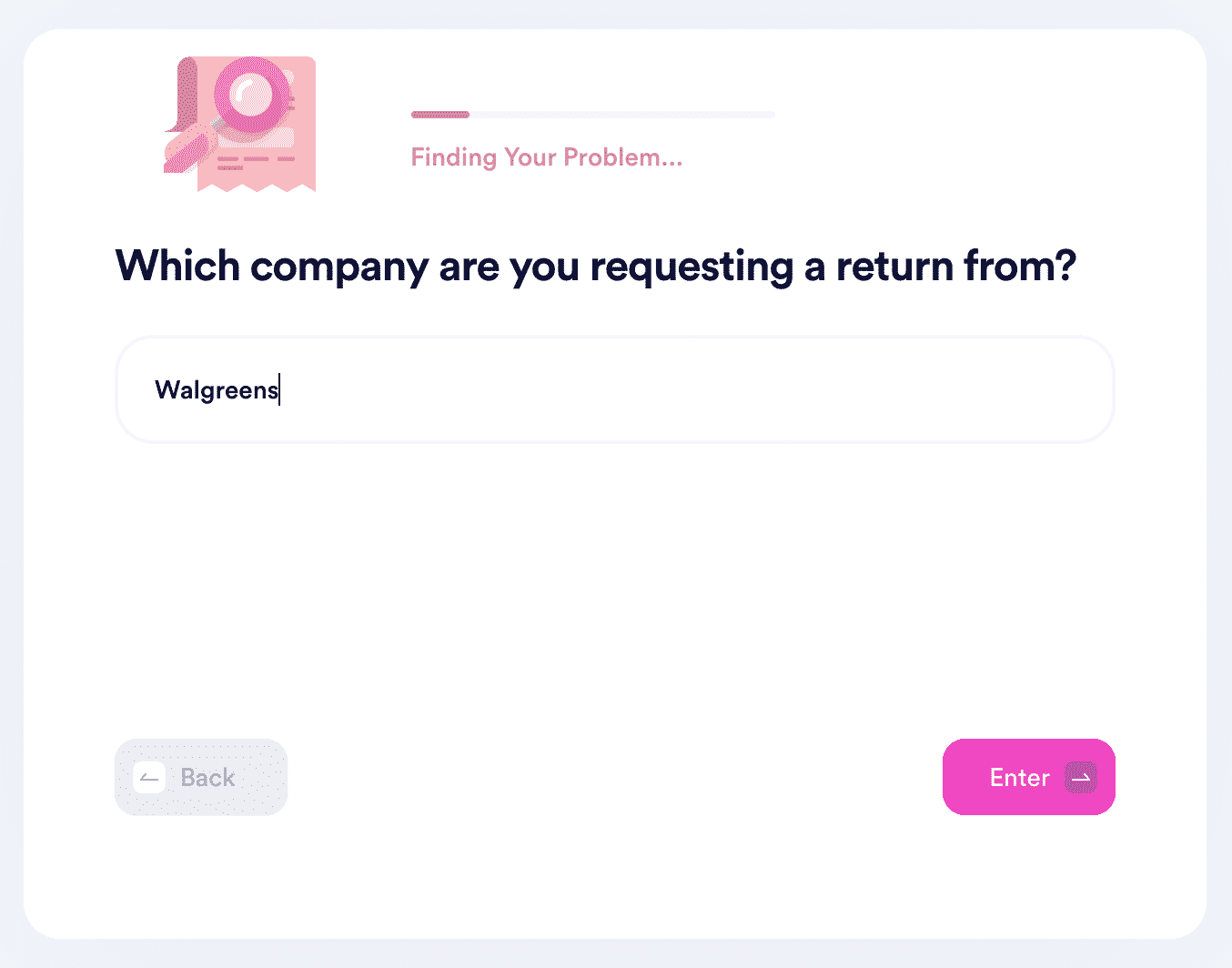 With our foolproof approach, DoNotPay can help you initiate a return with Wegmans in little to no time at all. Here's how you can start the return process with DoNotPay in four easy steps:
Find the Return My Purchase product
Answer questions related to your order
Click Submit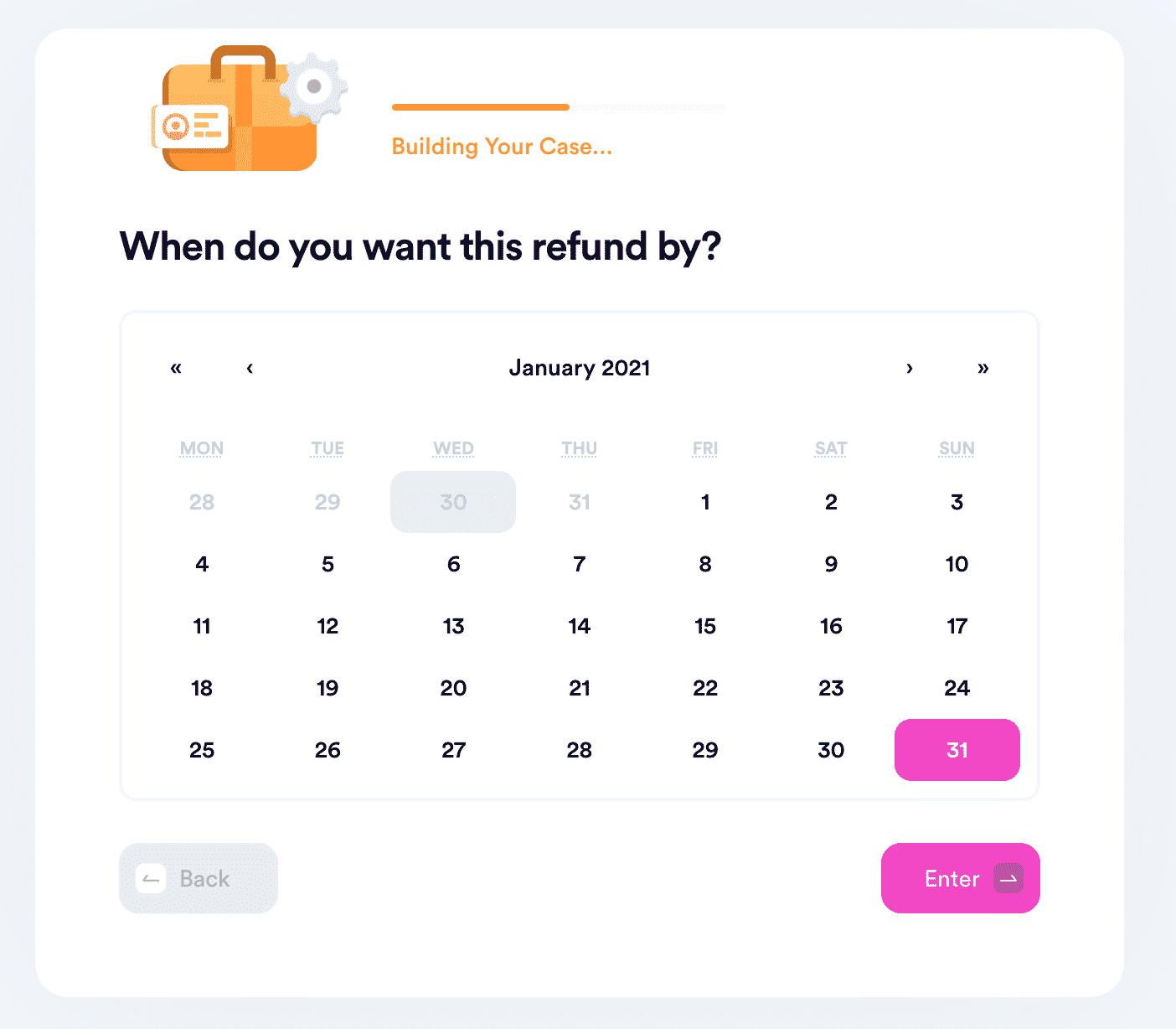 Our AI-powered app will draft and forward a customized return request letter to Wegmans, informing them that you are unsatisfied with your purchase.
The return request letter will contain a deadline to make sure you get a response in a timely manner. DoNotPay will also provide you with a free shipping label so that you can ship your unwanted item stress-free!
DoNotPay's Diverse Return Policy Guides
DoNotPay can help you understand the ins and outs of return policies from your favorite brands. Check out this table to explore some of our return and exchange policy guides:
What Can You Do if Wegmans Refuse Your Request?
If Wegmans refuse to process your return—or discard your request entirely—we can help you sue them in small claims court!
Our app will make the entire process super simple for you. We will:
Draft a demand letter tailored to your case
Show you how to file your complaint
Help you gather the necessary paperwork
Complete court documents
Write a script to guide you in court
Going Back and Forth With Companies Is a Thing of the Past
Have you been trying to contact the company you want to return your faulty item to with no success? No more—use DoNotPay's nifty product to jump the phone queue of any company's customer service line.
Waiting in any sort of line is dreadful, which is why we can also help you schedule a DMV appointment from the comfort of your home.
There are many more tiresome chores you no longer have to leave your bed to complete:
Make the Most of Your DoNotPay Subscription
Our app comes with a large selection of products—for one low monthly fee, you can use them all to complete dreadful admin tasks in a split second. Check out how you can: