Learn How To Apply for a
UT Dallas Application Fee
Waiver
The University of Texas in Dallas (UTD) is the second-largest public university in Dallas's urban area. With its eight schools and more than 28,000 students, it is a rising public research center. It offers study programs in:
Audiology

Business

Engineering

Science

Arts

Technology
Like most other universities, the University of Texas in Dallas requires candidates to pay a certain fee when they submit their applications.
Many students find college fees excessive, considering the amount of other college-related expenses. To avoid paying for college application fees, a student must meet certain criteria and obtain a fee waiver. Requesting college fee waivers is a demanding task most of the time.
That's why DoNotPay created a feature dedicated to the students who need financial aid.
What Are College Application Fee Waivers?
While all students can apply for a fee waiver, not everyone is eligible to obtain it. There are certain criteria that candidates have to meet. Some of the criteria include:
The same requirements apply when getting SAT and ACT fee waivers.
This list of conditions can apply to international students as well, depending on the university. The UT Dallas does not specify if that is the case there, but you can check with their admissions office via email at admission-fee@utdallas.edu.
Everything There Is To Know About the
University of Dallas Application Fee
Not every college charges application fees. For those that do, prices can vary from $25 to $90.
The application fee for the University of Dallas is $50, provided that a student is applying on time. For late applications, the fee is $125. The application fee is non-refundable.
If you are an international student, you will have to pay an additional $50 for any international academic document that has to be reviewed for admission.
How To Check Whether You Qualify for the
University of Dallas Fee Waiver
The University of Dallas has strict rules for deciding who qualifies for their fee waivers, besides the general criteria mentioned above. You can tell if you are eligible for the waiver if you fall under one of these categories:
Applying for a UT Dallas Application Fee Waiver on Your Own
There are various ways of requesting an application fee waiver, and you can find some of them in the following table:
Can I Apply for a Fee Waiver Using
Yes/No

NACAC fee waiver

Yes

College Board

Yes

Phone

No

Email

No

DoNotPay

Yes

Coalition App or

Common App

Yes
NACAC Fee Waiver
Here is how to apply for a fee waiver using the NACAC:
Download the PDF form from their website

Write the name of the college or university at the top of the page

Complete the

Student

section and check the boxes that apply to your case in the

Economic Need

section

Add your signature using the

Fill & Sign

button

Let the principal, school counselor, or a person from a community-based organization complete the

Authorized Official

section

Send it directly to the UT Dallas's administration office
You can follow up with the university after two weeks to check the status.
College Board
Once you take the SAT using a fee waiver, you are automatically qualified for unlimited college application fee waivers. You can find the forms by logging into your College Board account. If the university requires it, you can download your SAT fee waiver form and mail it to them.
Third-Party Apps
Apps that are most often used for applying for fee waivers are the Common App and Coalition App. Both of these apps are relatively fast but not the most reliable options.
Use DoNotPay To Apply for a UTD Application Fee Waiver
Paying one college application fee won't cost you a fortune, but paying for several applications can do some serious damage to your finances. Most prospective students prefer applying to several colleges when they cannot decide or want to improve their chances of enrollment. While expanding your options is helpful, costs can add up to hundreds of dollars, not including travel and other expenses.
DoNotPay's new feature is committed to helping students get the financial aid they need. We use a comprehensive database of all universities across the U.S., which allows our product to work with any college in America.
DoNotPay minimizes your work by automatically filling out the form on your behalf and mailing it to the university's financial aid office.
Here are the types of waivers we offer:
New Student Application Fee Waiver

Transfer Student Fee Waiver

Enrollment Deposit Fee Waiver
How To Apply for a Fee Waiver With DoNotPay
To get your fee waived, access DoNotPay from any web browser and follow these step-by-step instructions:
Open the

College Application Fee Waiver

feature

Choose the fee you would like to waive

Select the college or university you are applying to

Answer some questions about your financial situation

Tell us if you want the signature of your school's counselor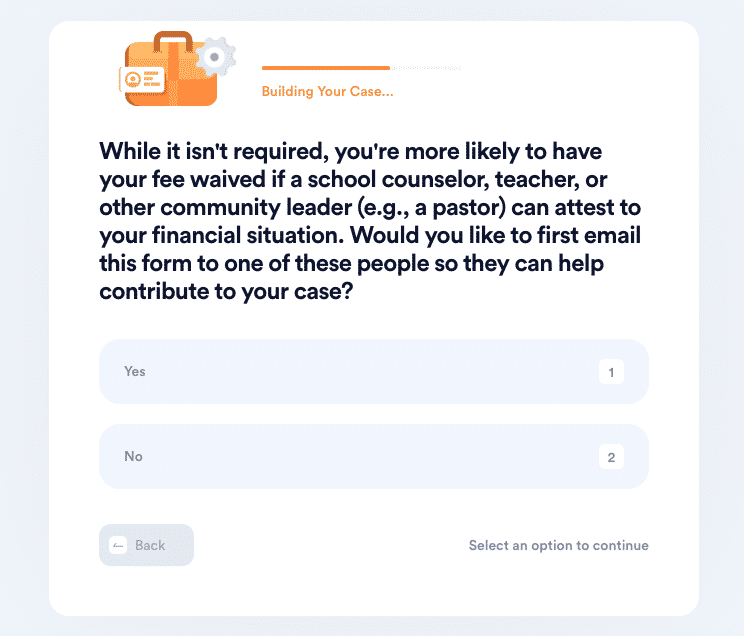 If you choose this option, we will send the form to your counselor first. If not, we will mail it directly to the university's financial aid office.
Don't Let Mundane Tasks Get You Down—Make DoNotPay Deal With Them
Once you decide to apply to several colleges, we will make it easier for you and your wallet by helping you eliminate unnecessary application fees. If you are applying to Texas colleges, we will show you how to waive a fee for Rice and Texas A&M universities.
Future law students can benefit from our fee waiver feature when applying to Stanford, Harvard, Northwestern, or Georgetown Law.
Learn about graduate school applications or take a look at the letter sample for an application fee waiver.
You can find assistance for other problems by accessing DoNotPay from any web browser.
Take a look at the following list and find out how we can help you with:
Fighting speeding tickets

Disputing traffic tickets