Take the Ultimate Project Management Tool for a Spin! Tricks To Land a Microsoft Project Free Trial!
Despite the enormous amount of project management software solutions available today, Microsoft Project still provides the greatest scope of features and remains one of the favorites among project management professionals and students alike.
The software is not meant for beginners, but once you get the hang of it, the possibilities are endless.
Does Microsoft Offer a
Free Trial Version of Microsoft Project
?

Microsoft is stingy with its free trials, not only for the project management software but in general.
In case you were hoping to try out MS Project as a part of the Microsoft 365 free trial, you will be disappointed. MS Project has never been a part of any Microsoft 365 version, and therefore not a part of the long-lasting 365 free trial campaign.
There are occasions when Microsoft makes a trial offer for subscription plans for the desktop version of MS Project. You can also try out Project for the web or Project Online, which are part of the project management cloud-based plans.
What Do I Get With a
Free Trial of Microsoft Project
Management Cloud-Based Plan?
Microsoft cloud-based project management plans allow you to work with a team and collaborate on the same project online. Features vary depending on the plan you choose, but all cloud-based plans include a 30-day free trial.
Take note that you won't be asked to provide payment details upon registering. You will get a chance to extend your trial for additional 30 days, but to do this, you will have to provide your credit card info.
You get everything you would with a full subscription:
Project Home Feature

—Create new projects or open recent ones

Grid view

—Manage projects using a task system

Board view

—Track project progress with visual task boards

Gantt view

—Use the timeline to track and connect deadlines, tasks, and resources

Collaboration and communication

—Use

Microsoft Teams

to collaborate on assignments

Co-authoring

—Include stakeholders and team members in the project management process
These are the features offered in the basic plan, while the additional tools are available for the higher-tier subscriptions.
What Do I Get With an
MS Project Trial Version
for Desktop?
In case you run into the free trial for Microsoft Project Standard or Professional, you'll get to enjoy all the benefits of a paid version for 30 days.
Microsoft Project is a pricey software and requires a one-time payment, which is why the company rarely offers a free trial.
If there is a free trial, you will be asked to provide your credit card info. Some of the features you get with the MS Project Desktop app are:
Ability to manage project schedules

Cost-management tools

Control over tasks and reports

Resource management

Ability to sync with Project Online and Project Server
How To Check If There Is an
MS Project Free Trial
Available
You can check if there is a free trial for any Microsoft software on their website without signing into a Microsoft Account.
Here is how to do it for both versions of MS Project:
Go to the Microsoft website

Click on the

Office tab

from the top

Menu

Click on the

Products

tab

Go to the

Apps and services

section in the drop-down

Menu

Select

See all apps and services

Scroll down until you reach the

Additional apps and services

part

Look for the

Project

link and click on it

Click on the

See plans and pricing

button on the

Project management

page

Explore the available software plans to find the one you want to try out
If there is a Try now link below the Buy now button, then your desired app has a free trial.
How To Get a
Free Trial of Microsoft Project

The process of getting a free trial for all cloud-based apps and a desktop version is a bit different. But both of them start at the Project Management Software page mentioned in the previous section. Make sure to sign in to your Microsoft account before starting the process.
Getting a Microsoft Project Web and
Microsoft Project Online Free Trial
If there is a free trial for cloud-based plans, you can start the process on the Microsoft Project Management Software page.
From there, follow these steps:
Click on the

Cloud-based solutions

tab on the top left

Choose between

Project Plan 1

,

Project Plan 3

,

and

Project Plan 5

—you can read the specifics below each plan

Click on the

Try Now

link for the selected plan

Enter your email and click on

Next

Click on the

Setup account

button

Fill in your name, company name and size, business phone number, and location

Click on

Next

Hit the

Send verification code

button

Enter the verification code and click on

Verify

Enter your domain name

Click on the

Check availability

button

Hit

Next

if the domain is available. If not, try again

Create your username and password

Click on

Sign Up
How To
Download
the
Trial Version of Microsoft Project
for Free
If there is a free trial for MS Project, you can initiate the signup on the Microsoft Project Management Software page as well.
Here is how to continue the process:
Click on the

On-premise solutions

tab on the top left

Choose the version you want and click on

Try Now

Click on the

Try 1-month free

button

Select your payment method

Follow the steps to complete the signup and get the download link
What Are the Prices of MS Project After the
Project Free Trial
Ends?
Here is the overview of the prices:
Type of Plan

Plan

Price

Cloud-Based

Project Plan 1

$10.00 user/month

Project Plan 3

$30.00 user/month

Project Plan 5

$55.00 user/month

On-Premise

Project Standard 2019

$620.00

Project Professional 2019

$1,030.00
Will the
Microsoft Project Management Software Free Trial
Turn Into a Paid Subscription?
If you give Microsoft your credit card credentials, your free trial will auto-renew into a paid subscription and your account will be charged automatically.
DoNotPay Stops Unwanted Charges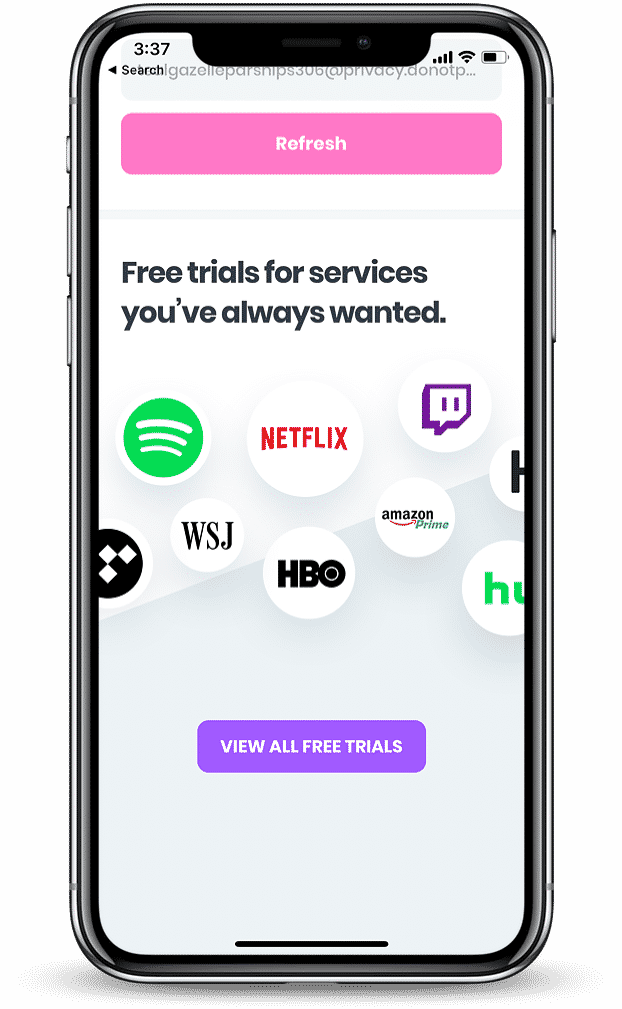 Sign up for MS Project free trial with DoNotPay's virtual credit card and don't worry about auto-charges.
Here is how to do it:
Access DoNotPay from your

Generate virtual credit card number

Use these details to sign up for MS Project
Your trial will be approved, but our free virtual credit card has another trick up its sleeve. This virtual card is not connected to a real source of funds, which means that Microsoft won't be able to take any money from it.
DoNotPay Solves a Bunch of Problems for You!

Looking for other Microsoft products? Our app assists you in landing Microsoft Word or Windows 10 free trial without a credit card! You can also use DoNotPay to cancel Microsoft subscriptions in two minutes.
We can help you with other services as well, so you can get a Spectrum refund, lower your Comcast bills, or request a flight cancellation refund.
Access DoNotPay from your , and find out how we can help you take on tasks like:
Contesting traffic tickets

Fighting speeding tickets