Get a Johns Hopkins Application Fee Waiver Quickly and Easily
Johns Hopkins University is one of the most prestigious schools in the U.S. and is internationally renowned for its academic excellence. Since it's one of the top research universities in the country, it's no surprise that it's an expensive school. DoNotPay can help you get an application fee waiver from Johns Hopkins University in a few easy steps.
What Does Application to Johns Hopkins University Cost?
The Johns Hopkins application fee is $70. You have to make a payment before the admissions committee processes your application. 
Why Must You Pay an Application Fee to Apply to Johns Hopkins?
Most schools charge application fees, usually ranging between $20 and $100. The fee covers the administrative costs involved in the selection process. 
You'll probably find that applying to any university is a long and tedious task. Technology has made application easier, but an admissions committee still has to evaluate the merit of your essay, interview, and academic profile. The admissions committee at Johns Hopkins needs to ensure that the school has a class that is able to do well, not only academically, but in all facets of university life. 
Some schools use this fee as a barrier for students who are not serious about their application. If you have to pay an application fee, you're more likely to attend the school if they offer you a place.
What Are Application Fee Waivers?
Most U.S. schools allow students to apply for an application fee waiver under certain circumstances. Since the average cost of applying to a university is around $60—and in some colleges, going up to $90—the fees of applying to different schools quickly add up.
Application fees are usually not the only costs involved when applying for college. Students need to pay for:
Standardized admission tests

Preparation for standardized admissions tests

Travel fees when attending interviews—for getting to the school and back and staying somewhere overnight, if necessary

Reporting test scores to schools—your test fee usually covers a certain amount of reports, and if you apply to more schools, you'll have to pay for each additional report
If you receive an application fee waiver, it makes the cost of applying to the school a little less expensive and allows you to broaden your options by applying to more schools. 
There are schools that don't charge an application fee, while others have limited window periods where you can apply for a fee waiver. 
A fee waiver doesn't cover other college fees or tuition. You can apply for scholarships or grants when you've received confirmation of admission to the school.
Criteria for an Application Fee Waiver
To qualify for an application fee waiver, you have to meet certain criteria. You are:
Eligible for or participating in a free lunch program

A member of a family whose income falls within the

USDA

guidelines

A veteran or on active duty with the U.S. Armed Forces

Homeless or in foster care
The university may ask you to provide supporting documents when you request an application fee waiver. 
Can You Apply for a Fee Waiver on Your Own?
You can apply for a Johns Hopkins application fee waiver by yourself. Take a look at the following methods to ask for a Johns Hopkins University application fee waiver:
| | |
| --- | --- |
| Method | Yes/No |
| DoNotPay | Yes |
| Coalition for College | Yes |
| Common App | Yes |
| Email | Yes |
| Website | No |
| Telephone | No |
The application form in the Common App contains questions regarding your financial situation. If you can't afford the application fee, your school guidance counselor can request a fee waiver by sending an email. 
If you received a fee waiver for your SAT or ACT, you'll be eligible for a Johns Hopkins application fee waiver automatically. Since these tests aren't a requirement for the class of 2025, application fee waiver options are even fewer than usual.
When you apply for a Johns Hopkins University application fee waiver, you have to make sure that you do so before the deadlines, either for early decision or regular decision. The deadlines for these respective decisions are November 2 and January 4. If all your documentation doesn't reach the school by these dates, you won't be able to get admission. 
Let DoNotPay Handle Johns Hopkins Application Fee Waivers for You
DoNotPay is the easiest and quickest way to apply for college application fee waivers. While Johns Hopkins only expects an email from your guidance counselor, the process for other schools is usually more complicated. Chances are that you're applying to various schools to increase your chances of getting in. DoNotPay can help with the fee waiver application to each school that you're applying to. You only have to fill the form in once!
You can let DoNotPay take care of the application for a fee waiver for all the schools you're interested in by providing the relevant information in these quick steps: 
Open DoNotPay in your

web browser

Click on

College Application Fee Waiver

Select the fees you want to waive

Choose the schools that you're applying to

Provide necessary details about your financial information when prompted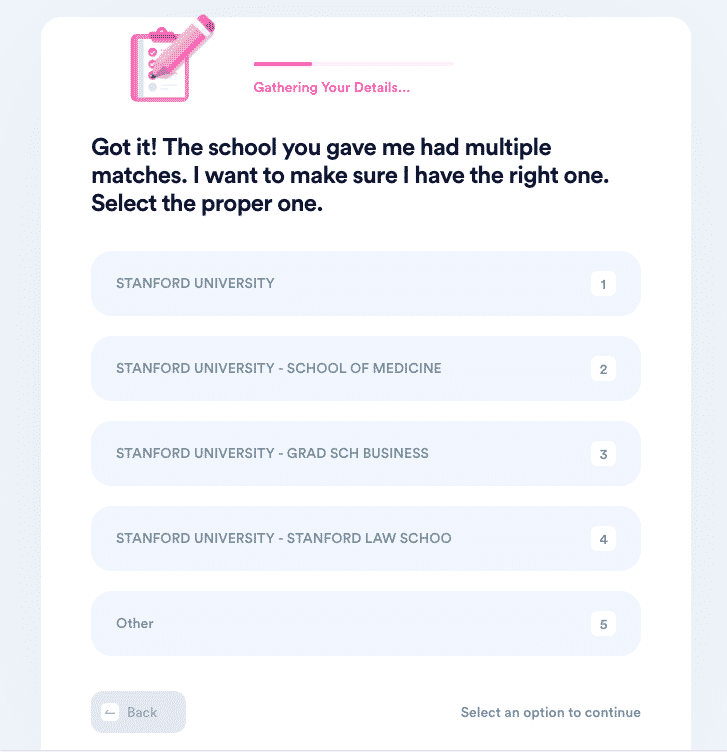 DoNotPay will fill in the form on your behalf and send it to the respective schools. You can also let DoNotPay request your guidance counselor to sign any forms in your stead. Johns Hopkins will need a signature from your counselor, so make sure to indicate that when you finalize the process.
If you're applying to several schools, check whether you can skip the counselor's confirmation on each university's website. 
What Else Can DoNotPay Do for You?
DoNotPay is a service that's been designed to make your life easier. You can access tons of useful information and tricks to save time and money. If you're saving for school, you can use DoNotPay to cancel unwanted subscriptions, such as Roku, Netflix, or Hulu.
DoNotPay can help with your application fee waivers to almost any school in the country. We can help you get an application fee waiver at Brown, Northwestern, Washington State University, and many more! 
The DoNotPay service can assist you in saving money on bills, such as utilities, student loans, and even parking tickets in Baltimore. We can give you handy information on a range of different topics that can help you navigate student life.
You can log on to the DoNotPay site in your web browser to get assistance with:
Fighting traffic tickets

Contesting speeding tickets