A Detailed Guide to Requesting a United Wi-Fi Refund Fast and Easy
You barely made it to the airport, boarded the plane, paid for the internet, and were hoping to finish some work while traveling, just to discover that Wi-Fi doesn't work? We've all been there, and while it's super frustrating, especially if you have important things to take care of online, there aren't many things you can do other than request a refund once you land.
The United Airlines refund policy for poor Wi-Fi is usually fair to the customers who experience problems with the network. You'll find this article helpful if you need to ask for a Wi-Fi refund from this airline company stress-free.
Ways To Request Your United Airlines Wi-Fi Refund
You can request a refund for poor Wi-Fi from United Airlines in a few ways:
| | |
| --- | --- |
| Can You Request a Refund Via | Yes / No |
| DoNotPay | Yes |
| Email | No |
| Website | Yes |
| Letter | Yes |
| Phone | Yes |
| In Person | No |
How To Request a United Airlines Wi-Fi Refund on the Website
If you want to ask for a United inflight Wi-Fi refund online, follow these steps:
Go to the

Refunds page

Sign in if you have a MileagePlus account

Complete the form

Click on

Submit
To request a refund for the GoGo Wi-Fi, head over to their contact page and request a refund from their customer support.
How To Request a United Airlines Wi-Fi Refund via Mail
You can also request your refund by sending a letter to United Airlines, whether you had problems with Wi-Fi, wish to refund an unused ticket, or have any other refund-related issue with the company.
Write a formal letter explaining your problem and make sure to include the flight details and your contact info. Send the letter to:
United Airlines, United Refunds P.O. Box 4607 Dept. NHCRF Houston, TX 77253-3056
How To Request a United Airlines Wi-Fi Refund Over the Phone
Requesting a United refund over the phone isn't an official option, but you can still contact their customer support. Some customers get lucky with refunds by calling the company. You can dial 1-800-864-8331 and explain the problem you had with the Wi-Fi network.
For a better, stress-free experience, make sure to rely on DoNotPay to get in touch with United customer service without wasting time on the phone. By choosing this DoNotPay feature, you can have us hold the line for you and inform you when to pick up the phone and talk to the reps. These are some of the companies we can help you get in touch with:
DoNotPay Offers a Better, Time-Efficient Solution for Requesting a United Wi-Fi Refund

Besides helping you contact the United Airlines customer care agents hassle-free, DoNotPay also offers a more convenient option for requesting a United Wi-Fi refund:
Log in to your DoNotPay account from a

Click on the

File a Chargeback

option

Complete the form by

responding to

a few questions

Verify your signature and click on

Submit
As soon as you hit the Submit button, your request will be automatically faxed to your bank together with a letter containing all relevant Visa or Mastercard codes. DoNotPay can also contact the merchant for you and collect the evidence requested by the Fair Credit Billing Act.
With us, you can request any type of refund in a few clicks. Follow the above-described steps to ask for a refund for your seat choice, unused tickets, etc.
Request a refund from many other companies with DoNotPay's help, including:
Learn About United Airlines Wi-Fi Refund Policy
United Airlines Wi-Fi is non-refundable according to the company's refund policy. The company issues refunds only if you had problems with the network, but United reviews each request individually to determine whether it's eligible.
United Airlines has four Wi-Fi network providers, and you can request a refund from United for three of them—Thales, ViaSat, and Panasonic. If your flight was covered by the GoGo Wi-Fi network, you'll have to ask the provider for a refund directly.
To find out more about other aspects of the United Airlines refund policy, and whether or not you're eligible, check out our guide to requesting a United Airlines refund.
How Long Will I Have To Wait To Receive My United Airlines Wi-Fi Refund?
United should issue your Wi-Fi refund within seven days from requesting it. In situations similar to the COVID-19 outbreak, you might need to wait a bit longer to receive a refund.
Check the Status of Your United Refund Request
If you don't have the patience to wait or think that the refund is taking too long, check your refund request status by calling the United Airlines customer support at 1-800-864-8331.
The second option is to check the status on the website by following these steps:
Go to the

Refunds

page

Click on the

Check status

tab

Type in the necessary info

Click on the

Check status

button
DoNotPay Helps You Get Compensation From United Airlines and Other Airline Companies

Assisting you in getting a Wi-Fi refund from United isn't the only thing DoNotPay can do. When it comes to airlines, getting compensation can be challenging, and that's where we shine. Everyone should be aware of their airline passenger rights to be able to request a refund for delayed, canceled, or overbooked flights.
DoNotPay can help you get compensation from United Airlines as well as get a refund for your plane ticket or compensation from other airline companies, such as:
Need Help Suing United Airlines? DoNotPay Makes Everything Simple!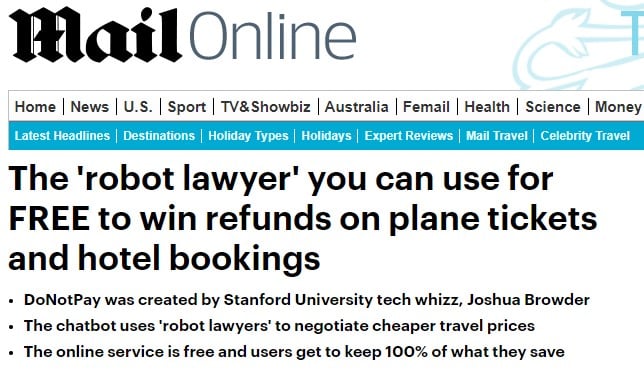 If you're eligible for a flight, Wi-Fi, or any other refund or compensation, but United refuses to issue it, you can sue them in small claims court. DoNotPay can help you sue United Airlines by guiding you through the often complex process. We know how exhausting bureaucracy can be, that's why we are here to take care of almost everything and provide instructions on what to say in court.
Once you log in to your DoNotPay account from a , you'll be able to count on our help with:
Determining if your case qualifies for small claims court

Composing a demand letter to send to United Airlines

Collecting all the documents and completing the forms you need to file the complaint

Writing your court statement
Check Out What Else DoNotPay Can Help You With!

If you need help saving time and money while fixing the annoying issues such as recognizing spam emails, stopping cyber stalking, reporting robocalls, and many more, DoNotPay's convenient features are at your disposal. Open your account in a and rely on us to help you:
Dispute traffic tickets

Fight speeding tickets