How to Request and Get a LinkedIn Refund With Minimum Bother
LinkedIn is a social media network targeted at young professionals who want to connect with colleagues and like-minded people from worldwide. Like with most social media platforms, a basic LinkedIn account is free of charge. The company offers other services for a price, including the Premium subscriptions, individual courses, and a LinkedIn CV review.
If you've purchased any of these deals and wish to cancel the service for a refund, here's everything you need to know about the LinkedIn refund policy.
LinkedIn Refund Policy

LinkedIn would like to trick you into believing their Premium services cannot be refunded, but you can return the favor and have the snatched money back in a couple of clicks.
The official LinkedIn refund policy states you can get a refund only on its learning courses—and that's if you drop out of them within a month of signing up or if you are a citizen of the EU. If you are in this situation, cancel the courses you subscribed to within this timeframe, and you should get a refund from LinkedIn without issues.
For Premium services, which are presumably nonrefundable, LinkedIn will still accept refund requests if you submit your account for review, in which case they become totally refundable.
Can You Cancel LinkedIn Premium and Get a Refund?
Even though the company's FAQs page states Prime services are nonrefundable, that's just what LinkedIn would like you to believe. You can get a refund on a charged LinkedIn subscription when you cancel it—just stick with us, and you'll find out how.
LinkedIn lures you in with a one-month free trial to a number of different Premium subscription categories, such as:
Business

LinkedIn Learning

Career

Sales Navigator

Recruiter
They sound tempting enough—after all, you are on LinkedIn to boost your career prospects and professional networking skills—but they are each rather costly, ranging from $29.99 to a staggering $119.95 per month.
A subscription to any of the LinkedIn Premium options is automatically renewed the second your free trial ends. If that wasn't bad enough, you are instantly charged an annual sum of these fees! LinkedIn naturally doesn't previously inform you of the free trial period coming to an end, so you end up losing hundreds of dollars in a heartbeat!
It's only fair you should be offered a choice to cancel the service and get your hard-earned money back.
No matter what its seemingly strict refund policy states, LinkedIn will give you your money back if you didn't intend to make a purchase—the free trial ended, and you were charged automatically—or if you've been subscribed to a Premium account for only a short time. It's why they give you the option to submit your account for review—to see if you qualify for an exception to the no-refunds rule.
The Fastest Way to Request a LinkedIn Refund—DoNotPay

Submitting your LinkedIn account for review is only one way to request a refund for its Premium services. DoNotPay offers another—the one that's much faster and easier to complete. You only need a DoNotPay account, which you can create in any web browser in under a minute, and you're all set to go.
To request your LinkedIn refund with the help of DoNotPay:
Navigate to the Chargeback Instantly section in your DoNotPay dashboard

Click Get Protected

Enter your payment details

Specify it's LinkedIn you need a refund from

Submit your request
DoNotPay faxes your refund claim to your bank immediately and notifies you about it in an email. We can also contact the merchant for you, to collect the evidence on your purchase that will support your claim and help you get your money back at the earliest time possible.
Can You Turn to the LinkedIn Customer Service for a Refund?
You can make your request for a LinkedIn refund by reaching through to the company itself. You have only two options to do so:
Submitting your claim on the company's website

Reaching out to LinkedIn through Twitter
| | |
| --- | --- |
| Can You Request a Refund Via | Yes / No |
| DoNotPay | Yes |
| Email | No |
| Phone | No |
| Letter | No |
| Website | Yes |
| In-person | No |
| LinkedIn Help Twitter Page | Yes |
Requesting a Refund on LinkedIn Website
To request your refund on the LinkedIn website, you have to submit your account for review. Here's how:
Log in to your LinkedIn account

Cancel your subscription in order for the account review page to work

Locate the Help page on the website when you're done

Type in LinkedIn Consumer Refund Policy in the search engine

Click Request Account Review in the box on the top

Ignore the message about a no-refunds policy and click again Request Account Review

Confirm and submit your request
You may wish to check the status of your refund directly during this process. A LinkedIn refund will likely be issued the instant you click on the Check the Status option AFTER you've clicked doubly on the Request Account Review tab. If it says Approved, check your email to see the return of your funds.
If you don't have the LinkedIn Premium account, but want to request a refund for any other reason, you can chat with the LinkedIn support team through the website help center.
Contact LinkedIn for a Refund on Twitter
Alternatively, you can send a message to LinkedIn using their official LinkedIn Help Twitter account. Inform them that you have been wrongly charged or received an automated annual billing, and they will help you from there.
LinkedIn will email you to let you know your refund has been successfully processed almost as soon as you get through to them, so don't waste your time and never give up on your customer rights!
What if You Subscribed to the LinkedIn Premium Service from Your iOS Device?
If you signed up for any of the LinkedIn Premium option accounts using the iOS LinkedIn app, you'll have to contact Apple for a refund. In most cases, Apple refunds canceled subscriptions, so you have nothing to lose. You can request a refund from Apple through their website's support page or by reporting a problem using the link in your receipt email. 
Never Again Let Any Automated Payment Surprise You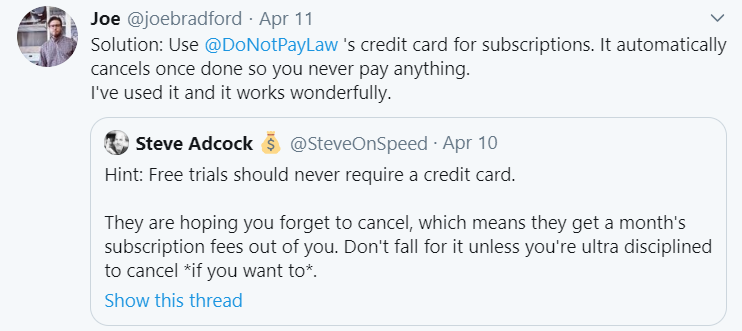 If you haven't canceled your LinkedIn Premium before your free trial ended and nearly got a heart attack when you were charged, you'll be happy to hear that we have a way to prevent this from ever happening to you again.
No one can blame you for wanting to try out numerous free trial subscription services and not keep track of the dates when each trial period expires. Since companies usually won't inform you of the end of the billing period, though, your best bet is to use the DoNotPay virtual credit card instead of your own.
When you sign up to a service, the card is processed just like a regular one, but once the free trial ends and an automatic payment tries to creep in, it won't be able to!
DoNotPay Protects Your Privacy and Finances
Sharing your credit card details online comes with certain risks, and it's getting more difficult to tell good and bad websites apart. With DoNotPay's virtual credit card generator, you will be able to protect your identity and bank account from cyber scammers.
Whenever you run into a suspicious email or website, generate a virtual credit card and proceed without worries. Our virtual cards also work like a charm if you want to avoid automatic payments after free trials.
Don't Leave Until You've Checked Out These Other DoNotPay Features

Helping you file a refund request in under a minute or offering you virtual credit cards to use is only a small portion of everything DoNotPay can do for you.
By creating a DoNotPay account in any web browser, you've secured yourself a robot lawyer that can fit inside your pocket and is always available for assistance.
You can let DoNotPay help you the next time you have to:
Appeal traffic tickets

Contest speeding tickets