How to Handle an
Amazon Refund Without Return
the Fastest Way Possible
The global e-commerce giant Amazon is the world's largest marketplace, with more than 350 million products up for sale at any given time. 
Deemed as one of the "Big Four" tech companies alongside Apple, Facebook, and Google, Amazon specializes in e-commerce, digital streaming, cloud computing, and artificial intelligence. 
Amazon's array of services is wide-ranging, but in this article, we will focus solely on returns on the Amazon online marketplace and the purchase of physical goods.
Why Does Amazon Refund Without Return?
Typically, when you apply for an Amazon refund, you're required to ship the item back to them. In some cases, Amazon could determine that a refund can be issued without a return. 
This decision will mostly depend on the cost of the item. If the price is so low that it exceeds the cost of shipping it back to Amazon, as well as inspecting it and restocking it, they may decide it's not worth the logistical hassle. Allowing you to keep the item also helps the company retain its customers and build a more positive reputation.
If you don't need to mail your item back for a refund, you'll receive a notification in the Returns Center or a customer service representative will get in touch. It might be handy to learn some Amazon customer service hacks beforehand!
How to Get an
Amazon Refund
by Yourself
Before you even find out whether you'll need to return your item or not, you have to initiate the refund process on Amazon. You can deal with the company on your own, or you can ask DoNotPay to do it for you.
| | |
| --- | --- |
| Can you request a refund via | Yes / No |
| DoNotPay | Yes |
| Email | No |
| Phone | No |
| Letter | No |
| Website | Yes |
| In-person | No |
On a related note, if you would like to demand a refund for your Amazon Prime membership, or learn how to cancel Amazon Prime, DoNotPay has got you covered there, too.  
Request a Refund Through the Amazon Website
You can ask for your money back through the Amazon website, just follow these steps:
Log into your Amazon account

In the top right corner, under

Accounts & Lists

, click on the Your Orders section

Find the order or item in question

Select

Problem with order

Explain your issue with the order and why you require a refund

Click

Submit

 
Obtain a Refund on Amazon with DoNotPay

Getting your money back from Amazon can be a convoluted, time-consuming affair sometimes. There is, luckily, a much quicker way to go about it. What you need to do is team up with DoNotPay.
You need to do the following:
Open DoNotPay in your

web browser

Click on

Get Protected

below the

Chargeback Instantly

option

Answer to the chatbot's questions as prompted (this will cover some important details about your bank and the Amazon transaction in question)

Verify your signature

Submit the request
Your bank will receive a refund request as soon as DoNotPay gathers all the required information from you. We will also attach the relevant VISA and Mastercard codes and regulations that will reinforce your case. 
If you prefer to communicate with the vendor (i.e., Amazon) directly, DoNotPay can conduct this in your stead, too. 
What Is Amazon's
Refund Policy Without Return
?
The company's Conditions of Use states that Amazon doesn't take title to returned items until it arrives at their fulfillment center. A refund could be granted without needing a return, but this is decided solely at Amazon's discretion. To find out more about Amazon's returns and refunds, pay a visit to the company's Returns Center.
In terms of their Physical Store Returns Policies, it's important to note you can send back most goods bought at an Amazon Physical store for a full refund, no longer than 30 days since the original purchase date. Eligible items bought on Amazon.com can be sent back to a participating physical store location. You should use the Returns Center to figure out your return options for Amazon.com purchases.
Amazon Refunds—How Long Do They Take?
Typically, Amazon will start the refund process only after they receive the returned item. In the case when you don't have to send back the goods, the process should be much quicker. When your refund request gets processed, it will typically take from three to five business days for the money to show up on your credit card. Bear in mind that this could take longer, depending on the original payment method.
Refer to Amazon's table below for a clear breakdown of the refund methods and expected processing times for each of them.
| | |
| --- | --- |
| Refund Method | Refund Time (After Request Is Processed) |
| Credit card | Three to five business days |
| Amazon.com Gift Card | Two to three hours |
| Debit card | Up to 10 business days |
| Checking account | Up to 10 business days |
| SNAP EBT card | Within 24 hours |
| Gift Card balance | Two to three hours |
| Promotional Certificate | No refund issued |
| Prepaid credit card | Up to 30 days |
| Shop with Reward Points | Up to five business days |
How Can You Check the Status of Your Amazon Refund Request?
You can always check the status of your refund request under Your Account.
From there, you should:
Go to

Your Orders

Select

Order Details

next to the order you returned or canceled
You will find the information you're after under the Order Summary section.
DoNotPay Searches for Unused Services Among Your Subscriptions

Perhaps you've subscribed to Amazon Prime to qualify for free, express shipping for all Amazon purchases. Lately, however, you find yourself not using the service too often. Why not save some of your hard-earned dollars and let DoNotPay cancel the subscription for you?
Curbing your expenses with the help of DoNotPay has never been easier. When you connect our app to your email or bank account, it will sift through all of your active memberships and subscriptions, then recommend those that you should discontinue using as soon as possible.
To activate this feature, you can also:
Open DoNotPay in your

web browser

Select

Find Hidden Money

Type in "Amazon Prime"
Sign Up for Amazon Prime Risk-Free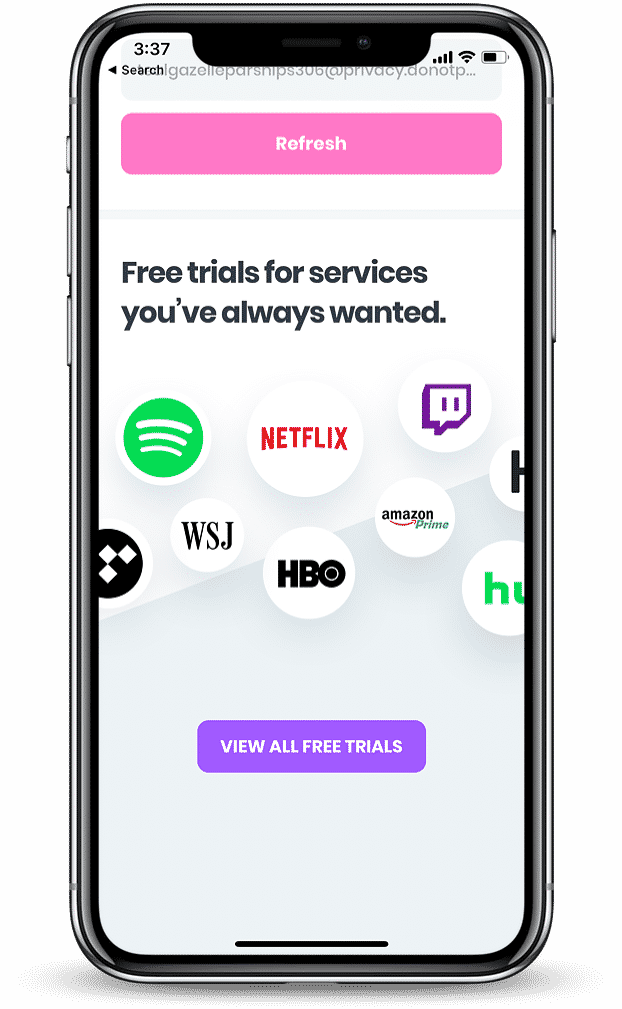 You can also sign up for Amazon Prime's free trial by using DoNotPay's Free Trial Card. Our virtual credit card produces random and unique credit card information, which isn't linked to any bank account. You can use DoNotPay's virtual credit card generator to quickly create a new credit card you can use once and forget about those pesky unwanted charges.
In other words, if you want to cancel a service but forget to do so before the free trial runs out, that's ok. Because you've used our Free Trial Card to try out an online service, you will not be charged a dime, even when the auto-renewal of your subscription charge kicks in. 
The DoNotPay Free Trial Card works on three simple yet effective principles:
It creates random credit card information 

It gets approved on free trial pages

It doesn't get approved on subscription pages
This may well be the easiest way to save your hard-earned money! 
DoNotPay Can Help you Get a Refund for Various Services
Don't you just hate it when you buy a product or service and realize it's not to your liking? Your money doesn't need to be wasted like that. With the help of DoNotPay, you can request a refund from any company, even the ones that officially offer no refunds, in just a couple of minutes. All you need to do is provide our chatbot with the necessary information, and we will fax a refund request to your bank. We can also contact the service provider for you and ask them to refund your payment. We can help you request a refund from:
DoNotPay (and the Livin' Is Easy)

There are days when even keeping your head above water feels like a success. If you're inundated with what feels like a neverending list of obligations and chores, you might benefit from our state-of-the-art legal assistance app. DoNotPay harnesses artificial intelligence technology to automate and perfect various tasks, so you don't have to deal with them.
Our app can assist you with:
Appealing speeding tickets

Challenging traffic tickets
Make haste and access DoNotPay from any web browser.