Don't Know How to Write a Refund Request Letter? With DoNotPay, You Won't Even Need This
Sample Letter of Refund Payment
!
If you have ever returned an item to the store, you know it is generally a straightforward, although a bit unpleasant, process.
Most retail shops will let you request a refund within a specific timeframe, usually 30 or 60 days from the purchase, while some might have a no-refunds policy altogether.
The situation becomes complicated when the shop in question is not around the corner. Online shopping giants, like eBay or Amazon, have their own procedures for requesting a refund, as well as many gaming platforms such as Origin Games, Steam, or Blizzard.
Regardless of your shopping preferences, you can always encounter problems with missing delivery parts, damaged items, or delays.
If you end up in any of these situations, you should know the best way to contact the seller is by a Refund Payment Request Letter.
Refund Request Letter
—Why Is It Important?
A refund-request letter is imperative when you want to officially inform the merchant that their product or service did not meet your expectations. This method of expressing your dissatisfaction may not always be an option but you should use it whenever you have an opportunity to ask for a refund in writing.
Do's and Don'ts of Writing a Refund Payment Request Letter

Do:

Don't:

Ask for a refund in a polite and formal language

Include details about the product—what was purchased, when, and what the price was

Explain why you want to return the item

Mention relevant aspects of the transaction such as dates and place of delivery

Lie about or exaggerate the reason for requesting a refund

Be vague about the amount you expect to be refunded

Include unnecessary information

Use informal language
You Don't Have to
Write
a
Refund Request Letter
on Your Own! DoNotPay Will Do It for You!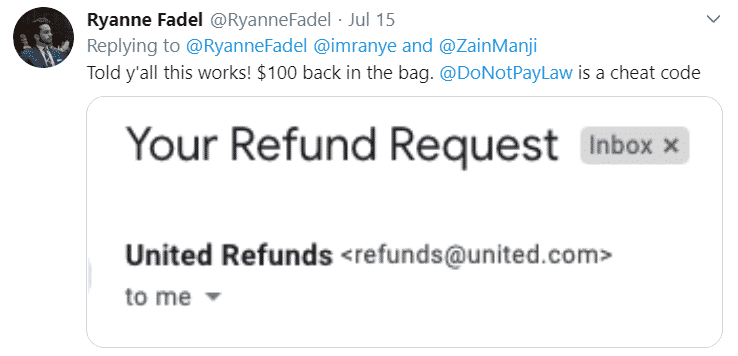 Skip the research process and the hassle of adjusting the sample letter to your specific needs. DoNotPay will help draft the perfect refund request letter and send it to your bank and to the merchant. 
Here are the steps to follow:
Access DoNotPay from your

web browser

Click on the Chargeback Instantly option

Type in the name of the merchant

Let DoNotPay guide you through the rest of the procedure
When you've verified all the details, the app will create a dispute letter and send it directly to your bank!
How to Ask for a Refund
— Use This
Refund Request Letter Sample
to Get Your Money Back!
There is not a unique template for requesting a refund from a company, but here is a sample letter that can help you understand how it should look like:
[Name of Sender]
[Address]
[Date]
[Name of Company]
[Address]
Subject: Requesting a refund of my payment
Dir Sir or Madam,
This letter serves as a formal request for a full refund on the product that I bought from your company, through your Online Store. 
I purchased a [Product Name] on [Date of Purchase], and paid a total amount of [Total Amount]. 
It seems that the product is defective and that it is not functioning properly. The specific problem with the product is that [describe the issue].
I read your terms and conditions, and I am well aware that customers are entitled to a full refund for a defective product.
I attached the receipt that I got for the product as proof it was purchased from your company. 
I hope to hear from you soon about the procedures for returning the product and receiving a refund. 
Kind regards,
[Name]
Common Methods of
Asking for a Refund
If you are not happy with your purchase and wish to return the product, there are several routes you can take. The communication channels that you can use depend on the company in question. 
You can try one of these methods to reach the seller and ask for a refund:
Visit the store in-person

Contact them via phone-call

Use their website

Send them an email
Return Your Item to the Store and Ask for a Refund
If you are not satisfied with your purchase from a local retail store, the best thing to do is go there personally. 
Most retailers have a return policy, allowing you a 30- or 60-day timeframe to return the item. The smart thing would be to return the unwanted item as soon as possible. Give the retailers a chance to put the product back into the store, and they are less likely to ask any additional questions. 
If you want to return the product because it is damaged or not working, the seller is obligated to refund the full price of your purchase. Of course, this is not going to happen if you damaged the item yourself. 
If you want to return it for any other reason—you don't like it, you purchased the wrong product, you don't need it anymore—you may get a full or partial refund, a store credit, or a replacement. 
This depends on the store's refund policy, which they must present in a visible place—both on their website or in the store.
The merchant does not have to issue you a refund just because you've changed your mind.
Call the Seller
You can call the seller on the phone, but the process will vary from merchant to merchant: 
Local shops usually have in-store phones

Digital shopping platforms often have a customer service number on the support page of their website

Big corporations do have customer support lines, but anytime you call, you can expect to be put on hold. If you don't want to wait in line with

Amazon

,

Zara

, or

Walmart's customer service

, you can use DoNotPay to

skip that phone queue
Get a Refund Through a Refund Request Form on the Company Website
Many companies will enable you to request a refund directly on their website. 
You will fill in the form, add your contact details, click on the item you wish to return, choose a reason for returning the purchase, and that is it. If your request is in line with the company's guidelines, you will likely get a refund.
Some of the digital content distributors have a self-service refund option on their website. You can get an instant refund for Minecraft, Fortnite, and some Xbox purchases this way.
For non-instant refunds, there is often a textbox where you can explain your reasons for returning the item and add all the relevant info. You can use this to provide the company with your Refund Payment Request Letter or upload it to the form if there is an option to add a file.
Contact the Company via Email
Sometimes the company will insist on using email as a form of communication. This is usually the case with smaller businesses. 
You can even use this strategy to reach the company if all other options fail. 
Letters for requesting a refund can be sent this way as well, but make sure to attach all the additional info about the purchase including receipts or order documents.
DoNotPay Can Help you Get a Refund for Various Services
Don't you just hate it when you buy a product or service and realize it's not to your liking? Your money doesn't need to be wasted like that. With the help of DoNotPay, you can request a refund from any company, even the ones that officially offer no refunds, in just a couple of minutes. All you need to do is provide our chatbot with the necessary information, and we will fax a refund request to your bank. We can also contact the service provider for you and ask them to refund your payment. We can help you request a refund from:
DoNotPay Protects Your Privacy and Finances
Sharing your credit card details online comes with certain risks, and it's getting more difficult to tell good and bad websites apart. With DoNotPay's virtual credit card generator, you will be able to protect your identity and bank account from cyber scammers.
Whenever you run into a suspicious email or website, generate a virtual credit card and proceed without worries. Our virtual cards also work like a charm if you want to avoid automatic payments after free trials.
DoNotPay—Your Personal Pocket Assistant

Are you tired of googling how to get unemployment insurance? Not sure how to get a plane ticket refund? Have a stalker ex that refuses to leave you alone?
DoNotPay is here to help. Our app specializes in assisting people in their battle against corporations. We can also help you put stalkers, robocall scammers, and harassers back in their place. 
You can access DoNotPay from your web browser and get help with:
Fighting speeding tickets

Disputing traffic tickets