Having Trouble With Delta Flight Delays? Here's All You Need to Know

Have you found yourself stuck at the airport, unsure of when or even if your delayed Delta flight is going to take off? If so, you've landed on the right page as we've got all the details you need to know. 
We will talk you through the likely causes of Delta delays, what your rights in those situations are, and how you can best exercise them. We will make sure that by the time you finally get on your flight, you are familiar with all Delta compensation policies. The DoNotPay app can do wonders for your Delta delay compensation claims. We can also deal with their Customer Service for you. In case you don't get the compensation you think you deserve, we can even help you take the airline to small claims court.
While you're waiting for the next update on your flight, the most useful thing you can do is to delve into our guide on Delta Air Lines delays.
Why do flights get delayed?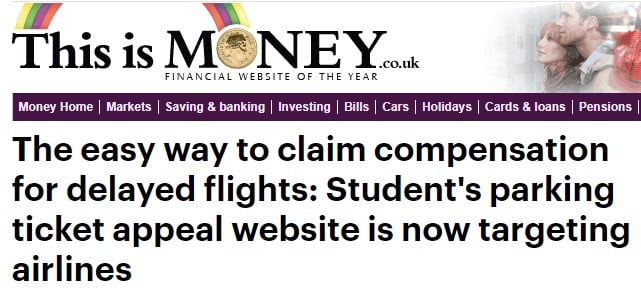 Air travel is the fastest, the safest, and the most convenient means of transportation. It is also the most unpredictable. In order to ensure that each flight goes according to plan and that no one's life is endangered, no detail can be overlooked, and every precaution has to be taken. With that in mind, let's see what circumstances are most likely to push your flight to a later time.
Inclement weather is the usual suspect

The most frequent cause for flight delay and even cancelation is bad weather. Severe storms and harsh winds can seriously threaten the safety of the crew and passengers. Strong blizzards, hail storms, and debris-tossing hurricanes can significantly lower the pilot's vision, and jeopardize the stability of the aircraft. If the air traffic control estimates that taking off or landing under particular weather conditions is risky, the flight will be delayed until the situation improves. 
Security threats are cause for concern
A lot of work in accordance with safety protocols happens in the background. When your flight gets pushed, stop stressing about it, and be thankful that the issue was identified on time instead of mid-flight. The airline puts your safety first, so just go along with the delay.
Last-minute equipment maintenance
Before an aircraft can get the green light to take off, a whole on-ground team makes sure that every screw is secured fast in its place.
If there is anything the matter with the aircraft from the technical point of view, it will remain grounded until the issue is fixed.
Overbooked and oversold flights
Airlines are known to overbook their flights. Overbooking ensures that most seats on the aircraft are taken by the time the plane takes off. It frequently happens that passengers do not show up for their flights, so if there are more fliers who booked a trip, the more seats the airline will sell. This technique sometimes backfires, and more passengers show up than the carrier can accommodate. When this happens, the airline must find suitable alternative flights for the excess passengers before the original flight can take off, which is known to cause quite a delay.
Staff issues can lead to flight delays
In rare cases, a member of staff can experience health issues that render them unfit to board a plane. It may also happen that there aren't enough pilots available. These situations can arise during holiday seasons when airlines are the busiest. The flights get pushed until the company can provide replacement staff.
Can I get compensation if my Delta flight is delayed?
Find out just how simple it is to get compensated for delayed or canceled flights.
The first thing to keep in mind is that even though delays are a nuisance, you cannot receive compensation for every delayed flight because the airline is not responsible for all of them. In the case of rough weather, which is considered an unforeseeable circumstance, you are not entitled to a refund. The same goes for any other delay caused by something that the airline couldn't influence, e.g., airport security concerns or air traffic control matters.
If the airline could have predicted the problem and avoided the delay, such as in the case of overbooked flights, aircraft maintenance, or personnel issues, you should get some compensation.
Compensation for Delta flight delays in the US
The problem is that, under US law, airlines are not required to compensate their customers in most cases. You shouldn't be surprised if they deny you a refund for a last-minute canceled flight, or if they refuse to give you compensation for your delayed flight. The only event in which they are legally bound to compensate their clients is if they were involuntarily denied boarding.
In the US, you are more likely to receive a voucher or airline miles as compensation, as a token of goodwill from the carrier. We advise against accepting it because if you pursue the matter hard enough, you could get proper compensation. That is where apps such as DoNotPay are invaluable because we can see the matter to the end, and you won't have to lift a finger.
Compensation for Delta flight delays in the EU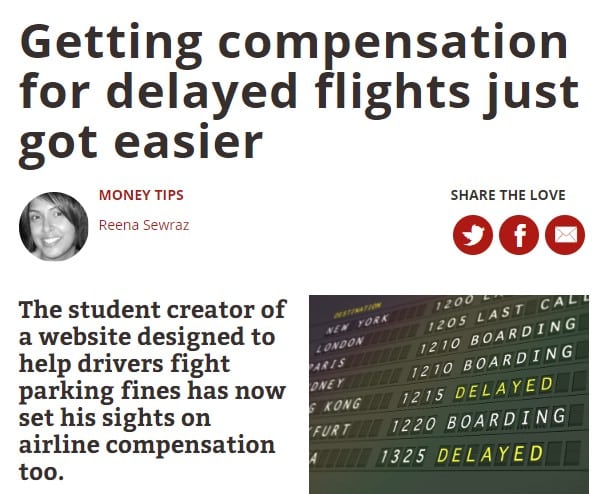 In Europe, the regulations are much more precise. If your delayed Delta flight is flying to or will layover in an EU member country or Iceland, Switzerland, Norway, or the UK, you are entitled to compensation according to European laws. The sum you could receive largely depends on the circumstances that lead to the delay, the flight distance, and how long the delay was.
The delays of over three hours will be compensated according to these distances:
Flight distance of

fewer than 1,500 km

—

€250

(roughly $298)

Flight distance of

1,500–3,500 km

—

€400

(around $477)

Flight distance of

over 3,500 km

—

€600

(approximately $716)
It is good to know that, in the European Union, the same calculations apply to canceled flights, whereas in the States no such laws exist. DoNotPay can help you get the best compensation option in the US, and also take care of the matter for EU Delta flights, so you won't have to worry about the regulations which apply there.
How can DoNotPay help me claim compensation?

The DoNotPay app can spare you the nuisance of keeping track of interstate and international regulations. If you access our web app, you can answer a couple of short questions, and let us do the rest.
This is how simple the DoNotPay process is:
Step 1: Tell us which airline you would like us to contact. We can either skip waiting on hold and let them call you back when they find it appropriate or we can fight the issue for you.
Step 2: Tell us what the problem is about. The app will offer you five options:
Lost or damaged bags

Boeing 737 MAX concerns

Change reservation

Refunds

Past flights
For your present purposes, click on Refunds.
Step 3: State the amount you'd like to claim as compensation.
Step 4: Give us more details about the situation — the more, the better. The more familiar we are with what happened, the better odds you'll have of getting what you need.
Step 5: Supply the flight confirmation number.
Step 6: If you are part of a Frequent Fliers program, this is when you should let us know.
Step 7: Input the origin and destination cities of your flight.
Step 8: Confirm your email address, and you're done!
By using the DNP service, you won't be bothered with the tiresome process of claiming compensation from Delta Air Lines. We will get back to you within 48h, and let you know where you stand.
In case you are not satisfied with how Delta processed your claim, take them to small claims court. We'll have your back in that event as well by prepping you with a detailed script of the case that you can use in court.
Get to know Delta Air Lines

Delta is the second-largest world airline by the number of carried passengers, fleet size, and kilometers flown. Its headquarters are located in Atlanta, Georgia. It is one of the major airlines operating within the United States with over 5,400 daily flights to 325 destinations in 52 countries. Delta is also one of the original members of the SkyTeam airline alliance. 
Delta has nine hubs: 
Seattle/Tacoma

Atlanta

Salt Lake City

Boston

New York–LaGuardia

New York–JFK

Detroit

Los Angeles

Minneapolis–Saint Paul
Delta's fleet consists of 909 aircraft, made by Boeing, McDonnell Douglas, and Airbus. This carrier has some of the largest fleets of certain airplane models in the world, including Boeing 717, McDonnell Douglas MD-90, Boeing 757, McDonnell Douglas MD-88, Boeing 767, and even the largest Airbus A330 fleet among US airlines. Delta Air Lines tend to use older, narrow-bodied planes, with an average age of 15,8 years, although their McDonnell Douglas MD-88's are significantly older at approximately 25 years on average.
Delta codeshare partners
Delta Air Lines has partnered up with numerous companies around the world. This is an exhaustive list of Delta's codeshare partners:
Air Europa

Vietnam Airlines

Shanghai Airlines

Garuda Indonesia

Hawaiian Airlines

CSA Czech Airlines

MEA

Tarom

Transavia

Saudia

Aerolineas Argentinas

Kenya Airways

Aeroflot

Seaborne

China Airlines
Flight destinations
International flights
Country
City

Antigua and Barbuda

St. John's

Aruba

Oranjestad

Australia (New South Wales)

Sydney

Bahamas

Nassau, George Town

Belgium

Brussels

Belize

Belize City

Bermuda

Hamilton

Bonaire (Caribbean Netherlands)

Kralendijk

Brazil

Rio de Janeiro, São Paulo

Canada

Calgary, Montréal, Toronto, Edmonton, Winnipeg, Vancouver

Cayman Islands

Grand Cayman

Chile

Santiago

China

Beijing, Shanghai

Colombia

Cartagena, Bogotá

Costa Rica

San José, Liberia

Cuba

Havana

Czech Republic

Prague

Denmark

Copenhagen

Dominican Republic

Santo Domingo, Punta Cana, Santiago de los Caballeros

Ecuador

Quito

El Salvador

San Salvador

France

Paris, Nice

Germany

Stuttgart, Berlin, Munich, Düsseldorf, Hamburg, Frankfurt

Ghana

Accra

Greece

Athens

Grenada

St. George's

Guatemala

Guatemala City

Honduras

San Pedro Sula, Tegucigalpa, Roatán

Iceland

Reykjavík

India

Mumbai

Ireland

Dublin, Shannon

Israel

Tel Aviv

Italy

Venice, Milan, Rome

Jamaica

Montego Bay, Kingston

Japan

Tokyo, Nagoya, Osaka

Mexico

Cancún, Guadalajara, Mazatlán, Monterrey, San José del Cabo, Puerto Vallarta, Mexico City, Ixtapa, Cozumel

Netherlands

Amsterdam

Nicaragua

Managua

Nigeria

Lagos

Palau

Koror

Panama

Panama City

Peru

Lima

Philippines

Manila

Portugal

Lisbon

Puerto Rico

San Juan

Saint Kitts and Nevis

Saint Kitts

Saint Lucia

Vieux-Fort

Senegal

Dakar

Sint Maarten

Philipsburg

South Africa

Johannesburg

South Korea

Seoul

Spain

Madrid, Barcelona

Switzerland

Zürich

Turks and Caicos Islands

Providenciales

U.S. Virgin Islands

Saint Thomas, Saint Croix

United Kingdom

Glasgow, London, Edinburgh, Manchester
Domestic flights
Country
City
United States (Iowa)
Des Moines, Cedar Rapids
United States (New Mexico)
Albuquerque
United States (Alaska)
Anchorage, Fairbanks, Juneau
United States (North Carolina)
Asheville, Charlotte, Fayetteville, Greensboro, Raleigh, Wilmington
United States (New York)
Buffalo, Albany, NY, New York City, Rochester, NY, Syracuse, White Plains
United States (Kansas)
Wichita
United States (Pennsylvania)
Allentown, Harrisburg, Philadelphia, Pittsburgh, Wilkes-Barre
United States (Wisconsin)
Appleton, Green Bay, Madison, Milwaukee
United States (Georgia)
Atlanta, Augusta, Savannah
United States (Montana)
Billings, Bozeman, Kalispell, Missoula
United States (North Dakota)
Bismarck, Fargo
United States (Maryland)
Baltimore
United States (Tennessee)
Chattanooga, Knoxville, Bristol, TN, Memphis, Nashville
United States (Massachusetts)
Boston
United States (Texas)
Austin, Dallas, El Paso, Harlingen, Houston, San Antonio
United States (Alabama)
Huntsville, Birmingham, AL, Mobile
United States (Mississippi)
Gulfport, Jackson
United States (Maine)
Portland, ME
United States (Idaho)
Boise
United States (Louisiana)
Baton Rouge, New Orleans
United States (Connecticut)
Hartford
United States (California)
Burbank, Long Beach, Los Angeles, Oakland, Ontario, Palm Springs, San Diego, Sacramento, San Francisco, Santa Ana, San Jose, CA
United States (West Virginia)
Charleston, WV
United States (Hawaii)
Honolulu, Kahului, Kona, Lihue
United States (Indiana)
Indianapolis
United States (Vermont)
Burlington
United States (South Carolina)
Charleston, Columbia, Greenville, Myrtle Beach
United States (Virginia)
Charlottesville, Newport News, Norfolk, Richmond, Roanoke
United States (Wyoming)
Jackson Hole
United States (Utah)
Salt Lake City
United States (Florida)
Fort Myers, Daytona Beach, Fort Lauderdale, Fort Walton Beach, Gainesville, Jacksonville, Key West, Melbourne, FL, Miami, Orlando, Panama City, FL, Pensacola, Sarasota, Tampa, Tallahassee, West Palm Beach
United States (Michigan)
Detroit, Flint, Grand Rapids, Traverse City
United States (Colorado)
Colorado Springs, Denver, Hayden, Montrose, Vail
United States (Missouri)
Kansas City, St. Louis, Springfield
United States (Oregon)
Portland, OR
United States (Illinois)
Chicago
United States (Nevada)
Las Vegas, Reno
United States (Kentucky)
Lexington, Louisville
United States (Arkansas)
Little Rock
United States (New Hampshire)
Manchester, NH
United States (Rhode Island)
Providence
United States (Ohio)
Cleveland, Cincinnati, Columbus, Dayton, Akron
United States (New Jersey)
Newark
United States (Washington)
Seattle, Spokane, Washington, D.C.
United States (Oklahoma)
Oklahoma City, Tulsa
United States (Nebraska)
Omaha
United States (Minnesota)
Minneapolis-Saint Paul
United States (Arizona)
Phoenix, Tucson
United States (South Dakota)
Sioux Falls
How can I get hold of Delta Customer Service?
If you need to lodge a complaint with the airline, you need to get in touch with one of their customer service reps. They can give you information about the cause of your Delta flight delay and offer you some kind of compensation. In case they don't, here you can claim it. There are several ways in which you can get a customer service representative on the line:
There is one thing you should keep in mind when you reach out to a major company like Delta Air Lines. Their customer service staff handles numerous phone calls, emails, and other types of requests on a daily basis. It shouldn't come as a surprise if you don't get a response right away. In fact, depending on which channel you choose to get in touch with them, you may wait anywhere from a couple of hours to several days for a response. 
Calling the service number can put you on a lengthy hold of up to an hour before you get a human on the other end. This is tricky if you are very busy and don't have time to spare on being on hold. In that case, you may opt for sending an email or posting on one of their social accounts. It is still unlikely that you will receive an instant answer. They usually reply "within a few hours" on their Messenger, so if you are in a rush to get an issue resolved, that may not be the best choice.
How to reach Delta Customer Service with DoNotPay?
Have you already tried reaching out to Delta but there is still no reply, and you're running out of patience? The DoNotPay app can help you with that. 
We can call their customer service and wait out the phone queue for you. We will make sure to connect you as soon as we get a representative on the phone. All you need to do to make that happen is to access our website on any browser of your choosing. 
In case you need help with any other company that we may help you reach, make sure to check out our customer service pages. For help with other airlines, don't forget to check our flight compensation hacks!
What other cool stuff can I do with my DoNotPay app?
If you want to know more about our services, here is a short overview of what DoNotPay can help you out with:
Contesting traffic tickets

Appealing speeding tickets