How to Tell if an Email Is Spam Right Away
Spam emails are probably one of the most irritating things on the Internet. Even though your email client should recognize spam emails and place them in the Spam folder, some emails do find their way into your Priority inbox.
If you're wondering how to know if an email is spam, DoNotPay is here to explain it and help you report spam emails and get rid of them for good.
How to Tell if an Email Is Spam—The Best Ways to Recognize Spam Emails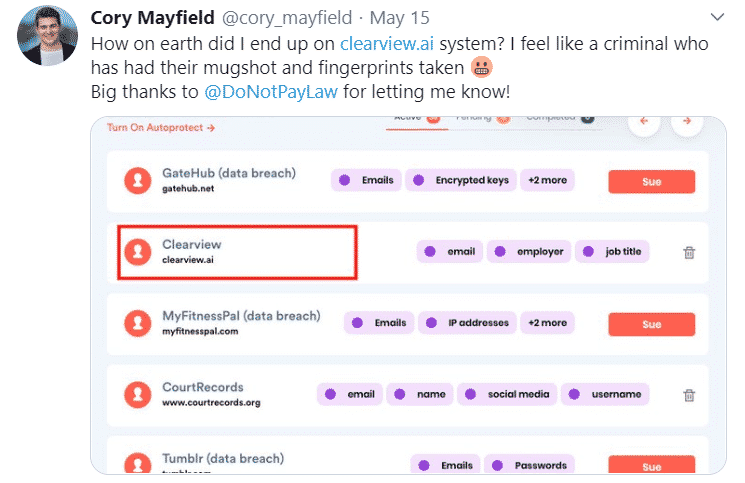 Spam emails are unsolicited emails sent by companies and individuals as advertisements (junk emails) or with fraudulent purposes (phishing emails).
Not everyone knows how to recognize spam emails, and many people lose time opening and reading them. Some recipients even get scammed.
It's crucial to know how to tell if email is spam to avoid getting tricked into providing a scammer with your personal information or accidentally downloading malware to your PC.
You will be able to recognize spam emails by paying attention to a couple of details:
Sender information

Unsubscribe button

Content of the email

Grammar and spelling

URL of the links included

Warning at the beginning of an email
Sender Information
The first information to pay attention to when you receive an email from an unfamiliar sender is its authenticity and sender's email address.
How can you tell if an email address is spam if you receive an email from a sender claiming to be a large corporation or a bank? The email shouldn't be sent from a free email service address (Gmail, Outlook, Yahoo).
You should also check the "Show Details" section—more precisely, the following info:
Mailed-by

Signed-by

Encryption
Both "Mailed-by" and "Signed-by" sections should contain the email address of the company that has sent the email. Also, all professional businesses have encrypted emails for both their and the recipients' protection.
If the address is suspicious and all of the three sections mentioned above are missing, the email is spam and potentially phishing.
Unsubscribe Button
Every mass email should include the "Unsubscribe" button for legal reasons. If a bulk email you receive doesn't offer the option to unsubscribe, you should report it to your email client.
You can also report the email to DoNotPay if you want to sue the sender in small claims court and collect compensation.
Content of the Email
Does the content of the email sound too good to be true? Then it probably is. If the sender promises you money, free services, or any other reward that you never applied for, the email is a scam. Make sure not to click on any of the links in the email, and do not download the attachments to your phone or computer. These emails are almost always phishing.
Did you receive an email from your bank asking for your account information? You should know that banks seldom send forms that contain or request confidential information by email. Don't respond to any email asking for your credit card or bank account details.
Grammar and Spelling
Poor spelling and grammar are another sign that the email is spam. The representatives of large corporations will re-read and spell-check each mail a couple of times before sending it because they value professionalism. Of course, one mistake can happen to anyone, but if you notice a couple of errors, report that email as spam.
URL of the Links Included
You can check the URL of the links in the email without clicking them. Select the entire link, copy it, and paste it to your search engine. "404 Error" redirection is a sign of spam emails.
Warning at the Beginning of an Email
Sometimes, your email client won't send an email into the Spam folder, but it may display a warning if the email seems a bit suspicious. The best solution is to ignore that email and don't respond, even though the address may be familiar to you.
DoNotPay Helps You Block Spam Emails in a Few Clicks

Learning how to stop spam emails is important if you want your inbox to stay spam mail-free so that you don't miss priority emails. DoNotPay can help you achieve that in a matter of minutes.
Here's how to block spam emails with DoNoyPay:
Go to your DoNotPay account from a

Click on the "Spam Collector" on the left side of the Dashboard

Enter your email address

Forward the next spam email you get to

spam@donotpay.com

DoNotPay will unsubscribe you
Not only will DoNotPay help you get rid of spam emails, but we can also help you take your spam email revenge. DoNotPay will inform you if there are any current class-action lawsuits against the sender you reported. You can decide whether you want to join the lawsuit or not.
In case you do join and the settlement has been achieved, you'll receive a notification, and you'll be able to collect your compensation.
DoNotPay will notify you by displaying a flag on the Spam Collector icon.
You can expect DoNotPay's assistance with anything email-related. Count on us when you want to learn how to:
Types of Email Spam

How to Recognize it

Advertisements

Offering products and services

Usually harmless

Phishing

Fraudulent

Senders impersonate a bank or another large corporation

The goal is to take your credit card info

Hoaxes

Miracle promises

Too good to be true

Directing to malicious websites

Money scams

Different than phishing

Asking you to pay a certain amount of money for a cause or big reward

Adult content

Sending erotic images and videos

Usually malicious

Malware warning

Warning you that your PC has a malware

Offering a solution

Probably has a malware hidden in the attachments
Physical Junk Mail Is a Thing of the Past with DoNotMail

Coming home from work, opening your mailbox to get the bills, and being covered in a pile of advertisement brochures and catalogs that you never ordered surely is annoying.
DoNotPay's new feature—DoNotMail—can help you get rid of junk mail and regain control over your mailbox.
The next time you receive unwanted paper mail, you should:
Send a photo of the paper mail to DoNotPay

DoNotPay will unsubscribe you

DoNotPay will notify you about the existing class action lawsuits
DoNotPay can also give you the opportunity to join an active class action lawsuit, help you collect the necessary documentation, guide you through the entire process, and notify you once the settlement is achieved so that you can claim your cash.
DoNotPay Helps You Resolve Many Other Everyday Issues

Getting rid of spam emails with DoNotPay's help is effortless, but our assistance doesn't end there. DoNoyPay strives to make your life easier, at least when struggling with issues such as parking tickets, membership cancelation, DMV appointments, etc.
Feel free to rely on DoNotPay from your whenever you need help with the following tasks:
Fighting traffic tickets

Contesting speeding tickets