Tory Burch Return Policy—The Know-How
Have you tried returning a Tory Burch product and got turned down? Do you want to come prepared for the next time you file a refund request with this brand?
This guide has your back in either scenario! Find out all there is to know about Tory Burch return policy while we explain how !
Understanding the Basics of the Tory Burch Return Policy
Your Tory Burch merchandise will qualify for a return if you meet these three conditions:
You must make a return request within 30 days of buying the item
The merchandise must be unused/in good-as-new condition
You must include the item receipt with the item you're returning
If you fulfill these fundamental conditions, you can expect your item return request with Tory Burch to be successful. In case your refund request got denied, it likely didn't check all of these boxes! Tory Burch reserves the right to decline a refund if the returned goods do not meet their requirements.
What Items Are (Not) Covered by the Tory Burch Return Policy?
Apart from the above basic requirements that your item should meet, the company can impose additional conditions, including these from the Tory Burch outlet return policy:
Final-sale items cannot be returned or exchanged
Certain outlet, sample-sale, and private-sale items are considered final-sale
You can return outlet items to outlet stores only within 14 days of receiving them
You cannot return items bought in-store to the Tory Burch website warehouse
Items you bought at a department store that sells Tory Burch items can be returned to that store only
How To Return a Tory Burch Purchase
There are several methods of returning your unwanted Tory Burch merchandise:
Shipping it by mail
Returning it in-store
Exchanging the item
Shipping by Mail
Continental U.S. consumers can begin their Tory Burch item return process by visiting the vendor's Returns page. After entering your order ID and email address, you are faced with two options:
Print your prepaid return shipping label yourself and send the item back via a courier service of your choosing
Have a courier service print the return label for you when you bring the return package to a courier service location
In-Store Return
Tory Burch items that you bought in-store must also be returned in-store. Bring your invoice or receipt along with your purchased item to any Tory Burch retail location.
Item Exchange
For a free item exchange within the continental U.S., place a new item order on Tory Burch's eStore or buy a new item at a retail store while following the above procedure for returning the original item—in-store or via mail, respectively.
In case you wish to exchange your item for another pricier item, you must use the same payment method you used when buying the original product to pay for the price difference.
How To Contact Tory Burch Support Agents
For any additional return request clarifications, contact Tory Burch's customer success team via any of these channels:
Live chat—8 a.m.–11 p.m. ET, seven days a week
Phone at (866) 480-8679—8 a.m.–11 p.m. ET, seven days a week
Text at (201) 231-8679—8 a.m.–11 p.m. ET, seven days a week
When Can You Expect Your Refund?
Once Tory Burch receives your returned item, they will send you an email confirmation. Your refund should arrive within 14 days of this email communication.
The brand will issue the refund in the form of your original payment method or as a gift card. Your account will be credited in one to two billing cycles.
| Can You Initiate a Return With Tory Burch Via | Yes/No |
| --- | --- |
| DoNotPay | Yes |
| Email | Yes |
| Phone | Yes |
| Mail | Yes |
| In person | Yes |
Still Perplexed by the Tory Burch Return Policy? Let DoNotPay Help!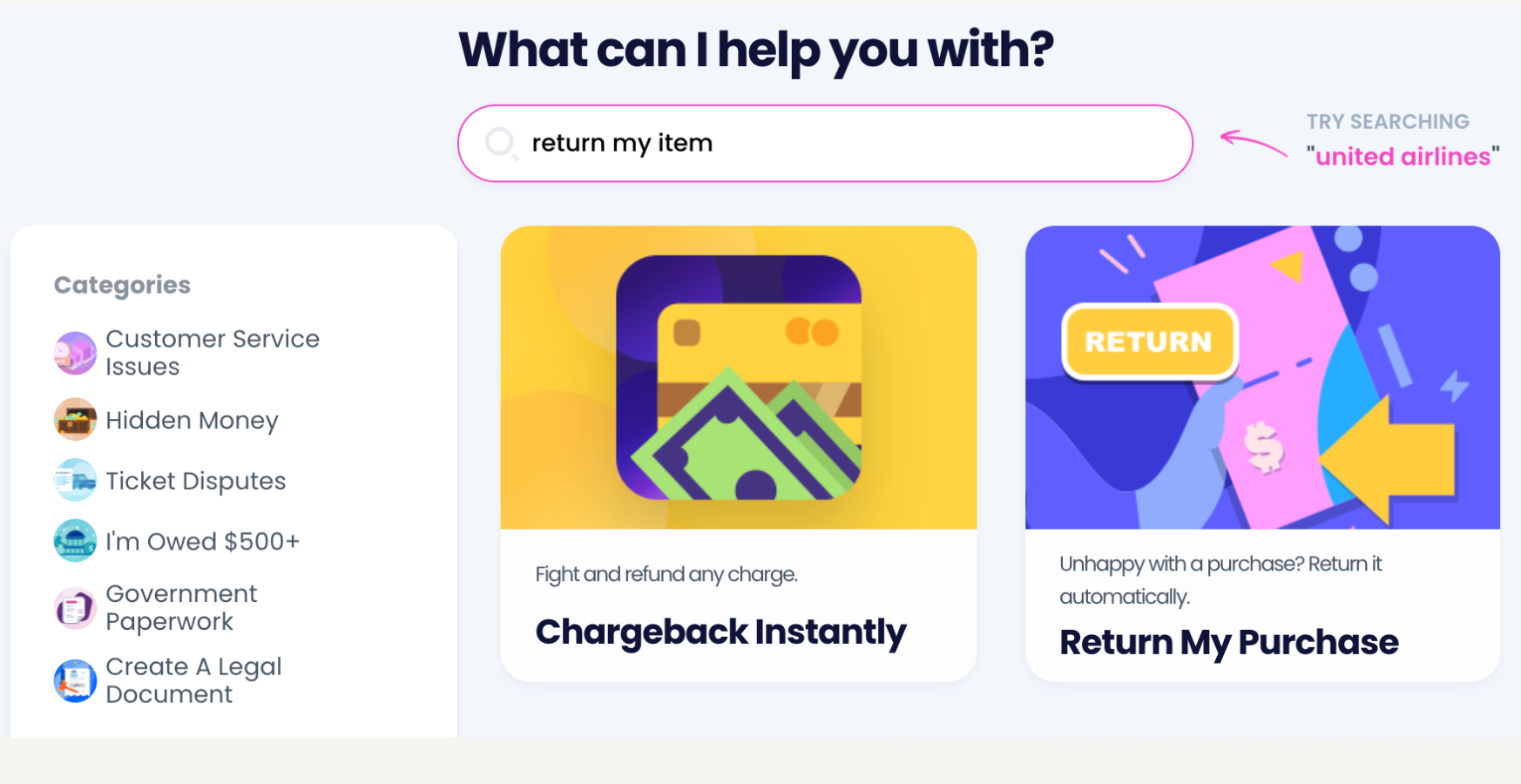 If you're worried about reliving a bad return request experience, why not let DoNotPay handle the Tory Burch return request for you? In a few steps, you can file a return request with the vendor using our nifty app. All you need to do afterward is pack up the item and send it back!
Here is how to request a return using DoNotPay:
Choose the Return My Purchase feature
Answer a few chatbot questions
Click Submit
DoNotPay's return request capacities do not end with Tory Burch! You can file an item return/exchange request with any of these vendors—and numerous others:
Is the Situation With the Merchant Getting Messy? Take Them to Small Claims Court!
If you feel like the merchant has wronged you, our AI-driven app recognized by the ABA Brown Award will help you sue them in small claims court! You don't need to worry about filling out lengthy court forms or collecting evidence for your case—we'll step in and do it for you! You can use DoNotPay to generate any legal document you may need for the lawsuit, add legal weight to it through online notarization, and fax it to the court—all in a matter of mere minutes. Facing any other legal issues? Check out how our app can assist you in:
We Can Help in Many Other Ways!
No matter what kind of assistance you need DoNotPay to provide, you can rely on it to solve any admin or legal issues you may have. You can use our app to jump the phone queue when contacting any support team, skip the line at the DMV, get cash back on gift cards, create a valid passport photo, appeal any banned account, file an insurance or warranty claim, and get in touch with a loved one in prison in a snap.