Land Better Job Opportunities by Passing the Texas HazMat Test
Are you interested in getting a job transporting hazardous materials in Texas? Besides having a commercial driver's license (CDL), you'll need to obtain the HazMat endorsement. Since passing the HazMat exam is not easy, consider preparing for your Texas HazMat test with DoNotPay and get the endorsement hassle-free.
Key Steps for Obtaining the HazMat Endorsement on Your License
The Texas Department of Public Safety (DPS) is responsible for granting HazMat endorsements on CDLs. If you want to apply for the hazardous materials endorsement, you need to complete four steps:
Submit your application to the nearest Driver License Office and pay the required fees

Pass the HazMat test

Schedule an appointment for fingerprinting 

Wait for the

Transportation Security Administration (TSA)

security threat evaluation
What Is the Texas CDL HazMat Test?
Passing a general knowledge CDL test usually isn't enough to get a well-paid job. You have to obtain certain endorsements depending on the job you're interested in. When it comes to transportation of hazardous materials, you'll need to pass one of the following tests:
Class H—Dedicated to testing your overall

awareness of hazardous materials

Class X—Created for drivers who want to take a job transporting hazardous materials in a tank
Transporting hazardous materials is a big responsibility, and that's why this endorsement should be taken seriously. There are nine hazardous materials classes, and each class reflects the potential risks:
Class
Division
Class Name 

1

1.1

1.2

1.3

1.4

1.5

1.6

Mass Explosion

Projection Hazard

Fire Hazard

Minor Explosion

Very Insensitive

Extremely Insensitive

2

2.1

2.2

2.3

Flammable Gasses

Non-Flammable Gasses

Poisonous/Toxic Gasses

3

-

4

4.1

4.2

4.3

Flammable Solids

Spontaneously Combustible

Dangerous When Wet

5

5.1

5.2

Oxidizers

Organic Peroxides

6

6.1

6.2

Poison (Toxic Material)

Infectious Substances

7

-

8

-

9

-

Miscellaneous Hazardous Materials
In Texas, employers are required to provide extensive training and test their employees once every three years.
The HazMat test in most states consists of 30 questions. Applicants need to respond correctly to at least 24 questions to pass the exam. You can take the test three times within 90 days of applying for the exam.
Should I Prepare for the HazMat Test in Texas?
Since the HazMat test is challenging to pass, preparation should be the number one priority on your test checklist. Taking any test is a stressful experience. Being well-prepared will help you relax and be less nervous about the exam. You will have better chances of passing it on the first try and finding a job as soon as possible.
Best Ways To Study for the HazMat Test
Everyone prefers different methods of studying. You can study for the Texas HazMat exam by reading the official Texas Commercial Motor Vehicle Drivers Handbook (Section nine).
Some people like preparing flashcards while studying. You can try out the flashcard method once you finish reading the manual. 
Another helpful solution is taking Texas HazMat practice tests, which is, by far, the best method to prepare for any exam. DoNotPay offers a variety of HazMat sample questions that will help you prepare for the exam in a jiffy!
Texas HazMat Practice Test Explained
HazMat prep test is a collection of questions drawn from the official manuals and previous exams. While the wording of the test might be different, there's a good chance you'll get the questions with the same meaning on the real exam.
By taking a few practice tests, you will get used to the exam and be prepared for the real deal. You can even set up a time limit to make the experience more realistic. Numerous online platforms offer HazMat practice tests for any American state, including Ohio, Florida, Indiana, and Pennsylvania. Some of the most popular platforms are:
Prepare for the Texas HazMat Test Effortlessly With DoNotPay
DoNotPay has an extensive database of HazMat practice tests useful for residents of Texas and other states, including:
The DoNotPay platform is the best way to prepare for the HazMat test. You'll get immediate feedback and a chance to redo an incorrect question and learn the right answer. You can retake the entire test if you're not satisfied with your score. To prepare for the HazMat test stress-free, open the DoNotPay platform in any web browser, log in, and follow these steps:
Search for the Texas HazMat practice test

Select the test you want to prepare for

Pick the length of the prep test—you can choose 10, 20, or 30 questions

Take the test and prepare for the exam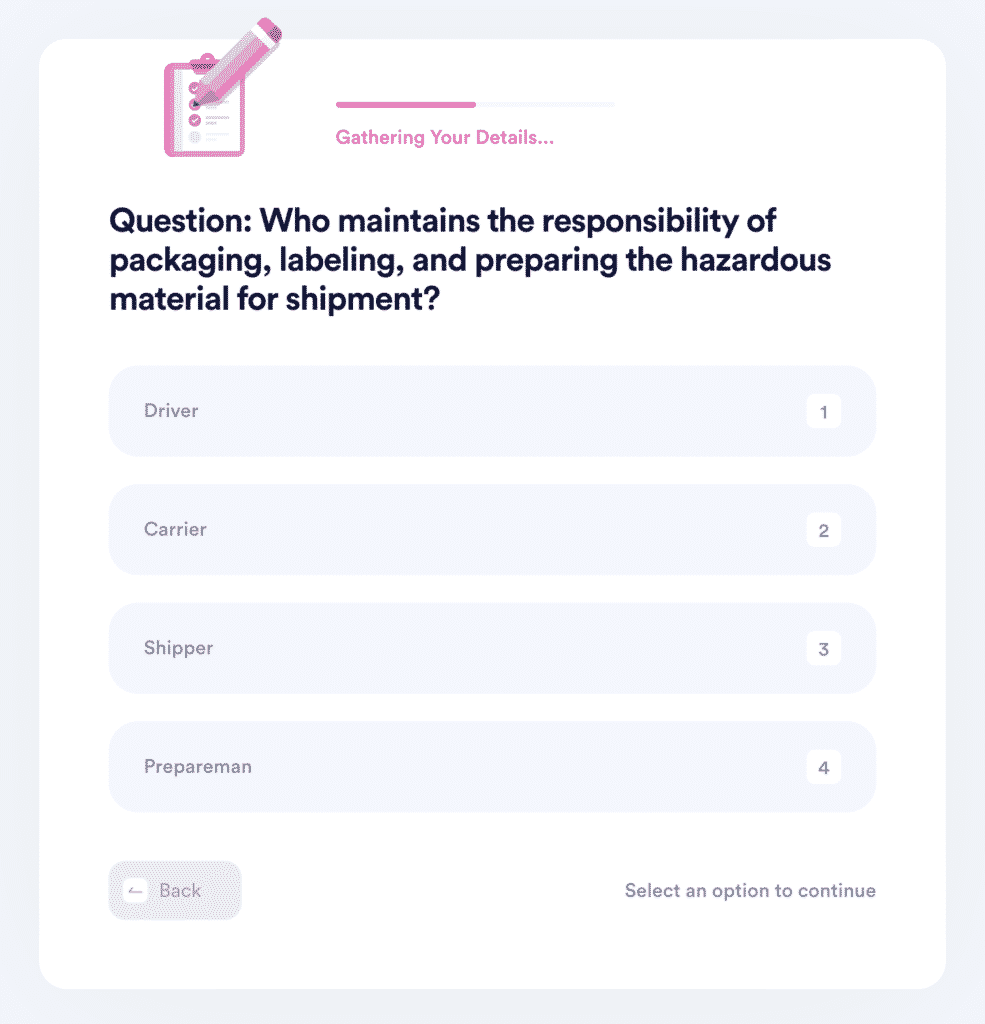 We Can Help With Other Government Tests Too!
If you're looking for an effortless way to prepare for other government tests, DoNotPay is the best solution. We can help you prepare for numerous exams, including the Armed Services Vocational Aptitude Battery (ASVAB) test. Obtain the best ASVAB score and join the Military hassle-free. We can also assist you in practicing for the written driving test and scheduling a DMV appointment.
Check out other government tests DoNotPay can help you with:
DoNotPay Can Do Your Paperwork for You! 
Feeling like you're in bureaucratic hell? Our AI lawyer will draft the paperwork you need and get you out of any hurdle before you know it! 
We can compose most of the documents that you require for any administrative purpose in your jurisdiction, most notably:
More of What We Can Do for You 
Our multifaceted app can call and record the conversation with the customer service of the company that just won't let you go! If you are having trouble canceling an unwanted service via the traditional channels, use DoNotPay to get it over and done with!
We can help you stop the persistent robocalls and robo texts from the nagging company and request a refund for unused services in a matter of minutes.
We'll also lend a helping hand in stopping spam mail—whether it's electronic or paper. Our Spam Collector product unsubscribes you from unwanted emails and cleans up your physical mailbox too!