How To Pass the
California HazMat Tes
t With Flying Colors
Passing a HazMat test is a good idea for commercial drivers who wish to gain more job opportunities. Not only would a Hazardous Materials Endorsement (HME) qualify you for more jobs, but you would also earn more money.
This article will break down the California HazMat testing process and provide tips on preparing for the test so that you can hit the road as soon as possible.
What Is a HazMat Test?
A HazMat test is a written knowledge test. It includes 30 questions, typically multiple-choice. It doesn't entail a skills test like CDL tests.
To pass a HazMat test, you have to score 80%—i.e., have 24 correct answers.
You'll find everything that could be on the test in the California commercial driver handbook, section 9: Hazardous Materials.
Here are the topics the test covers:
Emergencies

Driver responsibilities

Communication rules

Loading and unloading

Driving and parking rules

The intent of the

PHMSA regulations

Bulk tank loading, unloading, and marking
Who Can Apply for a HazMat Endorsement?
To apply for a HazMat endorsement, you have to either own a CDL license or be in the process of applying for one so that the endorsement can be added to your license. If you don't have a CDL, check out our guide on the California CDL test.
Aside from this, there are certain factors that could disqualify you and some requirements that are mandatory.
You can check your eligibility for a HazMat endorsement in the table below:
Eligible

Ineligible

21 years old

U.S. citizen

Lawful permanent resident

Refugee admitted under U.S. Code, Title 8 §1157 with a valid employment authorization document

Asylee under U.S. Code, Title 8 §1158 with a valid employment authorization document

Person submitting false or incomplete information
Do I Need To Practice for the
CA DMV HazMat Test
?
Being a HazMat CDL driver is not a regular job. It comes with a lot of responsibilities and potential dangers. This is why you should take the HazMat test seriously and prepare for it accordingly.
If you study and practice enough, you'll ace the test, which would help you become a great Hazmat CDL driver. When you practice for the test, you'll also know all the regulations and procedures off the bat, and this will prepare you for any upcoming situations and issues.
Don't let the test intimidate you. With the right study plan and plenty of time, you'll pass it with flying colors—and we're here to assist you!
How Can I Prepare for the HazMat Test in California?
Not every learner is the same, so it's a good idea to explore your options and find the best HazMat prep method that suits you.
However you choose to study the material, practice tests are a great way to get the feel of the real test and check your knowledge. This is why DoNotPay offers numerous practice tests that are bound to ease your study journey.
Aside from practice tests, here are a few other HazMat test prep options:
Method
Key Features

California commercial driver handbook

Complete study material

Sections with practice questions

Study guides

Summary of the CDL handbook

Details specific to California

CDL HazMat YouTube videos

Practice tests

CDL HazMat drivers' tips

Explanations and instructions
DoNotPay's
CA HazMat Practice Test
s
DoNotPay's Government Test Prep feature will help you bring your A-game to the California HazMat test!
Follow these instructions to access our HazMat practice tests:
Open DoNotPay in a

web browser

Enter

HazMat Test

Select the practice test length

Take the practice test
The test-length step gives you the option to choose a test of 10, 20, or 30 questions. This way, you have the flexibility to practice on your own terms. Another perk of our HazMat practice tests is retrying a question right away. If you prefer to finish the whole test and then retake it, you are free to do so too.
You can take all DoNotPay's practice tests countless times, which will help you boost your results.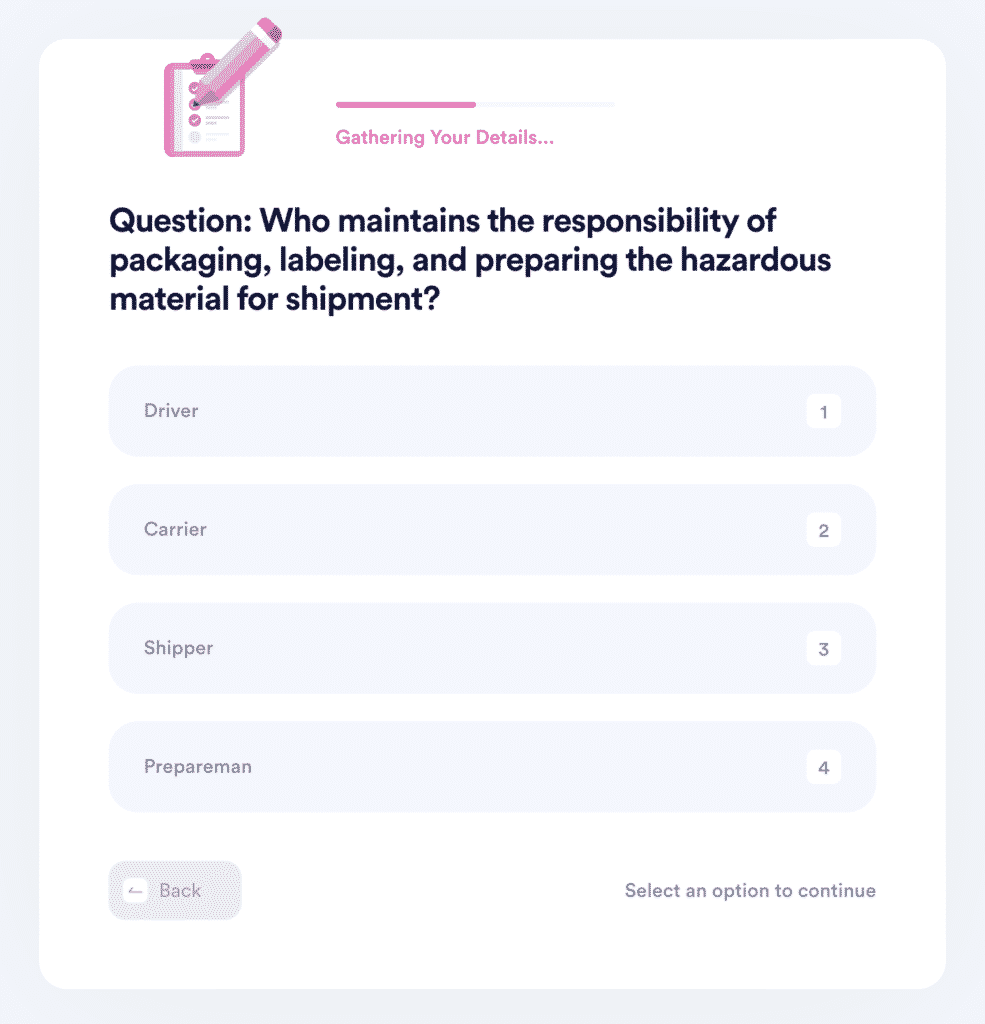 More Government Tests Made Easy With DoNotPay
DoNotPay can be your study assistant in case you plan on taking other government tests besides CDL and HazMat, such as:
Dealing with any DMV tasks can be time-consuming and downright boring. Rely on DoNotPay to help you make an appointment and pass the written driving test.
In case you want to take the ASVAB test, you can use our app to learn about the ASVAB test scores.
How Do I Apply for a HazMat Endorsement?
Applying for a HazMat endorsement and obtaining it is a complicated process that includes a lot of steps and procedures. Not to worry—we'll guide you through the whole affair.
TSA background check
Since hauling hazardous materials is a serious matter, not everyone can be a HazMat CDL driver. Each HazMat applicant must go through a background check or a security threat assessment with the Transportation Security Administration (TSA).
You need to pre-enroll for the security check either online or by calling the Universal Enrollment Services (UES) call center at 1-855-347-8371.
Once you complete the pre-enrollment, you should visit a UES center and submit your:
Fingerprints

Identity documents

Citizenship/immigration documents
You should also pay the applicable fees with a money order, credit card, company check, or certified/cashier's check. The TSA fee is $86.50, but if you own a TWIC card, you may qualify for a reduced fee of $67.
Scheduling a HazMat Test
Making a DMV appointment to take your HazMat test can be difficult, considering the infamous DMV lines and waiting periods. Our app can take the weight off your shoulders by scheduling your California DMV appointment in several clicks.
If you're not sure which DMV to go to, you can find your preferred location on the California DMV website by entering your ZIP code or city name.
How Much Is a HazMat Materials Endorsement?
Apart from paying for the TSA background check, you need to pay the HazMat licensing fee, which is $49.
DoNotPay Swoops in To Help With Numerous Admin Tasks
Our app boasts both versatile and helpful features. DoNotPay can assist you in getting or renewing your driver's license in California or any other state and provide you with DMV practice tests. 
Are you struggling with parking tickets in LA or anywhere else in California? We know how to dispute parking tickets and win! You can also count on our expertise if you want to cancel FasTrak or your NCNU membership.
Access DoNotPay from any web browser and enjoy the following life-changing hacks and features:
Fighting your traffic tickets

Contesting your speeding tickets