Studying With the Indiana HazMat Practice Test Helps You Boost Your Results!
Truck drivers must add the hazardous materials (HazMat) endorsement to their Commercial Driver's License (CDL) if they want to handle cargo that is considered hazardous in any way. 
The HazMat test is demanding, but it is likely to secure extra income. 
If you would like to increase your chances of landing a better-paid job, it might be a good idea to obtain a HazMat endorsement. 
Luckily, you don't have to go through the process alone. DoNotPay can help you prepare for the Indiana HazMat test.
Who Qualifies for the Indiana HazMat Test?
All CDL holders who are at least 21 years of age can apply for a HazMat endorsement in Indiana.
You must get this endorsement if your employer requires you to haul any goods that belong to the list of hazardous materials. 
Hazardous substances or materials can pose a risk to safety, health, and property when transported in commerce, and they include:
Explosives

Various types of gas

Solids

Flammable and combustible liquid

Other dangerous substances and materials
Apart from having a CDL and being at least 21 years old, you are eligible for the Indiana HazMat test if you meet these criteria:
Eligible
Ineligible

U.S. citizens

Naturalized citizens

Lawful permanent residents

Nonimmigrant aliens, asylees, or refugees in lawful status 

Candidates with Incomplete or false application information

Perpetrators of disqualifying

criminal offenses
How Can You Apply for the Indiana HazMat Test?
The Transportation Security Administration (TSA) conducts all HazMat endorsement applications and provides the required fingerprinting services. You might want to take a look at the required documents before you start the application process.
If you have studied enough, you can apply for the Indiana HazMat test by:
Completing an

online

form

Contacting the TSA enrollment center at

855-347-8371

Applying in person at the enrollment center
Once you have applied, you should take the following steps:
Go to a

TSA-approved enrollment center

Provide the required documentation and fingerprints

Pay a non-refundable HazMat application fee of

$86.50
You can pay the application fee by a credit card, money order, company check, or certified check. It would be a good idea to check online whether you are eligible for a reduced application fee of $67. 
Make sure to take your current U.S. passport or driver's license and birth certificate. Take a look at the additional acceptable identification documents you can present at the enrollment center. 
Once you have completed all the above-mentioned steps, you can track the status of your application online. 
Why Does TSA Conduct Background Screening?
TSA performs fingerprinting and background checks of HazMat applicants in accordance with the USA Patriot Act to prevent potential threats posed by terrorists transporting hazardous materials.
All commercial drivers who apply for a HazMat endorsement have to submit their fingerprints. TSA will run your fingerprints through various anti-terrorist, FBI, and Interpol databases to ensure there are no reasons you should be disqualified. Immigration and mental health checks are also mandatory.
The State of Indiana will get the results of the TSA background screening and will, accordingly, issue or deny a HazMat endorsement to your CDL. 
Your HazMat endorsement is valid for five years in Indiana.
What Does the Indiana HazMat Test Include?
The Indiana HazMat test has 30 multiple choice questions, each consisting of four options. You should get a minimum of 24 correct answers or a score of at least 80% to obtain a HazMat endorsement. 
The Indiana HazMat test assesses your knowledge of:
Hazardous materials management

Federal and state HazMat regulations

Responsibilities that you have regarding the hazardous materials safe transportation
You can take the Indiana HazMat test at a branch of the Indiana Bureau of Motor Vehicles (BMV). If you would like to get more information regarding the test and BMV locations, you should get in touch with customer service at 888-692-6841.
How To Study for the Indiana HazMat Test
You need to start with the Indiana CDL manual and then continue with all relevant federal and state HazMat regulations. 
Study guides, handbooks, and tutorials can come in handy. You can also take a HazMat endorsement course at a truck driving school. 
DoNotPay offers a practice test that will help you get the HazMat endorsement. It should boost your confidence and score when taking the real test. 
Why Should You Take an Indiana HazMat Practice Test?
Scoring 80% at the HazMat test is not easy. You should study hard and check how successful your efforts are by taking a practice test. 
947,000 truck drivers were registered in the USA in 2019, yet the trucking industry keeps looking for new drivers all the time. Specialized industries can only hire truck drivers who have  HazMat endorsement and are willing to pay good money. 
To achieve satisfactory results, make sure you study the matter in detail. Retaking the real test is expensive, time-consuming, and unnecessary if you put some effort into preparation.  
DoNotPay Offers the Best Indiana HazMat Practice Test 
Our HazMat practice test offers you an opportunity to practice what you have learned from the CDL manual. The best way to adopt knowledge is to apply it in practice, and DoNotPay's convenient practice tests allow you to check how much essential information you have understood.
Another great advantage is that you get to know which areas you must work on to be lock, stock, and barrel for the real exam.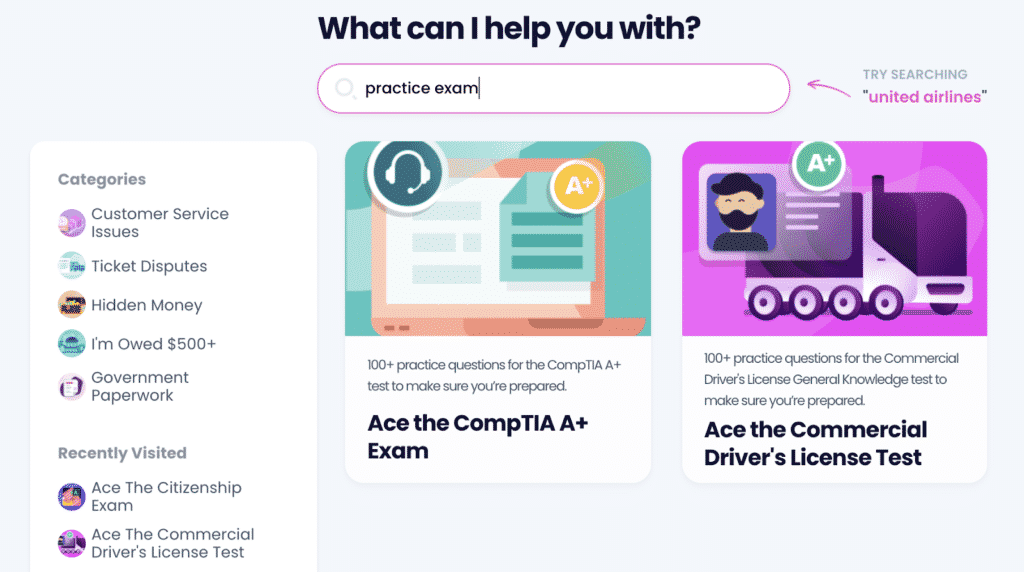 To nail your Indiana HazMat test, follow these steps:
Open DoNotPay in a

web browser

Enter HazMat

Choose the number of questions you would like to get on the practice test—10, 20, or 30

Take the test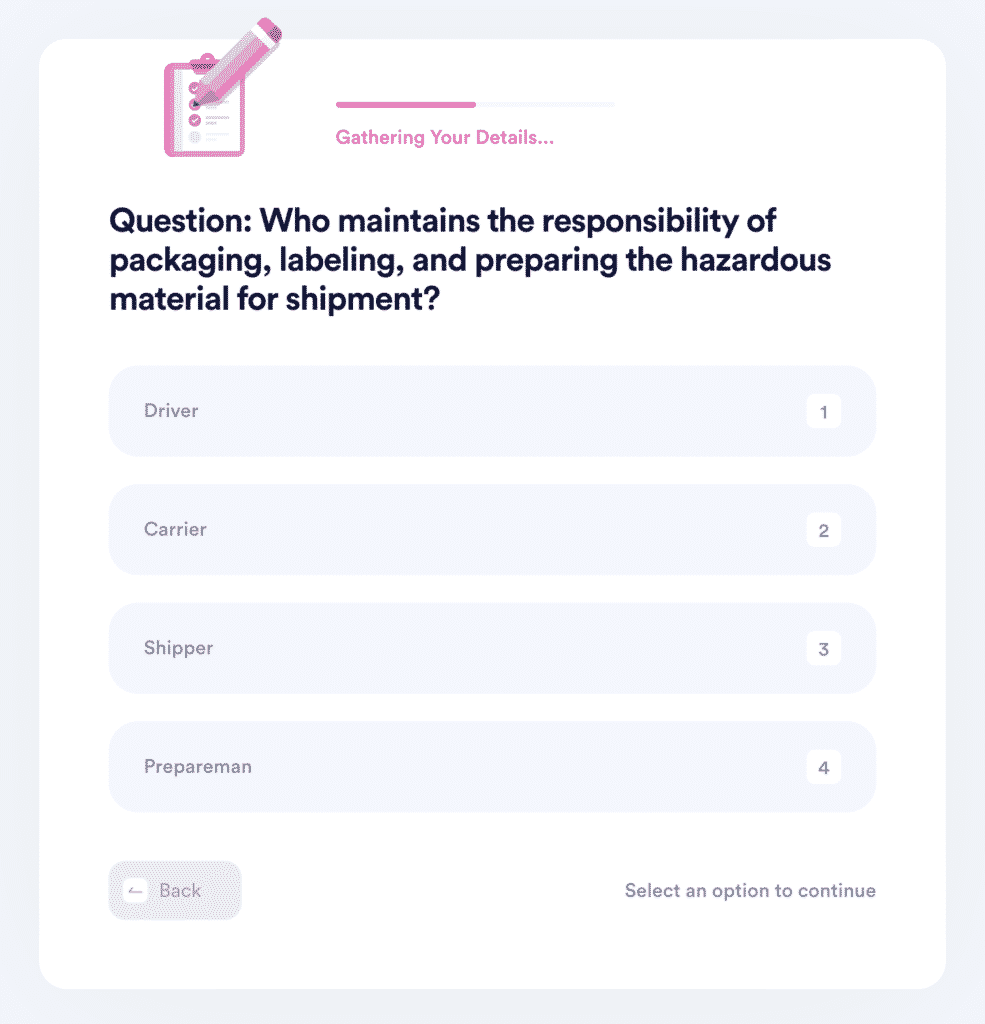 If you make a mistake on a question, you can retry immediately or wait until you get the final result. You can retake the Indiana HazMat practice test as many times as you need.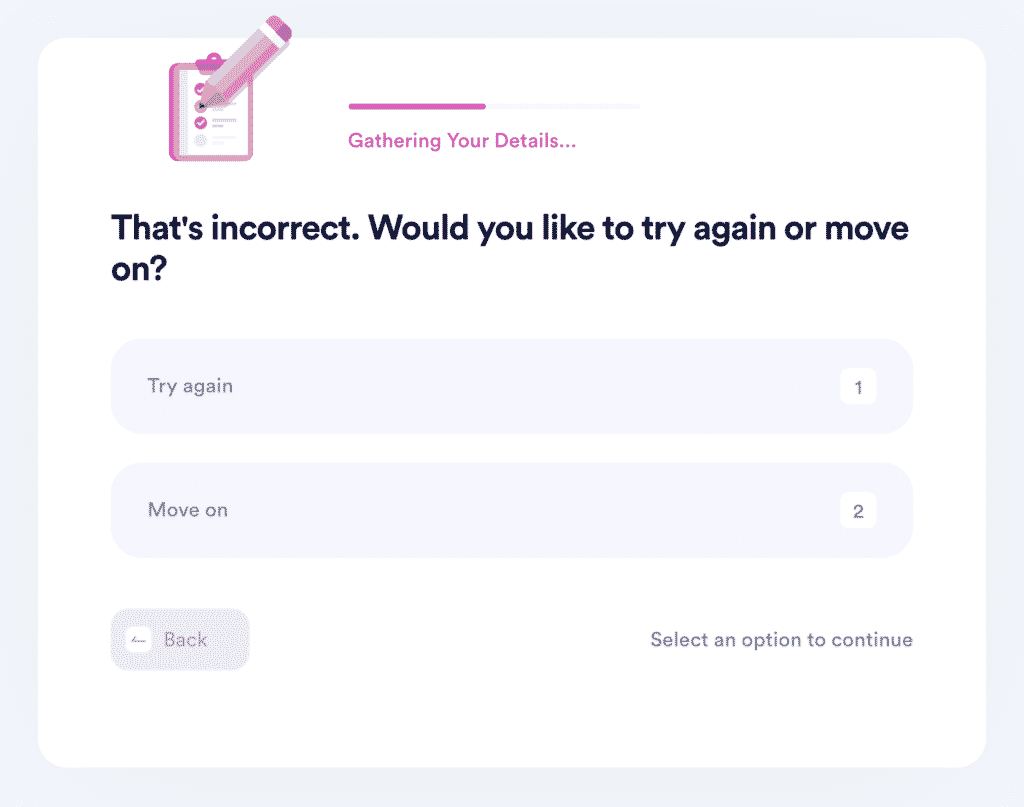 Our app is here to offer useful practice tests you can use while studying for any government exam. Choose what test you would like to practice for and take an ASVAB, CCAT, CompTIA, DMV, postal exam, U.S. citizenship, or notary practice test. 
DoNotPay Helps You Solve Bureaucratic Issues 
DoNotPay can offer further assistance with test-related issues. We can show you how to make a DMV driving test appointment or pass the written driving test. Our app provides ASVAB test scores as well. 
If you live in Indiana, we can help you locate your forgotten money, apply for clinical trials, or pass a non-commercial driving test in your state.   
The world's first robot lawyer doesn't stop there! We are determined and skilled to fight for customer rights. Open DoNotPay in your web browser and learn how to:
Dispute traffic tickets

Dispute speeding tickets