All About a
HazMat Practice Test
in
Ohio
If you're looking for HazMat practice tests, you're already on the right track to becoming a HazMat CDL driver. Studying and preparing for a HazMat test in Ohio or any other state is vital. Taking practice tests is one of the methods that can assist you in acing the real test.
Find answers to your questions about the Ohio HazMat test and discover the best practice tests with DoNotPay.
What Is the
Ohio HazMat Test
?
A HazMat test is a 30-question written test about the requirements, regulations, and processes regarding hauling hazardous materials. To pass it, you have to answer at least 24 questions correctly. Passing a HazMat test will add the Hazardous Materials Endorsement (HME) to your CDL license. If you do not have your CDL yet, make sure to pass the CDL test before going for any endorsements.
A HazMat test is based on Section 9 of the Ohio Commercial Driver License Manual, which should be your starting point in your HazMat study journey.
Before venturing into HazMat test prep, it's a good idea to create a checklist of what topics the test covers so that you don't miss anything. There are seven areas that you should cover:
Emergencies

Responsibilities of a driver

Communication rules

Loading and unloading

Rules regarding driving and parking

The intent of the

PHMSA regulations

Bulk tank loading, unloading, and marking
Once you know what the test covers, you can explore your options, buckle down to study, and practice as much as possible.
Ohio HazMat Practice Test
s and Other Prep Methods
Every learner is different. Some people like to study with a tutor or in a group, and others rely solely on the manual. You should find what suits you and stick to it.
While studying is crucial, practice helps you check your knowledge and pinpoint which areas need more work. This is why practice tests are the key to passing the Ohio HazMat test with flying colors!
Check out a few study options you can pick in addition to practice tests:
Method
Features

Ohio CDL manual

Study material

Practice questions

Study guides

General HazMat info

A guide based on the CDL manual

Study guides

Practice tests

CDL HazMat YouTube videos

Practice tests

Videos of HazMat drivers giving tips and explaining the testing process
Take
Ohio CDL HazMat Practice Test
s Using DoNotPay
You can use DoNotPay to access HazMat practice tests and prepare for the Ohio HazMat test in no time.
Follow these instructions to locate our practice tests:
Visit DoNotPay in a

web browser

Enter

HazMat Test

Select your preferred test length

Take the practice test
There are myriads of practice tests online. You can't access some of them fully until you pay, while others could be outdated and questionable. Our platform is a secure way to check your HazMat knowledge and get ready to ace that test!
The perks of DoNotPay's practice tests are: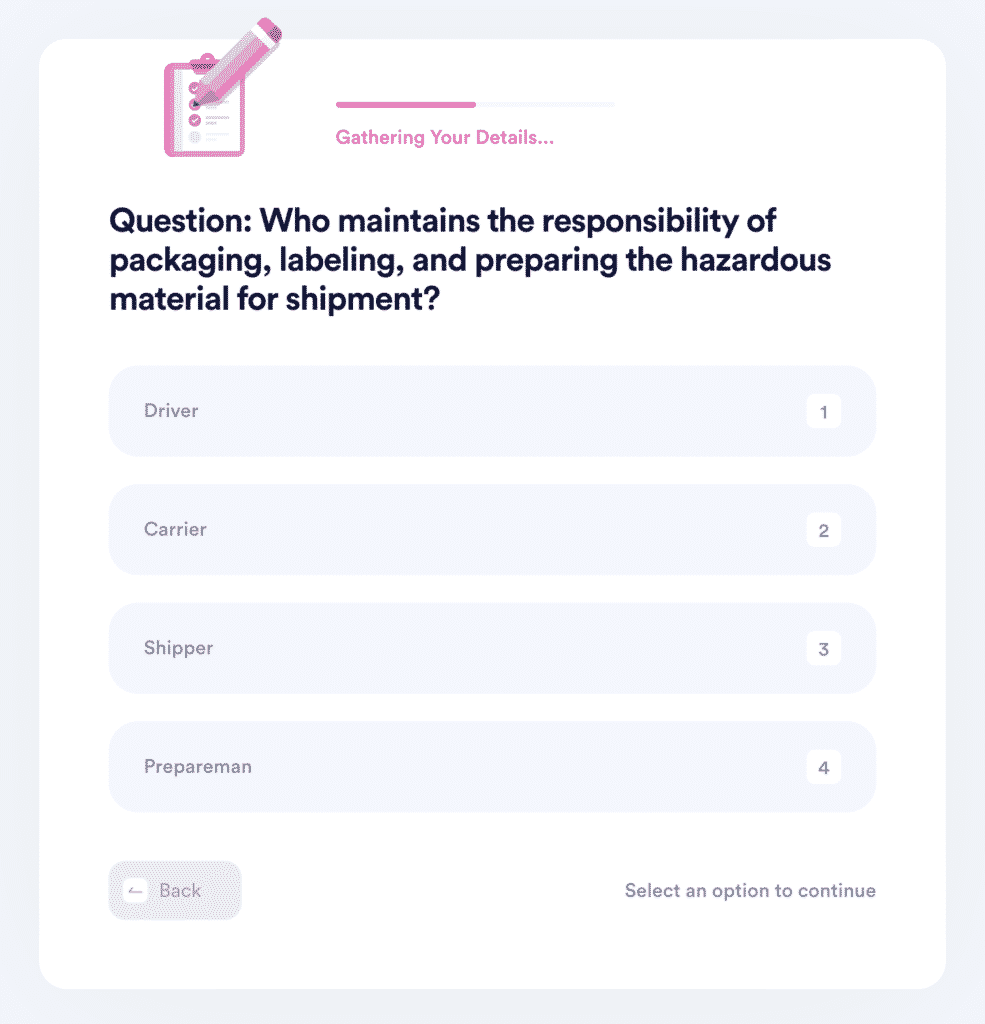 Can I Practice for Other Government Tests With DoNotPay?
Yes, you can! Aside from preparing you for CDL or HazMat tests, our app is a resourceful tool for more government tests, including:
Not only can we provide practice tests but also instructions and tips about the application and testing processes.
If you're taking a HazMat test or renewing your driver's license, you'll have to deal with the DMV at some point, which can be exhausting. DoNotPay can help you make a driving test appointment and pass the written driving test.
In case you also plan on taking the ASVAB test, you can check out our article for a breakdown of the ASVAB test scores.
How Do I Apply for a HazMat Endorsement?
Getting your HazMat endorsement is challenging. The info on the Ohio Bureau of Motor Vehicles (BMV) can be scattered and confusing. Unless you know someone who has gone through it or you're willing to be on hold for hours to get answers, you're on your own.
Not to worry—we're here to help and guide you through the whole process!
Am I Eligible for a HazMat Endorsement?
The first step is verifying whether you can apply for a HazMat endorsement. According to the Ohio Department of Public Safety, certain factors could disqualify you. Since 2005, every commercial driver has to go through a Transportation Security Administration (TSA) background check before taking a HazMat test and obtaining the endorsement.
You are eligible if you are:
TSA Security Threat Assessment
Before going to the TSA, you need to follow these steps:
Complete the application

online

Schedule an appointment

online

or call

(855) 347-8371

Visit an

application center
You need to bring the required documentation, submit your fingerprints, and pay a fee of $86.50 or $67 if you own a TWIC card.
It usually takes 30 to 45 days for TSA to process and approve your application.
Scheduling the
Ohio CDL HazMat Test
If you pass the TSA check, you can make an appointment at the DMV to take a HazMat test. Some locations allow walk-ins, but it's best to check. You can find all the locations where you can take the test on the Ohio BMV website.
Getting the HazMat endorsement will set you back $44.50. The price could change, so you should check the fee info.
Do I Need Any HazMat Training?
While a HazMat test doesn't involve a skills test, only a knowledge test, that doesn't mean you won't need to practice on the job. According to the PHMSA regulations, all employers or designated representatives must provide HazMat training and testing for their employees every three years.
DoNotPay Makes Various Tasks Easy
Becoming a CDL HazMat driver is pricey. You may need help with your finances, and DoNotPay is the way to go! Use our app to get help paying electric bills in Ohio.
Going around town for the HazMat application process or anything else, you may end up with a parking citation. We know how to overturn parking tickets in Cleveland!
DoNotPay's features don't stop there—you can also count on our help if you have an incarcerated loved one in Ohio and want to send them a package. If you wish to partake in clinical trials in Cleveland or anywhere else in Ohio, we can help you sign up and give you the necessary info.
Access DoNotPay from a web browser and find easy ways to deal with the following tasks: