The Breakdown of the Illinois CDL HazMat Test 
Adding a HazMat endorsement to your CDL license can make a huge difference in your career. Passing a HazMat test opens doors to new business opportunities and higher earnings but brings a lot of responsibility. 
If you want to know how to prepare for your HazMat test adequately and what the process entails, DoNotPay is here to provide answers.
What Is a HazMat Test, and What Does It Cover?
A HazMat endorsement qualifies you for transporting and handling hazardous materials, such as gas, explosives, and flammable and combustible liquids. It might sound dangerous, but truck drivers with a HazMat endorsement are sought after and well paid, with an average salary of $62,807 per year in the U.S.
To obtain a HazMat endorsement in Illinois, you must take a written test consisting of 30 questions and achieve at least an 80% test score. You can find the study material in section 9 of your Illinois CDL Manual. The topics cover:
The intent of the regulations

Transportation of hazardous material 

Bulk packaging, loading, and unloading

Driving and parking rules of transporting hazardous materials

Emergencies during the transfer of hazardous materials
Why Should I Study for My Illinois HazMat Test?
You should take preparing for a HazMat test seriously. Besides the obvious safety reasons, numerous practical issues can arise if you fail the test. Here are the most important motives for studying for a HazMat test and passing it the first time:
The application process—

Applying for a

HazMat

test in Illinois is in itself an arduous process that requires gathering a lot of paperwork, signing up for a Security Threat Assessment, and waiting several weeks for results

The cost—

To apply for a

HazMat

test, you need to pay a significant application fee that covers the cost of the Security Threat Assessment and the state application fee for taking the written test. Both fees amount to about $100. Failing any portion of the CDL test in Illinois more than three times requires you to wait for 30 days and pay the fee for retaking it

The danger of transporting hazardous materials—

Operating a truck with hazardous materials requires advanced skills and qualifications. You need to study the facts thoroughly to know how to recognize and react in cases of emergencies. Lack of proper knowledge can lead to life-threatening situations

The impression—

Passing the test on the first try will leave a positive impression on your potential employers
How To Prepare for the Illinois HazMat Test
There are a few certified ways of preparing for the Illinois HazMat test. You should make the studying process as comprehensive as possible and include more than one learning technique to achieve better results. Check out the possible material sources and their benefits in the table below:
Learning Material
Benefits

Illinois CDL Manual

Illinois CDL Manual is a mandatory resource for the preparation 

It represents the most complete and reliable source of information

Study Guide is available in a PDF form and easily accessible

It provides a summary of CDL Manual info

Study Guide offers additional tips about the testing 

Apps combine test questions and useful information 

You can download them on your phone and access them at a convenient time

YouTube videos contain practice test questions

They offer useful tips from experienced drivers 

Practice tests

Practice tests put the facts from the Study Guide into context

They offer an insight into the structure and form of the real test

Practice tests provide various combinations of the same question, which makes you more prepared for the real deal

You can follow your progress and become aware of the segments that you need to improve
In most cases, combining the CDL Manual with practice tests brings the best results. An array of practice tests are available on the internet, but there is no way of telling which ones are authentic. Follow our lead to discover the most reliable practice material out there!
DoNotPay Offers the Best Illinois CDL HazMat Practice Test
If you don't feel like taking your chances with online practice tests, use DoNotPay! We offer preparation material for various government tests, such as the CCAT, Notary, ASVAB, Postal, CompTIA A+, and U.S. citizenship test. Our app allows you to adjust the number of questions according to your preference and knowledge.
You can access our test easily when you:
Open DoNotPay in a

web browser

Enter

HazMat Test

Indicate the practice test length

Start the test
DoNotPay allows you to correct a mistake immediately or retake the test after you finish. Either way, you are bound to feel confident enough to take the real exam in no time!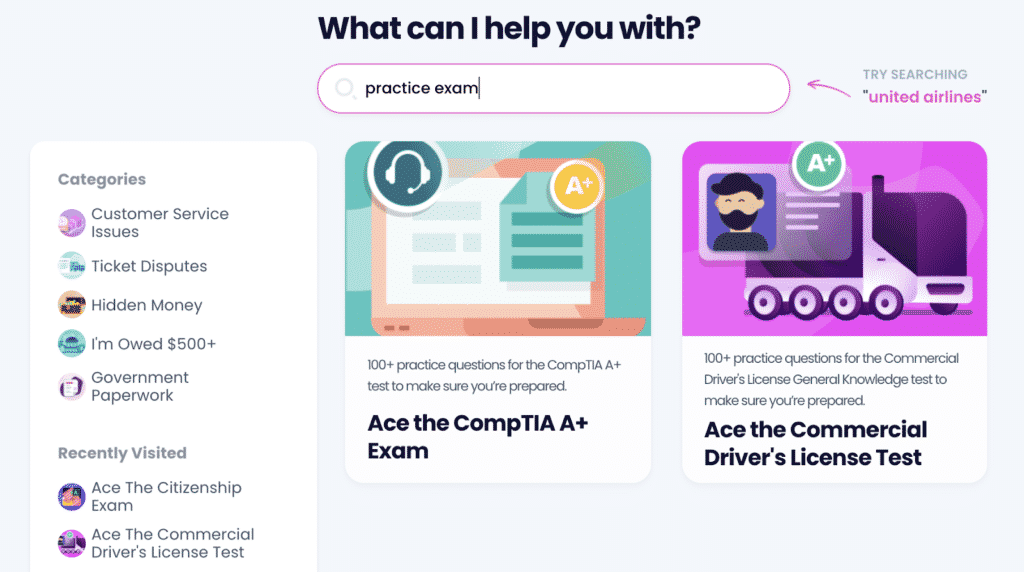 What Does Applying for the Illinois HazMat Test Look Like?
Applying for a HazMat test requires much more than taking the written exam. You have to go through an elaborate Security Threat Assessment process prior to the actual test. Applicants for any type of HazMat endorsement will not be able to obtain it without the security threat assessment clearance.
Here are the steps you are required to take:
Step
Details

Begin the pre-enrollment process

Complete the pre-enrollment application available on the

UES website

or call the UES center at 855-347-8371

Select the location and schedule a fingerprint appointment

Use the above method to schedule an in-person fingerprint appointment

Check the UES website to find the list of locations and get directions to the nearest enrollment center

Pay the appropriate application fee indicated on the UES website

Provide the required items for the fingerprint appointment

Provide fingerprints

Submit identity documents

Offer citizenship/immigration documents 

Pay the application fee (in person, if you haven't done it previously)

Check the UES website and

TSA website

for information on documents needed to establish identity, citizenship, and immigration eligibility 

Go through the Security Threat Assessment

TSA performs the security threat assessment

Check your status

To get information on your security threat assessment status, you may:

Visit the UES website and click on the

Check Status

link

Call the UES Center at 855-347-8371
When TSA issues a security threat assessment clearance, the Illinois Secretary of State will notify you of the results and instruct you to visit the nearest Secretary of State CDL Facility for testing. If you pass the written exam, the Illinois Secretary of State will issue you a CDL license with HazMat endorsement.
DoNotPay Will Make Any Tedious Administrative Task a Breeze
DoNotPay can give you insight into other government test-related information. If you need to schedule a DMV appointment or take a DMV practice test, you will find our platform useful. We also provide insight into ASVAB test scores. If you need the scoop on how to pass a DMV written test, you can turn to us!
Access DoNotPay from any web browser, and discover the easy way to:
Appeal your traffic tickets

Fight your speeding citations