The TN HAZMAT Practice Test—A Guide to Passing the HAZMAT Tests in Tennessee  
Are you a truck driver thinking of improving your work chances? If the answer is yes, adding a HAZMAT endorsement to your Commercial Driver's License (CDL) is an excellent idea.  
Taking the HAZMAT test can improve your professional driver's career and earnings significantly in Tennessee or anywhere in the States. If you stay on your CDL, goods and items you can transport are limited and you might not be able to explore new employment opportunities. 
What Is a HAZMAT Test?
Commercial truck drivers can take the HAZMAT test if they would like to add a hazardous material endorsement to their CDL. 
As a truck driver, this endorsement will allow you to transport materials placed under the Department of Transportation hazardous materials regulations. These materials include:
Gases

Explosives

Flammable or combustible liquids

Any other materials that can cause harm
If you are wondering whether you are eligible to take the HAZMAT test, take a look at these criteria:
Eligible
Ineligible

If you have a CDL issued by a U.S. state and are one of the following:

U.S. citizen

Lawful permanent resident

Naturalized citizen

Nonimmigrant alien, asylee, or refugee who is in lawful status 

Incomplete or false application information
You should make sure to check if the state that issues your license has any additional requirements, but the above-mentioned criteria apply in TN. 
What Does the Tennessee HAZMAT Test Consist Of?
The TN HAZMAT test consists of 30 questions, and you need to get a minimum of 24 correct answers (80%) to obtain your HAZMAT endorsement. 
The test assesses your understanding of:
Federal and state HAZMAT regulations

Hazardous materials

Your responsibilities regarding the safe transportation of hazardous materials
You will first have to take the vision test at any State of Tennessee driver service center. All applicants need to pass this test before taking the knowledge test. You can check out the locations of the State of Tennessee driver service centers. 
After you have passed your vision test, you can proceed to the required knowledge test. You will take the test at a State of Tennessee driver service center. 
HAZMAT endorsement is important because it ensures your safety but also the protection of other drivers and the environment.
Obtaining your CDL HAZMAT endorsement proves that you are prepared and qualified to handle potentially dangerous events. 
Why Should You Take a TN HAZMAT Practice Test?
Some over-the-road companies only employ drivers with a HAZMAT endorsement. These drivers earn higher salaries in specialized industries. 
According to statistics, 947,000 truck drivers were employed in the USA in 2019. The U.S. trucking industry needs more drivers, as trucking is the largest part of the overland freight logistics. 
The test can be challenging for some drivers, but if you take a practice test, you will feel more confident and relaxed while taking the real one. You will have three times to retake the test. If you fail the third time, you will have to obtain a learner's permit to take the HAZMAT test again. 
How Can I Prepare for the Tennessee HAZMAT Test?
You can find lots of handbooks, online tutorials, and study guides to practice for the test, but they can be expensive. Some CDL training schools offer HAZMAT courses.
The Tennessee Department of Safety and Homeland Security compiled a CDL manual you should go through to get familiar with potential questions on the test. 
You can also take HAZMAT practice tests to prepare efficiently.
How To Take the TN HAZMAT Practice Test With DoNotPay
DoNotPay can help you prepare for different government tests. We provide the specifics of citizenship, postal, notary, DMV, ASVAB, CompTIA, and CCAT  tests. You can access all practice tests in one place. 
Choose the test you would like to take and keep practicing!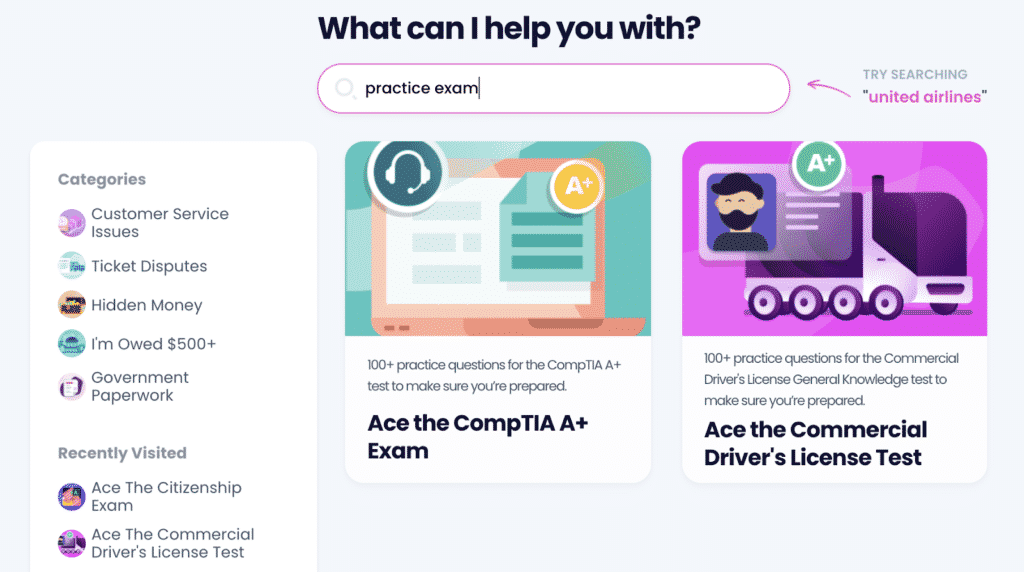 When it comes to the Tennessee HAZMAT test, here is what you should do:
Sign in to DoNotPay from any

web browser

Type in

HAZMAT test

Select the length of the practice test—10, 20, or 30 questions

Go through the test question by question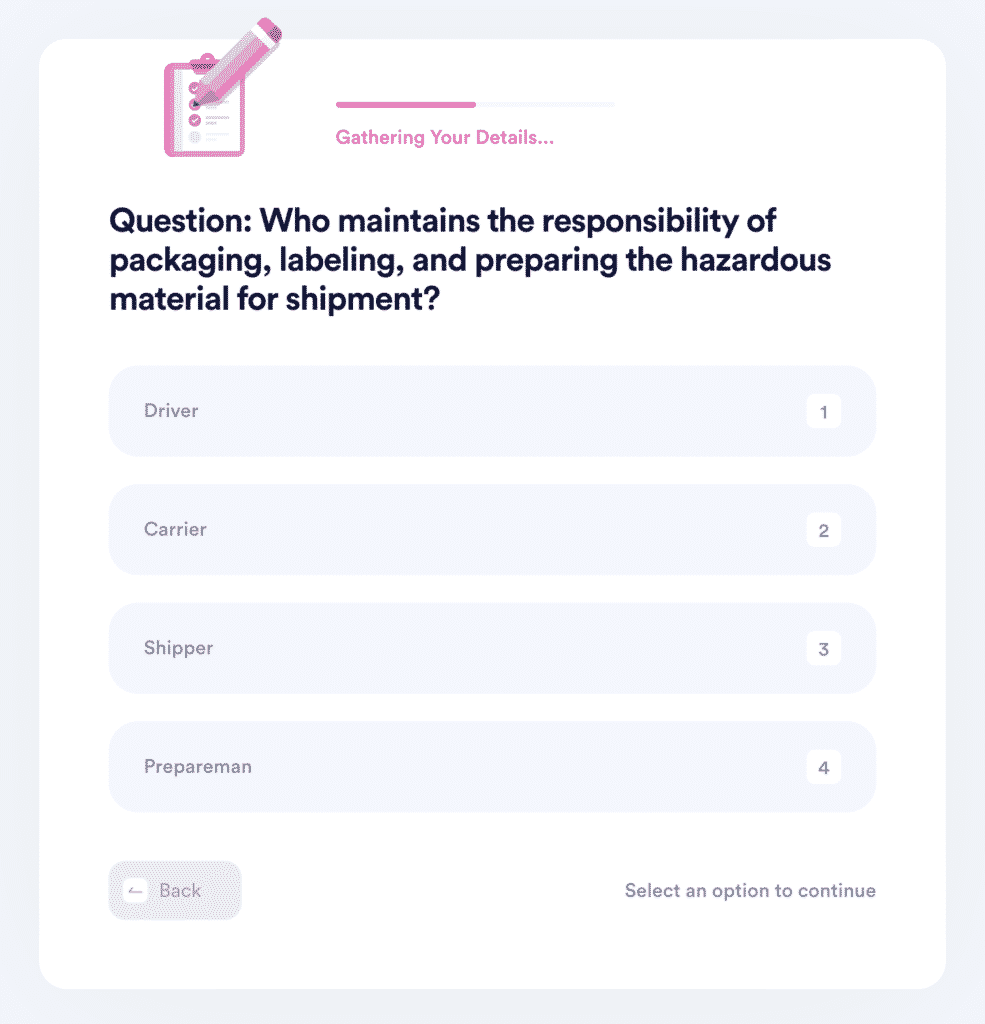 We offer you an option to fix the incorrect answers on the spot or retake the whole test once you get your final score.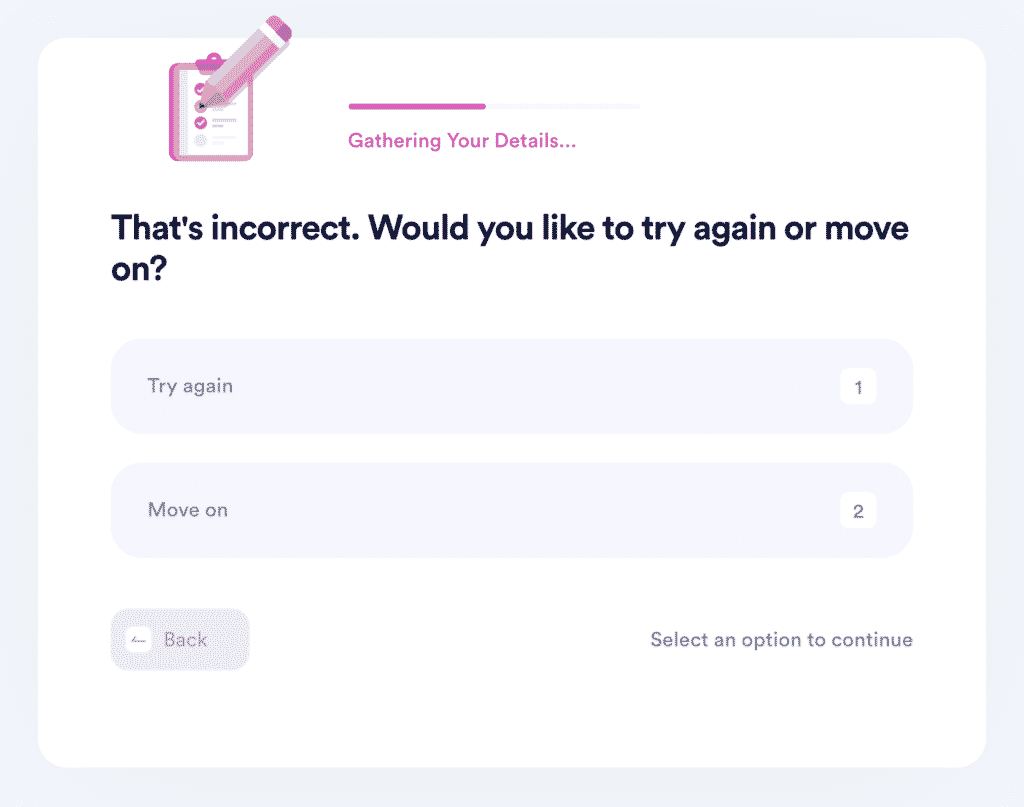 How To Apply for the HAZMAT Test in TN
You can apply for the Tennessee HAZMAT test on the Hazardous Material Endorsement Enrollment website, and here is what you should do beforehand:
Complete the TSA HAZPRINT driver application by:

Pay the application fee of $86.50 by:

Credit card online 

Providing the details to the help center operator

Money order 

Get your fingerprints at any mobile site in the USA
A list of available mobile site locations and their operating hours is available on the Hazardous Material Endorsement Enrollment website. For additional information, call their help center at the above-mentioned phone number. 
Make sure to prepare the required documents. If you cannot afford the HAZMAT application fee, check if you are eligible for a reduced application fee of $67. 
When you complete the three steps above, the Transportation Security Administration (TSA) will perform the security threat assessment. 
The results will be sent to the Tennessee Department of Safety and Homeland Security and to you. If you do not get a letter from the TSA informing you about the decision, you can contact the help center at the number provided in step 1b. 
What Identification Documents Do You Have To Present at the HAZMAT Endorsement Issuance?
You will have to show two proofs of domicile to the driver's license examiner when your endorsement is issued. They can include:
Current utility bill

Voter registration card 

Mortgage papers 

Current filed tax return 

Current personal vehicle registration dated within the last 12 months

TN vehicle title showing TN address (you cannot use both a title and vehicle registration as proofs)

Copy of Lease Agreement or contract with notarized signatures or accompanied by signed realty agency letterhead confirming lease validity

Military LES papers showing Tennessee as your home of record
What Else Can DoNotPay Do for You?
DoNotPay provides information on how to schedule a DMV driving test and pass the written driving test. You can also take a look at your  ASVAB test scores. 
If you are from Tennessee, our app can help you pass your driving test, find your lost assets, or get your University of Tennessee application fee waived.  
For other available services, open DoNotPay in your web browser and find ways to:
Dispute traffic tickets

Dispute speeding tickets