Learn How To Prepare for the Florida HazMat Test
If you want to gain more opportunities in the job market as a CDL driver, passing a HazMat test might be exactly what you need. A Hazardous Materials Endorsement (HME) on your CDL can fast-track your career and bring you more earnings, but it also comes with more responsibilities.
Before you jump on the HazMat bandwagon, you should get familiar with the test and all that goes with it, and DoNotPay has the deets!
What Does a HazMat Test Entail?
A HazMat test is only the beginning of your journey to becoming a seasoned CDL HazMat driver. The test is a written examination consisting of 30 questions. You need to answer at least 24 correctly to pass.
All the test questions are based on Section 9 of the CDL Driver's Manual, which covers:
Why Should I Study for a HazMat Test?
While the study material for a HazMat test isn't that extensive—around 20 pages—it contains a lot of information. If you cram for the test, you will probably pass it, but you don't want the HazMat knowledge to vanish right after getting your endorsement.
Being a CDL HazMat driver is a serious job that comes with a lot of responsibility. You should remember all the rules, regulations, steps, and processes long after the testing. Not only should you take obtaining a HazMat endorsement seriously for your safety, but also other drivers, people, and the environment.
This is why you should make a study plan and decide how to prepare for a HazMat test.
How Can I Prepare for the
Florida CDL HazMat Test
?
Preparing for a HazMat test is the crucial step toward acing it. Here are a few prep options:
Method
Details

CDL manual

Everything that will be on the test

Test Your Knowledge sections

Tips and suggestions

CDL manual reading assignments

Summary of the CDL manual info

HazMat Practice tests

A way to check what you learned and see what you need to revise

Preparation for the real test

CDL HazMat YouTube videos

Practice tests

Other CDL HazMat drivers' impressions and experience
Use DoNotPay To Take
Florida HazMat Practice Test
s
While studying is vital, taking practice tests will give you the confidence in your knowledge, which you need to nail the real test.
Check out how to take our HazMat practice tests:
Open DoNotPay in a

Enter

HazMat Test

Choose the practice test length

Take the test
You can customize DoNotPay's practice tests by picking the number of questions—10, 20, or 30—depending on how many you want to go over at once and how much time you have.
Another useful perk is the option to retry a missed question immediately or wait until you see the score and retake the test.
You can revise and go back to the test as many times as you need to until you're satisfied with your results.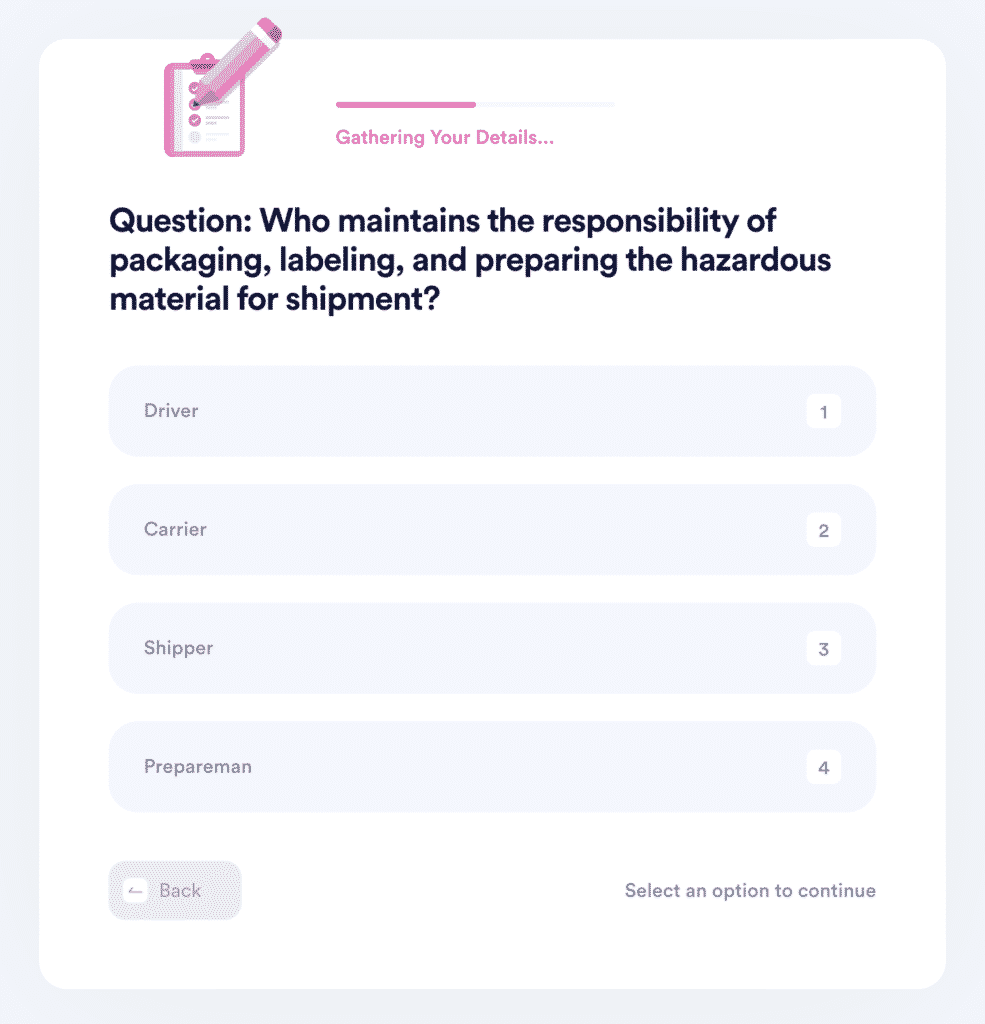 Pass More Government Tests With the Help of DoNotPay
Passing other government tests could open up new job opportunities. Feel free to browse our Government Test Prep feature, and you might find a test that would suit your aspirations.
Here is a list of all our practice government tests at your disposal:
DoNotPay can also break down the ASVAB test scores.
If you or your loved ones need help with the notorious DMV, we can help you schedule a DMV driving test appointment and ace the written test.
How Does
Florida HazMat Testing
Work?
Getting from test prep to a Hazardous Materials Endorsement (HME) isn't an easy process. This shouldn't discourage you since DoNotPay will lead the way, giving you the scoop and instructions you need!
Here's the breakdown of everything you need to check and complete to become a CDL HazMat truck driver:
Your eligibility

TSA background check

HazMat test
Verifying You Are Eligible
Not everyone can take a HazMat test. Check whether you are eligible before you move on to the next steps.
You are allowed to apply for a HazMat endorsement if you are:
TSA Background Check
Before getting your HME, you have to go through a national-level background check, submit fingerprints, and provide proof of residency.
You can fill in a HazMat application form online, print it out, and bring it to a fingerprinting location. Next to the county, you'll see the office address and phone number, as well as its website or Make an Appointment link.
After you complete these steps, Transportation Security Administration (TSA) will receive your application, and they will decide on your eligibility for an HME. The process typically lasts for 30 to 45 days.
If TSA informs you that you did not pass the background check, you may file an appeal or apply for a waiver.
Scheduling a Test
Florida Highway Safety and Motor Vehicles (FLHSMV) handles commercial driver's licenses and endorsements. You should find the closest DMV and schedule a HazMat test. Usually, you can make a test appointment online or via phone, but it depends on your location. Wherever you are in Florida, DoNotPay can help you with your DMV appointment and schedule it on your behalf.
Florida HazMat Endorsement Cost
The HazMat application fee is $91, which covers the cost of the background check and the issuance of the endorsement. You can see the full list of all fees on the FLHSMV website. If you have a TWIC card, you may qualify for a reduced TSA fee of $67.
Is Passing a HazMat Test a Guarantee of CDL HazMat Jobs?
Acing a HazMat test and passing the TSA background check will get you a HazMat endorsement and opportunities to apply for CDL HazMat jobs. These two details are not enough for being a CDL HazMat truck driver—The PHMSA requires you to attend HazMat training. As per the CDL manual, the PHMSA regulations require employers to organize training and testing for their HazMat employees.
DoNotPay—The Perfect AI Assistant for Gruelling Tasks
DoNotPay is a multi-faceted platform. You can use our features to solve numerous complex issues or complete tedious chores. We can help you renew your Florida driver's license, dispute parking tickets in Miami Dade, manage your FPL bills, and more!
Open DoNotPay in any , and start completing the following tasks the easy way: