Finding the Best MI HazMat Practice Test
Whether you have a commercial driver's license (CDL) or you're thinking of getting one, adding a Hazardous Materials Endorsement (HME) to it can be a step in the right direction. As a HazMat-certified truck driver, you would get more job opportunities and maximize your earning potential.
We'll answer all your questions about the HazMat test in Michigan and provide the best practice tests to ace the real deal.
What Is a HazMat Test?
A HazMat test is a written test designed to examine your knowledge of handling and transporting hazardous materials as a CDL driver. It consists of 30 questions, and it doesn't include a skills test. You should answer at least 24 questions correctly to pass it and obtain your Hazardous Materials Endorsement.
Everything you should learn to pass the HazMat test is in Section 9 of the Michigan CDL manual, including:
Emergencies

Communication rules

Driver responsibilities

Loading and unloading

Driving and parking rules

The intent of the

PHMSA regulations

Bulk tank loading, unloading, and marking
Should You Practice for the Michigan HazMat Test?
If you glance at the Michigan CDL manual, you'll see that the HazMat section is only about 20 pages long. The number of pages may lead you to believe that studying for a HazMat test is easy, but there is a lot of info condensed in these pages. You should definitely make a study plan and practice for your Michigan HazMat test to pass it.
Another reason to commit to practicing is that the process of obtaining your HME can be lengthy and expensive. Every time you retake the test, you must pay the testing fee.
Ways To Prepare for the HazMat Test in Michigan
If you want to pass your HazMat test, you shouldn't rely solely on the manual but incorporate other resources, such as:
Hiring tutors

Joining training courses

Learning from study guides

Taking HazMat practice tests (e.g., DoNotPay)

Watching YouTube videos of HazMat truck drivers who have passed the test
Many websites are dedicated to HazMat and CDL tests, so make sure to use reliable and up-to-date resources and get maximum results.
Use DoNotPay and Take HazMat Practice Tests With Ease
DoNotPay's Government Test Prep feature is the stepping stone in passing a HazMat test with flying colors.
Check out how it works:
Open DoNotPay in a

web browser

Type in

HazMat Test

Decide on the practice test length

Take the test
Our AI-driven app brings practice tests to a whole new level! You may choose the number of questions in the test—10, 20, or 30—depending on your time and preference. You can also retry any question on the spot or retake the test after getting your score. Take our practice tests as many times as you need to gain confidence.
DoNotPay's resources also include practice examples for other government tests, such as: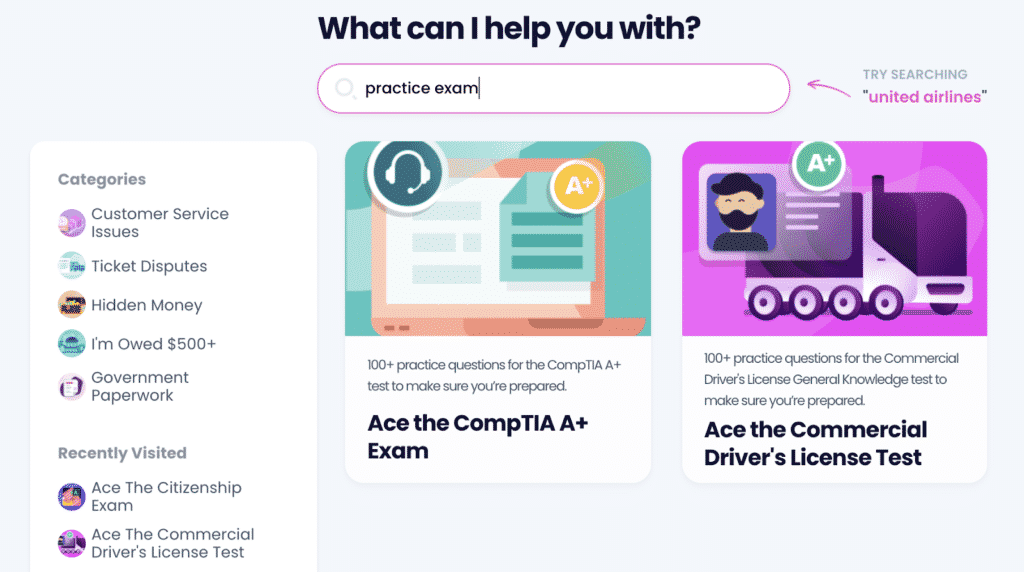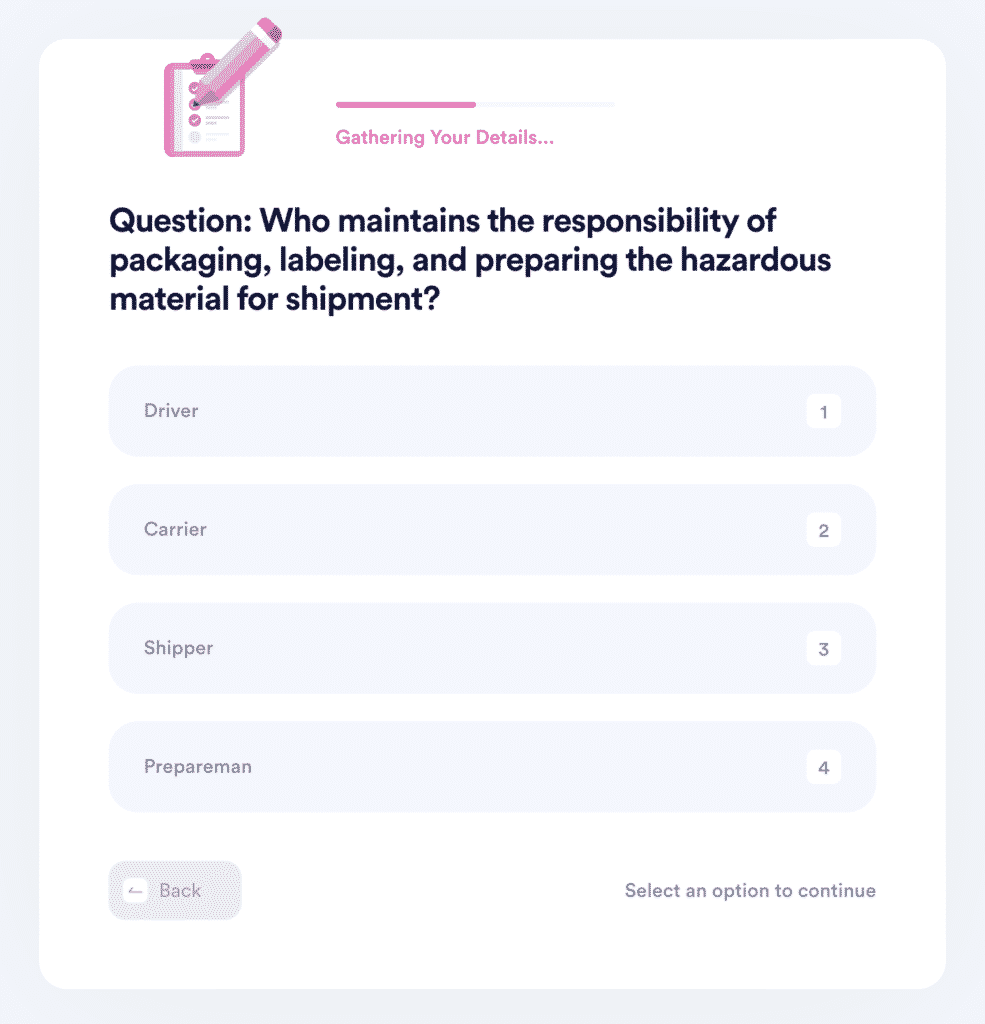 Passing a TSA Background Check
To request a TSA background check and apply for an HME, you need to be eligible for it. Check the eligibility factors in the table below:
Eligible
Ineligible

At least 21 years old

U.S. citizen

Naturalized citizen

Lawful permanent resident

Nonimmigrant alien, asylee, or refugee in lawful status

Being a

criminal offender

Having a denied, revoked, or suspended driving privilege

Providing a false or incomplete application
Once you know you're eligible, you should do the following:
Pre-register for a federal background check

online

or call Universal Enrollment Services (in charge of TSA-approved fingerprint offices) at 855-347-8371

Pay the TSA fee

Go to a

TSA-approved fingerprint office

to provide fingerprints and bring

enrollment documents

, your passport or driver's license, and birth certificate
You can check the status of your TSA background check online. The approval should take 30 to 45 days. This is why you should start the TSA part about two months before scheduling your HazMat test.
How To Schedule a Michigan HazMat Test
Michigan Secretary of State Office handles HazMat testing. You can schedule a test up to six months in advance for 11 a.m. to 3 p.m. appointments. If you want to book 9 a.m. to 11 a.m. or 3 p.m. to 5 p.m. appointments, you can do so one day in advance.
You can make an appointment online in the following way:
Go to the

Appointments page

Enter your city or ZIP code

Click on

Make an Appointment

next to your chosen location

Tap on

Testing

Select the date and time you wish to take the test

Follow the prompts
If you want to book an appointment over the phone, use DoNotPay to avoid waiting on hold forever.
How Much Is a HazMat Materials Endorsement?
To get an HME, you have to pay for your TSA background check and the test. The TSA fee is $86.50. If you own a TWIC card, you can pay the reduced fee of $67. You also need to pay a $5 test fee each time you take it.
Is the HazMat Test Enough To Land HazMat CDL Jobs?
By passing a HazMat test, you will obtain a HazMat endorsement and be able to apply for HazMat trucking jobs. While the passed test gets the HME on your CDL license, there are a few more steps to working as a HazMat CDL driver.
You can take hazardous materials training courses with various universities, associations, or employers. The PHMSA regulations require your employers or representatives to provide further training and testing and keep a record of this training. The training must include the understanding of the security risks of transporting hazardous materials (e.g., HazMat awareness), as well as recognizing and responding to potential security threats.
As a hazardous materials employee, you need to go through training and testing at least once every three years.
More Ways To Benefit From Using DoNotPay
DoNotPay can help you even more! Count on our app to assist you in renewing your Michigan driver's license faster.
Are you struggling with parking tickets in Detroit? You can dispute them with DoNotPay!
If you want to get more tips and benefit from all our features, access DoNotPay from any web browser. Check out everything you can do with our assistance:
Overturn your traffic tickets

Appeal your speeding tickets