Everything You Need To Know About the Sprouts Return Policy
Sprouts Farmers Market offers a wide range of products, from baked goods to Sprouts brands. If you bought a product at Sprouts and you are dissatisfied for some reason, you can return it.
Return policies often lack transparency and can be difficult to get a grasp of. will break down the Sprouts return policy to help you understand all the details.
How Does the Sprouts Return Policy Work?
According to the Sprouts return policy, you can return almost any item to the store. Sprouts staff may decide, at their discretion, to accept or decline a return request. The store may take a minimum of 10% off the original price of the item you are returning if the product is:
The company has specific return protocols for some product categories. Check the details in the table below:
| | | | |
| --- | --- | --- | --- |
| Product Category | Exchange | Refund | Return Requirements |
| Vitamin and Body Care | Yes | Yes | Receipt |
| DVDs | No | No | N/A |
| Magazines | No | No | N/A |
| Books | No | No | N/A |
| Alcohol | No | Yes | Valid ID and receipt |
| Holiday items | No | No | N/A |
Vitamin and Body Care products won't be exchanged or refunded if the item you are returning has been refrigerated. All products categorized as Vitamin and Body Care should be returned in 30 days.
The type of refund you receive will depend on the original payment method used for the purchase:
| | | |
| --- | --- | --- |
| Payment Method | Refund Method | Requirements |
| Cash | Cash | Receipt |
| Debit cards | Cash | Receipt |
| Electronic checks | Cash | Receipt |
| Credit card | Credit card refund | Receipt and the original credit card |
| EBT card | EBT card refund | Receipt and the original EBT card |
| Manual check | Gift card | N/A |
| Gift card | Gift card | N/A |
Can I Make a Return Without a Receipt?
If you don't have a receipt, you can still request a return at Sprouts stores, but you won't be able to exchange the item or get refunded to your original payment method. You can bring the item in question to a local Sprouts store, and the staff will issue a gift card matching the price of the product you are returning.
If you have a Sprouts account and you lost your receipt, you can find it on your account page as all receipts are saved for Sprouts account holders.
How To Initiate a Return With Sprouts
You can visit the nearest Sprouts Farmers Market to return your item and return the item you are not satisfied with. The company will grant a refund or an exchange on the spot, depending on the type of product you are returning and your original payment method. To make a return to the store, you need to bring:
The product you are returning, preferably in the original packaging, unopened and undamaged
Receipt, if possible
Personal ID
The original card used for the purchase
Initiate a Return With the Help of Sprouts Customer Care
To initiate your return and understand the return process for the category of the item you want to return, you can contact Customer Care.
You can get in touch through the Contact Us form. Make sure to include the following in the contact form:
Your name
Phone number
Email address
To complete the form and initiate a return, you need to:
Pick the Sprouts Policies and Procedures topic on the contact form menu
Describe your issue by providing a detailed explanation in the Message box
Choose the number of attachments included in the form
Attach any relevant documents or photos of the product
Submit your form
A customer service representative will contact you with further instructions regarding the return.
Is Returning an Unwanted Product Too Complicated? Start a Return With DoNotPay
Returning dissatisfying products doesn't have to be a nightmare. With the help of our AI-powered app, you'll complete the process in a breeze.
After a few clicks on your part, we'll generate a return request and send it to the company. The request letter will include a deadline so that the merchant responds in a timely manner. Initiating the return in writing will also prevent any disputes along the line.
Here's what you need to do:
Choose the Item Return Request product
Answer some basic questions about the product
Tap on Submit
Be it an individual seller, a company, or a chain of stores, you can count on our assistance. DoNotPay is of great help for mail-in returns especially. We provide a free return label so that you can send your unwanted items at no cost.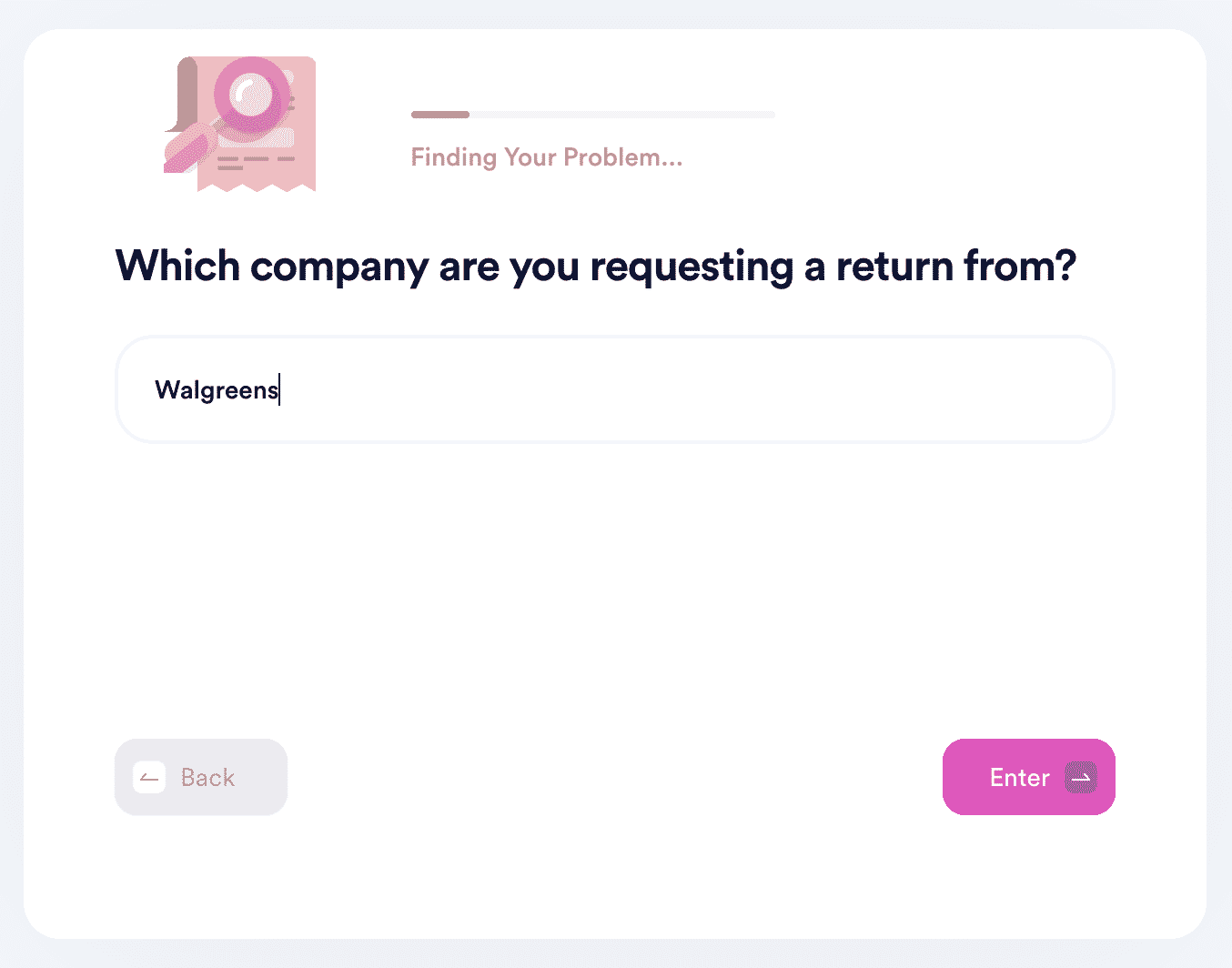 Turn to DoNotPay for any return you might be struggling with. Read our insightful guides and find out how you can return products to the following companies:
Returned Your Faulty Item? Discover Other Nifty DoNotPay Products!
Apart from being your shortcut through returning your faulty items to merchants, our app can do so much more! From helping you request a refund, get extended warranties, file insurance claims, and find clinical trials in your vicinity to assisting you in creating legal documents, getting them notarized, and faxing them—DoNotPay can do it all.
Do you think you're eligible for a victims of crime compensation program? Our app can help you apply for it. Do you want to get revenge on persistent robocalls, report someone for stalking or harassment, or get your noisy neighbors to be quieter? We got your back!
You Don't Have To Waste Time in Endless Lines
Returning an item may require you to wait in endless lines, but if you sign up for our AI-driven app, you will be able to skip all kinds of queues! You won't have to spend ages waiting in lines at the DMV or in customer support phone queues because DoNotPay will provide an easier way to get what you need.
If you want to skip the hassle of waiting on the phone when canceling a service, requesting refunds or compensation from airlines, requesting a college fee waiver, or connecting with a loved one in prison, you can count on DoNotPay to provide easy solutions.