How to Protect Yourself from a Social Security Robocall
If you're a typical American with access to a landline and/or cell phone, you've probably experienced an average of about 14 robocalls a month—each one more painful and annoying than the other. That's exactly double than the 2018 U.S. robocalls figures, writes Business Wire. Robocalls, a type of auto-dialed automatic phone calls, are operated through a VoIP technology that allows those behind them to place a large volume of calls cheaply, fast, and irrespective of geographic boundaries. Even though not all robocalls are created equal (some, in fact, are perfectly legal and can even be helpful), a significant number of them are designed to swindle innocent people.
According to the Federal Trade Commission, the Social Security Administration is the U.S. government agency that holds the unfortunate number one spot as the official institution most targeted by impostors. In the first six months of 2019 alone, more than 73,000 reports about Social Security fraud attempts have been reported, resulting in an overall loss of $17 million.
Got a Robocall from the SSA Office Asking You to Call Back? Here's What You Need to Do

You can call back the number only if you're verified the validity of the call.
The Social Security Administration and Office of the Inspector's General employees can contact U.S. citizens by telephone, and they can also request them to confirm their personal information over the phone. However, the government agency stated on their blog that when they do call, it will not appear on caller ID as the Fraud Hotline number of (800) 269-0271. They will also never threaten you with any sort of official action in exchange for divulging your personal information or receiving payment.
Does the Social Security Administration Use Robocalls?
No, the Social Security Administration doesn't use robocalls.
Social Security Scam Robocall
The general rule is this—if you are asked to give your social security number over a robocall, it's not a legitimate call.
The most frequent types of social security-related scams involve an automated message informing you that your social security number has been compromised and linked to criminal activity, or that your social security benefits will expire.
Alternatively, the callers can claim you're entitled to a rise in your social security benefits, but would first need to confirm your name, date of birth, and social security number. Once they are equipped with this information, the scammers can hijack your Social Security account and drain your money out of it.
What to Keep in Mind if You Get a Spam Call that's Allegedly from the SSA
The Federal Trade Commission put forward a few key points in response to the social security scam threat. It's important not to press any numbers on your keypad even if the robot tells you to, and to hang up as soon as you can. The FTC also wants you to stay assured that:
What to Do about Robocalls Saying Your Social Security Info Was Stolen?
If you received a pre-recorded automated message saying that your social security information was stolen, hang up immediately. As a next step, you should report it to the following institutions:
Understanding Which Robocalls Are Illicit and Which Are Allowed
A report by Truecaller revealed that nearly one in six Americans (or about $43 million people) suffered financial loss because they were the victim of a phone scam in 2019. This startling figure makes it evident that a lot of people aren't sure about which types of robocalls are legal and how to distinguish them from those that aren't.
Here is a succinct overview that you can use as guidance while navigating the confusing sea of robocalls out there.
| | | |
| --- | --- | --- |
| Type of Robocall | Example | Legal/Illegal |
| Telemarketing | A company offering a product or a service for sale (could be anything from a cruise to a slimming tea) | Illegal. This type of call is legal if the company has your permission to reach out to you in this way, or if you've agreed to it in their terms of service. |
| Official Information | Any type of public service announcement or reminder (e.g., a reminder to pick up your medicine from the pharmacy) | Legal |
| Debt Collection | A legitimate collection agency contacting you about collecting your debt | Legal |
| Message from a Political Candidate | A political candidate or party contacting you to ask for a donation | Legal |
| Scam | Automated message from a falsely represented official company or agency, usually requesting your personal and financial information | Illegal |
| Message from a Charity Organization | A legitimate charity asking for a donation or other type of support | Legal |
What Are the Most Common Robocall Scams?
You could hold them accountable for many bad things, but nobody can accuse scammers of not being creative. Other than the aforementioned social security scam, scam calls are often pretending to come from other reputable companies such as banks, the IRD, your insurance provider, etc. Some scammers based overseas target specific minorities, with the recent emergence of robocalls in Mandarin targeting Chinese-speaking nationals. We've explained the most common types of robocall scams in a separate blog post.
Regardless of the "premise" of the call, you will, at some point, inevitably be asked for your personal or financial information. The scammers, once equipped with your details, can either withdraw funds from your accounts directly or falsely presume your identity at an institution to then get access to your accounts.
What to Do if You Get an Illegal Robocall
As bothersome as they are, robocalls have no power over you if you know how to manage them. Follow a few simple rules to find out how to minimize the nuisance and eliminate any potential threats.
It's important to note that some types of calls will be exempt from the Do Not Call list. This means that even though you've registered your number, some companies and organizations will still be allowed to call you.
How to Block Social Security Robocall Spam
When you get a robocall on your landline telephone, it can feel like somebody invaded your personal space and the privacy of your home. Together with your phone company, you can take proactive steps to put an end to those vexing landline robocalls.
How to Stop Social Security Robocalls if You Use a VoIP Landline
VoIP (Voice over Internet Protocol) means that your phone service will be delivered through an Internet network. To curb the robocalls on your VoIP landline, get in touch with your phone company and find out which robocall blocking service they have at disposal. These may include opting for a spam call alert, anonymous call rejection, and more.
Find your landline phone company provider in the table below and learn which anti-robocall protection features they offer to their customers.
How to Stop Social Security Robocalls if You Use a Traditional Landline
If you're the proud owner of a traditional landline that's not run via the Internet, and you want to fight back against robocalls, look into obtaining a call-blocking device that's powered by the telephone line and that you can attach to your phone. What this device can do is block specific area codes, calls without a caller ID, survey calls, spam calls, etc. Exactly what you're looking for!
How to Block Social Security Robocalls on Your Cell Phone

To keep robocalls from plaguing your cell phone, you can employ three main types of methods. You can:
Block numbers on your smartphone
Use the service provided by your network
Install a robocall-blocking app
Block Numbers on Your Smartphone Manually
You keep getting incessant phone calls from a particular number that you never want to receive again. Luckily, there is an easy fix, which is blocking it by using your smartphone's built-in feature.
This is how you can block a phone number on your Android device:
Open the Phone app
Tap on the three dots in the top right corner of the screen
Click on Call Settings
Choose Reject Calls
Select the "+" button
Enter the number you wish to block
Confirm
The procedure to do the same on your iPhone is equally simple:
Open the Phone app
Tap on the Recent tab and access your latest phone calls
Click on the "i" symbol related to the number you wish to block
Choose Block this Caller
Confirm this action
Use the Service Provided by Your Network
When you hear the term SHAKEN/STIR, you may immediately think of martinis. But did you know that it's also an acronym that refers to a suite of different protocols and procedures based on cryptography techniques and digital certificates? To put it simply, this method allows phone companies to verify the caller's ID. If it's a spam call that's in question, they can either block it on a network level or let the call through, but inform you that it's a scam and label it as such.
The Federal Communications Commission will require all phone network providers to use the SHAKEN/STIR protocols by June 2021, but most of them are already doing it. Here is a closer look at the four U.S. network carrier giants and what they're doing in relation to robocalls.
AT&T
is looking at potential spam calls at its network level. When the company detects a spam call, it gets instantly blocked before it reaches you. AT&T customers also have the ability to download AT&T's Call Protect app (or turn it on in their AT&T account settings), which allows you to categorize the spam calls by risk level and generate a list of phone numbers you wish to block.
T-Mobile
T-Mobile monitors and labels spam calls at a network level. If you're a T-Mobile customer and you receive a potentially fraudulent call, your smartphone screen will show a "scam likely" warning. This is a feature available for free to all T-Mobile customers. You can also apply for the company's Scam Block feature that prevents likely spam calls from reaching you in the first place. To apply, log in through your T-Mobile Name ID app or online account, or simply dial #662# to activate for the service.
Verizon
At a network level, Verizon is currently blocking only a smaller number of calls identified as spam. You can step up your game against robocalls with Verizon's Call Filter app. Its basic version offers spam detection and filtering functionalities and is available to Verizon customers for free. The upgraded version Call Filter Plus comes at $2.99 a month and is packed with additional caller ID capabilities, a personal block list, and a spam risk meter.
Get a Robocall-Blocking App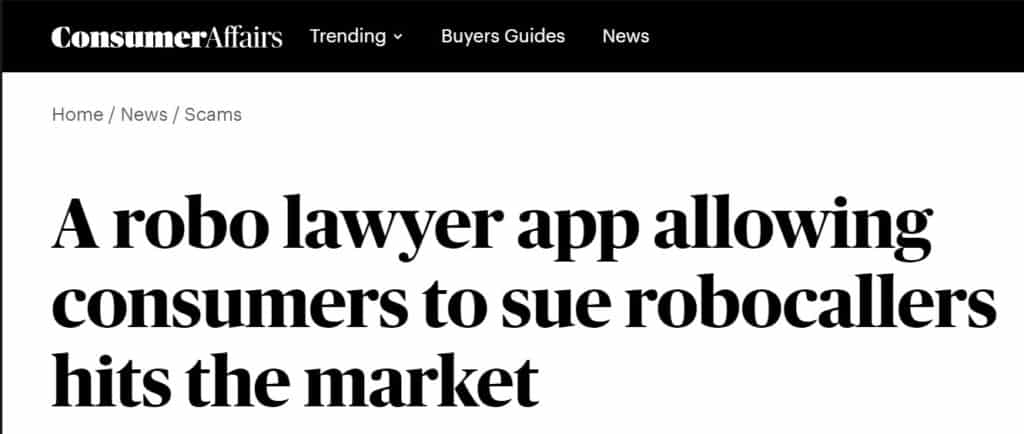 Don't forget that you can bolster your security further by downloading and installing an app designed to block robocalls, as well as spam texts and voicemails.
Robocall-Blocking app

Pricing

Benefits

Free for basic service
$2.99/month for Truecaller Premium
$14.99/year for Truecaller Premium

Identifies unknown numbers and auto-blocks telemarketers and spam calls
Allows you to record phone calls

$1.99/month
Free for VoIP landlines

Provides high accuracy of call filtering and spam detection
Allows you to block spam texts
Enables you to report illegal robocalls

Free for basic service
$2.99/month for Hiya Premium
$14.99/year for Hiya Premium

Offers great quality of spam detection
Blocks selected calls and identifies the ID of the caller
Take Revenge and Earn Money on Robocalls with DoNotPay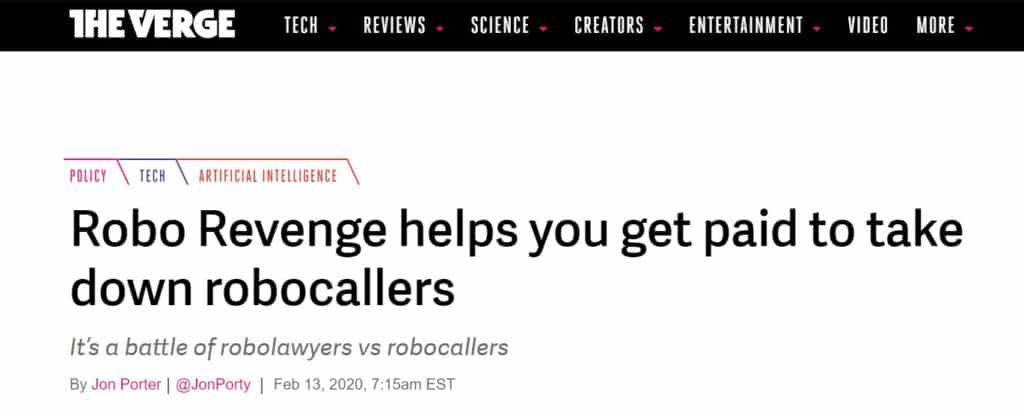 The best way to stop the people behind scam robocalls is:
By holding them accountable
By making sure they pay for violating the law
The good news is that you can now take part in both steps and even earn some money along the way. That sounds like a healthy and productive kind of revenge, doesn't it?
DoNotPay has come up with a revolutionary new feature that's known as the Robo Revenge. At the crux of it, you'll be able to find out the identity of the people behind the scam attempt and use their personal information to request legal compensation. The Telephone Consumer Protection Act and the Telemarketing Sales Rule specify that these types of phone calls are illicit, and those responsible for them can be held accountable in court. Since the court is something these people prefer to avoid if they can help it, you might be offered a settlement. Depending on your state's registration and other circumstances, it could go up to $3,000. Wouldn't that take the sting out of it?
Please note that at the moment, this only applies to scammers that run their operations from the U.S. Our federal laws are unable to prosecute perpetrators that operate outside of the American jurisdiction.
Catch Scammers Red-handed With Our DoNotPay
Next time you get a robocall that turns out to be a scam attempt, make sure your DoNotPay app is handy. With the help of DoNotPay, you can find out who's behind the illicit call and have a solid chance of getting compensation for your trouble.
Here is how it works:
Pick up the phone and wait to be asked for your credit card details
Open the DoNotPay website in your
Select the Robo Revenge option
Proceed to the Create Your Card option; this will generate a pseudo card number linked to a virtual credit card with no funds
Provide this fake credit card number during the robocall
At some point the scammers will try to make a transaction using the information you provided—this is the key moment that will provide us with their name and location
Once the perpetrators' personal information becomes available, enter their details on DoNotPay to file a claim against them
As the last step, we will send a compensation request to the spammers on your behalf
Allow DoNotPay to help with other things, too
Taking revenge on illicit robocalls is by no means the only thing our app can do for you. Get DoNotPay if you need assistance with any of the following:
Accessing all the benefits associated with DoNotPay is easy. Download our app on any .