How to Get Help Paying Bills Quickly
Did you know that, according to Business Wire, 46% of Americans pay their bills late? Be it because of limited resources or current financial hardship, people all around the country are struggling to pay their bills in general, let alone pay them in due time. If you are among these people, you probably have quite a few questions whirling around in your head, such as Is it possible to pay bills on time and save money? What is the best payment method? How to deal with massive bills?
We are here to answer these questions and offer some useful pieces of advice. For a start, you should know that you can use our app if you're struggling with bills, and here's how.
Let DoNotPay help you deal with paying bills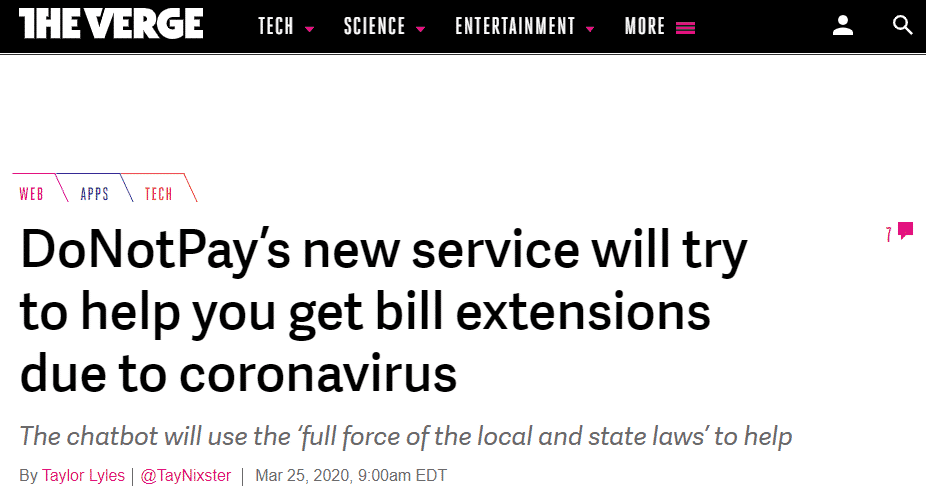 All you need to do is the following:
Log in to your account via a

Leave your name, surname, address, and other required personal information

Tell us which bills you have problems with

Provide a short explanation as to why you're looking for help
The rest of the job is on us. We just need you to relax and wait for our confirmation. Whatever you need to be done, with DoNotPay, you can expect the entire process to be completed within 48 hours.
How to pay bills on time and save money
Paying bills on time is important for several reasons. Not only does due payment allow you to keep your financial life under control, but it can also help you save some money. It can boost your credit score, too. Now the question is, how to achieve all this? If you don't know how to manage your bills, here are some tips that can help you in this endeavor:
Open your bills as soon as you get them—procrastination can only make things worse

Keep all new bills together, so you don't lose any of them

If you receive paper bills, file them, or create a folder if you receive electronic bills

Take a separate calendar where you can mark due payment dates. If you find it more convenient, you can install a payment app to remind you, instead

Consider automating your payments
Choose the most convenient payment method
When you manage to organize your budget in such a way to make due payment possible, the next question to answer is how you're going to pay your bills. There are several different payment methods that you can choose from. Each of them comes with various advantages and disadvantages, so make sure you weigh the pros and cons carefully according to your particular situation. Here are your options:
Online payment

Automatic or direct debit

Checks

Money order

Cash

Credit card
Online payment
Online payment is an easy way of paying bills, so it has become quite popular. According to ACI Worldwide, Americans pay more than half of their bills online. The fastest method for paying bills online is to provide your bank with the required information about your service provider and leave it to the bank to make the payments. You get to set the schedule you find most convenient and the amount that needs to be paid. For this reason, this method is best when the amount stays the same every month, such as for your cable and Internet bill.
Automatic or direct debit
One of the biggest advantages of automatic paying is convenience. All you need to do is schedule your payments to be debited from your account every month on the due date. When payments are automated, you get to pay the bills on time consistently, which saves you from late fees and helps keep your credit score healthy.
If you go for this method, make sure you review your payments from time to time. There may be some subscriptions and memberships that you no longer use, but you forgot to cancel them, and auto-pay allows the providers to keep charging you.
Checks
If you don't trust the online and automatic payment systems, it might be a good idea to use checks. This form of payment is excellent if you like keeping a paper trail, which is great to have in case there's a kind of misunderstanding, or it comes to a dispute. Another good side is that your funds are kept safe in the checking account until the check is deposited.
Before you actually write out the check, you need to make sure that you have enough money in your account. Otherwise, the bank may charge you a fee. When you mail the check, you need to include and plan the postage costs, too.
Money order
Money orders are most commonly used instead of checks. The main advantage of using a money order is that it is easy to understand. There are quite a few drawbacks, though. Unlike the previous methods, this one is inconvenient in most cases. For a start, you have to buy a money order every time you want to make a payment. The even greater problem is that you are highly unlikely to recover your money in case the funds are lost in the process. You also need to have a money order receipt if you want to keep proof of your payment.
Cash
When it comes to paying in cash, the good thing is that you don't have to worry about any additional fees. On the contrary—you may even get a discount when you pay your bill in cash. Another benefit is that you get to avoid the risk of overdrawing.
In some cases, you should be prepared to be turned down when you offer cash, though. With the rising popularity of cashless payment, many companies no longer accept cash. This method can also be inconvenient and time-consuming, as you have to go to the company or service provider in question to make the payment in person.
Credit card
Paying bills by credit card is another convenient method. If you don't have enough cash or they don't accept checks, you can just swipe your credit card. It's essential that you think about the negative sides, too. Using your credit card too frequently can harm your credit score. The same can happen if you use it to pay accumulated bills. Unless it's an emergency or you do it from time to time, relying on a credit card is not the happiest solution.
Always check for potential errors before paying your bills
Mistakes happen quite often. When you get that exorbitant bill, make sure you check for errors before you start panicking. It might happen that it's not even your bill to start with. Here are some of the most common errors on monthly bills that you should be on the lookout for:
Monthly bills

Common errors

Utilities

Incorrect meter reading

Wrong utility rate

Wrong classification (residential, industrial, or commercial)

Gaps in or overlap of billing dates

Phone and cable and Internet

Wrong package

Incorrect billing charges

Cramming charges

Incorrect roaming data usage

Medical

Charges covered by your health insurance

Incorrect surgery duration

Duplicate items

Incorrect diagnosis
How to deal with bills that drain your budget
In case you are among those people who struggle to cover all monthly expenses, it might be a good idea to start looking for a way to negotiate and lower your bills. Depending on what kind of a problem you have (unemployment, limited resources, temporary financial hardship, etc.), you can choose from various negotiation options. Different service providers have different offers, so the safest way to go about it is to contact the provider in question and ask for more details. Here are some crucial questions to answer:
Do you qualify for a special payment plan?

Do you qualify for a discount?

Do you qualify for a financial assistance program?
Do you qualify for a special payment plan?
If the total amount of your bill is too high for you to pay at once, you should talk to your service provider about that. They may be able to offer a special payment plan that will allow you to pay in monthly installments. There is no single plan that will suit everyone's needs, so you need to explain your situation and ask for the most suitable solution.
Do you qualify for a discount?
They may never mention this themselves, but many service providers have a wide array of discount schemes that you could use. The trick is that they wait for the customers to ask, which is why many continue to pay massive bills, not being aware of their options. If you belong to any of the following groups, do not hesitate to check if you qualify for a discount:
People with disabilities

Single mothers

Low-income families

The unemployed

Military service members
You should also remember that many offer a discount for paying the full amount at once. Some may also have a special discount based on the number of family members.
Do you qualify for a financial assistance program?
If you don't manage to lower your bills enough to be able to pay them yourself, you should look for financial assistance. There are numerous non-profit organizations and charities offering a variety of financial aid programs for those in need. Some of the best options to consider include these:
| | |
| --- | --- |
| Organizations | What kind of help you can get |
| | Whether you're struggling with your utility bills, rent, food costs, or need help with other basic needs, you can turn to Catholic Charities for help. To get financial assistance for paying bills, applicants need to meet eligibility requirements, one of which is proof of low income. |
| | The Salvation Army also offers financial assistance with bills, food, and shelter. Those going through an unexpected crisis can apply for help regardless of their income, religious affiliation, or background. They also offer seasonal emergency programs, such as assistance with paying bills during winter. |
| | As the name itself suggests, this program is designed for those who need help with paying energy bills. People from low-income families are their top priority, especially those going through a financial crisis. To apply for the program, you don't have to have an unpaid utility bill—you need proof of low or limited income. |
Consider asking for a bill extension

An excellent option to keep in mind is asking for an extension. Since many people find it difficult to manage their bills, more and more service providers offer bill extensions. You just need to provide them with a valid reason why you want to postpone the payment due date. If you've never done this, here are your options:
Ask for an extension in person

Call customer support and request an extension via phone

Send an extension letter
Should you decide to write a letter, DoNotPay is here to give you a hand. Our app can generate an extension letter and send it on your behalf. You don't have to go through any trouble trying to figure out how to compose it yourself. What we do need you to do is to explain what kind of a problem you have, as your service provider will want to know on what grounds you're asking for an extension. You should also tell us your full name, email, and address, as well as your provider's address. When we have all these pieces of information necessary to include in the letter, all the rest is up to us.
Check if you can get a waiver on late fees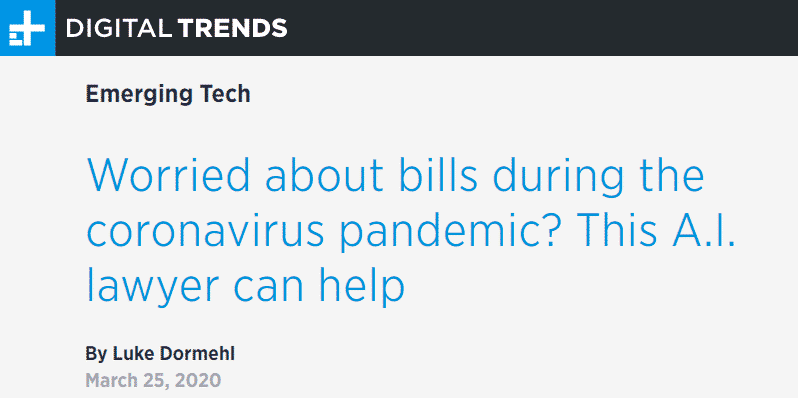 Another situation in which DoNotPay can be of help is when asking for all late fees to be waived. Getting a waiver on late fees can help you more than you may think at first, so you should talk to your service provider about this option. Here's how you can do that:
Hire an expert

Go there to talk to them in person

Get in touch with customer service representatives

Send a letter
If you're thinking about hiring a lawyer or a financial advisor, you should remember that their services can be quite expensive. If you rely on DoNotPay, you don't have to spend a single penny. We will only take a few minutes of your time to get all the necessary information. When you leave your personal information and provide a short explanation of your issue, we will take care of the rest of the job. We will let you know as soon as the entire process is completed.
Should you apply for a loan to pay accumulated bills?
When you have too many bills piling up and your budget is insufficient to settle the debt, you may be tempted to apply for a loan to deal with it. Getting rid of your debt at once sounds like a good idea, which is what a loan will allow you to do. However, it will get you into even greater trouble, too. Paying off a loan is, more often than not, much more difficult than paying accumulated bills. When you add interest rates to the equation, this is also the most expensive solution in the long run. After all, you'll still be in debt, right? Make sure you try everything else before you go down this road.
Know the consequences of not paying bills
In case you fail to pay your bills, you shouldn't expect that your service provider will wait with their arms crossed for you to settle the debt. They will take action to make you pay what you owe. Most commonly, it all starts by sending you a notice. If you still don't pay the accumulated bills, the next thing they may do is disconnect you.
When even this doesn't work, many providers will turn to a collection agency for help. Debt collectors can take you to court if you neglect your debt for too long, so do what you can not to let this happen. Here are some things to keep in mind if you find yourself in this situation:
Learn more about the actions a collection agency can take

Keep a paper trail to be on the safe side

Make a counteroffer—ask to pay a part of your debt
What else can DoNotPay do for you?
You can use our app for so much more, from fighting your traffic tickets to canceling subscriptions. Next time you find yourself in a potentially problematic situation, make sure you turn to your trusted robot lawyer for help. Here's what else DoNotPay can do for you:
Dispute unfair traffic tickets

Fight speeding tickets