The Most Efficient Way to Get Robocall Revenge
With the seemingly never-ending rise in robocalls and robocall scams, people are getting more and more infuriated. Everyone is looking for a way to stop these unwanted calls and get revenge on the scammers that have managed to wrong them. Unfortunately, this has become a common phenomenon. In 2018, there were as many as 27 billion robocalls reported as scams, according to PR Newswire.
If you've been a victim of robocall scams, you know how unpleasant and stressful this experience can be. The good news is that you can get the justice you deserve—there are ways to get revenge on robocalls. You can also take action to stop unwanted calls if they continue to bother you. We are here to tell you more about all this, but for a start, let's explain what robocalls are.
First Things First—Know What Robocalls Are

As the name itself suggests, robocalls are automated calls made to deliver a message. People behind robocalls pre-record this message, and they use a computer program to initiate the calls. This allows them to contact a large number of people in a short time.
Some of the most common uses of robocalls include the following:
Public-service announcements
Appointment reminders
Telemarketing
Political campaigns
Robocalling can be useful, but this technology is becoming increasingly abused. Many companies trying to sell something use robocalls, which can be rather annoying, especially when it happens too frequently. It's even worse when scammers trying to fool you and take your money or personal information for identity theft reach you.
How Does Robocalling Work?
Your phone rings, you pick it up, and you hear an automated message on the other end—if you are like most people, this is roughly all you know about robocalls. But what do robocallers do to make this possible?
The first thing that those behind robocalls have to do is record the message that they want people to receive. But that message is of no use if they don't have a list of phone numbers to call. That's why the even more important step is to buy as many phone numbers as possible. If they can't find a legitimate broker to purchase the numbers from, scammers usually buy them from a shady operator.
When they obtain the numbers, it's time to dial them, and the fastest way to do this by using robocalling software that can make at least a million calls in only one hour. That's when your phone rings.
Can You Rely on a Robocall Revenge App?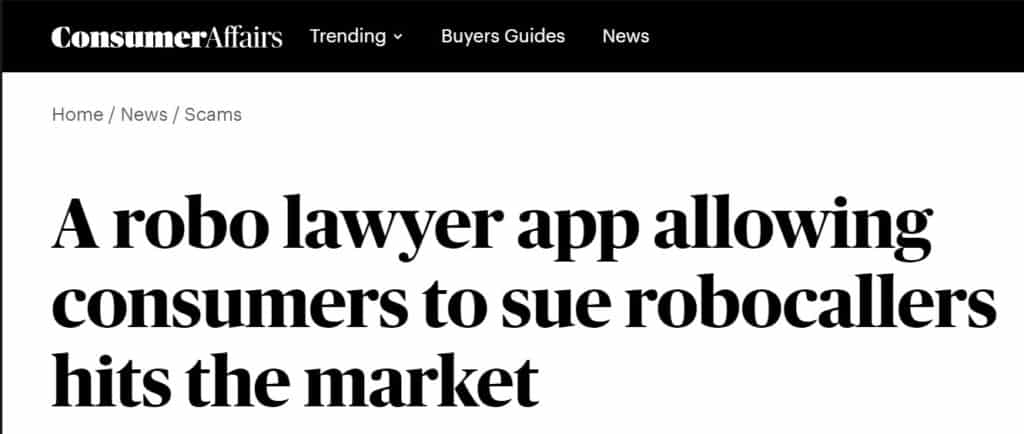 Absolutely! Just like you can use DoNotPay to appeal parking tickets in any city all around the country, you can also use it to get revenge if robocall scammers trick you. Just because you were naive enough to fall for whatever they told you to fool you doesn't mean that it's your fault. The least we can do for you is to help you track those fraudsters and get revenge.
Tracking scammers behind robocalls is usually considered rather challenging. Most of the fraudsters spoof a different number for every dial, so people tend to believe that it's impossible to reveal who hides behind these calls. Well, at least that's what people who've never used DoNotPay think. Luckily, you have our app at your disposal, so let's learn how it can help you track those who've wronged you and get justice for what they put you through.
How to Get Back At Robocalls With the Help of DoNotPay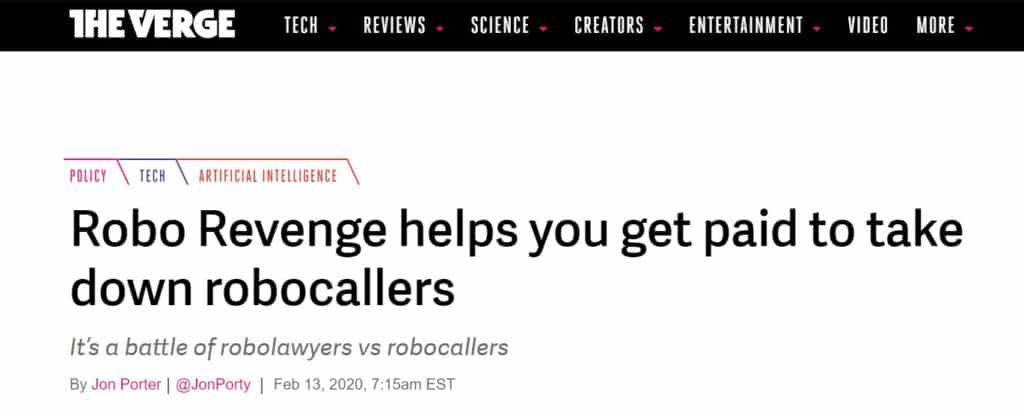 Dealing with robocalls can be rather frustrating. If a scammer is behind it, things become even more stressful. Luckily, you are not alone in this fight—DoNotPay is here to help you get the justice you deserve.
Our Robo Revenge option can help you track robocall scammers and make them pay for what they did to you. The process behind this mechanism is not complicated at all as you can do everything in just a few simple steps, and we will take care of all the hard work. Here is what we need you to do:
Log in to your account on DoNotPay account via the web
Open our app and go to Robo Revenge section
Register your phone number on the Do Not Call list
Give the robocall scammer the virtual credit card number instead of the real one
Here's How DoNotPay's Robo Revenge Works

With DoNotPay by your side, you don't have to worry about a robocall lawsuit—we're here to help you with that. When you use Robo Revenge, the entire process of getting justice is rather straightforward. These are some crucial points that you should be familiar with to fully understand how this solution works to make sure you get the justice you deserve:
We don't link the free virtual credit card to your real credit card, which means your actual credit card information remains well hidden, making it impossible for the scammers to misuse it
Providing the scammers with any credit card number will lead them to try to take the money off the account, which helps DoNotPay access your scammer's information and reveal who they really are
We will forward everything we find out to you so you can use the information to file a claim against the fraudsters that wronged you
If you find it more convenient, you can use DoNotPay to send a demand letter for compensation
Know When It's Time for Suing Robocalls
If it turns out that scammers trying to steal your money or identity are behind those never-ending robocalls disturbing you every day, it's time to report them. You shouldn't wait for them to wrong you before you act on it, but even if it comes to this, our app is always here to save the day by helping you get revenge on those nasty robocalls.
The very first thing you should do when fighting robocalls is to register your phone number on the National Do Not Call List. In theory, when you do this, robocalls cannot reach you. However, that's not always the case—scammers can find a way to get around rules and continue to disturb you even afterward.
Should this happen, you should first check if the number is on the Do Not Call list, to be sure that there is no mistake on your end. Here's how to do this:
Dial 1-888-382-1222
Dial 1-866-290-4236 to call via TeleTypewriter
You should know that there's no such thing as Do Not Call list expiration, so your number will remain there as long as you don't require otherwise. There are some Do Not Call list exceptions, though, so make sure you check these. If you did everything right but the scammers are still disturbing you, the next step is to report them to the Federal Trade Commission.
In case they managed to wrong you and steal either your money or your sensitive information, there's no reason why you shouldn't sue them! DoNotPay will be more than glad to help you sue robocall scammers for up to $3,000.
How to Tell When a Robocall Is Illegal
If you've only encountered robocall scams, which are, of course, illegal, you might be tempted to think that robocalling is illegal by default. However, that's not true—some robocalls are legal and can't even be blocked, such as those coming from charitable organizations asking for donations. Others can be blocked, but you allowed them to contact you when you gave your written consent to the company in question.
How to differentiate between the two categories, you wonder? Here are the crucial things to keep in mind:
| | |
| --- | --- |
| Legal Robocalls | Illegal Robocalls |
| Robocalls made as part of a political campaign | When you receive a robocall asking you to reveal your credit card information, it is highly likely that this is a scam, so be extra careful |
| When you give a company your written consent allowing them to contact you via robocalls, they have every right to do so | Robocalls trying to sell you something, especially those coming from an unknown company are illegal |
| If a service provider asks for your phone number, and you give it willingly, they are allowed to make robocalls about anything regarding your subscription | Robocalls asking for your sensitive information are always suspicious, so don't reveal any of your data easily if you want to avoid identity theft |
| If a robocall is made to deliver purely informational messages, it's legal, and it is of interest to you, too | When you answer a robocall informing you that you've won a big prize, hang up the phone, as this is always a scam |
| Robocalls made to ask you to participate in a government-approved study are legal | Robocall scammers may manipulate the numbers to look like they're coming from a reputable institution, so be careful |
| If you are struggling with paying bills and you have an unpaid debt, debt collection agencies are allowed to contact you via robocalls, and it is highly recommendable to take these calls | Some scammers only pretend to be debt collectors to steal your money. A clear sign that it is a scam is if they give you a bank account to transfer your money to instead of paying it straight to your utility company's account. They will offer to lower your bills if you do so but don't fall into the trap |
What to Do to Stop Robocalls

Even though some methods of stopping robocalls might be less effective than others, what's important is that there are ways to fight them. Depending on whether you have a problem with robocalls disturbing you on your landline or your cell phone, things to do to block unwanted calls might slightly differ.
How to Block Robocalls on Your Landline
If robocalls are harassing you on your landline, you can get in touch with your carrier and ask them to block unwanted calls. Another common solution is to buy a call-blocking device and attach it to your landline phone. Should you go with the latter, you get to decide how you want your device to deal with robocalls. Some of the options include the following:
Stop all unwanted calls instantly
Transfer robocalls to voicemail
The light can be set to blink when you receive a suspicious call
Create a list of approved numbers and set the device to allow only those
How to Stop Robocalls on Your Cell
When robocalls are disturbing you on your cell phone, you can also contact your carrier to ask about their services for blocking robocalls. The more common option, though, is to install a call-blocking app to fight robocalls for you. If you choose this solution, you can:
Block all unwanted calls instantly
Transfer all suspicious calls to voicemail
Set your phone to silent mode when you receive an unsolicited call
Make a list of unwanted numbers based on the geographic area
Set the app to send pre-written text messages to the caller trying to reach you
How to Protect Yourself From Robocalls
When you stop robocalls, you are satisfied, but you also want to make sure you don't have to go through that trouble ever again, right? The good news is that you can do something to put an end to robocalls in the future. They may still find a way to reach you, but at least you will minimize the risk, and you will know you didn't wait with your arms crossed.
Here are some of the most effective things to do to prevent robocalls from disturbing you again:
As the FCC guide to robocalls suggests, list your number on the National Do Not Call Registry
Don't reveal your phone number, let alone your personal information, unless you know for sure that a reputable caller is on the other end
Never expose your payment information to a suspicious or unknown caller, as this can lead to rather severe credit card issues
Don't believe them when they say you've won a prize, be it money, and exclusive trip, or something else
Consider changing your phone number with an unlisted one, so scammers cannot get it
If none of these steps works and scammers still manage to contact you, it's time to fight back against robocalls and report them.
The Most Common Robocall Scams
One of the crucial things to do to protect yourself from robocall scams is to learn more about them. When you know in what forms robocall scams usually appear, you will find it easier to recognize one and avoid falling into its trap.
Take a look at some of the most common scams that you should be on alert for:
| | |
| --- | --- |
| Common Robocall Scams | What to Know About Them |
| Investment fraud | One of the most common types of scams relies on the high likelihood to believe anything that comes after the word "guaranteed." That's why some fraudsters may call you to promise a guaranteed gain if you invest a certain amount of money in something. If you hear anything like this, don't let yourself be manipulated—there's no gain, let alone a guaranteed one; it's only a trick to steal your money. |
| Prize scams | It's highly likely that you've experienced a prize scam at some point in your life. If you've answered a call only to hear an automated voice telling you that you've won a big prize, that's it—a typical robocall scam. Fraudsters rely on human nature, and it is in our nature to believe things we would like to happen, like winning an enormous amount of money out of nowhere. If you hear anything similar, remember that this is always just a trap. |
| Fake robocalls from banks | Another potential scenario is that a scammer calls you and impersonates a bank official. They know that people are afraid of their credit card info being stolen, and they will do anything to solve this problem if it arises. That's the card the scammers play—they call you and tell you that your credit card information has been stolen. Another scenario is that there has been unusual activity on your bank account. You hear these claims and the name of your bank; they ask for your credit card info; you give it to them without much questioning. And that's when you're in trouble. |
Is There Anything Else DoNotPay Has to Offer?
In addition to helping you get revenge on robocalls, DoNotPay can help you get justice in many other problematic situations. Be it a problem with an unfair parking ticket or massive bills, we've got you covered. Here are some other matters that our web app can help you with:
Disputing your traffic tickets
Fighting unfair speeding tickets