What App to Use to Get Sweet Revenge on a Robocall?
According to PolitiFact, Americans received more than 30 billion robocalls in 2019. The development of technology has made it easier for companies and individuals to make automated calls to deliver their messages. While this may be good news for robocallers, people who are on the other end of the line are not that thrilled about getting unsolicited calls all day long.
This unpleasant situation quickly turns into a real problem when you start dealing with robocall scammers. When fraudsters make these calls, they only have one goal in mind—to steal your money, your identity, or wrong you in some other way. What's good to know is that there are ways to get revenge and fight back against robocalls, and we are here to tell you how.
What Robocalls Can Be Blocked?

In theory, almost all robocalls can be blocked. Some exceptions include political campaign robocalls and those made by charitable organizations asking for a donation. In practice, though, legal robocalls can be stopped much easier than illegal ones. More often than not, scammers find a way to get around rules, so whatever robocall blocker you may use, don't be surprised if they manage to call you anyway.
That's why you should do what it takes to get revenge on these fraudsters. Before we tell you more about how you can do this, let's take a look at some of the most common examples of legal and illegal robocalls.
The Most Common Examples of Legal and Illegal Robocalls
In most cases, people have a problem with illegal automated calls. Legitimate robocallers can be annoying, but they can't do you harm, while robocall scams can get you into trouble. That's why it is crucial to explore the differences between legal and illegal robocalls and learn how to identify each. We suggest that you take a look at the following examples:
Legal Robocalls

Illegal Robocalls

Robocalls made as part of a political campaign are always legal.

If you receive a robocall that tells you that you've won some kind of a prize, whether it's money or a trip, you shouldn't believe any of that—it's a scam.

When you sign up for a service, your chosen service provider will probably ask you for your phone number. If you give this piece of information willingly, they can make robocalls about anything related to your subscription.

When a robocall asks you for personal information, you shouldn't reveal any, as this is most likely a scammer looking to steal your sensitive data and commit identity theft.

Pharmacies are allowed to make robocalls to remind you to refill your prescription.

When you hear an automated message telling you that they have a special offer and want to sell you a product or service, keep in mind that this is an illegal robocall.

If someone who carries out a government-approved study contacts you via robocalls to ask if you want to participate in the study, that's legal.

There are many scammers who spoof numbers to make the call look like it's coming from a reputable institution, so be careful not to fall into their trap.

In case you are struggling with paying bills, you shouldn't be surprised if a debt collection agency makes a robocall to ask you about your debt progress.

If a robocall offers to

lower your bills

out of nowhere, you should be suspicious about their intentions. These are usually scammers who ask you to transfer the money into a given bank account only to steal it from you.

When a charitable organization makes a robocall to ask as many people as possible for a donation, that's legal.

Robocallers might ask you to expose your credit card number or other financial information. Don't do it! These are fraudsters who only want to steal your money.
Can You Use an
App to Intercept Robocalls
?

Robocalls can be a real nuisance, but the good news is that you can use apps to intercept them. If you have a problem with unsolicited calls, here are some of the most frequently used apps that you should consider:
Most call-blocking apps work on the same principle—they use software that can recognize suspicious numbers by checking how many times they were used in a day. That way, they can identify potential robocallers.
These apps also give you the option to list the number that you want to be blocked in the future, so you can't receive further calls from that number. To be sure that you are protected from all unwanted calls, you need to update your list regularly. Fraudsters usually change the number every time they call you, which is why call-blocking apps are usually not one hundred percent effective in stopping robocalls.
Another problem with these apps is that most of them only allow you to block a certain number of unwanted calls. They offer you a limited list of blocked numbers, so at some point, you will run out of place for all those unsolicited calls.
Finally, most apps can only help you with blocking robocalls, but they can't reveal who the scammer behind these annoying calls is. In other words, you can't get revenge because you don't know who wronged you. But there's no need to panic—if you want to take vengeance against robocalls, you can do it in two ways:
Not everything is lost when you have DoNotPay's Robo Revenge at your disposal—our app helps you track down robocallers and make them pay for what they did to you

Use

RoboKiller

—what singles out RoboKiller is that you get to give the robocallers a taste of their own medicine. Let's see what this app can do for you.
How Does RoboKiller Help You?
RoboKiller can help you block spam calls, so if you can't stand frequent telemarketing robocalls, this app may save you. It stops all spammers by putting them on the blacklist without bothering you. The app will also update the blacklist regularly. This is done automatically, so you, as a user, don't have to worry about it.
You can also use the option to add unwanted numbers to a Block List yourself. You can separate unsolicited numbers from your regular contacts, which can be saved in the Allow List.
Another convenient feature is Pause Blocking. In case you're expecting a call from an unknown number, and you don't want RoboKiller to block it automatically, you can disable this option temporarily.
Use an
Answer Bot for Robocalls
on RoboKiller
One of the best features of RoboKiller is its Answer Bot. Instead of dealing with robocallers yourself, you can use this option and let the app waste your scammers' time.
RoboKiller's Answer Bots can lead the robocaller to hilarious recordings, so they think they are actually talking to a real person. This will waste the fraudsters' time, which, in turn, helps cut their revenue. For instance, a recording may offer them a free cruise or ask them, "Are you calling from the Gulag?" in a bad Russian accent.
RoboKiller will record the conversation with your scammer, so you can have a good laugh when you listen to it later on.
How to Get
Sweet Revenge on Robocalls
with DoNotPay—Sue the Scammers for up to $3,000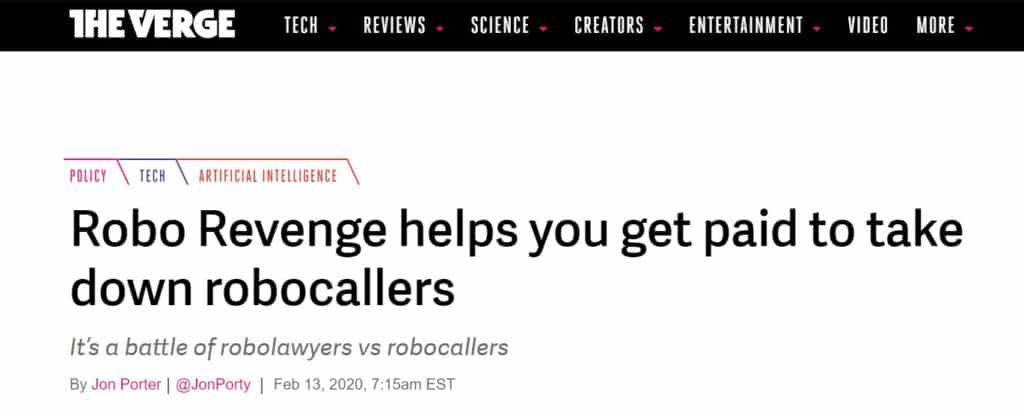 Even though you may feel some satisfaction with RoboKiller's Answer Bot, you still can't do anything to track those annoying robocallers down and make them pay for what they did. That's why DoNotPay is a safer way to go—our app can help you get robocall revenge.
We understand that you want to get the justice you deserve, and you want to get it as soon as possible. That's why our Robo Revenge solution works on a simple principle. Here's all you need to do to complete the entire process successfully:
Use your

to open DoNotPay and log in to your account

Go to

Robo Revenge

Put your phone number on the

Do Not Call list

Request

a virtual credit card

When a robocaller asks you to provide your credit card number, give the virtual card info

When the scammers try to take your money, we will gather all the necessary information so you can file a complaint against them

DoNotPay can also generate a demand letter for compensation and send it on your behalf
All You Need to Know About Robo Revenge

As you can see, there's no need to put in much effort into activating Robo Revenge. This solution is quite efficient, so you won't have to wait for too long to see the results. Here's all you need to know to understand how Robo Revenge works:
The

free virtual credit card

that we provide our customers with is never linked with their real credit cards. So, you can be sure that your actual card details will remain completely safe

The virtual card number may be a random string of numbers generated by DoNotPay, but it looks to the robocaller just like a real card number. That's what will lead the scammers to think that they can steal your money

When the fraudsters try to take your funds, we will get a chance to access their own information and reveal their real identity, as well as their location

You will then have enough details to file a complaint against these scammers and make them pay for all the damage that they caused
Can You Use a
Robocall Revenge App for Free
?
If you're thinking about using a robocall blocker such as RoboKiller, you should expect to pay a fee. When it comes to this app, in particular, you can download it for free. However, once you do that, you'll be required to subscribe and pay a monthly fee of about $3 or $4, while the annual fee costs $25 or $30, depending on your device (it is more affordable for Android than for iOS).
If you're not sure whether you're ready to subscribe, you can also sign up for a free trial period of seven days. As soon as the free trial expires, your subscription will renew automatically, so you will be charged a regular monthly fee.
We know how stressful it can be to be billed for a service even though you didn't want to subscribe, but you just forgot to cancel it. To avoid this scenario, DoNotPay has designed virtual credit cards that protect you from being charged a single penny even when you don't cancel your subscription.
When Is the Right Time to File a Robocall Lawsuit?
As soon as robocallers start calling you too frequently and you begin to feel like they're invading your privacy, it's time to file a robocall lawsuit. You can report them to the Federal Trade Commission on time to avoid being damaged before you take action.
Don't forget that DoNotPay is always here for you to help you sue companies or individuals in small claims court. We know that this process can be too complicated for you, so we offer to prepare all the required paperwork for you.
Most Common Forms of Robocall Scams
If you want to protect yourself from robocall scams, you need to be able to identify them first, right? That's why we suggest that you learn a bit more about the most common robocall scams:
| | |
| --- | --- |
| Common Robocall Scams | Explanation |
| Fake bank representatives | Many scammers try to fool people by impersonating a representative from their bank. If you answer this type of robocall, you can expect the fraudsters to tell you that there has been some unusual activity on your account. They might also tell you that your credit card information has been stolen. When people hear something like this, they tend to do whatever it takes to fix the problem as soon as possible. They are confused, so they may not think clearly. At least this is what the scammers count on, so they can steal precious credit card info and, ultimately, the money. |
| Guaranteed investments | Some scammers contact potential victims and ask them to invest some money in their venture with the possibility of excellent returns. To make the entire story more believable, these scammers often present real-looking documents, with seals and logos that make the documents look official. |
| Prize scams | Robocallers often offer extravagant prizes out of nowhere. Be it a great sum of money, a trip to an exotic destination, or something else, you shouldn't fall into these traps. Robocallers behind these scams are only looking for a way to steal your money or your personal information, so you shouldn't reveal any details that they ask for. |
Be on Alert for Neighbor Spoofing
When your caller ID shows a familiar number or one almost identical to yours, you should know that this is most commonly a threat. Most fraudsters spoof the numbers to make the call look like it's coming from your local area. Since you're more likely to pick up the phone if the number looks familiar, even scammers who are not in the U.S. can manipulate numbers, so you think someone from your neighborhood is calling.
The best thing you can do to stay clear of these scammers is not to pick up the phone if you don't recognize the number on your caller ID. If you think it may be someone who really knows you, let them leave a message or call you again.
What to Do to Prevent Robocalls in the Future?
You can take some precautionary measures to try to prevent robocalls from disturbing you. Here are a few suggestions to consider:
Before you get the next robocall, make sure you register your phone number on the National Do Not Call List

Don't leave your phone number just anywhere or give it to anyone who asks for it

Buy an unlisted phone number that scammers won't be able to find that easily
What Else Can DoNotPay Do for You?

Robocalls, both legal or illegal, can become a real nuisance, so we want to do whatever we can to help you beat them. We will also be more than glad to help you with other issues, such as unfair parking tickets, charges after a free trial period, and many more. All you need to do is open DoNotPay in the . Here are some other things we can help you with:
Disputing traffic tickets

Fighting your speeding tickets