How to Stop Credit Card Services Robocalls Once and For All
Robocalls are becoming a severe issue in the modern world. Scam calls you receive daily are an invasion on your privacy, and lots of people are worried about the security of their personal and financial information.
Receiving a phone call that promises the reduction of interest rates on your credit card might sound optimistic and reassuring. Still, you should take it with a grain of salt, as you have probably answered a robocall scam.
There is a national initiative to fight back against robocalls, and the Federal Trade Commission (FTC) is at the forefront of this battle. 
What Is a Robocall?
A call is defined as a robocall if the company uses an autodialer to reach their potential customers. These pre-recorded messages are easy to recognize—if you don't hear a live person at the other end, you have just received a robocall. It is the most common method employed by telemarketers. 
Companies that use robocalls for marketing-related purposes need to meet lots of requirements to get legal permission for these calls. Usually, the company needs to receive your written consent in which you allow them to auto-dial you. Still, most of them choose to break the law.
How Do Robocall Scammers Work?

Scammers will try their best to present themselves as a reputable company and gain your trust. They will pretend to represent a bank or a legitimate telemarketer and will try to cheat you out of your money. Although lots of people are able to recognize robocalls, three to five percent of targets still answer the phone and press a key for more info. People can lose lots of money this way, sometimes even their life savings. Here's how they work:
Buying phone numbers of their targets.

If you thought that acquiring phone numbers is difficult—you couldn't be more wrong. Today, scammers can easily find a way to purchase phone numbers to contact. Lots of legitimate companies sell lead lists to telemarketers, and fraudsters will do their best to get hold of them

Preparing the message.

Scammers need to record a message that needs to be compelling enough to get you interested. Later, the pre-recorded message will be sent to thousands of phone numbers

Setting up an autodialer software.

Advances in technology have enabled robocallers to dial up to million numbers in one hour.

According to the reports, around

85 billion robocalls were made in 2018

, so you can understand how annoying they can be! 
How to Differentiate Legal Calls From Scams?
Not all calls you receive are illegal. You can get a call from agencies or similar institutions that want to provide you with valid information. 
Some of them are:
Government agencies

Debt collectors

The organizations you gave permission to inform you of updates (schools, pharmacies) 
You should answer these calls as they could be of great interest to you, especially if used for the right purposes, such as public service announcements or appointment reminders. These calls can also be a part of political campaigns. 
Legal robocallers must identify themselves, and they need to have written consent from you in order to contact you. Their calls can't be made legally before 8 a.m. or after 9 p.m. In case your number is in the National Do Not Call Registry, most robocallers can't dial it.
Fraudsters will usually ask you shady questions. Here are some of the most typical scam robocalls:
Promising prizes, gifts, or holidays

Asking for a credit card or some other personal information

Persuading you into buying a certain product 
What Does a Pre-recorded Message From Credit Card Robocalls Sound Like?
The pre-recorded message you receive usually consists of several parts:
Introduction.

The first thing you are about to hear upon answering the robocall is a male or female person presenting themselves. Like everything else about this call, you can assume that the name is also fake

Occupation.

In this message, you will hear that this person works in card services or your bank's fraud department. This is how they earn your trust and make you think you are speaking to the bank representative

Reason for calling.

You will receive an offer, such as lowering the interest rate on your account. In some cases, they will try to convince you there have been unusual transactions on your card lately. The main goal is to get you to call them back

Redirecting.

Lastly, the message will instruct you to click on the number and get in touch with a live person (operator) who can solve your problem. If you press the number, you are halfway to becoming a robocall victim. 
What Happens if You Call the Operator?
Once you make a call, you will hear an operator on the other end. They will also present themselves, assuring you they are an employee in your bank. If you ask them which one of your credit cards they work for, they will give you some vague answers, such as Visa and Mastercard. 
The fraudster will require some of your personal information, to verify that you are the person they were trying to reach. Finally, they will ask you for a card verification value security number, which is written on the back of your card. The alleged reason they require this number is to prove you are in possession of the card. 
While you might think this is just a standard procedure, the scammer now has all the financial information they need to take your money. 
What Should You Do if You Receive Such a Robocall?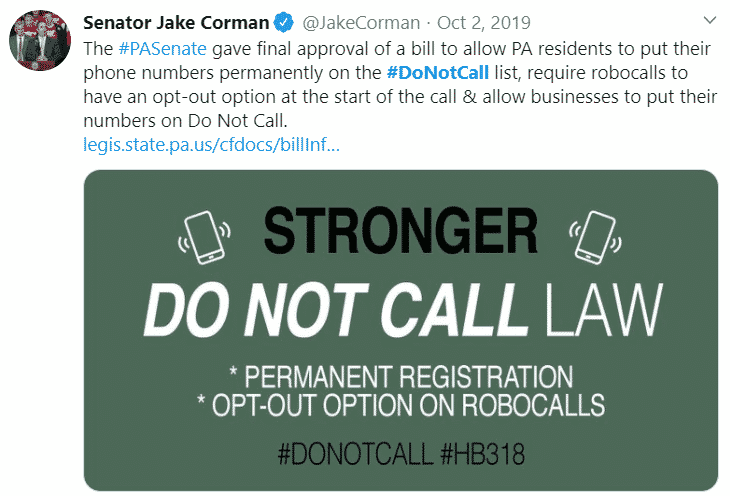 What you need to remember is that banks will never send you a robocall message and ask for your financial information over the phone. If you receive a robocall, follow our guidelines to eliminate the potential threats.
The best thing you can do the moment you realize you have answered a robocall is hang up. Do not press anything on your phone

Do not answer your phone just to mess with the scammer

If the number has the same area code as yours but is still unknown, we recommend you not to take it unless you have to.

Fraudsters rely on call-spoofing technology that helps them display fake phone numbers

Do not give any personal information or a credit card number over the phone

To reduce the robocalls, register your number on FTC's

Do Not Call Registry

. Once you finish,

check if your number is on the Do Not Call list

to see if you have submitted it successfully
There are some exceptions to the Do Not Call list. Even if you register your number, some agencies and companies will still be allowed to call you.
You Have Given Them Your Information. Now What?
Scammers are experienced people who know what they are doing. If you've revealed your credit card number, you need to focus on repairing the damage. 
You need to act fast.

Call your bank as soon as possible and check if there have been any transactions carried out that you are not familiar with. Make sure to cancel your card and ask the bank to issue you a new one

Report the scam.

You can turn to

the Federal Trade Commission

and report robocalls. If you decide to file a complaint, you need to provide the number you wish to block. You can also report the fraud by calling 1-888-382-1222

File a report on identity theft.

Visit the site

identitytheft.gov

and create a personalized recovery plan
How Do Fraudsters Use Your Credit Card Information?
Dishonest agencies are usually behind these card service robocalls. Once you take the bait and provide them with personal and financial information, there's plenty of things they can do with it.
Having obtained all your information, the scammer can use them to run up purchases or cash advances. They will commit identity theft and empty all of your savings. 
The Most Typical Attempts Behind Visa and Mastercard Robocalls Scams
Scammers are known for their creativity and tactic skills they use to deceive people. They have plenty of methods to get you interested in their offer, and they will always present themselves as bank representatives. Here are some of the most frequent attempts that scammers use to lure you into giving them your credit card information:
| | |
| --- | --- |
| Reason for Calling | What They Tell You |
| Verifying your banking information | They will usually come up with the story of how they have noticed some unusual transactions and will ask you to provide them with your credit card number so that they can "verify" them. |
| Limited time offer | A large number of people who have debt on their credit card have given the scammers another idea on how they can trick them. They will call you and promise to help you lower your interest rate. Their requirement is paying up-front fees of $2,000 or more, which you will eventually lose without being provided the service. |
| Late payment | Lots of Americans are often struggling with paying bills. The robocalls that threaten and force these people to pay are only making things worse. If a person gives in and pays off a credit card bill using the methods provided by the fraudsters, they risk losing all their money. Revealing any financial information can cause you a rather severe credit card issue.  |
| Stolen credit card | Sometimes, the fraudsters will try to create panic. They will count on your impaired judgment at that moment and will get you to give them all information they need. |
How Can You Block a Robocall on the Cell Phone
Due to the increased number of these phone calls, lots of people have started looking for a way to stop robocalls. Even though Illicit robocallers change their numbers and will bend over backward to reach you, there are a few things you can do to keep them at bay. The robocallers use computer-generated numbers, so changing your number will not help.
Use Your Provider's Call Protection 
To reduce the number of robocalls, call your phone company and ask for a robocall blocking service. In the table below, you will find each of the big phone carriers, along with the protective features they have provided for their customers. 
Carrier

Robocall Blocking Service 

The Call Filter app can help you

stop unwanted calls

, and it is at your disposal for free. It displays scam calls and works on both Android and iOS phones. The upgraded version, Call Filter Plus, is available for $2.99 a month, and it

provides additional services such as a personal blocklist or a spam risk meter

. 

AT&T is also working on its spam call blocking services. Their

Call Protect app

is free for Android and iOS smartphones. They also offer the premium version for $3.99 a month, which

provides advanced caller ID services as well as reverse number lookups

.

With the help of technology from First Orion, T-mobile can inspect the call and display it as "spam likely." You can also use the Spam Block service by logging into the account or by dialing #662# on your phones.

This service will Block The Scam Calls

.
Before you turn to your providers, you should know that there are options on your phone that can also help you reduce the number of scam calls.
Blocking Numbers on Android Devices
Android phone users can block one number or all unknown calls.
Here's a step by step procedure for blocking one number:
Go to the Phone app

Click on Recent Calls

Find the number you wish to block and tap it

Select Block or Report as spam

Confirm
Here are guidelines for blocking all unwanted calls:
Go to the Phone app

Click on Settings

Find the option Blocked Numbers 

Enable Block Unidentified Numbers switch
Blocking Numbers on iOS Devices
iOS devices offer the option of blocking one undesired caller and silencing all unknown contacts. 
Here's a step by step procedure for blocking one number:
Open your Phone app

Tap on Recents

Click on the info icon which looks like a circled "i" letter

Select the option Block this Caller

Confirm by tapping on Block Contact
Here are guidelines for silencing unknown calls:
Open Settings

Tap on Phone

Enable the Silence Unknown Callers switch
DoNotPay Can Help You Get Back at Robocall Scammers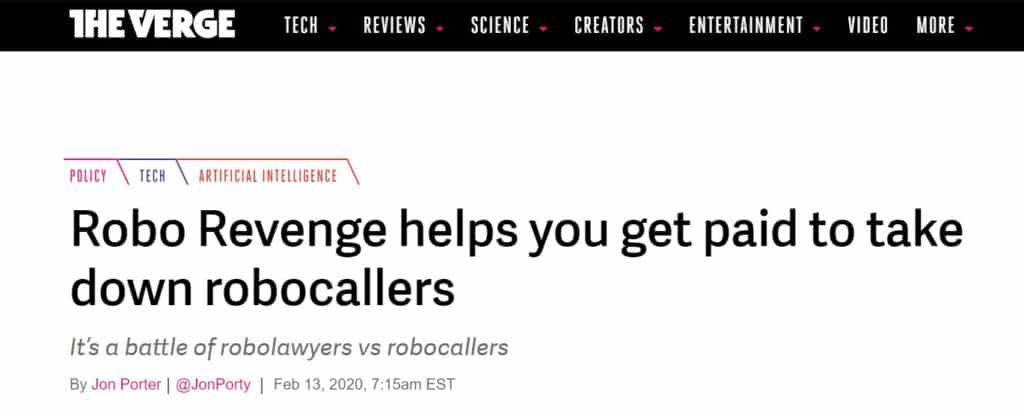 If you ended up being a victim of a robocall fraudster, there are still some ways for you to get your money back. Use DoNotPay to get robocall revenge on these scammers, instead of reporting robocalls to the FTC. Robo Revenge is there to help you sue robocall providers, get money for your inconvenience, and help you with the robocall lawsuit.
The new feature of DoNotPay will help you identify the people who stand behind the robocalls. All you need to do is make a free virtual credit card, and soon you'll know who is standing behind these scammers. Once you obtain all information on them, you can use it to request legal compensation. They usually choose to offer you a settlement rather than taking the whole matter to court. You can get up to $3,000, and enjoy your sweet revenge. It's important to note that this is possible only with the fraudsters who operate from the U.S.
Using Robo Revenge is not difficult, and it will not take too much of your time. Below, you will find the steps on how to do this most efficiently:
Log into your DoNotPay account via a

web browser

Select

Robo Revenge

Find

Do Not Call list

and enter your number

The next time the robocaller asks for information on your credit card, give them the virtual credit card number

When they try to take money from your account, DoNotPay gains access to the fraudsters' data

The app creates a demand letter and sends it to the robocaller. If this doesn't work, the app provides you with all the information you need to take the law-breaker to court
DoNotPay Can Help With Many Other Things
If you were impressed by Robo Revenge, you are going to find that DoNotPay can offer much more to you. If you, for instance, wish to lower your bills, DoNotPay can help you. Our app can also assist you with:
Appealing traffic tickets

Fighting speeding tickets
The app is available on any web browser.