Why Am I Getting So Many Robocalls?
Have you been getting tons of robocalls lately? If the answer is yes, you are not alone. Over the past couple of years, America has been the eight most scam-called country in the world. In 2020 alone, each American citizen received almost sixty robocalls!
The numbers are increasing, and that is mostly due to the fact that telemarketers and scammers use advanced autodialing technology that can make up to one million calls in a single hour.
The U.S. Congress passed the Telephone Robocall Abuse Criminal Enforcement and Deterrence Act last year, which enables the Federal Communications Commission (FCC) to fine robocallers up to $10,000 per call. Will this Act mitigate the spam call issue we are facing as a nation? Time will tell.
Why Do Robocalls Exist, And How Do They Work?

Robocalls rely on autodialing software that can make hundreds of thousands of calls in a short period of time. No matter if you receive a pre-recorded message or a real person is on the line, as long as they have used an autodialer to reach you, you are dealing with a robocall.
Legal businesses are allowed to use robocalls to contact their customers only if they meet certain requirements:
Provide proper identification
Place the call after 8 am and before 9 pm
Do not call people whose numbers are on the National Do Not Call Registry
Have an express written consent to make the call
Provide the customer with an option to put their number on the company's do not call list
Proper Identification Is Mandatory
For the call to be legal, the telemarketer has to provide proper identification. At the beginning of the call, the caller must:
Reveal his or her identity
Reveal the identity of the business on whose behalf they are making the call
When the call is about to end, the caller must also:
Provide the company's phone number
Provide the company's address
FTC's Do Not Call Registry
The Federal Trading Commission allows you to put your number on the National Do Not Call Registry, which legally prevents robocallers from contacting you. Overseas spam callers and domestic scammers will not care about this since they are already engaging in illegal activity.
Express Written Consent
If a company forces you to provide them with express written consent to be able to purchase services and goods from them, know that they are doing something illegal.
You can, if you wish, provide a telemarketer with express written consent that allows them to autodial you without breaking the law.
Express written consents are defined by the E-SIGN Act, which states that these consents can be provided in various forms, from electronic signatures to checking a box on an online form.
You Must Be Presented With a Way to Opt-out
For a robocall to be legal, the caller has to present you with an option to drop out of their calls. In case of a pre-recorded message, you should be able to press a certain number to opt-out of robocalls. If the telemarketer leaves you a voicemail, the message has to end with a toll-free call-back number that you can dial to put your number on the company's do not call list.
Why Are Robocalls so Common Now?
Robocalls are increasing in number because scammers can set up their fraudulent operations without much hassle. These are the steps they need to take:
Buy millions of leads
Get into America's phone network
Set up their autodialing network
Operate a phone bank
Convert their income
Buying Cheap Leads
Just as a legal business would go about buying leads lists, spam callers do the same. You can find online businesses that sell millions of leads for just a couple of thousands of dollars.
Getting a Phone Provider
Major mobile carriers are not allowed to put scam callers into America's phone network, but small phone providers gladly provide these services to them. The FTC did not closely monitor small phone providers' operations in the past, but with the new Telephone Robocall Abuse Criminal Enforcement and Deterrence Act, they will.
Super-fast Autodialing
Given that, on average, between three to five percent of people who receive robocalls respond to them, the scammer has to be able to dial hundreds of thousands of numbers in short amounts of time. The new autodialing technology allows them to do this in outrageous proportions.
Managing Call-backs
If you take the bait, you will be directed to the scammer's call center where a real person will try to draw money from you or even access your personal information. No matter how persuasive they might be, you should refuse to provide them with your information, as they can use it later on for identity or credit card fraud.
Converting the Income
To stop the authorities from tracking them down, scammers will try to convert their income into various forms of money, as fast as they can. Typically, they would use gift cards for these purposes.
What to Do When You Keep Getting Robocalls?
Nowadays, most mobile carriers and third-party companies offer apps that block spam callers. These apps can be super-efficient when dealing with annoying robocalls. Here are some of the most popular ones:
| | |
| --- | --- |
| App | Service Overview |
| | All AT&T customers have access to the carrier's spam call blocking app called Call Protect, which is available for both iOS and Android devices. The basic version is completely free of charge, while the Plus version (enhanced Caller ID and Reverse Number Lookup features) cost $3.99 per month. |
| | Verizon's Call Filter service easily detects and filters spam calls on your behalf. Depending on the risk level you have set, the app can even block robocalls automatically. To gain access to features such as Caller ID and personal spam list, you will have to pay $2.99 per month per line. |
| | Nomorobo is a third-party app that costs $1.99 per month but comes with a two-week free trial period. You can use Nomorobo for reporting robocalls and spam calls, blocking ads on the web, fighting spam text messages, and many other things. The app either sends robocalls directly to voicemail or allows them through but identifies them as spam. |
| | RoboKiller not only blocks robocalls but also uses Answer Bots to respond to spam calls with prerecorded messages. The app even lets you record personal messages that the bots will use to mess with the scammers. The iOS app costs $3.99 per month, while the Android app costs $2.99. |
Before you invest in any of these, you should turn to DoNotPay for help. Our app can help you track down scammers and sue them for up to $3,000!
Scams and Robocalls Prevented with DoNotPay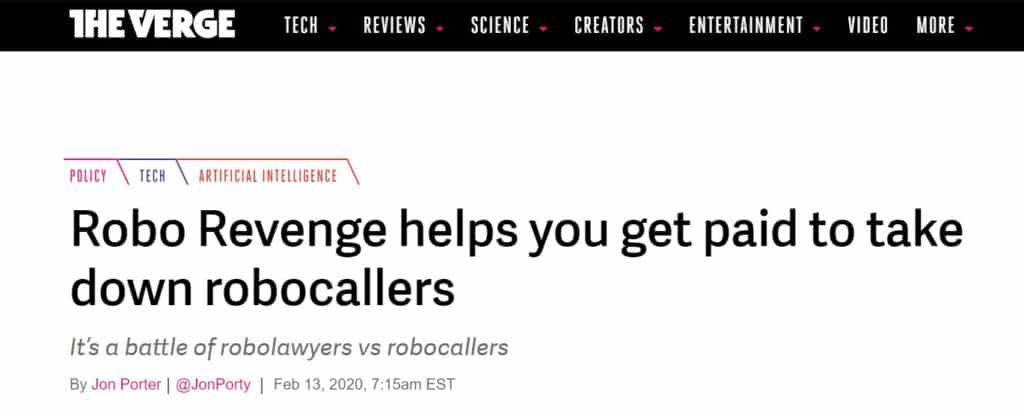 DoNotPay offers a quick and efficient solution for robocall scams, which can help you claim up to $3,000 in settlements!
Though we have a long history of helping people sue companies in small claims court, our new service called Robo Revenge can help you track down robocall scammers and make them pay for their wrongdoings.
For the time being, we can only assist you with domestic telemarketers and scammers because we need location information to be able to file a claim against the robocaller.
To start fighting scams and robocalls with DoNotPay, simply access our platform through a .
Here is how our assistance works:
You get a robocall
The caller tries to get access to your personal information or money
You open DoNotPay and select Robo Revenge
We provide you with a fake credit card
You share the fake credit card details with the scammer
Our app tracks them down
We use the transaction details to generate a demand letter and file a claim against the caller
Why the Fake Credit Card?
DoNotPay's Free Trial Card is essential to the process of tracking down and suing robocall fraudsters. DoNotPay's virtual credit card generator enables you to create a new credit card number that you can use to sign up for services and verify your payment info without worrying about information abuse and theft.
We want to keep your personal information protected, and there is no better way to do it than to use a virtual credit card.
By using a virtual credit card, we can track down the caller based on the transaction details. This allows us to file a claim against them and set you off on the path of getting up to $3,000 in settlements!
We Also Put Your Number on the National Do Not Call Registry
Given how annoying telemarketers can be, our app places your number on the National Do Not Call List as a precautionary measure. There are certain exceptions to this list that you should know about. If you're not not sure whether your number is already on the list, you can check that fairly easily. You don't have to worry that your registration has expired, though—once it's there, your number stays on the list until you decide otherwise.
This step is extremely important because businesses that use autodialers lose their legal right to call you if your number is on this registry. Unless you have provided them with your express written consent, that is.
How to Stop Annoying Robocalls

Our advice would be to access DoNotPay through a . DoNotPay's Robo Revenge is the most effective solution for annoying robocalls!
There are other precautionary measures you can take to lower the likelihood of getting bothered by telemarketers and scammers. These measures include:
Placing your number on the National Do Not Call Registry
Refusing to provide your personal information
Not answering the phone
FTC's Helping Hand
To spare people from getting tons of robocalls, the FTC launched a National Do Not Call Registry. If you place your number on this list, telemarketers will lose the right to legally contact you without your consent!
We should mention that DoNotPay's Robo Revenge feature can put your number on the Do Not Call Registry on your behalf.
If you started getting more robocalls lately, you could put your number on FTC's Do Not Call Registry by:
Selecting Report Unwanted Calls
Providing information on the unwanted calls you have been receiving lately
Submitting your request
Taking this precautionary measure costs you nothing, but it is effective against telemarketers and legal businesses that use robocalls to spam their customers. Malicious fraudsters probably will not care that your number is on the National Registry, as they are already engaged in illegal activity.
Refuse to Share Personal Information
Sharing personal information with an unknown caller is something you should avoid at all costs. A lot of times, scammers will not even ask you for money, because your personal information can make their operation much more lucrative.
Some fraudsters call their victims with simple questionnaires, and their goal is to record the victim's voice and use it for authorizing purchases over the phone.
Granting the scammer with your personal information allows them to engage in identity and credit card theft!
No Answer No Problem
If you want to stop annoying robocalls and the privacy risk that comes with them, you should stop answering unknown calls altogether.
Many people think that blocking specific scam numbers would sort out the issue, but that does not work. Robocall scammers have a habit of changing their numbers frequently, and that makes blocking numbers completely useless.
Beware especially of numbers that are too similar to yours, as that can be indicative of neighborhood spoofing!
How to Stop Endless Robocalls on Your Cell Phone
All mobile phones nowadays come with built-in features that allow you to block specific numbers. These features can come in handy when trying to stop endless robocalls.
Blocking a Number on iOS Devices
In case you are using an iOS device, you can either block specific numbers or silence unknown callers.
To block a number, you have to:
Access the Phone app
Tap on Recents
Tap on the info icon next to the number you want to block
Select Block this Caller
Tap on Block Contact
To silence unknown callers, you should:
Open Settings
Tap on Phone
Enable the Silence Unknown Callers switch
Blocking a Number on Android Devices
Android users have two options at their disposal when it comes to blocking unknown numbers. They can either block specific numbers or block all unknown calls.
To block a number on an Android device, you should:
Open the Phone app
Tap on Recent Calls
Tap the number you want to block and select block or report as spam
Confirm that you want to block this number
To block all unknown numbers, you need to:
Access the Phone app
Tap on Settings
Tap on Blocked Numbers
Enable the switch to block all unidentified numbers
Out of so Many Robocalls, Which Are the Most Common?
If you have been receiving more robocalls lately, that is because certain scammers started plaguing America with their frauds in recent years. Out of all the robocall scams out there, these are the most common ones:
| | |
| --- | --- |
| Type of Scam | How It Works |
| Google SEO scam | Google SEO scammers target small business owners. They typically require you to pay additional search optimization services and threaten to delete your Google listings if you refuse to do so. Sometimes, these scammers will even try to charge you for including your business in Google My Business and Google Search. Most of the time, if you receive a call from Google, you are dealing with a fraud. The company went on record to claim that they do not use robocalls to get in touch with their customers! |
| IRS scam | The most common tax-related scam is the IRS scam. Out of all of them, this is the most unpleasant one as the callers tend to be extremely aggressive and persuasive. You will be asked to pay an overdue tax bill via wire transfer or prepaid debit card, which is something the IRS would never request. In some cases, the alleged IRS inspectors threatened their victims with arrest warrants. If you have issues with the IRS, they will either send you a notice via U.S. Mail or show up at your door. |
| Government Grant scam | Another common robocall scam is the Government Grants scam. You would receive a call from an alleged government representative offering you free money. To make the scam more believable, their phone numbers have a Washington, D.C., area code. If you accept the grant, the scammer will tell you that you have to pay a small processing fee using a prepaid debit card, iTunes gift card, or via wire transfer. The most dangerous part is the one where they ask you to confirm your banking information, address, name, etc. Later on, the scammer will use this information for identity and credit card fraud! |
| Neighborhood spoofing | Neighborhood spoofing is something most robocall scammers started to utilize. Because it is highly unlikely that you will pick up a call coming from a different state, fraudsters started spoofing their numbers with local area codes. If you receive a call that is far too similar to yours, it is best not to answer it! In some situations, you might even receive a call from your own number. |
Making the Best of DoNotPay
Scam robocalls are not the only thing we can help you take care of with ease. Our app boasts a ton of great features that you can use to:
Dispute traffic tickets
Fight speeding tickets
To start fighting scams and robocalls with DoNotPay, simply access our platform through a .