Why has reporting robocalls become so important
Defined as a phone call that uses an autodialer system to play a pre-recorded message, a robocall is one of the most common methods employed by telemarketers and scammers.
It's a modern-day pestilence that seems to be on a continuous rise. The total number of robocalls placed in 2019 was estimated to be a mind-boggling 54.6 billion, a 108% year-on-year increase, reports Business Wire. This means that the average American will be bothered by robocalls 14 times a month!
What is a robocall and how does it work
When you pick up the phone and, instead of hearing a person on the other end of the line, a recorded message starts playing, you've just received a robocall. Thanks to Voice over Internet Protocol (VoIP) services, robocalls have become a very cheap and easy tactic that scammers and telemarketers all over the world use to push their agendas. Robocalls are the number one complaint from consumers to the Federal Communications Commission, as reported by USA Today.
Are robocalls illegal?
In most cases, yes, robocalls are illegal. Not only are they operating outside the law, but many of them are scams that can cost you a great deal of money. According to the Federal Trade Commission, robocall efforts to sell you something are illegal—provided the company doesn't have your written consent to get in touch with you that way. Some other exceptions refer to charities asking for donations, debt collection calls, purely informational messages, or political calls about candidates running for office.
How to report robocalls

By reporting a robocaller, you're preventing them not just from calling you again, but also from pestering many others. Here is how to report a robocall:
Add all your landline and cell phone numbers for free to the National Do Not Call Registry that's run by the Federal Trade Commission (FTC).
If you have received an illegal robocall even after your number was on the National Do Not Call Registry for at least 31 days, report it to the FTC.
Even after you register, some other types of organizations might be able to robocall you, such as charities, political groups, debt collectors, and surveys. These types of organizations are legally allowed to place robocalls.
If you would like to learn more about how to report robocalls to the appropriate institutions, we  have explained it in detail here.
How to block robocalls?
There are several measures you can take in order to block robocalls. These will vary upon the type of your device—for example, blocking a robocall on your cell phone will be slightly different than doing the same thing on your landline.
How to block robocalls on your cell phone
You can explore several options to prevent receiving those annoying robocalls on your mobile phone. We've listed the main three options:
Check the services provided by your network carrier
Download a robocall-blocking app
Explore the built-in features on your phone
Check the services provided by your network carrier
In response to the alarming rise of illegal robocalls targeting U.S. citizens, the FCC and the cell phone provider companies have joined forces to come up with a mutual solution for the problem. The fruit of their efforts came in the form of a caller verification system taking place at the network level. Its aim is to verify the legitimacy of a call and is known as the SHAKEN/STIR (Signature-based Handling of Asserted Information Using toKENs and the Secure Telephone Identity Revisited standard). What this mouthful of a name means is that the network carriers should either stop the robocall in its tracks or label it as spam to the user.
Reach out to your network carrier by calling their customer service, or check out their website to see if they offer services that block robocalls. Note that some carriers offer these for free, while others might charge a small fee.
We've taken a closer look at what the four main U.S. network carriers are doing in order to stave off robocalls.
AT&T
AT&T monitors potential spam calls at a network level and immediately blocks those identified as spam. If you're an AT&T customer and would like to amp up your protection against robocalls further, you can download the carrier's free Call Protect app or switch it on in your AT&T account settings. With the app, you will be able to identify spam calls per category and create a tailored list of numbers you would like to block.
Sprint
To keep robocallers at bay, the network provider Sprint has created an app called Sprint Call Screener (basic) and Sprint Call Screener Plus (premium). While the basic app provides only the most elementary level of spam detection and filtering, the premium version allows you to learn about the estimated risk level of the call and find out the caller's ID. The premium app comes at $2.99 a month and is available for Android phones and iPhones.
T-Mobile
To curb the robocallers' efforts, T-Mobile labels spam calls as such at a network level. Suspicious-looking calls will appear on your cell phone as "scam likely," which is an automatic and free service for all T-Mobile customers. In addition, you can opt for another free service called Scam Block that, much like the name says, blocks likely spam calls from reaching you. Log into your T-Mobile account or dial #662# to apply for the service.
Verizon
Verizon is currently proactively blocking a small percentage of calls that are labeled as spam with absolute certainty. The carrier has also developed a Call Filter app which is available to its customers for free. Call Filter labels spam calls and stops them before they reach your phone. You can choose to block all robocalls or only those deemed by Verizon as especially risky.
Download a robocall-blocking app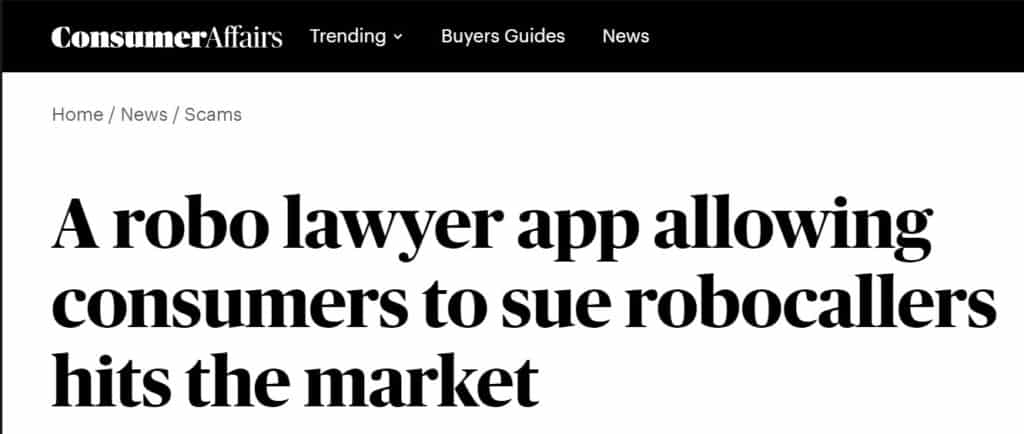 Here are some great apps for your smartphone that will help you eliminate phone spam once and for all.
Name of robocall-blocking app
Pricing
Benefits
●     Basic service is free

●     $2.99/month for Hiya Premium

●     $14.99/year for Hiya Premium

●     Deemed best in class for spam detection abilities

●     Blocks the numbers/texts you want to avoid

●     Partnered with the largest carriers and smartphone manufacturers to give context to unwanted numbers

●     Basic service is free

●     $5.99/month for YouMail Plus

●     $10.99/month for YouMail Professional

●     Notifies carriers and authorities every time an illegal call occurs so they can track and punish the callers

●     Added feature of filtering spam voicemail messages

●     $1.99/month

●     Free for VoIP landlines

●     Praised for ease of installation and accuracy with filtering calls

●     Ad-free
Explore the built-in feature on your phone
Your smartphone will likely be equipped with at least one option that will allow you to block calls from specific numbers.
This is how you can block callers on an iPhone:
Open the Phone app
Access your recent calls by tapping on the Recents tab
Click the 'i' symbol next to the number you would like to block
Scroll down and select Block this Caller
Confirm that you would like to block this number
This is how you can block callers on an Android phone:
Open the Phone app
Tap on the three dots in the top right corner
Select Call Settings
Tap on Reject Calls
Add the numbers you want to block by selecting the "+" button
How to stop robocalls on your landline

In 2017, the Federal Communications Commission (FCC) brought into effect new rules that enable phone companies to block illegal calls suspected to be fraudulent. The FCC took a step in the right direction, and, since then, many carriers have come up with their own strategies to proactively curb spam and scam calls.
We've prepared a succinct overview of how you can reject pesky robocalls on your landline. Depending on whether you own a VoIP or a traditional landline, the methods you can employ will somewhat vary.
How to stop robocalls if you use a VoIP landline
If you're not sure whether your phone runs on VoIP or not, check with your carrier first.
The most effective way of blocking robocalls on your VoIP is through a service or feature provided by your phone company. We've listed the largest landline carriers in the U.S. and their respective robocall blocking services:
| | |
| --- | --- |
| Phone Company | Robocall blocking service |
| AT&T | |
| Spectrum | Nomorobo (third-party service) |
| Comcast/Xfinity | |
| Verizon | Stop Unwanted Calls |
| Kinetic by Windstream | |
You can also opt for an independent application regardless of the service your carrier offers, and the most reputable one is the above-mentioned Nomorobo. Simply register your phone number with them. When you receive a call, it will also appear on the company's screening system. If the number registers in their database as a spam call, Nomorobo will immediately hang up the call. Some network carriers like Spectrum Communications offer Nomorobo as a third-party solution as part of their services.
How to stop robocalls if you use a traditional landline without VoIP
If you own a traditional landline that doesn't operate through the internet (or, more specifically, VoIP), your best option against robocalls is a call-blocking device, a small box that you attach to your phone. Most network carriers, such as Verizon, offer these devices for sale. Note that you have to enable Caller ID on your landline by your carrier, or the call-blocking device will block all incoming calls.
Avoid having your phone number end up on a robocaller's list
Prevention is always the best medicine, and such is also the case with robocalls. While not an absolute guarantee that you'll eliminate robocalls from your life for good, taking the following precautions should greatly reduce the amount of scam and spam calls you receive.
Be careful when you sign up for various terms of service
Don't post your contact information online
Don't give out your number to enter into contests
Be careful when you sign up for various terms of service
Whether you're signing up for an online service or are creating an account on an Internet website, the protocol is pretty much the same—you give out some personal information, then you swiftly confirm that you accept their privacy policy and terms of service (without even reading them, because who has the time for that).
You should spend a few minutes skimming the documents to learn how the company will be using your private data. By blindly accepting the terms of use and being oblivious to what you're signing up for, you may actually be giving permission to telemarketers to call you.
Don't post your contact information online
If you've posted your phone or cell phone number on a social media website or even an email signature, data aggregators can collect that and sell it to telemarketers, scammers, and other types of people you definitely don't want calling you.
Don't give out your number to enter into contests
Each time you enter into a contest or a sweepstake, you're required to provide at least some of your personal information, including your email address and phone numbers. This data will then be sold to other companies and could likely result in you getting inundated by telemarketer calls. Is entering the contest really worth it?
What to do if you get a robocall
Here is a list of the most important things to keep in mind if you do get a scam or spam call:
You generally shouldn't pick up the phone if you don't recognize the caller's number. If you do respond and it's an illegal robocall, hang up right away.
Be aware of the so-called spoofing. This is a tactic used by scammers to deliberately make their number appear similar to your own. A caller ID with a local number doesn't necessarily mean the caller is from your area.
Don't give out your personal information. You shouldn't disclose any of your personal information to a robocall, including your name, address, bank account numbers, passwords, etc.
Make sure your voicemail is protected with a password. Some scam artists can spoof your phone number and get into your voicemail if it's not protected with a password.
If you haven't already, register your number with the Do Not Call Registry. If you've received a robocall even after your number has been on the registry for 31 days, you should report the caller to the FTC.
Get revenge on robocalls with DoNotPay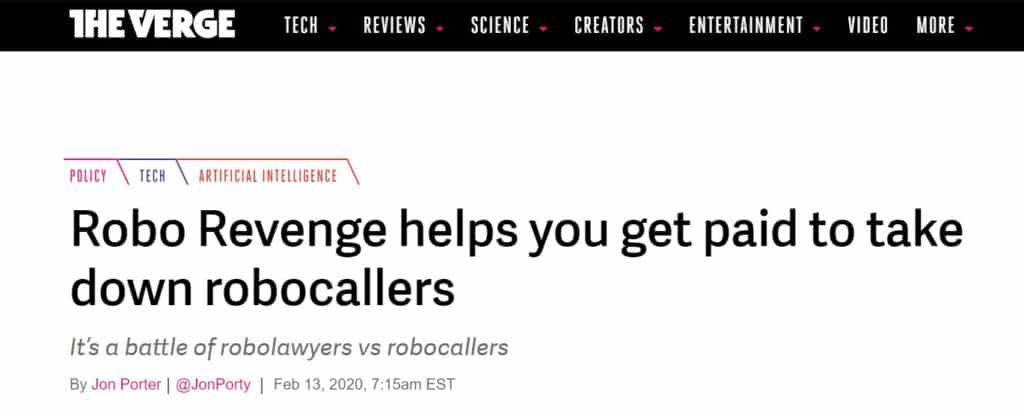 If you've had it up to here with robocall scammers and spammers, perhaps it's time you teach them a lesson—and earn some money while you're at it, too. With DoNotPay's Robo Revenge feature (which has recently been described as similar to a "digital sting operation" by Wired), you can now do exactly that.
In a gist, every time you receive a robocall, DoNotPay can help you gather information on who's behind the unwanted call. You can use this information to sue the scammers for up to $3,000!
Here's how the process works:
You receive a robocall
At some point in the pre-recorded call, you will most certainly be asked for money
Click on the Robo Revenge option on the DoNotPay website in your web browser
Click on Create Your Card to generate a fake card number
Provide this fake card number to the robocaller
From this point on, once a transaction is attempted on the worthless card, DoNotPay will track down the spam caller and get access to their information
Once their identity is revealed, you can file your claim on our app
We'll immediately send them a request for compensation. Most scammers prefer to settle rather than going to court and attracting negative publicity
If your phone number is listed on the federal Do Not Call list, but the robocaller still called you, you are entitled to a payment from them. If they refuse to, you can also sue them in small claims court, which is another thing DoNotPay can assist you with. You can check whether your number is on the Do Not Call list fairly easily, and, if it's not, you should consider adding it. If you have any doubts about the Do Not Call list expiration or exceptions, worry not—DoNotPay has all the answers!
Note that Robo Revenge isn't able to help against robocallers that are based outside of the U.S., as they fall out of reach of our federal laws. Nonetheless, if the robocaller trying to scam you is doing so from the U.S., you might get a sweet taste of revenge—not to mention make some easy money!
What else can DoNotPay do?

Other than helping you stave off annoying robocalls, DoNotPay can help you with various issues, including:
Appealing traffic tickets
Fighting speeding tickets
DoNotPay is your best ally in the fight against life's most annoying and time-consuming chores and errands. Our app is available for download on your web browser.