Learn How to Protect Yourself from Blue Cross Blue Shield Robocalls and Other Healthcare Scams
In 2019, a telemarketing organization from Texas made at least one billion scam calls, pitching affordable health plans. They did this by falsely claiming to be from reputable health insurance companies such as Blue Cross Blue Shield, its affiliate Anthem, UnitedHealth Group, and Aetna. With the open enrollment season approaching, the healthcare robocall scammers are about to hit American phones with an increased incidence.
The Process Behind the
Anthem Blue Cross Robocall
Fraud and Other Health Insurance Scams
Robocall is any call coming from an unknown number with a prerecorded voice on the other end. They often come as political messages or service announcements. Announcements and info calls—though annoying—are essentially harmless. "Harmless" is not the word most people think of when they receive a robocall. "Scam" is. 
Cheap software and a trivial procedure had made it easy for scammers to make over 58.5 billion robocalls in the US in 2019. Robocall scams target different groups and shape their robocalling scheme according to them. Fake lottery winnings, inexplicable discounts, student debt reduction, and the topic popular during the open enrollment season—health Insurance frauds—are just some of the scammers' favorites. Regardless of the "theme,"  the process of running a robocalling operation is surprisingly cheap and effective. Aside from basic technological literacy, scammers only need a few resources to manage the process.
Resource

How Does it Work?

Phone number database

To annoy and scam tons of people via robocalls, one has to acquire a phone number list. Phone number brokers exist, and while some are legitimate, others

are not. The prices vary, but for a few thousand dollars, robocalling operations can purchase as many as 1 million phone numbers.

VoIP (voice-over-IP)

VoIP systems

—

the method that allows phone calls to be made over the internet

—

can handle a considerable number of phone calls

,

so making robocalls is not only affordable but also time-efficient.

With computer programs

—

entities that don't need coffee breaks

—

doing all of the work,  there is no need to pay for additional personnel. 

Phone spoofing software

Not answering calls from unknown numbers is amid the top tips on how to limit robocalls.

This is becoming insignificant since scammers can now intentionally change the Caller ID to appear as a trusted entity, such as a family member or a well-known company. This practice is called spoofing and can fake anything from your area code to a specific trusted contact.
Are
Robocalls About Open Enrollment
Legal?
Robocalls can be legal, and many healthcare providers use them. Pharmacies use this technique to inform you when your prescription is ready, and different healthcare centers choose robocalling to remind clients about their appointments. These calls are legal, as the healthcare companies already have your contact info. Some other robocalls are permitted as well, and they don't need your written permission to call you.
Some examples of acceptable robocalls are:
Calls from charities are legal as long as the charity is organizing them themselves. If they outsource this activity, the company that is hired can place robocalls only on previous donors or current members of the organization

Info calls, such as a call notifying you that your flight has been canceled or a dentist appointment reminder, are legal

Political calls are frequent during election season and offer info about candidates running for office

Debt collector's calls might sound illegal, but they are not. A business has the right to contact you to try to collect a debt 
What is not legal are unsolicited calls attempting to sell you products or gather personal info, without your written permission. Calls like these result in over 200,000 complaints each year. Apart from being intrusive, frustrating, and time-consuming, illegal robocalls can seriously harm one's financial situation. 
Most Common Robocall Scams
Robocall scammers are becoming increasingly creative when approaching their desired target group. A variety of schemes is designed to hit a particular weak spot or to catch people when they are more open to suggestions. Scammers will pose as your utility company representatives, threatening services shut down due to fake unpaid bills or target you when you are in the process of looking into new health insurance options.
Different schemes put thousands of Americans in a difficult position every year. 
What Was the Scam Called?

What Was the Scam About?

IRS Scam

You get a call from the IRS, informing you that you are late on your tax bill payments.

If you get suspicious and question whether the call is real, the bot will direct you to the IRS website to "confirm" that the call is valid—because they are spoofing the official number from that website. 

Once you "confirm the validity of the caller," they will proceed to either demand the payment via prepaid card or ask for your credit card information. 

The "Can You Hear Me Okay?" Scam

This "Can You Hear Me Okay?" scam got to a significant number of people because it's not a typical scam.

With this one, scammers want to get a "Yes" from you. A recording of your voice saying "Yes" can be used to approve the changes to your bank account or credit cards.

Credit Card Interest Rate Reduction Scam

These scams offer to get your credit card rates down for a "small fee." The "fee" is supposedly for processing costs, and the scammers will guarantee that the reduced rates will allow you to pay off your credit card debt faster. They will present the fake offer as a limited-time-only, and use this to pressure you to act now.

The scam has two variations. One is threatening to shut off your electricity if you don't pay the bill within a few hours. 

Another one is trying to get your personal data by offering an opportunity to reduce your bills or delay payment. 

National Grid has posted a FAQ to help you with these calls, and you can always try a legitimate way to lower your bills or get extensions.
How to Recognize
Bcbs, Aetna
, or
Healthcaregov Robo Calls
?
Even though these bot-operated calls are afflicting millions of Americans, it's not always easy to recognize a scam robocall. Genuine companies sometimes use this system, and seeing the distinction can pose a challenge. Certain warning signs can help you differentiate between the scam calls and legitimate ones. If it's a scam, the call is likely to:
Demand the answer right away, not giving you any time to decide

Present you with an unlikely scenarios                                       

Demand payment to give you something for free

Offer you a no-risk investment
No Time to Decide
If the caller demands the answer to their proposal, without giving you time to think, it is not likely that the offer is from a legitimate company. Most businesses will give you time and written information about an offer before you commit.
Unlikely Scenarios
Winning a big lottery or being selected for an award is illogical if the call is coming from a company that should not have your contact info in the first place.
Paying for Free Stuff
These scammers will try to convince you to send them money to redeem a free reward. They explain these fees as processing costs, something that should be a minor inconvenience to receive the imaginary grand prize. The caller can also promise a ridiculous bonus if you buy their product.
No Risk
The "no-risk" concept is often used in robocall scams. You will be told that the prize significantly outweighs the investment or that the return prize will be pouring into your wallet in the years to come.
Preventing Blue Cross Blue Shield Robocalls and Health Insurance Scams

Open Enrollment season is the happy hour for scammers attempting to pass as health insurance companies, which is why healthcare groups such as Blue Cross Blue Shield Association have issued statements regarding the issue.
The Federal Communications Commission (FCC) offers some tips on how to deal with unwanted spam calls. Apart from not answering unknown numbers, the FCC robocalls guide lists some useful advice. 
Don't answer any questions, personal or another kind

Don't press "1 for further information"—they will use this to target you in the future

If you answer a spoofed call, because you recognized the number, but the bot is on the other side—hang up

If you are asked for personal information—hang up

If Blue Cross Blue Shield or other healthcare provider is calling you—hang up. Then call them back using the official number listed on their webpage
There is a trend of "hang up" instructions here, but that is the basic means of protection. If there is a recording on the other side and it's not your local dentist reminding you about your appointment—just hang up. Prolonging interaction with a scam caller will motivate them to contact you again. It is a way to sort you into the "responsive group" and mark you as a potential target. By hanging up, you are not missing on anything. If you think it might have been an authentic company call, you can use the official info on their website and contact them yourself.
Reporting Health Insurance and other Robocalls
There are several ways to report robocalls trying to sell you products or healthcare services without your written permission. Both the Federal Trade Commission (FTC) and the FCC are dealing with consumer complaints about spam calls, and offer robocall reporting services. 
The FTC's complaint assistant gives you an option to report Robocalls, unwanted telemarketing, Text, or spam. To file a complaint to the FTC, you can contact them through their website or call  877-382-4357. 
The FCC allows you to file a complaint through Consumer Complaint Center, an online form where you can in detail explain your problem. Another option to contact them is calling  888-225-5322.
Can You Block Robocalls?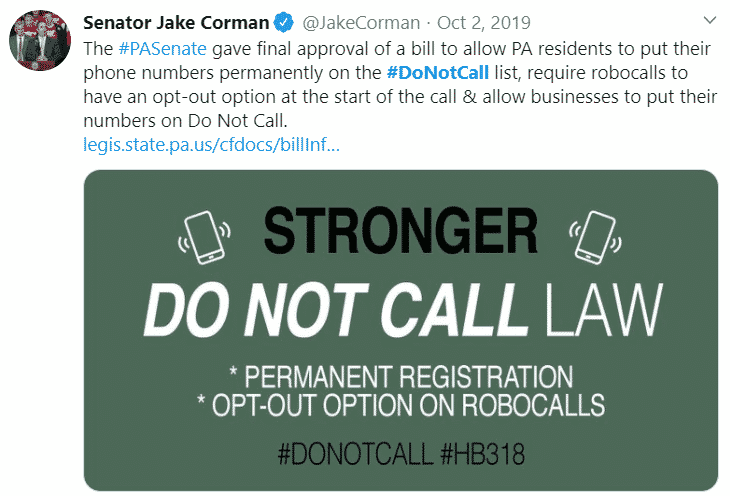 Progress is continually being made from the legal perspective towards blocking robocalls. The TRACED Act could decrease the number of robocalling operations. This legislation should make it easier for consumers to identify robocalls so that they can avoid answering them. The act requires all service providers to authenticate phone calls and offer robocall-blocking services at no additional cost to consumers, which is a solid start. The problem is, even though The TRACED Act allows for fines up to $10,000 per call, monetary penalties might not prove to be efficient. The FCC had so far fined robocallers $208 million, but when it came to collecting the fines, they recovered just under $7,000. The specifics depend on the device you use, but there are steps you can take to stop the scam-bots bothering you:
Contact your phone company and ask about the options

Use a

robocall blocker

software or device

If you use voicemail, password-protect it

Check the

Do Not Call List
What You Need to Know About the Do Not Call List
Learning how to stop robocalls can be a strenuous process, but the first thing to do is add your number to the Do Not Call List. 
This registry is managed by the FTC and contains the numbers of people who don't want to be contacted by telemarketers. The list is not perfect, and while it does a decent job of stopping companies from bugging you, it will not protect you from scammers. Being on the list also doesn't stop the announcements and info calls, which are the Do Not Call list exceptions. Do not call list doesn't expire—once you add your number to the registry, it stays there. If you are not sure how to check if a number is on the Do Not Call list, you can do that on the National Do Not Call Registry website.
Blocking Robocalls on Landline
Dealing with robocalls if your home phone is a regular landline is a bit complex, but not impossible. Lack of Internet and software limitations rule out any apps, but there are still some options you can try. 
Install a call blocking-device. A call blocker is a small plastic box that you attach to your phone. These devices use the blacklist/whitelist system, allowing you to add numbers to either one. Blacklisted calls can then be sent straight to voicemail or stopped entirely

If you use voicemail, make sure to password-protect it. A scammer can get to your voicemail account by spoofing your phone number

Contact your phone company and ask about call blocking services. Providers usually offer some call blocking features, and most of them are free
Apps to Block Robocalls 
Healthcare scammers are attacking cellphone users with increased frequency, and getting an app to keep them off your phone might be the easiest solution. Here are some app recommendations.
App

Features

Price

Records blocked calls

Filters out spam calls by scanning blacklist of spam phone numbers

Protects against spam texts

Works as an ad blocker

Assists with robocalls reporting

$1.99 a month

Two weeks of free trial

Identifies spam calls

Identifies spoofed numbers

Blocks telemarketers as well as scam calls

Offers spam alerts

Free or paid

$3.99 a month or $24.99 a year

Blocks spam calls

Blocks spam texts

Allows for automatic and manual blocking

Identifies unknown numbers

Free or paid

$2.99 a month or $26.99 a year

Answers robocalls with pre-recordings

Auto-filters known spam calls

Reports spam calls to a public database

Android app is $2.99 a month or $24.99 per year

iOS app is $3.99 per month or $29.99 per year
These apps can help prevent and block calls and come as a rescue from any future losses of time and money. They are, however, not going to do much about the time you've already spent talking to a bot or hanging up on your third robocall of the day. And while reporting is always an option, don't you want to fight back against robocalls? Don't you want revenge on the scammers?
Get Revenge on Robocalls with DoNotPay

DoNotPay—the world's first robot lawyer app specialized in beating bureaucracy chaos— has a new feature that will help you get even with phone scammers. 
To get your Robocall Revenge follow these simple steps:
Go to the DoNotPay

web app

Add your number to the Do Not Call list through the app

Generate a DoNotPay

virtual credit card

Wait for that next scammer to hit you up so you can share the info from your virtual credit card

When the scammers try to charge your

free virtual credit card

and get nothing, DoNotPay will get their information. Through the "Robo Revenge" feature, the app will generate a notice letter asking for compensation. If they refuse to pay the compensation, you can use DoNotPay to engage in a

robocall lawsuit
What Else Can DoNotPay Do?

DoNotPay can assist you with over 100 different issues related to your consumer rights. App's features help consumers put big companies and corporations—who stepped out of line—back in their place. Use the web app to sort out any of the following issues:
Fighting speeding tickets