How to Tell the Difference Between Robocall & Debt Collector
Robocalls are a plague of modern society. They are tedious, annoying, and downright dangerous, especially if they mess with your personal and financial information. According to the Truecaller report, scammers stole over $10 billion from American citizens in 2019.
The Federal Trade Commission (FTC), the Federal Communications Commission (FCC) are at the forefront of the battle against illegal robocalls. Despite their great efforts to stop robocalls entirely, they have only managed to reduce them for the time being.
Debt collectors use robocalls to make numerous calls and reach out to their consumers. These robocalls are one of the most active types of robocalls today. Lots of people struggle to separate legal debt collection robocalls from the illegal ones, but we are here to help you. Let's dive in!
What Are Robocalls and How Do They Work?
Robocalls are automated phone calls generated randomly by computer software. They are a popular advertising method used by many agencies, companies, and organizations. Although robocallers are famous for using robot voices in messages they send, lately they have started using human voices instead of robots to make their offer more appealing.
Robocalls are the quickest way to reach tons of people, and they are not expensive. Having realized how easy it is to set up robocalls, some companies have started using them to scam people.
As if regular robocalls weren't enough, people are burdened by the vast number of scam phone calls. Robocall scams usually consist of three elements:
Fraudsters obtain their targets' numbers from legitimate brokers or even some shady operators who sell phone numbers illegally

They prepare a pre-recorded message

If the target calls back, scammers try to steal their personal and financial information
What's a Debt Collection Robocall
Debt collectors are people or companies that collect debts that are past due or remind people of their upcoming payment deadline. They are also known as debt collection agencies.
There are several types of debt collection agencies.
First-party agencies

—subsidiaries of the enterprise that owns the debt

Third-party agencies

—not party to the original contract. These are separate companies that were hired by other enterprises to collect debts on their behalf

Debt buyers

—purchase the debt and then try to collect it
Can Debt Collectors Use Robocalls?
Debt collectors can use robocalls. The advances in technology enable debt collection agencies to reach a vast number of people at once. Using robocalls for these purposes also requires following the rules that protect people from constant harassment. Debt collection robocollers aren't allowed to:
Make calls between 8 a.m. and 9 p.m.

Call you repeatedly to the point of molestation

Make violent threats

Ask for your personal or financial information

Give you their false identities

Claim false debts

Call you if you send them a request to stop
The Fair Debt Collection Practices Act (FDCPA) and the Telephone Consumer Protection Act (TCPA) don't allow debt collectors to call you without your written permission.
Can You Receive a Scam Debt Collector Robocall?
Fraudsters have found another way to scam people for money and that is—presenting themselves as debt collectors.
Debt collectors are allowed to call you on your cell phone only if:
You have given them a written consent to do so

You put your phone number on an account application

You have updated your contact details and included your phone number
When you receive a robocall from debt collection robocalls, you need to listen carefully to what they are saying.
If you are being contacted by the original creditor that you owe money to, you should know that they are not bound by FDCPA laws.
Enter scammers.
Lots of people lose track of their debts and sometimes aren't aware of robocalls scams. Fraudsters will try to create panic and use your impaired judgement to get information they need from you. If scammers get a hold of your personal or financial information, they can use it to commit identity theft or steal all funds from your credit card.
They will usually give false names and sound like legitimate debt collectors. Although it can be difficult to distinguish them from legal robocalls, there are some red flags that you should pay attention to when you receive a call from a debt collection agency. This is what scam call usually looks like:
The scammer uses words now, today, immediately.

The less time they give you to think about the legitimacy of the call, the more chances they have to trick you. In most cases, fraudsters will threaten to sue you unless you don't make a payment immediately. Real debt collection agencies will also require fast payment, but none of them will ask for one by the end of the day.

A person behind the call refuses to give you information about their name and address.

Scammers will either come up with fake details on their alleged company, or will do their best to avoid giving you any info. In the former case, make sure to write down everything they say, to check whether the data is true

Scammers are impolite.

They will try to be as abusive as possible, counting on your fear. Fraudsters usually make threats to call the police if you don't do what they tell you. Remember that real debt collectors can't make such threats
Handling robocallers is not as easy as it sounds at first because their tactics are well worked out. You can follow some basic tips on how to protect yourself from scam robocalls:
Don't provide them with any personal or financial details

Check the amount of the debt you owe as in some occasions agencies tend to mix reports

Ask for a debt validation letter
What Is the Law Regarding Using Robocalls to Collect Debts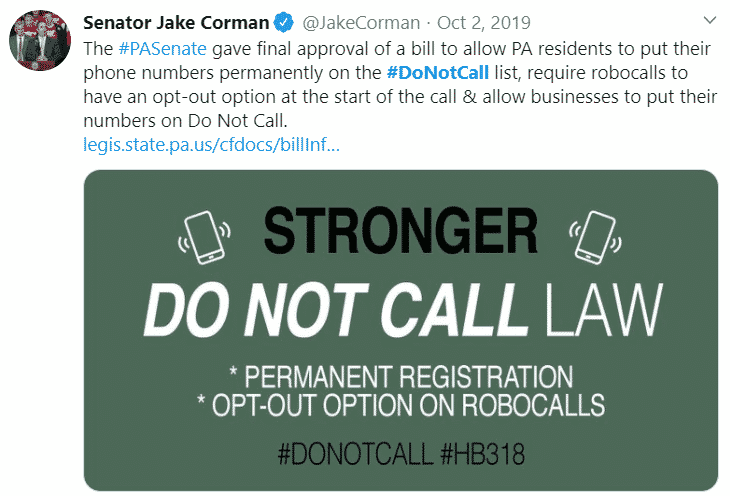 FCC adopted a new declaratory ruling, which aims at reducing the number of robocalls. Phone companies are now the main shield that protects consumers from being harassed by these calls day in and day out. The companies are now not only allowed, but encouraged to implement call-blocking services that will prevent robocalls from reaching their targets in the first place.
Lots of debt collectors' calls are now labeled as spam, or blocked before they even reached their customers. The new ruling has reflected on the debt collection industry which is urging federal regulators to reduce the number of anti-robocall regulations.
The members of the credit and collection industry say that nobody can benefit from blocking their calls. According to them, their customers also prefer to get their debt notice sooner, while they can resolve any possible issues in time.
The Consumer Financial Protection Bureau suggested some debt collection rules:
Limiting the number of calls to one contact per week

Switching from robocalls to emails and texts
What Is the Difference Between Legal and Illegal Robocalls?
A serious problem with robocalls is that not all of them are illegal. It has become difficult for people to differentiate between legal and illicit calls and that's why we have had too many robocall victims recently.
Legal Robocalls
Some organizations use autodialers to reach their target customers legally. In the table below, you will see some of the most common legal robocalls.
Legal Robocall

Reason for Calling

Debt collectors

A company that is reaching out to you to remind you of your overdue debt is making a legal robocall

Informative robocalls

Robocalls that are sent only to convey a message are considered legal, as long as the company isn't trying to sell anything

Internal Revenue Service

(IRS)

You can receive

IRS robocalls

that notify you of some policy changes or payment deadlines

Political campaigns

Government agencies send a message from political candidates who are campaigning for office

Charities

Charity organizations can ask you for donations by using robocalls

Public institutions

Pharmacies send notifications about prescriptions while educational institutions send robocalls to inform about changes in schedule
All organizations that send robocalls must adhere to certain rules:
Any company that uses robocalls to push its products

must have written permission

to call you. In case you give them your consent and change your mind later, they need to take you off their dial list. Some organizations—such as government agencies or charities— are allowed to reach out to you without permission

If you put your number in the

National Do Not Call Registry

, companies aren't legally allowed to dial the number. Some agencies are allowed to call you despite the fact your number is in the database. You can find

all the exceptions

here

All organisations are strictly forbidden from sending robocalls

before 8 a.m. or after 9 p.m.
Illegal Robocalls
If you realize that a company is breaking some of the rules from above by calling you, consider them potential scammers.
In the table, you will find instances of scam calls that can turn your life into a nightmare.
Illegal Robocall

Reason for Calling

Fake debt collectors

If you receive a call in which you are offered services to reduce your debt, you should know that you are talking to fraudsters. Lots of people have problems with

paying their bills

, and scammers are trying to take advantage of that.

Credit card services

If you get a robocall from an alleged bank representative who is asking for your personal or financial details, hang up immediately. These scammers will offer you false services such as

lowering your bills

or interest rates, just to get their hands on your credit card number.

Your bank will never ask you for such information over the phone.

Prize scams

Winning a prize out of the blue may sound tempting, but you should hang up any calls that bring you such news.
You Have Given Them Your Information. Now What?
Fraudsters have their sophisticated ways of luring you into their trap. Even when you think there's nothing they can do to make you believe their scams, they can surprise you. If you have already given your information to scammers, you need to concentrate on repairing the damage.
It is vital to act fast.

Cancel your credit card immediately and ask your bank to issue you a new one. Don't wait for too long to do this, as robocallers are well coordinated and they will withdraw your money rapidly

File a report on identity theft.

Go to the website

identitytheft.gov

and make a personal recovery plan

Don't forget to report the scammer.

FTC is there to take your complaints and

robocall reports

. The only issue you can face with reporting is that you need to have the fraudster's phone number to file a complaint. Given that robocallers often use spoof technology which masks their numbers, it would be great if you could use an app that can access their number, name, and location, wouldn't it?
Can Blocking Apps Help You Fight Against Robocalls?
Call-blocking apps can be of great help in reducing the number of robocalls. You can install them quickly on your phone and they are not difficult to use. These apps offer many useful options, such as:
Blocking numbers based on geographic area

Transfering the unknown call to your voicemail
Make sure to check the app's privacy policy first before you install the app. Most of them will require access to your contact list.
Robocall-blocking app

Pricing

Free trial version for seven days

$3.99/month

$1.99/month

Free for VoIP landlines

Basic service is for free

$2.99 per month for Truecaller Premium

$14.99 per year for Truecaller Premium

Basic service is for free

$2.99 per month for Hiya Premium

$14.99 per year for Hiya Premium
Turn to Your Provider's Call Protection
There's another solution that can help you in this combat against robocallers—use your provider's call protection. In the table below, you will find some large phone carriers, along with the protection from robocalls they offer.
Carrier

Robocall blocking service

Call Protect app

Premium version ($3.99 a month)
If You Are Seeking Revenge Against Robocalls, DoNotPay is Here to Help You

If incessant robocalls are driving you crazy, we have a solution that will not only help you get rid of these pests, but will also put some money in your pocket. It's high time you got your robocall revenge and with our app you can earn as much as $3,000!
FCC guide to robocalls will tell you that the essential step in your fight against robocalls is to have your number registered in the National Do Not Call list. Once you do, it becomes illegal for robocallers to bother you. You can check if your registration was processed in several ways:
Call 1-888-382-1222

Call via TeleTypewriter at 1-866-290-4236
Robo Revenge is a feature that will bring you the justice you deserve. It uses a virtual credit card to get back at annoying scam callers. Using Robo Revenge is easy, and the whole process consists of only a few steps.
Log into DoNotPay website

via the

Choose Robo Revenge option

Click on

Create Your Card

option, which will generate a

free virtual credit card

When robocallers ask for your credit card number, give them your 16-digit virtual credit card number

Once the fraudsters try to make a transaction on the virtual credit card, DoNotPay will catch them in the act!

The app will gather all the info you need to sue the scammers, write a demand letter, and send it in your stead
If you put your faith in RoboRevenge, you will come out of this battle as the winner. Since your virtual credit card is not tied to your bank account, there's no way scammers can access your funds and withdraw any money.
DoNotPay will draw up the documents that you need for your robocall lawsuit against the fraudsters because these robocallers know that they are guilty, they will most likely accept an out-of-court settlement.
What Else Can DoNotPay Assist You With?

DoNotPay offers lots of other useful features that will help you with the ordinary and mundane tasks! We can assist you with:
Disputing your traffic tickets

Fighting speeding tickets
Our app is available on any .