What Happens if You Answer a Robocall?
It's not very likely that you are one of the lucky ones who have never received a robocall. According to YouMail's Robocall Index, there were over 58 billion robocalls in the U.S. in 2019 alone. 
Some of them are just annoying and inconvenient, yet some can be downright dangerous and hurt your finances significantly. An additional issue is that they are becoming more and more difficult to recognize before you hit that green button. Whether you have already been the target of these pesky pre-recorded messages or you are wondering what happens when you answer a call like that, this article will help you learn more about how to protect yourself from robocall scams and put an end to that misery. 
The Difference Between Spam and Robocalls
Simply put, spam calls are all kinds of unwanted incoming calls that usually market some products. Their goal is to sell some goods that might be unsolicited, but still genuine. Telemarketers are the most common example. Calls like this might be annoying, and the product they advertise might not be worth it at all, but they are not cheating you. 
While they can come from live agents, spam calls can also be robocalls. The difference is that you're not speaking with a real person, but with a bot or you're listening to a pre-recorded message. These pre-recorded messages can have various goals—to provide (un)necessary information, to advertise products or, in the worst case scenario, to try to scam you. 
Most Common Robocall Scams
Most common robocall scams try to play to your concerns about money, security, your relationship with the government, or others. The list is not exhaustive—the scammers are getting more and more creative by day—so general precaution is advised when accepting a call from almost any number. 
| | |
| --- | --- |
| Most Common Robocall Scams | How to Recognize It |
| Imposter Scams | The robocaller will impersonate someone you know or trust in general—from friends, family members, and banks to government agencies like the IRS; this kind of robocalls will most likely use spoofing. |
| Travel Scams | The message starts with a free or low-cost vacation notification. Soon after that, you will be asked for your credit card details in order to accept the free trip.   |
| Charity Scams | People behind unknown or shady charities will ask you for money to help areas or people struck by earthquakes, hurricanes, diseases, or other problems. |
| Loan Scams | The robocaller offers loans or credit cards for a small up-front fee, focusing on people with bad credit scores. |
| Free Trials | The scammers promise a free product or a service but then ask for your credit card, which is charged monthly. |
Are Robocalls Illegal?
Consent is crucial here. If you haven't agreed in written form to be contacted, spam or scam robocalls cannot be deemed legal. While most of the robocalls are illegal, there are still some that are allowed, and you can't do anything about them except not taking the call.
Legal Robocalls
To make things a little bit easier to understand, here is a list of automated calls that are considered legal:
Informational messages

—they serve as a simple reminder or a notification, for example, that your flight has been delayed 

Debt collection messages

—you might be contacted via robocall by a business whose goal is to collect a debt

Political messages

—such as you might get during presidential campaigns

Robocall messages from charities

—these are allowed only for members of the charity in question or past donors

Health care provider messages

—the most common would be reminders about prescription refills from pharmacies
In all other cases, especially if the robocall is trying to sell something or ask for sensitive information, it is probable that it's illegal.
Local Business Robocalls
There are several rules that robocalls from businesses have to obey in order to be deemed legal:
They can be placed only between 8 am and 9 pm

They can contact you only if you had provided written consent

They must always contain a proper identification

They cannot be placed legally if your phone number is on the National Do Not Call Registry

They must always have an option for the customer to opt-out
Is it Better to Not Answer a Robocall or Answer and Not Speak?
The answer seems easy—don't pick up. The robocall's logic is simple. If you answer their call, your number is considered "good," even if you don't fall for the scam. They will try again next time because they know there's someone on the other side who is a potential victim for fraud. The less you answer, the fewer the calls. It looks like great advice, but how can you know which call is a robocall?
As the technology progresses, spoofing becomes more and more common. There's no way of telling if that caller ID on your screen that looks familiar or has a name and a picture is real. Some robocalls will even go so far as to use the voice of a person you know for their pre-recorded messages. For that reason, when you tap that answer button, be careful.
What Happens if You Answer a Robocall?

For example, you see that a familiar number is calling you and you answer it. Soon you realize that something is wrong or that you are not talking to a real person. Here's a short list of things you can do to minimize the risk of being scammed:
Hang up

Not give personal information

Not press any keys

Not say

Yes

Be skeptical
Hang Up as Soon as You Can
The best way to shut the robocall danger down is to hang up immediately before saying anything. If you realize that the conversation sounds unnatural or that the caller is asking shady and unusual questions, hang up as soon as possible. When it comes to robocalls, the less you engage, the better. If you keep talking, they will mark your number as "live," and you will keep getting more pesky calls. 
Your Credit Card Info Is Only Your Business
Any respectable business will be serious about your confidential information and honor your privacy. Only in rare situations might they ask to confirm a credit card that they have on file, and even then, they should use just the last four digits. If a caller is asking you to provide your information from the beginning, be extra careful as the odds are that it is a scam. 
Don't Follow the Bot's Instructions
A standard robocall script is to ask you to press one to talk to a live representative. They might offer you to unsubscribe from such calls if you press a button, but you shouldn't fall for that. By pressing anything, you will mark your number as a good one to call, and the scam robo-dialers will come back to bother you again. 
"
Yes
" Is A Powerful Word
This one might be extra difficult at that moment, but it is essential. Many robocallers start with a simple question, like "Hello, can you hear me?" which prompts you to say Yes without thinking. They will store the recording of your confirmation and then use it for fraudulent activities. Instead, you can try asking the "caller" questions—since it's a machine, they won't recognize them, and you will be sure it's a scammer that needs to be hung up on. 
Trust No One
It sounds severe, and it can be. The damage that some of the scammer robocalls can do is significant. Even if they don't get your credit card info, they will waste your time and your nerves. Proceed with caution every time you see an unknown caller ID. Use texting or voice recordings in chat apps for friends and family. If a business is calling you, you can hang up, find their contact number on their website, and call them back. Outsmarting these frustrating autodialers will feel good, but since there are so many of them and in so many disguises, you will need all the help you can get. DoNotPay is here to provide it.
How To Block Robocalls on Cell Phone
Nowadays it seems rather easy to make yourself unavailable to undesired callers just by touching several options on the screen of your smartphone. If you want to block a specific number or all unknown numbers, you can follow these instructions for your iOS or Android device. 
What Should You Do on Your iPhone?
iOS devices offer you a chance to stop a specific number from reaching you or, if you prefer more extensive solutions, all calls from unfamiliar contacts can be forwarded to your voicemail. 
If you want to block one number, you can do the following:
Go to the Phone app and tap "Recents"

Locate the number you would like to block 

Tap the blue "i" with a circle to the right of the desired number

Scroll down and tap "Block This Caller"

Tap on the option "Block Contact" below the message that pops up
If you prefer to make yourself unavailable to all numbers that are not in your Contacts list, you can follow these instructions: 
Go to "Settings" and choose the option "Phone"

Scroll down

Tap the "Silence Unknown Callers" switch (it should turn green)
What Should You Do if You Use Android?
If you are using an Android phone and want to get rid of unsolicited calls, you have similar options like iPhone users. 
For blocking one number, you should do this:
Open the Phone app from your home screen

Locate the tab "Recent" and tap on it 

Find the number you want to block, tap on it and then tap the "i" in a circle

Locate the "Block" button and confirm your choice by hitting "Block" in a pop-up message
For blocking all unknown numbers, you can follow this:
Open the Phone app from your home screen

Locate three dots and tap on them to open a drop-down menu

Choose "Settings" from the list

Tap on "Block Numbers"

Toggle the "Block Unknown Callers" switch to green
These options can be quite useful to block a pesky telemarketer or a political campaign that you don't support. Still, to fight back against scammer robocalls, you will probably need a stronger weapon—a robocall blocker.
Third-party Apps to Fight Robocalls
You can also check these third-party apps, available for iOS and Android devices, that can help you lower the number of unsolicited calls. They usually come with a trial period and a monthly or a yearly fee afterward.
| | | |
| --- | --- | --- |
| App | Trial Period | Price |
| | 14 days | $1.99 per month / $19.99 per year |
| RoboKiller | 7 days | $2.99 per month / $24.99 per year |
| | 7 days | $2.99 per month / $14.99 per year |
How to Stop Robocalls on Landline
According to a report by the U.S. Center for Disease Control National Health Information Survey for 2017, just 53.9% of American households identified as "wireless-only." That leaves many phones as easy targets for robocalls. What you can do against them to protect your landline depends on its type. 
Stopping Robocalls on VoIP Landlines
The households that use Voice Over Internet Protocol (VoIP) as their landline technology have a few options at their disposal. One of the most popular services is Nomorobo, which works with most carriers, like AT&T, Verizon Fios or Comcast Xfinity. There is a software called Jolly Roger Telephone Co. which plays annoying scripted robotic voices, but this will work only on live callers and it is not effective against robocalls.
If you have a VoIP landline, you can contact your service provider and learn more about available options and the prices. In case they don't provide software that prevents robocalls, they might be able to flag unsolicited calls on their phones. Another option, which might be more suitable if your business landline is under a robocall siege, is to use Interactive Voice Response (IVR) software. This is what you usually hear when you try to reach any call center. Since the bot calling you can't follow instructions, IVR will shut it down.
Stopping Robocalls on Copper Wire Landlines
If your landline still runs on the old copper wire technology, it might need additional hardware that needs to be attached to your phone. It uses a preloaded list of scammer numbers to filter out unwanted calls. Besides the cost, the sheer quantity of robocalls from different numbers makes these devices somewhat limited. 
There are also devices and services which require you to block robocalls manually, but you should be careful not to block a useful number—from a government agency or maybe tech support—that has been spoofed by scammers. 
How to Prevent and Report Robocalls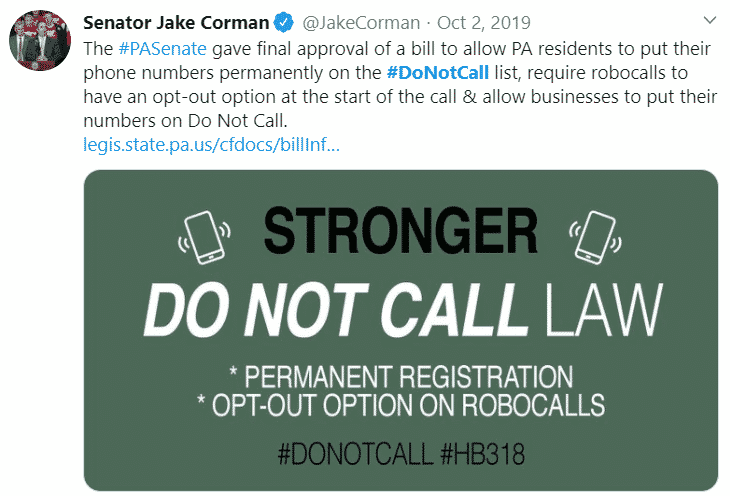 By now, you have blocked the numbers on your cell phone and your landline to the best of your capabilities. Robocalls might become rarer or stop for a while, but rest assured they will come back. What else can you do? One thing that you can do for free is put your number on the FTC's Do Not Call list. The procedure is quite simple: 
Open your browser and go to the

Do Not Call website

Verify your phone number,

if you're not sure whether it's already been registered

If you have never registered before, click on Register your Phone Number and follow the simple instructions
Easy enough, but it still won't fix all your troubles with the pest. FTC can successfully limit the number of unwanted calls, but they don't have the means to stop them all and for good. Their website states that the list is meant for legal businesses, and it can do little to protect you from scammers that don't care about the law. You can see who else is allowed to call you, even if you registered your number, by reading the Do Not Call list exceptions. 
Reporting Unsolicited Calls
The FTC's website offers another option that can help you a lot—you can report the illegal robocall and help yourself and others. In the section Report Unwanted Calls on the Do Not Call website, you can leave a phone number from which the robocall came or the one they wanted you to call back. 
The FTC publishes updated lists of reported phone numbers every business day which helps phone carriers improve their call-blocking services. If you report a number, it can help law enforcement find out who the people behind these illegal robocalls are. 
DoNotPay—Your Best Weapon to Fight Robocalls

While FTC and FCC are working hard to contain the robocall pandemic through new legislation and software solutions, the war is far from over. Your best bet for winning against dangerous scammers is to serve some cold robocall revenge with the help of DoNotPay. No tool will eliminate the robocall threat 100%, but DoNotPay's new feature called Robo Revenge can help you turn tables on those scammers and take their money instead. This is how it works:
You receive a robocall that is trying to scam you

At some point, the bot asks for your credit card details

Open DoNotPay in your

web browser

Choose the Robo Revenge option

Create your

virtual credit card

in the next step

Give the virtual credit card details to the bot

The app will get the information on the caller when they try to make a transaction

Use DoNotPay to file a

robocall lawsuit
This way, you can expect up to $3,000 for that call, but bear in mind that this works just for the calls coming from the U.S. for now. 
The process is entirely harmless for you. DoNotPay's free virtual credit card is not linked to your bank account and cannot be charged, but it will be enough to fool the bot and disclose the scammers' details. You can use DoNotPay to put your phone number on the Do Not Call list if you haven't done it yet. This way, any robocall targeting your phone will be violating the Telephone Consumer Protection Act (TCPA), which will make your claim even stronger.
DoNotPay Protects Your Privacy and Finances
Sharing your credit card details online comes with certain risks, and it's getting more difficult to tell good and bad websites apart. With DoNotPay's virtual credit card generator, you will be able to protect your identity and bank account from cyber scammers.
Whenever you run into a suspicious email or website, generate a virtual credit card and proceed without worries. Our virtual cards also work like a charm if you want to avoid automatic payments after free trials.
DoNotPay Keeps the Spammers Away
Whether you're dealing with email spam, text scammers, robocalls, or severe harassment, DoNotPay can help. 
Use our virtual credit card or the Burner Phone feature to sign up for free trials safely—without revealing your real info. DoNotPay will make sure that no company can reach you when you use our tools.
We provide a fake email address, credit card info, and phone number that are in no way connected to your real data.
We can also help you cancel services or request a refund without you having to contact the company directly.
How Else Can DoNotPay Help You Find and Save Cash
Our Missing Money feature helps you find any unclaimed assets in your name in any state. An additional perk is that you can claim your money right in the app—no need for further research!
We can also make sure you don't pay for any unfair parking citations and get the rightful compensation from airlines for any canceled or delayed flight. 
Don't let big companies scare you into not claiming your warranties or insurance. DoNotPay helps you file these claims and appeal any rejections in minutes, which brings you closer to getting your money.
We can also delay your bill payments, get your college fees waived, or sign you up for paid clinical trials to earn some extra cash!