Everything You Need to Know About Robocall Software
Robocalls can be a real pain in the neck. Especially nowadays, when a few million robocalls are being placed each hour thanks to the advanced robocall software.
Though we often relate annoying robocalls with scams that involve credit card or identity theft, automated calls do not have to be malicious or illegal. 
If your intentions are good, and you are not in the business of hoaxing people, getting access to robocall services is pretty straightforward, and in some cases, free of charge!
What Are Robocalls?
Each call placed with the help of autodialing software is considered to be a robocall. Whether you are sending a pre-recorded message or voicemail, as long as the machine is doing the dialing in place of a real person, we are talking about robocalls.   
While robocalls are mostly used for spamming and scamming, it is important to stress that they are not always illegal. 
How to Make a Robocall
Robocalls can be put to good use. Small business owners can use automated calls to legally market their products and services as long as they abide by the rules of the Federal Trading Commission (FTC) and the Federal Communications Commission (FCC).
Politicians, charities, and schools, are allowed to rely on robocalls for campaigning purposes. 
The easiest way to set your robocall campaign in motion is to start using third-party robocall software. Most of these apps are cloud-based, meaning that you will not have to purchase additional hardware or install new software to be able to use the company's robocall service. 
In most cases, these are the steps that you would need to take to make robocalls:
Create an account with a robocall provider

Add your contacts either manually or by uploading a list

Record or upload a message 

Start robocalling or robotexting 
Setting Up Robocalls for Small Businesses
Legal businesses have so much to gain from using robocalls. Sometimes, you want your customers to know that you are sending out new limited time offers, or you just want to remind them of upcoming events that you wish to invite them to. Using robocalls and robotexts for these purposes can save you a ton of time and money. 
Keep in mind that these calls and messages can only be directed to customers who gave you their permission to contact them. 
Setting Up Robocalls in Cases of Emergency
Robocalls are the most time-efficient solution for alerting individuals or even whole communities that are affected by an ongoing emergency situation. 
Business owners can use robocall software to timely notify their workers about an emergency situation such as gas leakage, workplace fire, etc.

Robocalls can be used to notify communities about upcoming unfavorable weather conditions like blizzards, tornadoes, floods, and many others. 

If an accident occurs on campus, staff members, students, and parents can all get notified via robocalls and robo texts. 
Setting Up School Robocalls 
Many school administrators use robocall software to remind and alert parents about various issues:
Parents whose kids have low lunch balances can be alerted about that through robocalls and robotexts

Parents can also receive notifications about their children being absent from school

In case of an upcoming emergency, schools can send notifications to staff members, students, and parents about school closure

Robocalls can be used for notifying parents about upcoming field trips or report card issuing
Best Robocall Software
If you are looking to set your robocall operation in motion, you will need a reliable robocall software to make your campaign successful. Some of the best robocall apps are:
Robocall App

Service Overview

Built-in statistical analysis

International robocalling

Predictive dialer service

HIPAA-compliant phone calls and text

No fees or contracts

Free transfer calls

Free up to two minute long messages

Ringless voicemails

Automated opt-out feature

Real-time statistics

No contracts

Easy to set up

Pay-as-you-go service with no monthly fees

Voice and text robocalling

Free trial period

Real-time statistics

No monthly fees

Text-to-speech engine

Live call transfer

Intuitive excel-like interface
How to Send Robocalls Legally
What you cannot do, as a company, is autodial your customers to promote your products and services without receiving their permission first. Thanks to the Telephone Consumer Protection Act (TCPA), the power is in the customers' hands, and they get to decide who autodials them. 
To make robocalls legally, you need to meet certain requirements set forth by the FCC and the FTC. Some of these requirements are:
The caller has to provide adequate identification 

Customers need to be offered an option to opt-out 

Calls have to be placed after 8 a.m. and before 9 p.m.

Companies need the customers' written consents to autodial them legally 

Businesses are not allowed to dial people whose numbers are on the National Do Not Call list
Make Your Identity Known
Your customer service representatives need to provide adequate identification to the customers for the automated calls to be legal. At the beginning of the call, your representative needs to:
Reveal his or her identity

Reveal the identity of the company on whose behalf the call is being placed
At the end of the call, the customer needs to know:
The company's address

The company's phone number
Give Customers the Option to Pull Out of Your Calls 
Consumers have the legal right to change their minds about receiving automated calls from companies who have permission to call them.  
Prerecorded messages need to allow the customers to press a specific number to place their numbers on the company's do not call list. 
Voicemails have to contain a toll-free, call-back number that customers can dial to pull out of your company's robocalls.
You Must Have Permission to Place the Call
Express written consents are mandatory. If your customers did not give you permission to dial them, your hands are tied. 
Express written consents come in various forms, including electronic signatures and online checkboxes, and are defined by the E-SIGN Act. 
Even if certain customers have their numbers on the National Do Not Call Registry, as long as you have their permission, you will not be breaking the law. 
It Is Called the Do Not Call Registry for a Reason
FTC's Do Not Call list has been active since 2003 — its purpose is to protect the consumers from spam calls coming from legal businesses. 
If you are wondering how to check if a number is on the do not call list, you can check our piece on the topic and find out. DoNotPay has the info about the Do Not Call list expiration and Do Not Call list exceptions as well.
Best Robocall Blocking Apps 
Because robocalls have blown up in recent years, large phone carriers and third-party companies started developing robocall blocking apps to lessen the impact of spam calls on the lives of American citizens. Apart from being annoying, scam robocalls pose a major security risk, and that makes robocall blockers a necessity rather than a choice. 
Some of the best robocall blocking apps are:
Robocall Blocker

What It Offers

Free 14-day trial

Free for VoIP landlines

$1.99 per month

A huge database of bad numbers

Free number lookup service

Free 7-day trial

$2.99 per month for Android devices

$3.99 per month for iOS devices

Includes Answer Bots

Customizable Answer Bot messages

Text spam filtering 

Free basic service

$2.99 per month

$14.99 per year for Hiya Premium

Phone number lookup service

User-friendly interface

Exceptional caller ID service

$26.99 per year for Truecaller Premium

$249 per year for Truecaller Premium Gold

Free basic service
Common Robocall Scams to Beware Of
While billions of robocalls are being placed each year in America, some robocalls are more frequent and dangerous than others. To help you recognize these scams more quickly, let us see what the red flags you should keep an eye out for are:
Robocall Scam

How It Works

IRS scams are extremely dangerous and aggressive. The caller identifies himself or herself as an IRS inspector and provides a badge number to prove it. Victims are told that they have an overdue bill that they need to pay immediately. Otherwise, an arrest warrant will be issued. 

You should know that the government does not communicate with its taxpayers in such a way. If you had an unpaid tax bill, you would receive a notice by U.S. Mail first. 

Government Grants scam

Government grants are also something that fraudsters use as bait to trick victims into giving them money. Victims typically receive a call from an alleged government official claiming that they have become eligible for free government money. The only thing that the victims have to do is pay a one-time processing fee for the money to get transferred to their accounts. 

If you did become eligible for a government grant, you would never be asked to pay a processing fee. Up-front payments are generally a reliable sign that you are dealing with a scammer. 

College graduates have recently become targets of large-scale robocall scams. Victims would receive a call from alleged student debt relief agencies offering to help them pay off their loans if they make the payments directly through the agency. Student loan scammers also tend to ask for up-front payments! 

While the government does offer student loan relief programs, they never operate in the above-mentioned way. 
DoNotPay Makes Robocallers Pay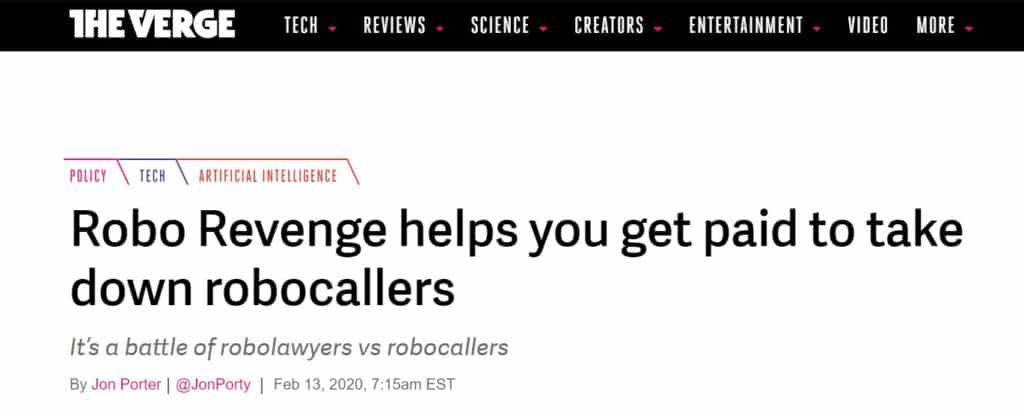 While robocall blockers can help you shut down scam calls altogether, DoNotPay's new Robocall Revenge feature allows you to make the fraudsters pay for their misconduct. 
Our app can help you track down the scammers and file a claim against them, paving your way to up to $3,000 in court settlements! 
To start using our Robo Revenge services, simply open DoNotPay in a web browser. 
Here is how fighting robocalls with DoNotPay looks like:
You receive a robocall

The scammer tries to extort money or personal information from you

You open DoNotPay and select Robo Revenge

Our app generates a

free virtual credit card

  

You share the fake credit card information with the scammer

DoNotPay tracks the fraudster down based on the transaction details

We help you write a dispute letter and file a claim against them
Are Virtual Credit Cards Necessary?
We provide you with a virtual credit card because we want to keep your identity and personal information protected. Our Free Trial Card helps us track down the scammer when they try to charge the card based on the transaction details.
Note that if you want to report a robocall through DoNotPay, it has to be a domestic call. We need the scam caller's address to be able to file a claim against them. If the robocall is coming from overseas, we do not have the means to acquire such information. 
Tips on How to Stop Spam Calls 

Installing a robocall blocker or filing a robocall lawsuit are great ways to fight back against robocalls. You can also try to adhere to the basic principles of dealing with annoying robocalls. The three basic principles are: 
Put your number on the FTC's

Do Not Call list

Do not answer unknown calls

Do not reveal your personal information
Saved by the FTC
In many cases, putting your number on the National Do Not Call Registry can help you push back irritating telemarketers. If your number is on the Do Not Call list, companies do not have the legal right to contact you without your permission.
To put your number on the National Do Not Call Registry, you have to:
Access the FTC's

Do Not Call website

Select Report Unwanted Calls

Provide required information about the unwanted call you received

Submit your request
For more information on how to stop robocalls, you can read the FCC guide to robocalls.
You Do Not Have to Answer
The quickest way to deal with robocall scams is not to answer the call, especially when the number is too similar to yours. 
Try to resist the urge to mess with the caller because, in some cases, fraudsters will not ask you for money or personal information. They will record your voice and use it to authorize purchases over the phone. 
Modern robocall scammers are fairly tricky, and that is why you should consider turning down their calls as often as you can.
Never Reveal Your Personal Information
We know how convincing and persuasive robocallers can be. However, If there is a smidgen of suspiciousness or uncertainty in your head regarding the call, do not share your personal information with the caller. 
In a lot of cases, scam callers are on the hunt for personal information as it allows them to pull off more lucrative frauds, such as identity and credit card theft. 
How to Block a Robocall Number on Your Smartphone
All new smartphones come equipped with number blocking features, regardless of whether we are talking about iOS or Android devices. In both cases, you are provided with options to block individual numbers or all unknown calls. 
It is worth knowing that blocking robocallers is effective only when you are dealing with legal businesses and telemarketers. Scam callers spoof and change their numbers so frequently that blocking them is a futile endeavor. 
How to Block a Number on an Android Smartphone
Android devices provide their users with options to block a specific number or block all unidentified numbers. To block a single number, you should:
Open the Phone app

Select Recent Calls

Tap the number and select Block or Report as spam 

Confirm that you want to block the number
To block all unidentified numbers, you have to:
Open the Phone app

Select Settings

Turn on the switch saying Block Unknown Numbers
How to Block a Number on an iOS Smartphone
iOS users can block individual numbers or silence all unknown callers by forwarding them directly to voicemail. To do the former, you can:
Open the Phone app

Select Recents

Tap on the info icon next to the number you want to block

Tap on Block this Caller

Select Block Contact
To forward unknown calls to voicemail, you have to:
Open Settings

Select Phone

Enable the Silence Unknown Callers switch
A Digital Assistant Like No Other

DoNotPay is more than just a platform for fighting back against robocallers. You can use our app to lower your bills, to get assistance with paying bills, cancel subscriptions, and many other things. Just open DoNotPay through a web browser. DoNotPay offers a ton of services through which you can:
Dispute traffic tickets

Fight speeding tickets