How to check if a number is on the "Do Not Call" list

The FTC introduced the national "Do Not Call" registry to the public in 2003. It hoped to reduce the number of unwanted phone calls and lower the volume of customer complaints about them. For a time, it seemed like the calls had dropped, and people were happy. But what the FTC wasn't counting on is the massive increase in usage of mobile phones. Back then, people were still mostly using landlines to conduct calls. Nowadays, everybody has a personal number they can be reached on, sometimes more than one. The massive expansion of the customer base, unfortunately, led to an increase in unwanted phone calls.
How can I check if my number is on the "Do Not Call" list?

Being on the "Do Not Call" registry does not automatically block any phone calls. However, it makes calling you illegal for certain service providers, particularly those with obvious sales pitches. Being on the registry is your first step towards gaining legal rights against these unwanted calls. Keep reading to learn how to enforce them easily and even get compensation for your troubles. But first, you need to add your number to the list. If you're unsure if it's there or not, you can check in one of these two ways:
Call 1-888-382-1222

TeleTypewriter 1-866-290-4236
How to add a number to the "Do Not Call" registry
Turn your robocallers into cash, and earn up to $1,500 per robocall
The national "Do Not Call" registry has over 220 million numbers on it. Once your number is on the list, it stays there permanently, unless you request it be taken down. The only exception is if the number has been completely disconnected or reassigned by the network to a new customer. If you've checked, and your number is not on the registry, adding it can be done in three ways:
Online

Register up to three numbers at a time

at this link

Via Phone

Call 1-888-382-1222 from each number you want to add

For the hearing impaired

TeleTypewriter 1-866-290-4236
If you chose the online method, you must have a valid email you have access to. Once you submit your numbers, you will receive an email confirmation link valid for 72 hours. Confirm it as soon as possible—otherwise, you'll have to redo the registration process. There is also a Spanish version of the registry website.
How to sue spam callers and get compensation

A wise man once said that offense is the best defense. You can do everything in your power to protect your number, and that still won't be enough. Spam calls, particularly robocalls, are just too overwhelming. For every new method of protection, the illegal callers will work their way around it. No matter how many spam numbers you filter out and block, there will always be new ones popping up. The only way spam callers will stop harassing people is if they start taking noticeable financial losses. 
Enter DoNotPay, with its latest feature, Robo Revenge—the first and only method of suing spam callers for up to $3,000 worth of damages with just a few clicks. This is the most effective way to combat things like robocalls. Don't just take our word for it. You can read what popular tech portal Gizmodo had to say on the newest feature. The app will do all the necessary preparation for you. Here's how easy it is:
Access DoNotPay using the

web app

 

Add your number to the "Do Not Call" list through our app if you haven't already

The next time you get an unwanted phone call asking for your payment info, give them your virtual cards information

If the company tries to charge the card, they get nothing, but DoNotPay will get their information from the failed attempt

Now open "Robo Revenge" and chat with our A.I. lawyer

After answering a few simple questions, the app will create a letter demanding compensation for the unsolicited call
If the company ignores the letter, you can use DoNotPay to sue them in small claims court. DoNotPay will help you prepare all the paperwork for that, using the information gathered by the virtual credit card. 
What the government is doing about unwanted phone calls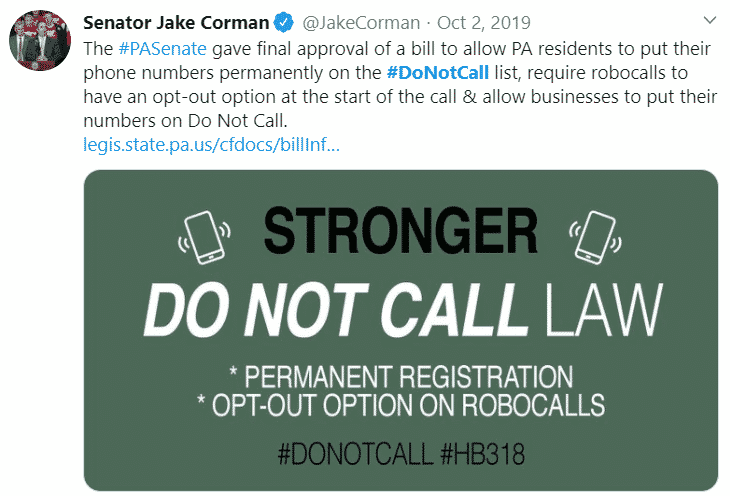 The national "Do Not Call" registry has been around for a while, and it's safe to say it didn't survive the test of time. Not only did it not stop unwanted calls, but robocalls are also on the rise. According to a report by USA Today, the number of robocalls in the U.S. has increased by 35% in the last year. As technology progresses, robocalls are getting faster at dialing and more sophisticated. The government has joined forces with phone service providers to look for permanent solutions. 
As of the year 2020, the Telephone Robocall Abuse Criminal Enforcement and Deterrence (TRACED) Act was put into law. This bill aims to give much harsher punishments for illegal callers. It's also connecting government bodies like the FCC and cell phone carriers in an attempt to regulate call flow better. One of the new methods of protection that's currently being tested and implemented is the SHAKEN/STIR standard. Under it, mobile carriers will have to work together to make sure the numbers that are calling their networks are legitimate and not spam. The short version of how they aim to do this is:
Every service provider must verify existing numbers on their network

When a number from one provider calls a number from another, the origin network informs the receiving network that the incoming call is from a recognized number

If there is something wrong with the number, the other networks may report it, and it will be looked into

All of this has to happen in real-time so that the quality of service doesn't take a hit
This should, in theory, stop people from receiving calls from numbers that aren't recognized as legitimate and numbers that are using masked numeration.
Why the "Do Not Call" list and other government regulation are ineffective

The methods of government control that have been implemented until today have all failed. Why is that? To cut a long story short, whatever the government did, the scammers always found a way to outsmart it. One thing that the government has overlooked, to everyone's surprise, is that these companies don't care that what they're doing is illegal. 
The reality is that as long as they're making a profit, they won't stop calling people. To them, it's a simple risk vs. reward calculation. They're more than happy to pay any fine, as long as they're not losing money at the end of the day. This is why we believe waiting for the government to solve our problems is pointless. We took matters into our own hands, and so should you. Robo Revenge is our way to counter-attack!
DoNotPay Protects Your Privacy and Finances
Sharing your credit card details online comes with certain risks, and it's getting more difficult to tell good and bad websites apart. With DoNotPay's virtual credit card generator, you will be able to protect your identity and bank account from cyber scammers.
Whenever you run into a suspicious email or website, generate a virtual credit card and proceed without worries. Our virtual cards also work like a charm if you want to avoid automatic payments after free trials.
What else can DoNotPay do for me?
DoNotPay has many useful self-finance and legal features. Check them out:
Contest an unwarranted speeding tickets

Beat annoying traffic tickets
If you want to learn more about similar topics, DoNotPay offers a FREE learning center.