Everything You Should Know About Remote Online Notarization in California
Signing a will, affidavit, lease agreement, and similar documents in front of a notary is crucial if you want your contract to be legally enforceable. While necessary, the whole notarization procedure can be annoying, especially if you choose to get your contracts notarized in person. Online notarization is a much more practical solution, but not all states allow it.
If you're wondering, "Can notaries perform remote online notarization in California?" this guide is here to provide an answer. to learn all about remote notarization and find out how to find an online notary in a few clicks!
Does California Allow Online Notarization?
Most states allow remote notarization permanently, while some have decided to permit it only during the COVID-19 pandemic. A handful of states—including California—still prohibit their notaries from performing notarization online. This might change in the future so make sure to consult the California Secretary of State website for updates.
The good news is that California allows out-of-state notarization. This means that you can find an online notary from another state and get your documents notarized virtually.
Ways To Get Your Contracts Notarized in CA
California residents can choose from three types of notarization methods:
Standard notarization

Electronic notarization

Mobile notarization
Check out the following table to find out more about each notarization type:
Notarization Methods
Brief Explanation

Standard notarization

If you decide to get your contracts notarized the traditional way, you need to:

Find a notary

in your area

Schedule a meeting

Bring your document to the notary's office

Provide your ID

Wait until the notary checks your ID and reviews your document

Acknowledge that you're:

Familiar with the contents of your document

Of sane mind

Signing the contract willingly

Sign the contract in the notary's presence (unless it's an

acknowledgment

)

Pay

notary fees

Wait for the notarial stamp,

signature

, and certificate

This option is usually annoying and time-consuming, and you can easily make a mistake, such as forgetting your ID or signing the document beforehand.

Electronic notarization

E-notarization also requires your in-person presence in a notary's office. As opposed to regular notaries who notarize paper documents,

electronic notaries

handle digital contracts

Mobile notarization

If you'd like to skip a visit to a notary's office, you can schedule an appointment with a

mobile notary

. He or she can travel to the previously agreed-upon location—be it your house or office—and notarize your contract there. Note that you'll have to cover the notary's travel costs if you choose this notarization method
A Guide to Finding a Notary in California
You can find a California notary in various places, including:
Independent notary offices (search for them on

Yelp

,

123notary.com

, and similar websites)

Banks

and credit unions

AAA

stores

United Parcel Service (UPS)

facilities

Public libraries

Real estate companies

Law offices

Hotels

Police departments

Office supply stores
Most of these institutions require you to schedule a meeting with a notary a few days in advance. If you'd like to save money, you can check whether your bank employs a notary because banks typically don't charge notarization to clients.
Do you find notary search tedious? Does visiting a notary's office take up too much of your time? DoNotPay is here to help you take care of contract notarization from the comfort of your car, home, or office!
Rely on DoNotPay and Connect With an Online Notary From Another State!
While California notaries can't perform notarial acts remotely, you can connect with an online notary from any other state, such as:
Spending ages searching for a remote notary online can be exhausting, which is why DoNotPay should be your choice. We will find an available online notary and help you schedule a virtual meeting in a few clicks.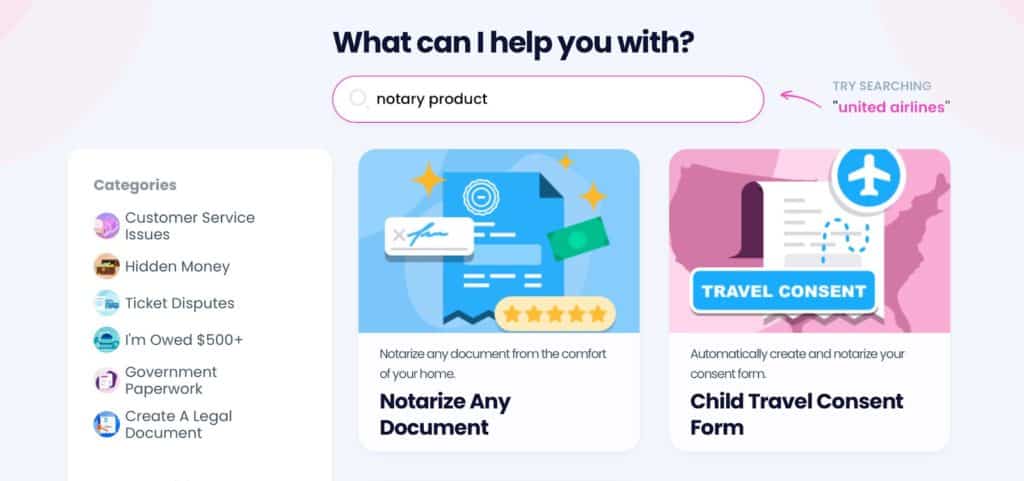 Get your documents notarized hassle-free by following these simple steps:
Pick our

Notarize Any Document

feature

Upload your contract

Type in your email address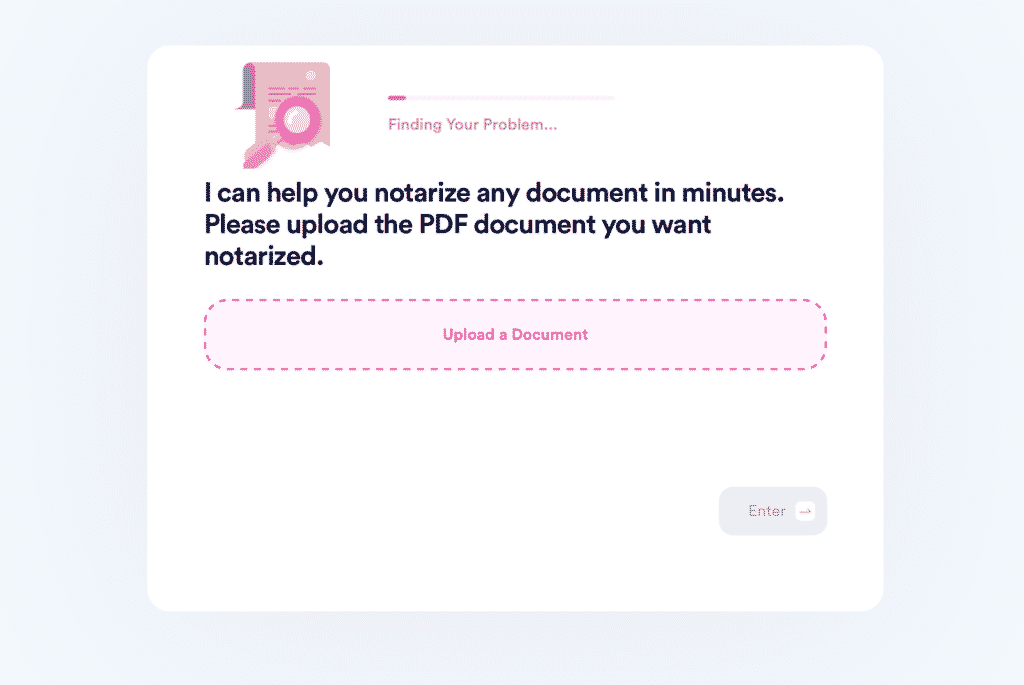 We will send you a link to set up a meeting. Once you connect with the notary via a video call, he or she will:
Verify your identity

Witness the signing of the contract

Provide notarial certificate and signature in digital form
If you need help creating a legal document, we can help with that too. Whether you need to create a bill of sale, prenuptial agreement, or operating agreement, you can use our app and handle everything stress-free. Product integration enables you to manage both the creation and notarization of your document through the same app!
Notary Service Fees in California
The State of California limits the maximum fee for notary services. Notaries can charge up to:
$30 when taking depositions, plus $7 when administering the oath to a witness and $7 for the certificate

$15 for other notary services
Mobile notaries have the right to charge separate administrative fees for traveling, and they can establish those prices independently.
Save Some Coins With DoNotPay
Are various subscriptions and memberships burning a hole in your pocket? DoNotPay can help you cancel all of your memberships in a matter of minutes without having to contact customer service reps.
Next time you want to register for a free trial, prevent unexpected costs with our virtual credit card. Once the trial is over, you'll be unsubscribed right away because our virtual credit card doesn't contain any money. We will also generate a random email address you can use if you want to protect your privacy and avoid spam marketing emails.
Do you need help claiming warranties and insurance policies? DoNotPay can help with that too.
Should you need assistance returning an item or requesting refunds for purchased products, canceled flights, or late deliveries, we've got your back!
Avoid wasting money on lawyers—DoNotPay is here to help you sue anyone in small claims court and create numerous legal documents in the blink of an eye!
DoNotPay Can Help You Earn Money Too
DoNotPay users can save hundreds of dollars thanks to our app, but did you know that we can help you earn a few bucks as well? Our app enables you to claim missing money under your name or file your application for paid clinical trials in less than five minutes.
You can even get compensation for reporting robocalls or apply for a crime victims compensation program in your state by signing up for our app and following a few simple steps.