All the Essential Details About the Regents' Scholarship in Utah
The Beehive State residents can apply for numerous scholarships and grants to get help financing their education. These include state-sponsored programs, such as the Regents' Scholarship in Utah. The state legislation passed in 2021 created a new Opportunity Scholarship to replace the Regents' Scholarship. This guide will explain what these changes mean and help you find scholarships that you qualify for faster.
What Is the Regents' Scholarship in Utah?
The Regents' Scholarship was a college scholarship awarded to high school students (grades 9–12) through the Utah System of Higher Education. This merit-based scholarship covered the remaining college tuition and fees after using any other state aid the student received.
The graduating class of 2021 was the last group to apply for the Regents' Scholarship. New applicants, starting with the class of 2022, will need to follow the eligibility requirements of the new Opportunity Scholarship. Students who are current recipients of the Regents' Scholarship program remain eligible for the prize they qualified for.
Regents' Scholarship in Utah vs. Opportunity Scholarship—Requirements
Here is a comparison of the requirements for the Regents' Scholarship and the Opportunity Scholarship:
Regents' Scholarship
Opportunity Scholarship

Have a high school GPA of at least 3.3
Complete the FAFSA (Free Application for Federal Student Aid)
Graduate from a Utah high school
Earn the following credits:

4 English credits
3 Social Science credits
2 credits in the same World Language (excluding English)
4 Math credits
3 lab-based Science credits

Have a minimum high school GPA of 3.3
File the FAFSA (Free Application for Federal Student Aid)
Earn a high school diploma from a Utah school
Finish three advanced courses—Advanced Placement (AP), International Baccalaureate (IB), or Concurrent Enrollment (CE) course—in each of these high school subjects:
Although completing the FAFSA is one of the requirements, the amount of federal aid received is not used in determining eligibility for the Utah Regents' Scholarship.
What Are the Approved Institutions for the Opportunity Scholarships?
Here are the institutions where the Opportunity Scholarship can be used:
Salt Lake Community College
Utah Valley University
Weber State University
Western Governors University
Dixie State University
Utah State University
University of Utah
Ensign College
Westminster College
Southern Utah University
Brigham Young University (Provo)
Westminster College
Snow College
Students can be allowed to defer the use of the Opportunity Scholarships if they:
Wish to attend a technical college with plans to transfer to one of the approved higher learning institutions
Have medical or other valid reasons
Are serving in the military, religious, or humanitarian programs
If you have any questions about the Opportunity Scholarship, you can call the State Scholarship Office at (801) 646-4812.
How To Find More Scholarships in Utah
Students from Utah can take various other financial aid opportunities to their advantage. For instance, they can apply for other scholarships offered by the Utah state, including:
Utah Promise Scholarship
The Technical College Scholarship
Students also had the New Century Scholarship on offer, but this program has also been replaced by the Opportunity Scholarship.
You can find Utah scholarships that different organizations offer by:
Checking with your school's financial aid office
Contacting your school's guidance counselor
Checking the official websites of federal agencies and Utah's state educational agencies
Looking for programs that are targeted to people in your religious group, for example, Muslims, Catholics, or Christians
Searching for professional associations that provide financial aid to students in certain fields of study
Browsing the Internet the smart way by refining your search results, as follows:
Even better, use the proven method of searching for scholarships stress- and hassle-free. With DoNotPay, you will only need a few minutes to get a complete list of all the scholarships and grants that you qualify for. Subscribe now and start applying for scholarships in no time.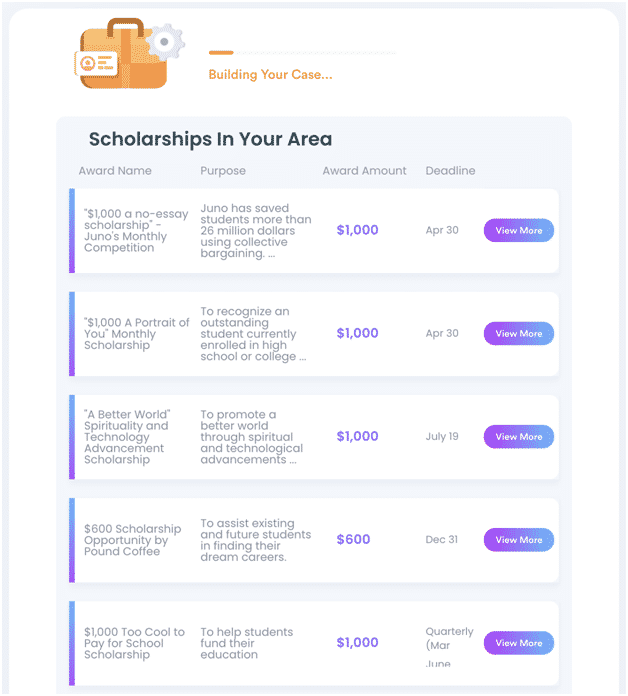 The Easiest and Fastest Way To Discover Scholarships—Use DoNotPay
Don't let the challenging process of finding scholarships deny you the opportunities you deserve. You will never have to browse through different web pages or worry about missing a chance ever again. Find all the scholarships and grants that you qualify for in one place with DoNotPay. All you need to do is:
Find the Apply for Scholarships product
Answer a few questions regarding your education
You can rely on our platform to automate your applications for no-essay scholarships you are interested in.
You can also use our resources to learn how to write better scholarship essays, cover letters, and personal statements, what makes a good recommendation letter, and how to prepare for scholarships interviews.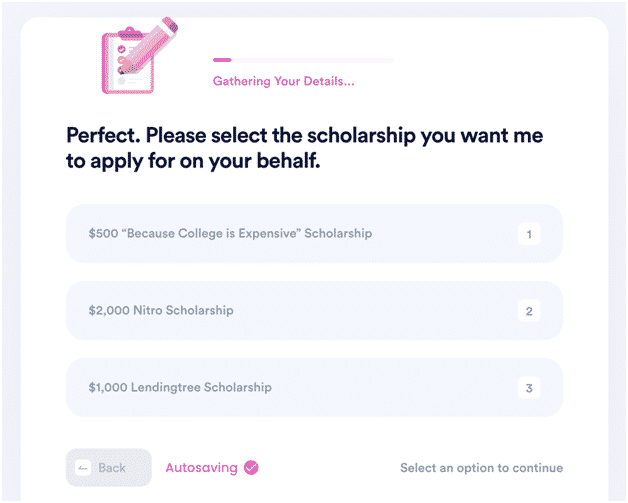 Explore DoNotPay's Product Range
Are you looking for additional assistance from our app? We're happy to inform you that DoNotPay provides you with a number of useful tools that you can use to complete mundane tasks in the blink of an eye! Sign up for our app and let us help you get:
DoNotPay Resolves Your Financial Issues in a Few Taps
You don't have to struggle to figure out how to resolve financial problems yourself when you have our app at your disposal. In only a few clicks, you'll be able to discover any unclaimed money under your name, submit insurance and warranty claims, or request compensation for delayed flights.
But that is not all! Lowering your utility bills, appealing parking tickets, or canceling memberships and subscriptions is also something you can do in no time and with minimum effort if you use DoNotPay! Work smarter, not harder!